If you don't find the time to search for the best kids' wear brands in India, take a look at our post.  We have assembled the famous luxury kids' wear brands in India. 
Parents used to buy infant outfits that were made of cotton fabric and had basic designs if we go back a decade. However, they have gotten more adventurous in terms of trying out new and contemporary designs for their children. Where can I get the best baby clothes online in India is one of the major issues that parents confront when purchasing.
Purchasing clothing for children is never simple; you must consider a variety of factors ranging from fabric to comfort and safety. You obviously want children to look cute, but taking care of their skin is equally important. It's critical to use clothes that won't irritate their sensitive skin and that they can snuggle up in. 
To help you relax, we've compiled a list of the top 10 best clothing brands for kids in India online. If you're wondering what is the best brand in India for baby wear or the best site for baby clothes in India, this blog is for you.
What are the Best Kids' wear Brands in India in 2022?
Check out our list to find out where you can get all of your children's top-quality clothing at a low cost.
The Plush Club
The Plush Club is a sustainable and premium baby clothing brand, designed in Singapore and currently sold across South and Southeast Asia. The clothes are manufactured from bamboo fabric that is all-natural, soft, breathable, hypoallergenic, and antimicrobial. It thoroughly pampers your baby's delicate skin with its intrinsic qualities of soft and silk texture. Compared to cotton, bamboo is 3 degrees cooler, making it the perfect choice when thinking of your child's comfort.
Specially designed keeping in mind the fantasies of a baby's mind and to intrigue curiosity in them. Onesies, bodysuits, sleep PJs, swaddled, and casual wear for newborns are all available at The Plush Club. The Plush Club works hard to reimagine infant basics while maintaining a high level of design and comfort so your little one can get the softest any clothing can offer.
They are available on Instagram and you can shop directly from their website as well- The Plush Club – Re-Inventing Baby Essentials
Instagram – The Plush Club
✔️ Check out the Plush Club Collection here- New Born Baby Clothes by The Plush Club
The Little Bunnies
This brand specializes in products for children up to the age of ten. You can also choose your favorite item from their Instagram account. Below is a link to the brand.

They offer simple yet stylish and more importantly comfortable outfits for kids. The best part is that their clothes have good quality and surprisingly affordable pricing.
Clothing sets, dresses, shirts, shorts, skirts, tops, trousers, and more are among their well-known items. It is reasonably priced for your child's daily use. The brand offers a variety of collections to meet your child's various dressing requirements.
The Little Bunnies is the place to go if you're looking for affordable fashion with assured quality clothing for any occasion or for the daily needs of your kids.
✔️ Check Out THE little BUNNIES🐰 (@thelittlebunnies_kidsclothing)
Nottie Planet
Nottie Planet is a well-known children's clothing brand from Kolkata-based Moozoo Fashions. Its new-age, vivid, and fashionable lines vary from infant to young adult attire.
All of the products are constructed entirely of cotton textiles, making them both pleasant and kind on the skin. One thing I really liked about them is that they regularly update their designs to keep parents and little ones happy.
They are suitable for children of all ages. Sets & Suits, Tops and T-shirts, Shorts, Skirts & Jeans, Nightwear, Pajamas & Leggings, Onesies & Rompers, Frocks and Dresses, Sweat Shirts & Jackets, and more are all available in the Nottie Planet Store.
✔️ Get an exclusive collection of Kidswear at Nottie Planet – Moozoo Fashions Pvt. Ltd. (nottieplanetstore.com)
Pink Cow Fashion
Pratima Anand's Pinkcow fashion line is one of the most well-known brands. They have a large assortment of items in several categories, particularly for girls. They specialize in customized red carpet gowns, wedding Ghaghra cholis, dresses, and fashionable accessories. This is the only brand that customizes for newborn babies as well. They are known for their design sense and aesthetics. You can also pick up smart casuals from their online store www.pinkcowfashions.com and offline store at Bandra and Goregaon. With so many alternatives to pick from, you may obtain your baby's outfits at a reasonable price with great quality and finish, they run a lot of sales at their stores.
Ruffles, crochet flowers, handcrafted appliqué, smocking, and hand embroidery are all featured in their assortment. The brand is run by 90% women staff and takes utmost care in ethically sourcing and manufacturing. They believe in uplifting underprivileged women and girls by providing them with work.
Check the latest updates here- Pinkcow fashion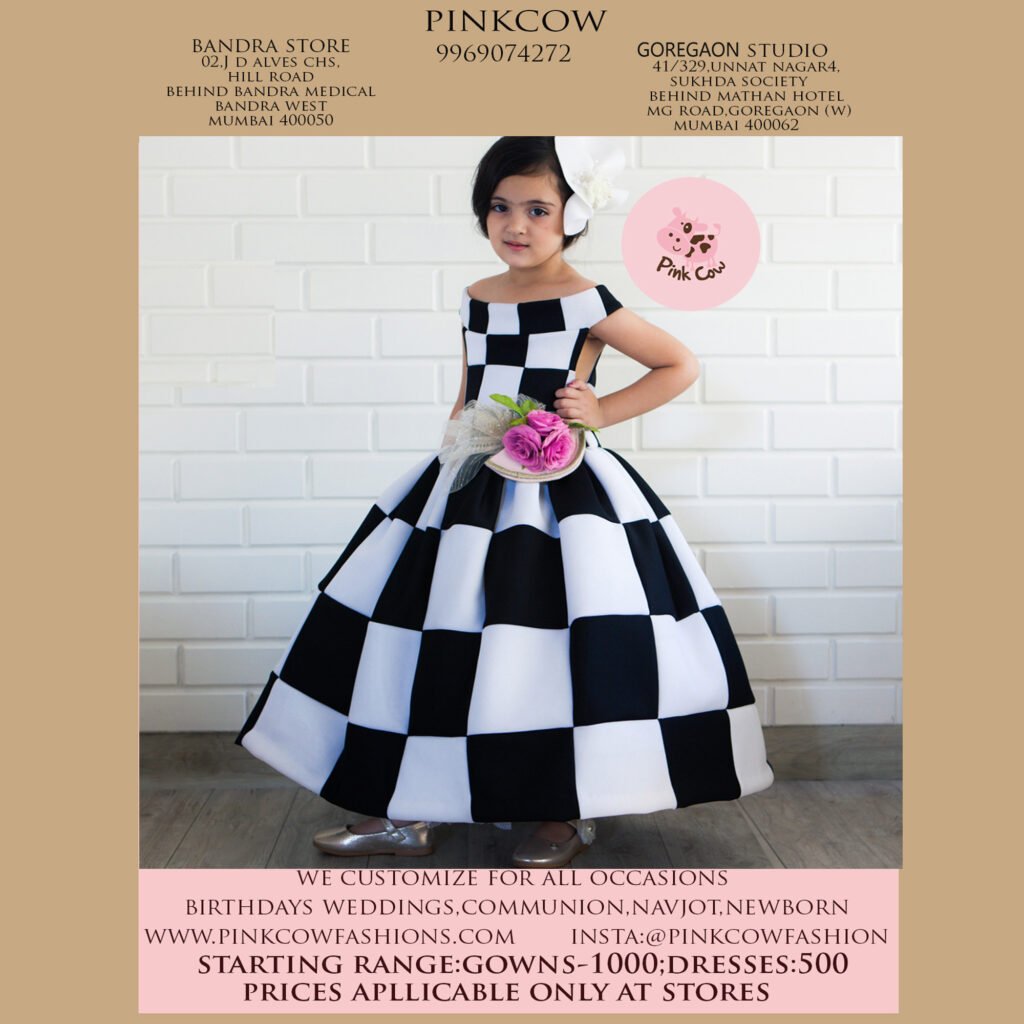 GOREGAON STORE- SHOP NO:-41/329, UNNAT NAGAR 4, SUKHDA SOCIETY, BEHIND MANTHAN HOTEL, M.G ROAD, GOREGAON (WEST), MUMBAI – 400062
BANDRA STORE- 02 JD ALVES CHS, BEHIND BANDRA MEDICAL, HILL ROAD, BANDRA WEST MUMBAI 400050
Gini & Jony
Since 1980, the Lakhani brothers brought Gini & Jony, India's most popular children's clothing brand to us. This is one of India's most prestigious and well-known children's clothing brands. Over 200 exclusive brand shops and multi-brand stores carry the brand. Not only does it provide you with clothes alternatives for your children, but it also provides you with a variety of accessories and footwear. Amazon, Firstcry, Myntra, and Flipkart all have it.
✔️ Check Offers & Discounts on Gini & Jony Collection here>> Gini & Jony
Nino Bambino 
Nino Bambino Clothing is an Indian fashion designer clothing brand that specializes in baby clothes. They provide a 100% cotton baby wear assortment in a variety of appealing and colorful hues. The fashion brand offers a wide choice of baby rompers, shirts for girls and boys, and shorts for children from one to fourteen years old that may be mixed and matched with different ensembles. 
Nino Bambino is a top apparel brand since they offer the best designs and are always changing them. Tops, slacks, skirts, dresses, and other fashion items for children are readily available in stores.
✔️ Check the collection and best offers here – NINO BAMBINO
UCB Kids
UCB Kids, or United Colors of Benetton Baby, is an Indian baby clothing brand that has revolutionized the concept of children's clothing in India. Clothing is available for both boys and girls in sizes ranging from birth to ten years.  This kid's wear brand captures the essence of childhood and makes every moment unforgettable for kids with its unique and vivid designs. For girls and boys, the company offers a wide choice of attire for various occasions, including casual, formal, winter, and summer clothing, as well as shoes, underwear, and accessories.
✔️ Check The most irresistible offers on UCB Collection Here>> UCB Store
Lilliput
Another well-known name in kids' wear is Lilliput. They feature a large selection of fashionable baby clothes in all sizes, including girls' tights, summer dresses, tops, t-shirts, turtlenecks, pants, shorts, socks, and more. Lilliput garments are created to be both comfortable and elegant while also being of the highest quality.
This Indian clothing brand also provides customers with the option of shopping online. This brand's affordable garments, high quality, and wide range of baby wear make it one of India's most popular apparel brands.
✔️ Check offers and discounts on lilliput kids' wear- Click here
Chicco
Chicco is a well-known baby's apparel brand that has been operating for a long time. It has become a well-known brand in India, with a wide range of styles and contemporary costume selections for children for all occasions.
They wish to make your motherhood journey a memory for a lifetime by delivering innovative and bright prints to the clients. Every style in their collections is designed with your children's comfort in mind.
✔️ Check offers on all Chicco products- Click here
Nauti Nati
In the Indian market, Nauti Nati is one of the most promising brands of children's clothing. The brand is known for its superb range of party and casual clothes for children. They also feature a wide range of colors, textures, and patterns that are divided into age categories. The cloth utilized in their product is extremely kid-friendly.
✔️ Check Nauti Nati collection here- Nauti Nati clothing Range
Hopscotch
Hopscotch Kids wear brand offers a diverse range of apparel for children of various ages and seasons. Dresses, kurtas, tops, tunics, T-shirts, leggings, and other items are available. In terms of children's apparel, they provide an excellent selection of summer, winter, and outdoor wear. Hopscotch kid's wear brands in India specialize in a wide range of footwear, t-shirts, bags, and accessories in addition to clothes.
✔️ Checkout Hopscotch Dresses here- Hopscotch Kids Wear
How Did We Choose These Top Kids' Clothing Brands For Your Child?
Finding clothes for your child may appear to be a difficult process at first, but with a careful search and simply following these aforementioned guidelines, you will eventually locate the perfect ones. Consider each parameter seriously. 
Fabric: The skin of babies, especially newborns, is extremely delicate. As a result, most parents would like to acquire cotton-based clothing for their children. Here our experts recommend materials made of cotton and rayon derived from bamboo. These textiles are derived from natural resources or come from nature and have good qualities that make them suitable for infant clothing. Because of their incapacity to absorb moisture and regulate newborns' body temperature, baby garments made of fabrics like nylon and polyester can cause skin sensitivity and discomfort. They should be avoided.
Brand Goodwill: This is one of the most important factors to consider while shopping for children's clothing. One of the greatest methods to find out is to go online and read all of the brand's past customer evaluations. If the majority of them were pleased with their purchases, you can choose that brand and vice versa. On this characteristic, we also classified the above-mentioned brands.
Price: To avoid overspending, make sure you create a monthly budget for shopping for baby clothes. Furthermore, you may need to change a number of garments as they become filthy quickly. And because babies outgrow their clothes in a short period of time, purchasing pricey clothing for them is not a sensible investment. These brands will provide you with attractive and affordable clothing.
Comfortable: Because your kid will be sleeping for at least 14 to 16 hours per day, you want them to be able to sleep as much as possible. As a result, choose clothing for your infant that is constructed of pleasant and soft materials. Make sure the baby's clothes are the proper size. Not only is the right size comfortable, but it also allows the baby to move about freely.
Washing Instructions: Another factor to examine is whether or not the garments are easily washed. This is something that is sometimes ignored. Some garments can be washed by hand, while others need to be washed with special detergents. 
Season: When shopping for clothes for your children, look for apparel that is appropriate for the season. For example, in the winter, choose full-sleeved and body-covering clothing such as a jacket, whereas in the summer, choose light and brightly colored clothing. The above-mentioned brands have a wide selection of seasonal clothing.
Frequently Asked Questions on Best Clothing Brands in India for kids
Should I buy kids' clothing online in India?
Yes, you may buy both online and offline because most businesses have actual storefronts in various places.
Is it necessary for me to register before I make a purchase?
Yes, you must register in order to become a member of any shopping website and make purchases at any time. You only need to register once. Once you've registered, you'll be able to track your purchases, keep track of your transactions, and receive frequent email notifications about brand promotions and deals.
What is the registration fee?
Registration on shopping sites is completely free.
What is the best brand in India for baby wear?
Little Kangaroos, The Plush Club, Lilliput, Hopscotch, Cucumber, and Pink Cow Fashion are a few well-known Indian brands that sell high-quality baby clothing.
Where is the best place to buy clothes for children online?
As already said, all of these brands are suitable for purchasing children's clothing online mentioned in the top 10 list of baby wear.
What is the best brand for kids apart from normal wear?
The best baby wear brands featured in this post are the best brands that offer a wide choice of formal, informal, and fashionable outfits for newborns and children.
How should I wash my baby clothing or toddler clothing items?
Any of your little munchkin's garments should always be washed by hand or on a gentle cycle.
✅ Check out this article on BEST LAUNDRY DETERGENTS FOR KIDS/BABY CLOTHES
Final Words – best brand in India for clothes for kids
Baby garments should be soft and made using premium and chemical-free fabric. You won't go wrong if you shop for your baby's clothes from any of the above brands. So, try to buy from the above brands, which will help you save money while still providing high-quality clothing.
All of these brands may be found both online and in physical stores. We hope that this list of kid's wear brands in India has been useful in locating the ideal apparel brand for your child.
Don't put it off any longer; treat your children to the stylish clothing of the above-mentioned businesses. We respect our readers' opinions as well, so if you think we're missing some good brands, please leave a comment below and we'll do our best to reply. If you found it interesting, please share it with your friends and family on social media.
Looking for top brands in clothes in India
Check out this article on best clothing brands in India.