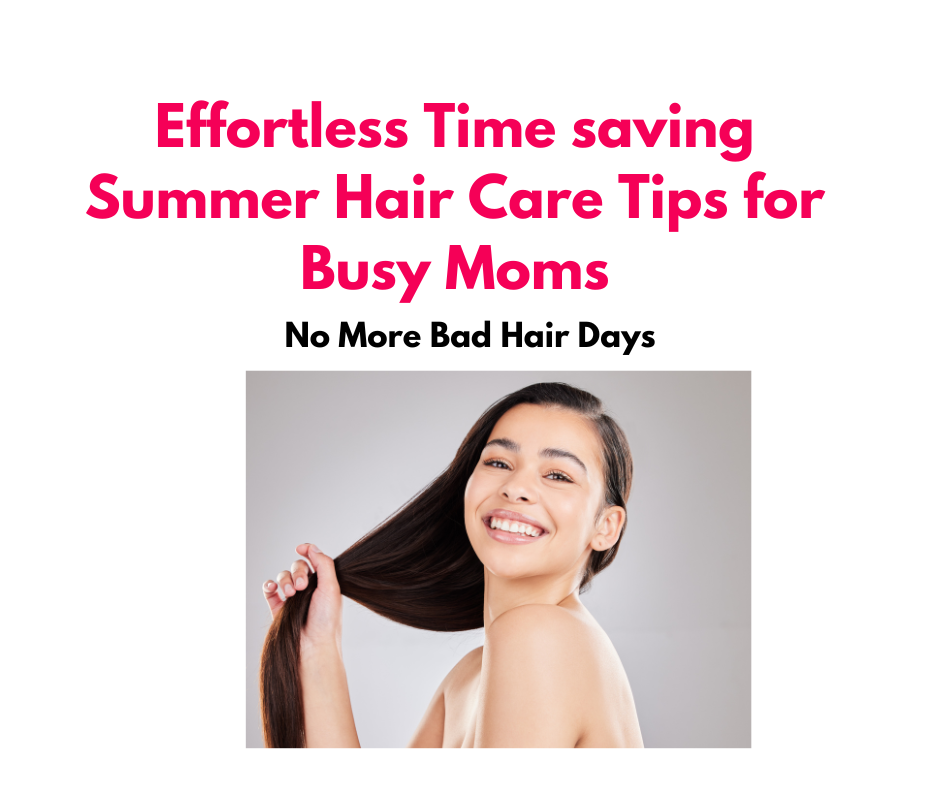 Discover time-saving tips for busy moms to take care of their hair in summer. Say goodbye to frizz and hello to fabulous locks effortlessly. Get expert advice on maintaining gorgeous hair while juggling a million things. Reclaim your hair's radiance and confidence in the scorching summer heat. Let's dive into the secrets of effortless summer hair care for busy moms.
Are you feeling the summer heat and dreading the havoc it wreaks on your hair? Well, you're not alone. We've all been there, frantically trying to tame our tresses while juggling a million other things. It can be overwhelming, right?
Picture this: you're rushing to get the kids ready for a day at the beach, but your hair has other plans. It's a frizzy mess, completely uncooperative. And as you stand there, feeling the pressure and frustration building up, you can't help but wonder if there's a way to maintain gorgeous locks without sacrificing precious time.
Guess what? There absolutely is! And here's the thing: we get it. We understand the struggle of being a busy mom with limited time and a never-ending to-do list. We know how important it is for you to feel confident and put-together, even in the scorching summer heat.
That's why we're here to help. In this blog post, we'll share some time-saving tips and tricks that will revolutionize your summer hair care routine. No more stressing over unruly locks or resorting to messy buns day after day.
So, if you're ready to reclaim your hair's radiance and slay the summer game effortlessly, stick with us. We've got your back, mama. Let's dive into the secrets of keeping your hair fabulous all summer long. Trust us, you'll be amazed at what a few simple steps can do. Let's get started!
Also Read: Self Care for Mothers
How To Take Care Of Your Hair In Summer? Tips For Busy Moms
Protect Your Hair from the Sun's Rays
The scorching summer sun can be harsh on your hair, causing damage, dryness, and color fading. But fear not, busy moms! Here are some tips to shield your locks from the sun's harmful rays:
Wear a Hat: Sporting a stylish hat not only adds a fashionable touch to your summer look but also provides a physical barrier between your hair and the sun. This is my favorite hat
Use UV Protection Products: Invest in hair care products that offer UV protection. Look for leave-in conditioners, serums, and sprays formulated to shield your hair from damaging UV rays.
UV Protection: Sun Bum Revitalizing 3-in-1 Leave-In Hair Conditioner Spray
Hydration is Key:
Moisture and Nourishment The scorching heat can deplete your hair's moisture, leaving it dry, brittle, and prone to breakage. Here's how to keep your locks hydrated and nourished throughout the summer:
Deep Conditioning Treatments: Treat your hair to regular deep conditioning treatments to replenish moisture and restore vitality. Opt for products containing hydrating ingredients like shea butter, coconut oil, or argan oil.
Hydrate from Within: Don't forget to hydrate your hair from the inside out. Drink plenty of water throughout the day to maintain overall hydration, promoting healthier and more lustrous locks.
Deep Conditioning Treatment: Khadi Essentials Fenugreek Hair Mask
Combat Frizz:
Taming the Summer Mane Humidity and heat often lead to frizzy hair that seems impossible to control. But worry not, busy moms, there are effective ways to combat the summer frizz:
Anti-Frizz Products: Invest in anti-frizz serums, creams, or oils that help smoothen your hair and keep frizz at bay. Look for products with ingredients like silicone or argan oil for maximum frizz-fighting power.
Optimal Drying Techniques: When blow-drying, use a diffuser attachment and keep the heat on a low setting to prevent excessive drying and frizz. Alternatively, embrace air-drying for a more natural and effortless look.
Anti-Frizz Serum: John Frieda Frizz Ease Extra Strength Serum
Simplify Styling:
Quick and Easy Summer Hairdos As a busy mom, time is of the essence. Discover simple yet stylish summer hairdos that are easy to achieve and require minimal effort:
Messy Bun: Embrace the trendy and effortless messy bun. It's a go-to hairstyle that keeps your hair off your neck and face while exuding a relaxed summer vibe.
Braids: Experiment with different braid styles, such as a classic French braid, a fishtail braid, or a boho-inspired side braid. Braids are not only fashionable but also help keep your hair tangle-free.
Gentle Clarifying Shampoo: Neutrogena Anti-Residue Clarifying Shampoo
Combat Chlorine and Saltwater Damage
Frequent trips to the pool or beach during summer can expose your hair to chlorine and saltwater, leading to dryness and dullness. Protect your hair with these tips:
Pre-Swim Rinse: Before taking a dip, wet your hair with fresh water. By doing so, your hair will absorb less chlorine or saltwater, minimizing the potential damage.
Post-Swim Care: After swimming, rinse your hair thoroughly with fresh water to remove any residual chlorine or salt. Use a gentle clarifying shampoo to cleanse your hair and follow up with a hydrating conditioner.
Hydrating Conditioner: L'Oréal Paris Elvive Total Repair 5 Repairing Conditioner
Protect Your Hair at Night
Nighttime hair care is equally important to ensure your hair remains healthy and manageable. Consider these tips before heading to bed:
Use a Silk or Satin Pillowcase: Switching to a silk or satin pillowcase reduces friction and minimizes hair breakage while you sleep. It also helps retain moisture and prevents frizz.
Tie Hair Gently: Avoid tight hair ties or elastic bands that can cause hair breakage. Opt for soft scrunchies or hair-friendly accessories to secure your hair without unnecessary strain.
Don't Skip Regular Trims
Even with a busy schedule, prioritize regular trims to maintain healthy hair. Trimming every 8-12 weeks helps prevent split ends and keeps your hair looking fresh and vibrant.
Also Read: Best Self Care Gift Ideas for Moms 2023
Stay Consistent with Your Hair Care Routine
Consistency is key when it comes to caring for your hair. Stick to a routine that works for you and adapt it to suit your busy lifestyle. Remember, small daily efforts go a long way in maintaining beautiful and manageable hair.
Incorporating these tips into your summer hair care routine will help you navigate the challenges of the season with confidence. Remember, you deserve to look and feel your best, even amidst a busy schedule. Enjoy the summer while rocking stunning, well-nurtured locks!
Note: Here are a few additional product recommendations from Amazon.com:
Swim Cap: Speedo Silicone Solid Swim Cap
Sea Salt Spray: Not Your Mother's Beach Babe Soft Waves Sea Salt Spray
Silk Pillowcase: Go well Satin Pillowcase for Hair and Skin
Soft Scrunchies: Kitsch Spiral Hair Ties
As a busy mom, taking care of your hair in the summer may seem like just another item on an endless to-do list. But remember, self-care is essential, and your hair deserves some love and attention too. By implementing these tips, you can protect your locks from the sun's rays, combat frizz, simplify styling, and navigate pool or beach days with confidence.
As you venture through the summer heat, remember that you have the knowledge and tools to keep your hair healthy, vibrant, and manageable. Your hair is a reflection of your inner radiance, and by following these tips, you can enhance your overall confidence and embrace the beauty within.
Now, go out there and enjoy the summer while flaunting your gorgeous locks. You've got this, supermom! Take a moment for yourself and let your hair shine bright like the sun. You deserve it!