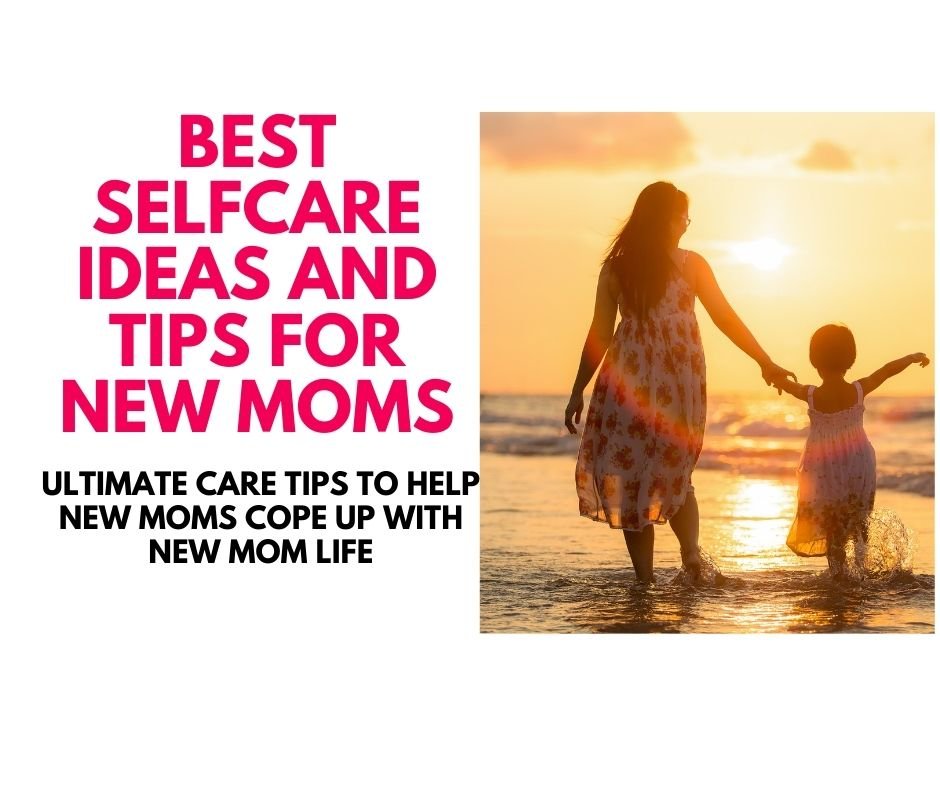 Looking for self care ideas for moms. We have got you covered. This article covers practical ideas to help you take care of yourself irrespective of whether you are a new mom, a single parent, a stay at home or a working mom.
Finding time for yourself becomes tougher when you are a new mother handling a little baby, it is not only difficult for new moms but also difficult for moms of older children.
From feeding to changing diapers, changing clothes, making them sleep, doing the household work, and if you are a working mom then the list is endless. With all these responsibilities, a mother forgets to care for or pamper herself. Many blame their mom life and think that they don't find time to manage their "me time" throughout the day.
Well, we must say from now on that self-care is a necessity. If you are happy only then you can keep others happy, you can't pour from an empty cup.
This article covers all your searches for self-love and Selfcare tips for all the mothers in just one place. You can also read our article for best self care gifts ideas for moms here.
Selfcare tips and ideas for busy moms or new mommies. Further in the article, we will also disclose a few things that can be used for your "me time".
"Almost everything will work again if you unplug it for a few minutes, including you." –

Anne Lamott
Few moms choose to take a break from a full-time job and work after some time or not work at all. For ages, women have been brought up to look after others, take responsibility for household chores, etc. They are made to feel that spending time on themselves is a crime, in this day and age we need to change this.
✅  Best self care ideas for mothers
Hey mom, here are the ideas that will help you to take care of yourself
Check out our trending article on ANGER MANAGEMENT- Anger management for mothers
The following are a few points about inculcating the habit of self-care in your day-to-day routine.
Healthy Lifestyle
For a mother to be healthy is important. She takes care of the health of the whole family but somewhere feels that she misses herself out from that, reasons given by many that they have no adequate time. Stop reasoning and start realizing that your health too is equally important. Caring for others can only be done once you are healthy. Workouts, Yoga, Gym, walking, cycling, jogging, and the list are endless to burn down your calories.
Having a healthy meal is a vital part of your healthy lifestyle, most importantly have your meals on time. Make it a habit of following a workout routine. The initial time is tough as never do mothers think about themselves but rather about others first.
Tip: Choose any workout which makes you happy the most. Do what you like or dream of doing. Try finding partners like kids, mothers or parents-in-law, or husbands. Involve a person who will accompany you. Healthy food is delicious too.
Socially active and stay connected with people
It always feels good to talk to a person close to you, like friends and others who think of your wellbeing. Make frequent visits for movie dates, lunch dates, candlelight dinner, or just a cup of coffee. Remember, speaking to people and sharing your thoughts is a stress buster. Socializing with friends, going out with your loved ones, and taking a break from your routine make you feel good for sure.
Tip: Initiate meetings or outings, or invite your bestie at home if you cant step out, just find the time!
Meditation
Many relationships have issues of mental stress, abusiveness, restrictions from families, etc, which may lead to depression. One way to cure this is by meditating. Meditation will keep your mind calm and relaxed.
Tip: Use a comfortable Yoga mat. Meditate with some good soothing music. The environment should be calm for you to focus better. Download spiritual meditation applications on your phone and start with guided meditation.
Medical Checkups
If your body shows any signs of unusual experience then never ignore it. Visit the doctor, explain the problem and get yourself examined. Considering Covid time, telemedicine is also available if in case the busy mom is not able to visit the doctor. Sign-up for annual medical check-ups and get the reports evaluated by your physician.
Tip: Just in case any tests for examination and observations are prescribed by the doctors then online lab tests are available too as options.
Adequate Sleep
Sleep of 7 hours is essential for any adult in that case. New moms are most deprived of sleep. Ask for help if you feel exhausted. and get your complete 7-9 hours of sleep. Sound sleep is considered to be a cure for many diseases like diabetes, heart-related issues, anxiety, depression, and weight gain.
Tip: Good and adequate sleep is important, try listening to some good songs or any devotional songs.
Take care of Skin
Don't stop loving your skin or never leave your skin routine even if time doesn't permit. A 10-minute routine too will help in making your skin glowing and healthy. Nowadays, where everything is available online and mothers can even browse for DIY home routines natural products too are available for caring for skin healthily with no side effects.
Tip: Facial Mask sheets are available if a mother feels for a quick refreshing look and doesn't want to go for a routine.
Ask for help
There is nothing wrong with asking for help from your partner and your parents-in-law. If staying in a joint family, rest assured that the family members are many and your child feels safe, which also means a mother is happy with the surroundings that the child is in. And if a mother belongs to a nuclear family, daycare and crèche are options that a mother can look for. So asking for help is not a bad idea.
Tip: Post Covid situations, many working mothers have opted for the work from home option, so they can spend more time with their children. This will not interrupt the child's routine and also a mother can work along with the satisfaction of spending time with her child.
Do what you like – Polish your skill
At times a mother feels like doing a particular thing but doesn't find time to do so and keeps delaying it. Say yes to the things you like to do and start doing them. Small things do matter as they can make you feel happy. Start understanding what you want to do, if you have specialized in something then it's time to unwrap it and practice it again. Hobbies like dancing, singing, cooking, and anything that makes you happy.
Tip: Rejoin the course of any of your hobbies if you need to polish them.
Spot of "Me Time"
In your house find a place where you can spend a few moments out of your busy schedule to perform your day-to-day activities related to "me time". For a mother finding a silent place is difficult.
Tip: A place will always be available just for you; the only thing you should do is to make yourself available in this spot for a few moments because you deserve it, lady.
Be Prepared
Planning will always save the day for you. It will keep you out of chaos and help you create smooth and peaceful days. Also, when you plan and schedule things, your child will have a routine to follow and thus will be easier to handle.
Tip: Once you are prepared, your work becomes easier for your "me time" otherwise, for some reason it will be skipped or delayed.
Self Care Tips for New Moms
The points below will help a new mother to get self-care tips:
Eat right, well, and drink adequate water
Try to eat at least one nourishing meal and don't forget to add fruit and vegetables to your meal.
Baby and Mom sleep together
Try sleeping when the baby is sleeping. This way you will get adequate sleep and feel good too.
The morning routine should be scheduled
Wake up before your baby if you can and have some time to meditate, and pray. Starting your day by praying to God can help empower you and put you in a positive mindset. Scheduling becomes tough when you have a baby but your mornings will run more smoothly the more you practice your routine.
Looking good can help you to feel good too, and it can boost your confidence. Most moms face hair fall problems and skin dullness that's because maintaining yourself is tough when you have a baby but grooming yourself will enhance your looks and make you feel good. Getting ready for the day can also help to create self-confidence.
Walking and breathing fresh air
Exercise is good for your mental health. Going for walks is a great source of exercise. And just opening your door to get some fresh air for a few minutes can make a difference too.
Cook easy meals, the last thing you want to be doing is spending every night cooking dinner – unless that's something you enjoy. Plan your meals on weekly bases.
Ask for help and talk to someone. There is lots of support out there if you need it.
Share responsibilities with your husband or other family members, looking after a child is a tough task. Asking for help doesn't make you weak, it makes you a strong person to accept help.
Also, Read – 120+ Heart touching quotes for husband
Try and focus on getting three things done a day. At least once a day, try to do something you enjoy, and then gradually start your care routine.  
Take out time for yourself
Take a long shower or bath whichever you prefer at least once a week. Just relax and enjoy your time and be present.
Self Care Tips for Working or Busy Moms
The parents who are working or busy homemakers also have equal rights to self-care after all juggling with work and managing house chores is an art and also not everyone can do. So self-care tips are important for them too.
Add exercise into your routine
Sticking to your usual workout routine can be challenging for busy moms. One way to tackle this issue is to choose outdoor activities that you can do with your kids to stay physically active, consistently. For example, you can go swimming or cycling with them. Also, sign up for dance lessons or a Tai Chi class. Even simple exercises like crunches, jumping jacks and squat jumps can help you stay fit and energized. What is important here is continuing.
One of the easiest ways to ensure that you don't miss out on your "MeTime" is to start early in the day. Go for a jog, practice meditation, read a book or have a quick DIY massage therapy at home. For example, try one-sentence journaling or five-minute journaling before going to bed, listen to your favorite music, and make or order your favorite dish to relish.
Think to yourself, when was the last time you went for a full-body check-up? Know that your health and well-being are just as important as that of your family members. So, make time to get your vaccines, schedule a dental checkup, and go for yearly check-ups. In addition, be mindful of what you put in your body. Eat more whole foods like grains, nuts, fresh fruits, and veggies.
Getting adequate sleep is a very basic yet crucial self-care practice. It alleviates stress, improves cardio health, strengthens the immune system, and boosts memory, among other things. Meanwhile, regularly skimping on sleep impairs cognitive function and puts you at risk for serious health conditions like diabetes and heart disease.
Self Care Tips for Single Mother
Mothers who are single-handedly managing a kid have more responsibilities to meet. There are the most deserving when it comes to self-care. A few tips that I feel are shared below.
Not easy what you are doing. So smile and pat your back as it's time for you to be proud of raising a child all alone. This will spread positivity around you.
Exercise and take care of your Health
Exercise regularly, I know it's easy to say and tough to do but after all, you are not dependent on anybody and you are the queen. So taking care of yourself is very important. Try working out with your child it will give you both a good time and good health will be maintained.
Ask for help when required
Multi-tasking is your routine being a single mother. You take care of children, drive them to school, manage a job, cook your meal and help kids with schoolwork. The list goes on and on. But, no doubt, a single mom is a superwoman, strong, independent, and constantly fighting with difficulties. Who said you need to be a tired single mom doing everything yourself? Unfortunately, many people believe that asking for help is something that will make a single mom look weak or pitiful. But guess what? No one can do everything on their own. If you want to make time for yourself as a single parent, you have to learn to ask others for help.
Pamper yourself with face mask sheets, homemade face packs, Pedicures, Manicures, and the list is endless. I feel that a mother deserves all these treatments or if you can't leave the child unattended then make a home spa and relax at home.
It's widely accepted that clothing is linked to our mood and behavior. For instance, when we feel down, we tend to choose plain clothes with no jewelry. But the connection is two-way. So, if you open up your wardrobe and put on bright colors or fancy clothes, you'll automatically start feeling happier. So, stop spending all day in dull clothes and being sad. Instead, dress up, even if you work from home and only go out to shop for groceries. Take the time and effort to look stylish wherever you go, as it will improve your mood and add more confidence.
Things that a mother can buy from Amazon
There are a few products suggested from Amazon as follows are for you to make your "me time" more effective and would make you take it up as a habit or routine:
This is one of the best planners available for moms. This is a wonderfully illustrated planner with stickers.
Pamper yourself with these organic products with zero side effects and make your skin glow.
Need a nap? Buy this for yourself or gift it to your mom, they need this badly especially new moms.
This gift box will help a new mom to build a "me time" routine in her life for her skin.
This gives a Spa experience at home.
This helps make you have a rejuvenating experience while taking a long shower.
Choose a Yoga mat easily available on Amazon to have a comfortable Yoga session for yourself. You get to see Yoga mats available in different types and some even pocket-friendly prices.
Frequently Asked Questions (FAQs)
All mothers want to be pampered for some time out of their routine or busy schedule. Self Care is considered tough according to busy moms but it's not impossible. There are many ways that a mother can pamper herself, all you have to do is find time for yourself because this is about you mom! Many questions pop up in my mind and I'm happy to answer them. A few questions are listed below.
What do moms do for self-care?
Pamper yourself, use a sheet mask or home pedicure or nail art, pamper yourself, relax and de-stress. One can also read a good book before bed which can help you boost energy after a long day. Mindful meditation is the best way to recharge. And it has health benefits, too: Some research suggests that meditation practice may help reduce anxiety, depression, insomnia, stress, and tiredness. For a much more relaxed meditation Yoga mat and Headphones to listen to good soothing music can be purchased from here.   Checkout Boat Airdopes here – Click Here
Call your best friend and you feel much lighter after catching up with loved ones and filling them in on your life.
Sleep and rest is the most important self-care activity. Tell your loved ones when you need some space or help from them. Many moms have no support in the form of a partner, family, or friends but if your loved ones can step in to give you a break, let them. Speak about your needs with your partner. Schedule the time for yourself too.  Although sticking to a schedule can be challenging as a new parent, especially if you have a newborn who hasn't yet settled into a predictable sleep routine, finding a day and time that's usually open for you can help you make self-care a priority. Wake up 15 minutes earlier for a distraction-free cup of coffee. Even a few minutes to enjoy a hot cup of coffee or tea can help set the tone for the day ahead.
What do New Moms need for Self-care?
For Selfcare new moms need a lot of sleep, rest, love, and care, and this Moms care kit can be an added luxury.
Apart from this, you can also ask for household help which makes you give more time to yourself and your baby. Eating healthy and nutritious food which is good for you and also drinking adequate water to keep yourself hydrated. Getting good time and peaceful sleep which for many is tough but you can always ask for help. Sharing a good cup of tea or coffee keeps you going. Gifting is a thing that makes a mom happy and special.
What Are Some Great Self Care Ideas?
The following are the best self-care ideas that come to my mind being a mom.
Pampering with a pedicure or a manicure.
Read a book or magazine.
Just sitting at times and doing nothing.
Take a bubble bath with candles around and relaxing music.
Take a leisurely walk.
Homemade face mask
Watch a movie without guilt.
Take a nap
Order food from outside sometimes.
Do something crafty
Sit in a comfy chair or swing and read.
Watch funny videos to pep up your mood.
Dance to your favorite music.
Fragrant candles bring joy and make a positive environment.
Walk around the fancy grocery store without a list. Buy some stuff just for fun.
Try to do something new
Doing yoga and Meditation.
Sing and laugh aloud
Long drives with no destinations.
Go swimming.
Plan a vacation just for fun.
Wear an outfit that makes you feel great.
Bake a dessert I love. And then eat it.
Plan a picnic.
Go to bed early or sleep in late up to you.
What do Moms need the most?
Mothers need the following things desperately as many don't find time for themselves.
Sleep
Coffee or Tea preferably hot as at times moms make it for themselves and with the household work, they come to see cold coffee or tea mugs.
Peaceful shower.
 Appreciation in any form written or saying gives a boost.
A mother also needs her parents' time.
Frequent meeting up with best friends.
Motivational talks by people around to keep the mommy going.
A power-packed sleep.
Partner's time with an outing, time for romance, etc.
Some more new clothes as mothers do change physically during pregnancy and after pregnancy too.
Surprises, because who doesn't love it!
 A vacation or a short road trip would also refresh our minds.
It is vital to take some time out for yourself. Small things matter a lot in making your mind and body calm.
Take good care of yourself Mom!