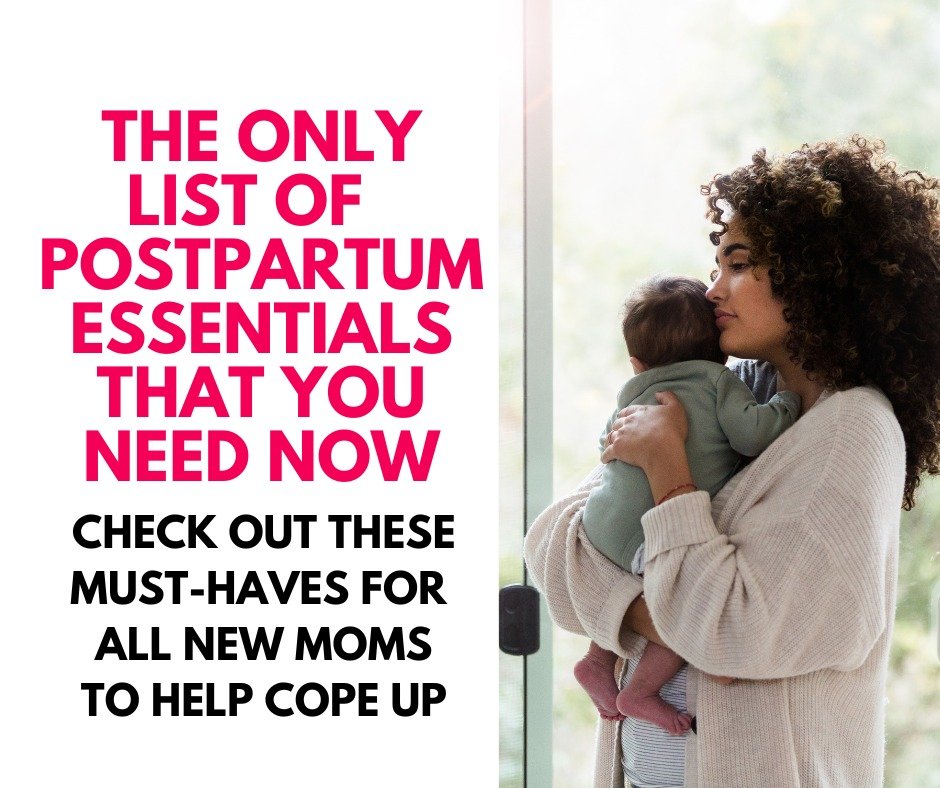 If you're an expectant mom seeking for what supplies you will need after giving birth, you've come to the correct place. In this article, we have covered all the essentials that are needed by a new mom.
What is Postpartum?
The postpartum phase begins after your baby is delivered and ends when your body is practically back to its pre-pregnancy level. This time frame is usually 6 to 8 weeks long, it can be longer too.
How To Take Care Of Yourself After Birth
Being a mother-to-be is an exciting phase for most women. Throughout your pregnancy, you're anticipating the arrival of the baby. You've decided to throw a baby shower and get all of these gorgeous baby items, from clothes to toys. The BABY is the center of attention. It's natural to be entirely focused on your child while pregnant. 
But what about once the baby is born? How are you going to look after yourself? Regardless of how easy or tough your birth was, you'll be exhausted and in pain. Recovery can be difficult, regardless of whether you had a vaginal or C-section delivery.
As a new mother, you may encounter and feel a variety of unfamiliar and overwhelming emotions. Many changes, both mentally and physically, occur during the postpartum period. You're also figuring out how to handle all of the changes that come with becoming a new mother. To regain your strength, you must take good care of yourself. During the first few weeks, you will need plenty of rest, a healthy diet, and assistance.
Here are some crucial postpartum recovery instructions and things needed for postpartum recovery to remember during your recovery period. Tap here if you are looking for a link. 
Healthy Diet During and Post Pregnancy- During pregnancy and delivery, your body has experienced numerous changes. You'll require some time to recover. You need to consume a nutritious diet to help you recover faster and better. You must eat a nutritious and balanced diet after delivery in order to be active and capable of caring for your kid. If you don't have time to prepare easy healthy meals, use our tips to help you consume a healthy diet.
Rest – An infant has to be fed, changed, and comforted around every three hours. You and your partner may grow exhausted, particularly if you're a first-time parent. For several months, you might not get a full eight hours of sleep. If you're a new parent, our experts have the greatest advice for you. Sleep when the child does. It may only be a few minutes of rest a few times a day, but those minutes add up. This post is geared toward new moms and mothers-to-be seeking thoughtful self-care gift ideas. <<< Click here
In addition to all of this, your nutrition plan should include exercise and regular physical activity.
Both new and seasoned parents quickly learn that newborns require a lot of effort. Meeting a newborn's continual needs takes time and effort. That's why it's a good idea to stock up on products that can help alleviate postpartum discomfort and make the adjustment to new motherhood as smooth as possible.
To deal with postpartum bleeding, a sore bottom, and general aches and pains, you'll need to plan ahead. Create your entire DIY Postpartum Care Kit if you don't want to dash out to the shop in the middle of the night for pads but also if you want to heal swiftly and comfortably.
Don't forget to take a look while you're here>> Click here<<<
Don't know what are postpartum essentials and where to start for your postpartum recovery kit? We've done the legwork for you and put together a postpartum checklist with all the things needed for postpartum recovery. We've also chosen the best postpartum care kit for babies. 
Postpartum Essentials For Mom
Here is a list of the postpartum essentials for the home you'll need after giving birth. Plus, dos and don'ts of postpartum recovery. 
This one may sound self-evident, but don't overlook buying pads before your baby arrives. The ultra-thin, extra-long, super absorbency variety is highly recommended. It's common to have bleeding and discharges, known as lochia or postpartum bleeding, for a few weeks after giving birth, whether you delivered vaginally or via c-section. 
Most importantly, throughout the postpartum period, you'll need to stick to pads and avoid tampons. Because the lochia your body is discharging contains bacteria, blocking it with a tampon or menstrual cup may push bacteria back into your uterus, triggering an infection. The hospital pads are awkwardly big and heavy.
The finest pads for postpartum include Incontinence Pads for Women, Always Ultra Thin Feminine Pads with Wings for Women, and Always Maxi Pads.
Alternatively, you may use reusable ones that are more environmentally friendly, such as these. Reusable Waterproof Bamboo Charcoal Menstrual Pads are the greatest online alternative and are very useful during the postpartum period. They are unbelievably soft and comfy. They're large and ideal for high-flow days or nighttime use.
Postpartum Panties- Reusable and Disposable
Bleeding can be heavy in the days and weeks post-delivery. During the postpartum period, you'll almost certainly bleed through your panties at least once. Because postpartum bleeding is stronger for the first three weeks or so, it's a good idea to stock up on disposable underwear. Absorbent "period panties" and even underwear created exclusively for postpartum moms are now available on the market. Get yourself a pair of period panties to go with your pads. Cojin Disposable Maternity Pad Panties are the most effective product available on the market. It comes in a set of five panties that offer 360-degree all-around protection and a no-leak guarantee. Clovia Period Pants are constructed of breathable cottony-soft cloth. It also helps to prevent itchiness and rashes. After you've used it, you can quickly dispose of it.
Kotex Overnight period panties are worth a consideration if you plan to buy postpartum panties for bleeding. Thes panties give you complete coverage, they come with a long absorbent core with a flexible 3D design to prevent front, back, and side leakage.
Disposable underwear is less comfortable for some women than traditional underwear. Invest in reusable panties if you don't want to feel like you're wearing a diaper. Lux Cozi Women's Cotton Hipster Panties, Lyra LUX Women's Floral Cotton Panty, and Enamor Women Hipster Panties are the most affordable because they are made of 100 percent cotton with an antimicrobial finish that prevents odor-causing bacteria and a stain-release finish that makes stain removal simple. They provide additional front and back protection, allowing you to go about your day or rest easy.
Cold packs for postpartum are a must-have and one of the crucial top postpartum essentials. Get an ice pack if you aren't included in your post-pregnancy care package. There will be some swelling, soreness, and discomfort in your vaginal area after giving birth, however cold packs work wonders in lowering pain and swelling.
Ice is a simple and effective approach to relieving pain, mainly during the first 24 hours after a vaginal delivery. It will bring you great relief, especially in the first few days after you return home! There are numerous sizes available on the market. We don't recommend chilling your delicate portions with usual ice packs.
Fill a peri rinse bottle with warm water and use it to rinse the area between your anus and genitals every time you go to the bathroom to help minimize swelling and discomfort after giving birth.
Your vagina will be large and painful after giving birth, and wiping with regular toilet paper will be unpleasant. And here, the Peri rinse bottle comes as a rescue. If you had a vaginal delivery, this bottle is essential for self-care and cleanliness inside the days after your delivery.   As you urinate, spray water all over your perineum to relieve pain and burning.
The Cynpel Peri Bottle for Postpartum Essentials is a simple-to-use, portable bidet that includes a retractable nozzle, nozzle cover, and a waterproof travel case. Simply fill it with warm water, turn it upside down, and enjoy a calming spritz of freshness during those less-than-comfortable postpartum months. You receive pinpoint accurate relief with an angle nozzle that has 10 holes instead of the typical 6. There's no guesswork or struggle to get it right.
Sitz Bath
If you experienced an episiotomy or a tear during birth, a sitz bath is highly recommended. Your entire pelvic area will be sore, and a Sitz bath is an excellent way to relieve pain. The Sitz bath relieves pain and hemorrhoids, reduces swelling, and encourages excellent hygiene and recovery.
Fill the sitz bath bowl halfway with warm water and soak for 10 to 20 minutes. To maintain a pleasant temperature, add more warm water as needed. When you're finished, pat the area dry gently with a towel rather than rubbing it.
If you haven't already, put a sitz bath set in your postpartum care kit. Soothic Sitz Bath for Hemorrhoids is a product that can help with hemorrhoids, perineal, and postpartum difficulties. It's quite easy to clean and extremely comfortable. The material is very smooth and easy to keep clean. This item also comes with instructions on how to use it as well as a matching bag to put it in.
Another must-have item in your postpartum recovery pack is a perineal spray. Though the Sitz bath is wonderful, if you have a lot of tearing or a short temper for pain, this could be one of the postpartum essentials in your postpartum kit.
Perineal sprays relieve pain and discomfort by acting as a local anesthetic. It's a tried-and-true perineal spray designed exclusively for postpartum care. Just make sure you're using a spray developed for postpartum moms' sensitive areas and double-check the contents.
The first post-birth poop is the most difficult challenge a new mother must confront.  If you're not continually drinking water while breastfeeding, it's easy to become dehydrated. Constipation can be caused by dehydration! 
To avoid constipation, drink enough water, eat plenty of fiber-rich meals, and do some mild stretches. If you have a severe case of constipation, your doctor might prescribe a stool softener. 
Before you buy any stool softener, we strongly advise you to consult your doctor.
Comfortable Clothes
Yes, even after giving birth, you'll look 6 months pregnant! Your uterus shrinks over time. One of the most important postpartum recovery products for moms is comfortable apparel. 
Leggings are the most comfortable during postpartum recovery time. Have a look at this.  Fitted, yet not too tight. Look at what I wore during my postpartum recuperation. The BANAS Women's Knee Length Maternity Ball Gown with Zippers is ideal for nursing. For simple breastfeeding access, both sides have undetectable vertical zippers. You may quickly open and close it to breastfeed your kid at any moment. This feeding gown is composed of breathable cotton fabric that allows for air circulation and keeps you cool throughout the day.
I was also frequently wearing my Fabme Women's Cotton Calf Length Maternity Nighty. Elegant dungaree nighty with a short length, striped texture, and dots on the cloth, perfect for new-age mums. By simply opening a zip at your bust, you can feed your baby.
A nursing bra is another must-have item to prevent leaks. Even when you're both full and empty, Mylo Essentials Maternity Bra – Non-Wired Bra with Free Bra Extender is comfy. It contains clips that make it easy to breastfeed by pulling the front half of your bra down.
Donut Pillow for comfortable sleep
If you're extremely uncomfortable down there after a vaginal delivery, a couch or a bed might not be soft enough. You can use any old cushion for this. This carefully constructed donut pillow, on the other hand, aids in a quick recovery. During the 6-week postpartum recovery phase, it ensures your bottom's utmost comfort. It can assist in keeping your back elevated and relieving pressure on the swollen and painful area. A DMI Seat Cushion Donut Pillow cushion is a good choice due to its adaptability. To make breastfeeding more comfortable, and to hold up your baby, it is an excellent item to grab. 
Looking for Post-Pregnancy Slimming Belts? Here, we have curated a lst of the 7 best Belts available for you
Minimalist Postpartum Essentials For Babies
Babies bring with them a new plethora of things. Here for your ease, we have listed together the essential items needed for your baby.
Diapers and Diaper Rash Cream
All parents know how important diapers and wipes are! Numerous well-known and lesser-known brands sell a wide choice of diapers that can store anything. Huggies is a very popular brand, and we recommend them for newborns as well. Cloth diapers are an option for environmentally conscious parents. Also, have small baskets packed with diapers and wipes around the house for quick and easy diaper changes.
During the first few weeks after delivery, a newborn will go through a lot of diapers. During every diaper change, protect their delicate diaper area with a safe and effective diaper rash lotion.
Crib
Your sweet bundle of joy is going to need somewhere safe to sleep when you bring them home from the hospital. A bassinet or crib is the safest option for your newborn. Along with a crib, a baby seat or bouncer is also a good one for your registry. 
Swaddle
A good swaddle is always at the top of the list of postpartum necessities. The majority of parents prefer muslin swaddling blankets, however zip-up and velcro swaddle blankets are also fantastic time-saving solutions. Here's a rundown of our fave swaddles! LuvLap Muslin Swaddle and Babygamy Baby Swaddle Blanket are two examples.
Baby Wrap
you can't expect to hold him or her all the time. There are moments during the day and night when both hands are required. This is why babywearing is essential both during and after recovery. A baby wrap or carrier should definitely be on your postpartum needs list. Luvlap is well-known brand for baby essentials like baby carrier. You'll be relieved to have the means to keep the baby close while completing your task list.
Check out this trending article on Best baby carriers in India.
Nasal Aspirator
Your baby's nose may still be full of mucus after birth.  A nasal aspirator can simply suck up any mucus or secretions, keeping your infant comfy. If you don't use your nasal aspirator during your baby's first few months, it will come in handy throughout the toddler years.
This Grooming kit for babies is a must-have and is a value for money product.
Bottles and Formula Milk
During the first week or so after delivery, your baby will eat eight to twelve times each day. When preparing for your newborn, baby bottles and formula milk are obviously necessary. Dr. Brown's bottles are fantastic for breastfed kids, but if you prefer to formula feed your baby, the Philips Avent Natural bottle is a great option for on-the-go feeding. You gotta go see them! Along with that, you can also buy Fisher-Price Sterilizer to sterilize baby milk bottles and accessories. 
Hand Mittens and Burp Cloths
Your adorable little baby's fingernails will most likely be long when she is born. Put gloves on your baby's hands to keep them from scratching themselves due to unsteady movements.
Babies spit up frequently, so having a nice, thick burp cloth that can absorb and hold all of it is essential. We've tried a few different goods, but my personal favorite is the MOM CARE Muslin Cotton Burping Towels, which is extremely soft and absorbent. Muslin Burp Cloths 10 Pack is a beautiful burp cloth set, which is wonderfully soft and cheap, was recently discovered!
Breast Pump and Breast Milk Storage Bags
Breast pumps are another good item to have in your kit, which allows mothers to provide breast milk to their babies even when they are unable to breastfeed. Momcozy Double Wearable Breast Pump is the most popular breast pump on the market. This hands-free pump is equipped with 2 modes and 5 levels. Plus, it is 100% noise-free. Check out this top article on Breast pumps and all you need to know about Pumping
Instead of purchasing one, you can rent a hospital-grade breast pump.
You'll need to be able to keep your breast milk if you plan on pumping it. Breastmilk storage bags are another option for storing pumped milk. It is strongly suggested for future use and emergency situations.
More from the Sharingourexperiences –
Best Maternity Hospital in Gurgaon
Unique and Rare Indian Baby Names 
Final Words
Preparing for birth is important and preparing for postpartum recovery is even more important. Have we overlooked one of your favorite postpartum necessities? Leave a comment with your baby's must-haves!
Did you find this article useful? Take a look at our website's Pregnancy section.