Online shopping has made our lives so easy. But most of us are skeptical when buying high-value items/ electronic items online.
In this article, I have listed my favorite and most trusted top best online shopping Websites for home appliances and electronic items.
The pandemic has totally made us dependent on online shopping even for our most expensive gadgets and appliances.
Home and kitchen appliances especially washing machines, dishwashers, laptops, and vacuum cleaners have picked up online sales due to the sheer requirement of the market during the pandemic.
Are you searching for the best online shopping sites in India for home appliances? Have a look at our below list of the Top 7 e-commerce sites in India.
If you are running short on time, take a quick look, the below table shows the top 3 Indian sites for buying home appliances.
Amazon- Most widely used E-Commerce Website
Amazon is undoubtedly the world's largest online shopping website. You can get anything and everything on amazon including home appliances and gadgets.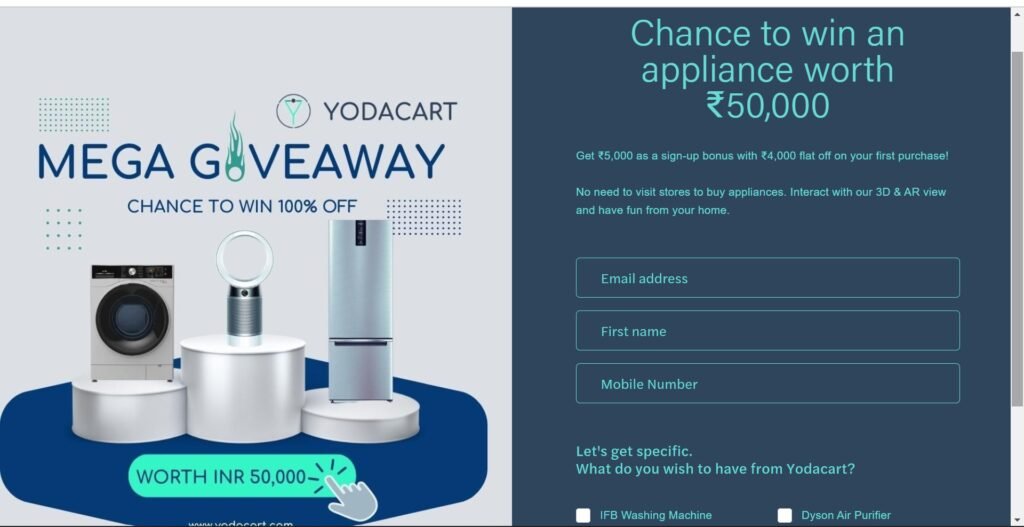 Yodacart- Best Online Store for Home Appliances
They focus on large appliances only, but you definitely get huge discounts at Yodacart. We have purchased an AC & washing machine from Yodacart at an astonishingly low price.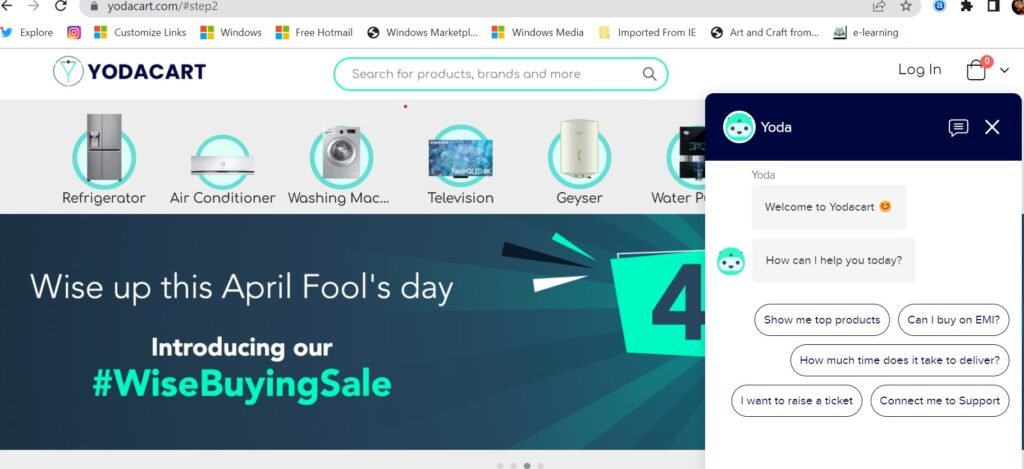 Flipkart- Best Indian Online Shopping Site
Flipkart is one of the top Indian online sellers. Like Amazon, they sell everything that has a demand.
Croma- Online Electronic Store
is a pure appliance and electronic gadget store, it doesn't offer as good discounts as Yodacart, Flipkart, or Amazon. Croma has physical and online stores.
Reliance Digital- Online Store For Appliances and Electronics
Like Croma Reliance digital too has fewer discounts. It also has physical as well as online stores.
TataCliq- Website for Luxury Items and Gadgets
Not as popular as others on the list, Tatacliq is a trustworthy site selling luxury items online. They offer a wide range of home appliances and gadgets.
Vijay Sales- Popular Electronic and Appliance Store
VijaySales is one of the best retail chains for home appliances and electronic gadgets in India. They have also gone digital with their store along with having physical stores all across the country.
Online Electronics Store At Lowest Prices in India
You can get amazing offers on e-commerce sites such as Amazon, Flipkart, and Yodacart. Yodacart offers irresistible discounts.
What to consider when buying a home appliance
There are many important things you must consider while buying Home Appliances-
Budget- It is important to set a budget and search for the appliance within that budget, it makes your selection process easy and doesn't burn a hole in your pocket.
Size of the appliance- It is advised to first check the available space where the appliance will be placed, especially in the case of a washing machine, refrigerator, dishwasher, etc.
Availability of Spare-parts and service centers- This is an extremely important thing to consider, often due to the unavailability of a spare part the whole machine can go out of use.
Features of the Appliance- Compare the features of the appliance and see if it is value for money.
Reviews- The best feedback is from the people who are already using that appliance, try to get reviews from the users.
Running Cost and Electricity consumption- Every electronic appliance consumes electricity, so ensure that you are aware of the power consumption of your appliance before buying. Don't forget to check the star rating on the appliance.
Important things to keep in mind when buying home appliances and gadgets online?
Online shopping is an excellent way to get the products at home without stepping out. However, the main concern is the number of growing frauds and delivery of faulty items. You can definitely avoid such inconveniences when shopping online by keeping a few things in mind-
The shipping cost & Delivery Time- Most people prefer to buy online to save time and money, ensure that the portal/website you are buying from offers free shipping. Do check how long it is going to take for the product to be delivered.
According to a certain report, some online businesses have failed because they hid shipping costs, in the beginning, many buyers opt-out at the time of check-out if the shipping cost is not explicitly mentioned at the beginning.
Easy Navigation and user-friendly Website- This covers several factors like the ability to search for products and filter as per your requirement.
Available Payment Methods- Be sure to offer your customers the most common payment methods. A regular credit card, debit card, and Paypal are a must. Additional options will also be useful in driving up conversion rates. Plus, if you are a local store then 'pay at door step' may also be a convenient option since a number of users still are not sure about giving credit card information online. Returns and Cancellation Policies
Returns/ Exchange or cancellation is an important criterion as you are investing your money in big appliances, you want to be sure that if a faulty product reaches your doorstep, you are not at a loss.
Online shopping for bigger appliances is a risk, being able to return the product and getting refunds helps take customers into confidence.
Online Reviews- Check thoroughly, both the online reviews of the product/ gadget you are buying and the place you are buying from. Check for reviews with images, also don't forget to go through negative reviews, this will help you get a complete idea about the product.
Discounts and Pricing- Different online stores offer different pricing for the same appliance with the same features. Check for deals, Sales, and also offers on different cards.
Where is the best place to buy appliances online?
I recently bought AC and washing machine from Yodacart and I loved my buying experience. What I liked about Yodacart is that it is a clutter-free website offering only high-value appliances, so you don't get bothered by random suggestions of products on your screen, and the navigation is easy and convenient, some other factors are given below-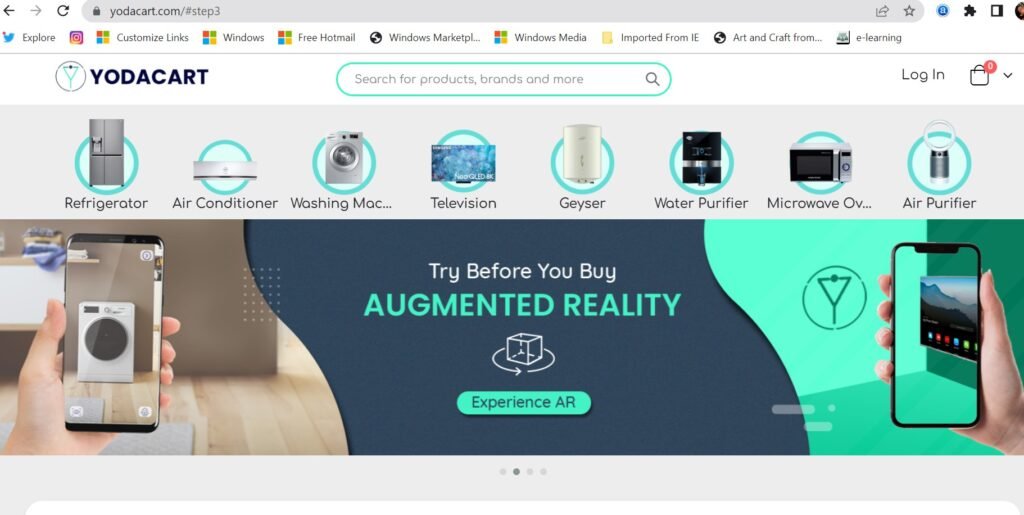 Seamless Navigation- The website offers seamless navigation, and you get a complete understanding of your appliance
Try before you buy feature- This is a super cool feature offered by Yodacart, here with the help of AR (Augmented Reality) you can place the appliance in your space and see how the real article will look in a given space, whether it will fit there or not.
Same-day delivery- Only a few e-commerce websites offer same-day delivery, and rarely do they provide same-day delivery for appliances. Yodacart provides same-day delivery for many of its products. We wanted to get a new AC but all other stores were delivering in few days and the installation too was to take time. We got the delivery the next day and they gave us same-day installation.
Where to buy laundry appliances online?
You can buy Washing machine from Amazon, yodacart or flipkart. While amazon and flipkart don't have as many options Yodacart offers 20+ models in washing machine at great discounts.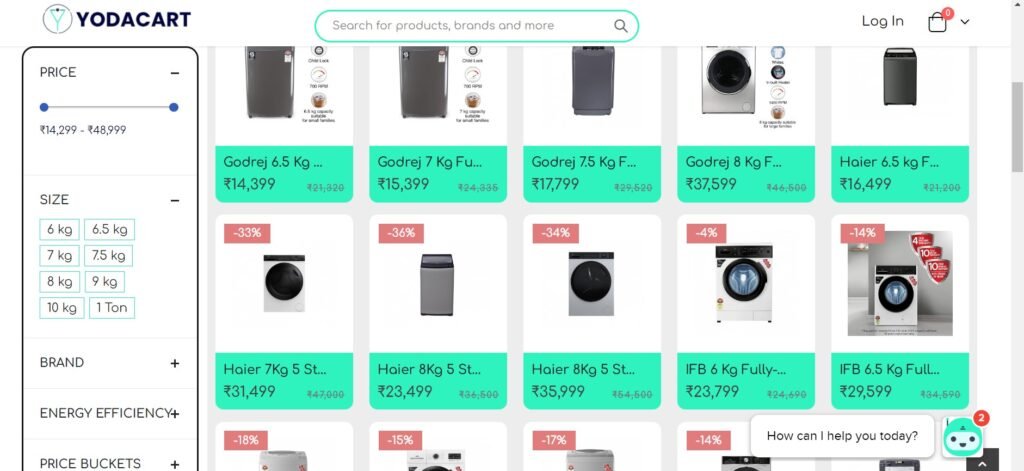 What are the home appliances that are must-haves in every home?
Listed below are 10 must-have home appliances that one can't do without-
Refrigerator
Oven
Microwave oven
Stovetop/cooktop/range
Air conditioner
Fans
Air-purifier
Geysers
Vacuum Cleaner
Dishwasher
Where do You Buy Kitchen Appliances from?
I mostly buy my appliances from physical stores, but lately during pandemic i joined the online shopping bandwagon. Amazon, Flipkart, Yodacart are a few online stores you can rely upon for buying kitchen appliances. It is important that you check the product reviews before buying.