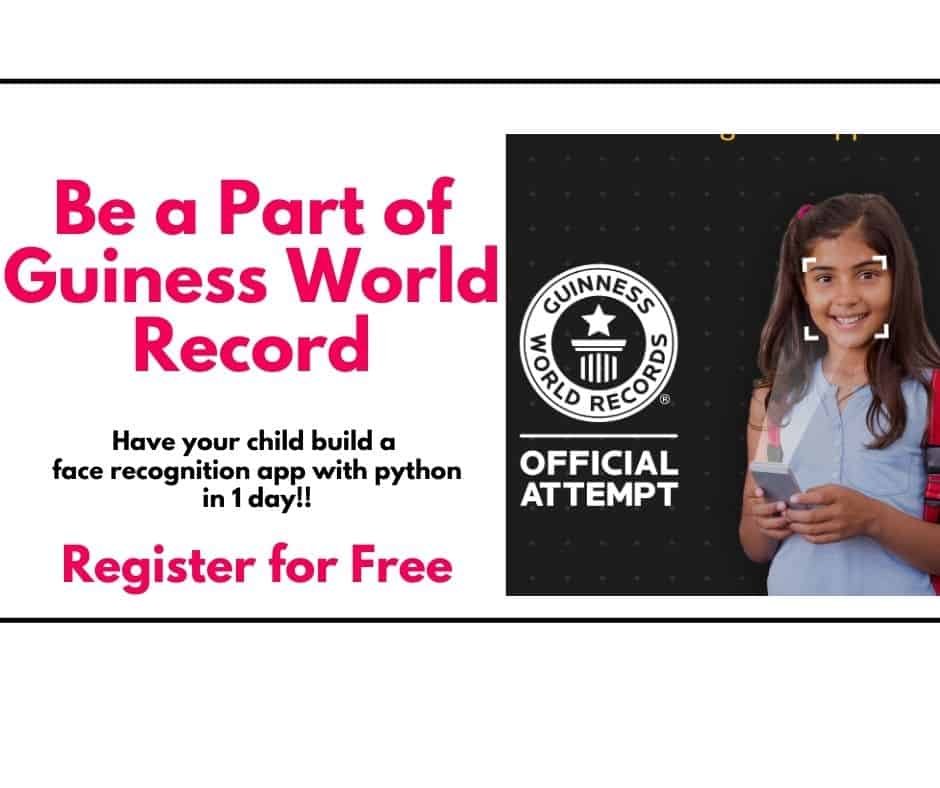 Have you heard about the AIForIndia event? find out all about it here in our post.
GUVI, an IIT-M incubated start-up, will coordinate a one-day free-of-cost online workshop in AI, which is India's official attempt for a Guinness Book of World Record entry! An estimated 10 lakh people will join the online event, where you and your kids can learn how to build a facial recognition app from scratch! Artificial intelligence is without a doubt the skill of the century! We live in a world where AI automates cars, trucks, trains, predicting early disease patterns, weather conditions, and much more. Almost half of our jobs are getting automated in the next 15 years by data scientists, researchers in their respective fields. It has indeed become a part of everyone's life, so much so that it feels pretty standard when our music apps cater to our favorite genre and make a daily playlist or when a device plays chess with us or understands our natural language.
Children ask prompt questions of "Why?", "What?", and "How?" finding the right answers to their quest, GUVI brings just what your curious child needs.
GUVI understands kids and technology equally, in its core form. Experts at GUVI feel the need to introduce AI to children from a younger age and know exactly how to deliver it.
About GUVI & AI-For India
GUVI(Grab Ur Vernacular Imprint) is an IIT MADRAS incubated company. In 2013, GUVI embarked on a mission journey to impart IT skills in every corner of India. They have helped over 7 Lakh+ users to learn, grow, and invest their future in coding. Their latest initiative, the "Ai-For-India," is scheduled to upskill 10 Lakh people in one go, making it the highest virtual gathering for any online event. The event collaborates with AICTE, the national-level council for technical education, under the Department of Higher Education and co-sponsored by BUDDI.AI, the leading revenue and clinical automation platform based on deep learning.
Till now, they have brought along 2.5 Lakh + people from 28 states all across India for what's going to be quite an event. But to reach the precise numbers for the Guinness World Record, They need your help.
What is Hackerkid?
GUVI's Hackerkid is the most trending exclusive AI Training segment for Kids. Hackerkid brings in a new pedagogical approach in coding that kids find intriguing yet simple to learn. Children tend to learn and explore the most when they are left on their own, So, this platform lets them do just that! It is a user-friendly platform and ensures that kids play the games and indirectly learn to code. Isn't that fascinating? The games are also such that even for adults they can bring back memories from their childhood through Hackerkid!
What is #AIforIndia?
GUVI, in association with the All India Council for Technical Education (AICTE), will host its visionary event AIforIndia and partner with BUDDI.AI.
This one-of-its-kind event will be live from April 24th, 6 pm to 25th, 6 pm, 2021. In this workshop, your child will learn the following-
Your child will learn to build a Face Recognition app using Python.
Master the Python skills from the experts with this Python workshop.
✅ All this for FREE! We are not kidding. Register for free and excel in AI.  
How to Enroll?
Simply Go to GUVI's "AI-For-India" event page and register yourself using your credentials ( Email & Phone.no). You can pick a 90-min slot, whichever you feel right, conveniently available throughout the day, beginning from April 24th, 6 PM to April 25th, 6 PM.
Attend the workshop and learn to build a facial recognition app using Python, work on those learnings and submit the project app to earn a certificate.
What are the benefits that you'll Receive?
By joining the initiative "AI-for-India," you will gain free access to GUVI's professionally curated Python Course.
You will also learn how to process images and will be able to create thumbnails, formats, filters, and apply various digital image processing techniques primarily for Face Recognition App.
The event also features free certificates of participation & additional GItHub's benefits worth $200.
GUVI has its Reward-referral program, where you can refer the event to your friends, family, or colleagues and win iPhone 12, AirPods, Smart Watch, Headphone, and much more.
AIforIndia is an event for all! Everyone and anyone with an interest in technology should register and master the skills required to achieve AI.  So, we wish everyone from 8-80 years should join this AI revolution. 
The AI in Kids Curriculum
For those who don't know, Artificial Intelligence is the basis of mimicking human intelligence through various algorithms built into a dynamic machine environment. The weaving of AI is so intricate within world functions, whether it's banking, finance, healthcare, or automobile.
That's why it's significantly essential to introduce AI & ML in children's early learning and development. Let's try and emphasize how these specific schools of thought will lead the overall development of your kids and assist them in performing cognitively for the world of tomorrow.
However, when parents think of exposing their children to tech-based learning and hefty lines of codes, they are often skeptical about the questions like how soon is too soon or what if they don't like it? Therefore, we should always pick a platform, which is encouraging, rewarding, and adopts a kid-friendly approach.
The GUVI's AI-For-India event is open for anyone aged between 8-80, be it a school kid, a fresh graduate, or a working professional. On top of that, they will be releasing the certification for participation for everyone who attends the event.
Kids and adults are equally welcome to learn Python with AIforIndia. It implies that individuals with zero prior coding experience can join this event. 
Let us add some spice to the overall scenario! GUVI has registered this AIforIndia 1.0 for Guinness World Record. Yes! This massive event will supposedly break a World record by upskilling over 1 million participants in a single virtual event. So, you stand a chance to be a part of this GUINNESS WORLD RECORD. 
AIforIndia is an attempt to make India amongst the Top 3 countries in Artificial Intelligence. With us, you can make it happen! Just register for free, attend the event, and let this AI revolution spread wide like wildfire!
Why should you register your kids for AIforIndia?
 Activate your Python Course – This course will introduce you/your child to the world of AI. take it as an opportunity to unlock a free Python course opening a way to endless possibilities. 
Building a Face Recognition App– You/Your child will be able to build a Face Recognition App on their own. This will give them the confidence to explore and experiment with technology.
You/Your Child will get a GUVI Certification- The Certificate will be for marking the World Record Participation, a big achievement for your little one. 
Free Expert Sessions by GUVI Mentors– The sessions are delivered by our experienced mentors at GUVI.
You have nothing to lose here, only gains! Just 90mkinutes of your time can make such a difference to your child's learning experience and your child will be a part of this one of its kind AI revolution.
Advantages of Introducing AI in Early Education
The recently commissioned NEP (National Educational Policy) emphasized introducing the concept of Artificial Intelligence, machine learning, and relevant technologies into the yearly curriculum. Introducing AI in early education can harbor many career psychological and elusive benefits. We will try to list a few in this blog.
Great career opportunities
Recently, the demand for data scientists and its relevant category grew by 471% in 2019. Companies are showering buckets of cash for anyone who can imitate, read or retrieve the data to make reasonable assumptions. The same belief is most likely to be true for the field of AI. The IT sector will produce millions of jobs with good pay grades. And a lavish lifestyle. The AI market will contribute as much as $15.7 trillion to the world economy by 2030.
Early Exposure to Coding
Experts conclude that skills like coding will continue thriving, and the requisite coding knowledge will have more demand than their non-technical counterparts. With the AI-For-India event, one can unlock the free course of Python, one of the most basic language requirements for AI, ML, and data science.
Boosts Cognitive as Well as Imaginative
Introducing concepts like Python and AI will help your kid expand their problem-solving ability. Unlike other disciplines, the programming is based on the test & deploy modal. Every problem they will face during the workshop will enhance their creativity, and it will help them widen their horizon and help them become an innovator.
Help India Become a Global AI Innovator
India witnessed recent breakthroughs in space exploration and medicine. ( With their Covid/Ebola Vaccines) We do not doubt that India can excel in Artificial intelligence as well. All we need is our younger generation to be fascinated about it!
Share with all your friends. Yes, sharing is caring, no doubt. But this sharing can be rewarding as well! With the learning opportunity that you share, GUVI will share its love with the best surprise gifts.
Yes, you share to 10 to 50,000 people and earn prizes as exciting as a free Netflix subscription, iPhone X, etc. It is indeed a great opportunity. It is a super win-win event!
Register here @guviofficial & Get GUVI's  Python Course Free for learning.