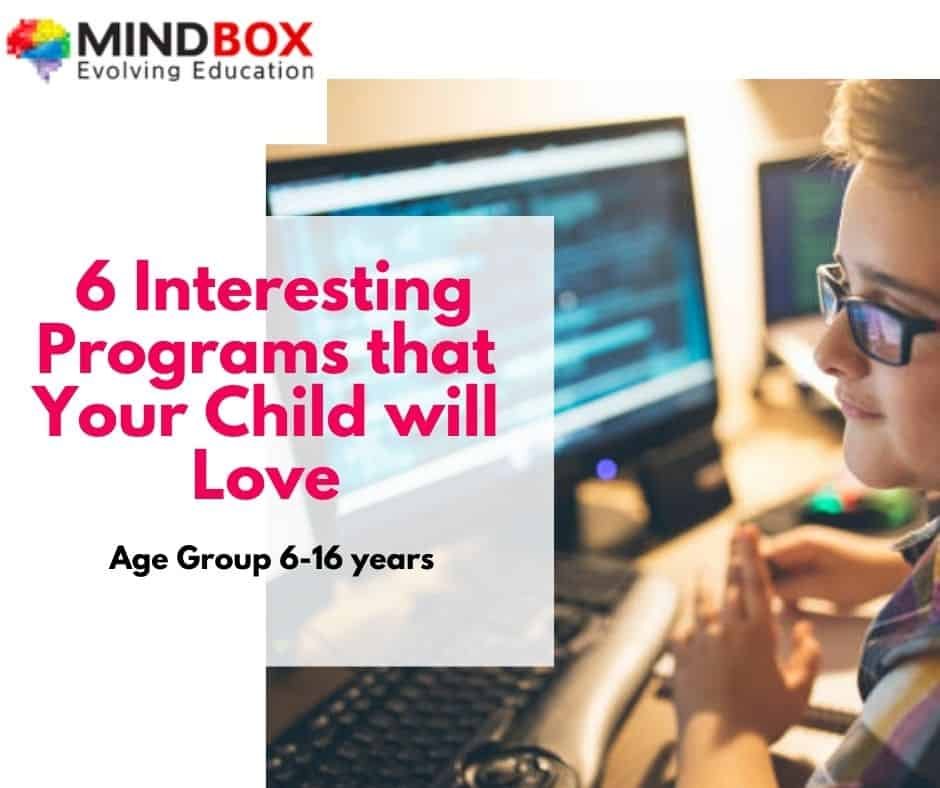 Coding is the buzzword these days. Amidst this pandemic, I have tried searching for various options to keep my son meaningfully engaged and every second option that cropped up was coding classes for kids as young as 5 years old. I have read a lot about the benefits of coding classes for kids, like enhanced computational abilities, logical and critical thinking, problem-solving skills, etc.
And coding classes are the best way to keep your kids abreast with the changing times too. Code is at the core of the technology and coding classes allow your kids to become creators of technology instead of just the consumers.
MindBox is the best coding class for kids because they help the kids in becoming Creator, Thinker, and Innovator.
It is best to introduce complex skills like coding to the kids when they are as young as 5 years. At this age, they can easily learn coding skills, utilize them and implement them in times to come. MindBox offers specialized, focused classes for different age groups.
MindBox follows a holistic learning approach. It believes that every child is unique and learns differently. Hence, they all need to be taught differently too. In our current education system, the kids are just the consumers. Teachers give the download of all the information and children just learn them. However, MindBox is changing the way kids learn. Here the kids are allowed to explore, learn, apply the knowledge and create new things. The teachers just act as facilitators of learning.
The student-centric approach followed by MindBox enables easy learning of 21st-century skills like Creative Thinking, Critical Thinking, Collaboration, and Communication. There are a lot of reasons for which MindBox is the best online coding class for the kids and sets it apart from the rest:
Research based curriculum
The curriculum at MindBox is research-based and all the courses equip the kids with skills like programming, coding, computational thinking, logical thinking, sequencing, analysis, ideation, creativity, and problem-solving. It offers specialized courses in graphics designing, game designing, 3D designing, app design, web design with coding, etc. All the courses are focused on fundamentals that not only ensure a strong foundation for the kids but also enhance their creative confidence. You can check out the detailed curriculum here.
STREAM Education
MindBox uses STREAM methodology of teaching. STREAM stands for Science, Technology, Research, Engineering, Art, and Mathematics. MindBox uses a multidisciplinary approach of STREAM that helps kids to create apps & games by understanding how subjects integrate and work together. Kids learn to apply the combined knowledge of all the subjects and create solutions for real-world problems.
Gamified approach for kids
Many believe that coding is a geek's task and isn't fun. However, MindBox coding classes make coding fun with its gamified approach. The graphical interface of MindBox is also very simple and easy to understand. This makes learning fun at MindBox and keeps the kids engaged too.
Project based learning
MindBox promotes Project Based Learning where kids acquire deeper knowledge and learn by exploring the real-world challenges and finding solutions for them. They indulge the kids in DIY (Do It Yourself) projects where kids are encouraged to try their hands on coding under expert guidance. Through projects, students are able to relate the knowledge gained in classrooms with the real world. As a result, MindBox students are experts at the application of the acquired skills for real-life problem-solving. They become the thinkers and innovators of tomorrow. Some selected students also get to experience professional project internships too.
Student Centric Learning
MindBox is a student friendly platform that employs a student centric 1:1 learning method. This way the learning is personalised as per the kid's abilities and they are able to cope up easily. Also with 1:1 live sessions the learning is driven by the kid and it can happen at any time and anywhere as per the convenience.
Design Thinking
Design Thinking is a process where students apply the learned concepts to solve real problems of the world. MindBox inculcates design thinking in the kids. Their students explore the solutions under the teacher's guidance. The students take the lead to think, design, and develop the algorithm to solve the problem at hand.
MindBox has already trained over 1 lakh students across India with its creative teaching methodology. Their students are confident coders who are empowered with the skills essential to staying relevant in the changing times. MindBox offers a plethora of courses specialized for different age groups. Check out the detailed curriculum for each on their website.
Courses Offered by MindBox :
Your kid can learn game design with coding by learning the process of problem-solving. Flowcharts & step-by-step plans are taught to make kids proficient in 2D game development & interactive media design.
The Graphic Design module of MindBox enables your kids to explore vector graphic design by creating icons, design logos, making posters & banners, and even defining their own brand identity.
At MindBox kids are encouraged to visualize and create their own 3D designs. They can learn 3D modeling & animation by exploring animations and prospects of 3D printing & prototyping.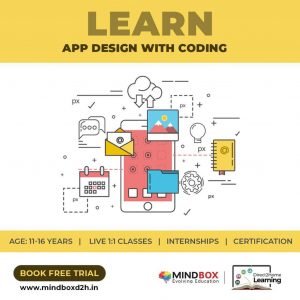 In this course, kids can create their own fully functional Android apps by learning the basics of visual programming, UI, UX design.
Kids learn to build amazing websites and web apps with the help of modern scripting languages and UI design tools.
Kids can learn coding in a fun way by applying imagination and critical thinking skills to create exciting projects.
In these tough times when kids cannot move out, online coding classes are a wonderful way to learn coding at home and have fun. Coding opens a whole new world for your kids. Let them explore, discover and enjoy it. At MindBox you can easily find online coding classes for kids on a variety of topics specialized for each age group. So what are you waiting for? Book the trial class today and let your kid dive into the world of coding.
MindBox is also giving free trial classes and you can register your child here.