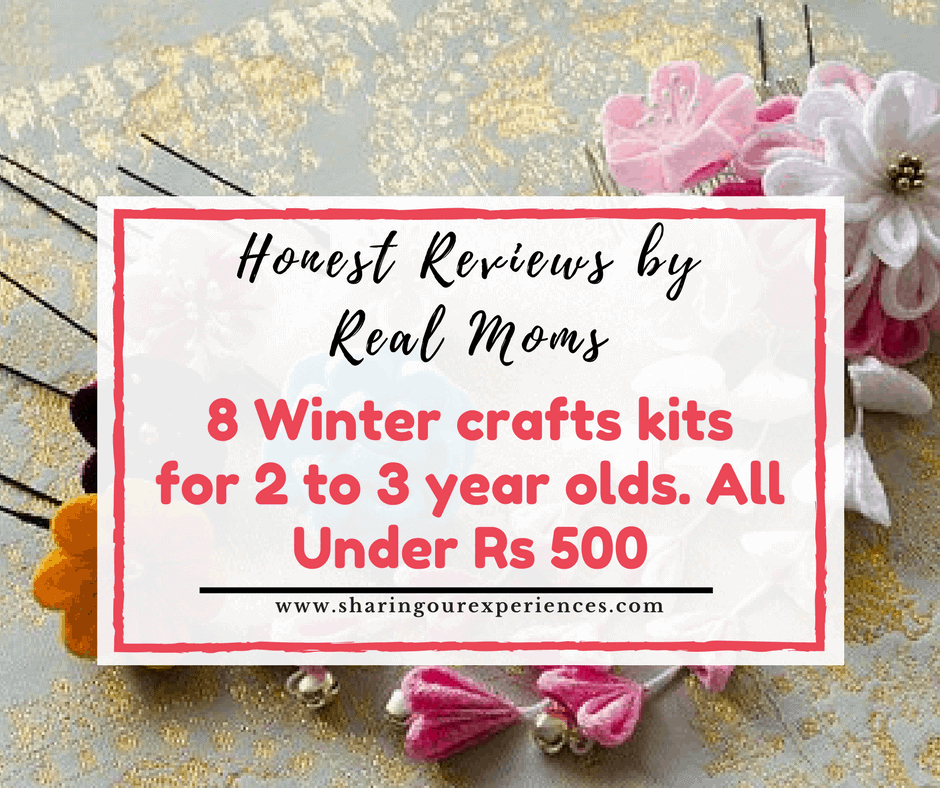 Looking for best winter craft kits for 2 to 3 year olds? Here is a list of carefully chosen popular craft kits for toddlers and preschoolers that your two year old or three year old will love.
Keeping your kids engaged in winter can be a herculean task. At least it is for me because my son does not want to wear socks or sweaters. So I am always worried about him falling ill in winters. Also our usual games like catching fish (fishing rod and fishes toy in tub of water) and painting with water colours are not of much use. As it results him in getting wet and me getting worried.
So I made a list of toys and winter craft kits that can help me keep him busy for as long as possible. I have bought some of the craft kits from this list and some I intend to buy. Don't worry I will explicitly mention the ones I have used and am happy with. And Most of these crafts kits for 2 to 3 year olds are reusable and under Rs 500 so is value for money spent.

So here is my list of Winter crafts kids for toddlers and preschoolers (All under Rs 500)
Winter crafts kids for 2 – 3 year olds
Melissa and Doug Water Wow Activity Books
So this is one of my favorite art and craft toy for toddlers. I started using it when my son was two and a half years old (though the recommended age by manufacturer is above 3 years).
Its one of those toys that I have also gifted to other kids in the family as I could see that my son loved it. Its also great as a travel toy. You can fill the brush with water and use it for painting. The water does not leak. All a kid has to do is use brush on the booklet and color appears. The pages are re-usable because the colors disappear when the pages get dry.
So considering the price and the usability, its definitely a must buy.  There are themes available so you can get animal themed, or alphabet themed or anything else based on your kids interest.
It is good for developing fine motor skill and hand eye coordination. Water Wow activity books can also be used for teaching alphabets, numbers, animals or anything else depending on what theme you are buying.
Melissa and Doug Reusable Adventure Sticker Pad
Another one of our favorite toys. My kid starting using it a little after he was 2 years old and still plays with it (at 3 years).
So the sticker pad contains 5 colorful backgrounds and at least 100 above reusable stickers. That can be peeled, added wherever you want and then if you want put back (the part that we are using as a puzzle, as you need to match shapes with sticker).
The sticker pad is also available on various themes. The one we have is Adventures sticker pad. Apart from developing fine motor skill and hand eye coordination, we are also using it as a puzzle for developing critical thinking.
This time I also saw a variant of above as Melissa and Doug Scratch and Sniff Sticker pads. Would love to try them.
Melissa and Doug Mess free Glitter – Flower and Butterfly scenes
This is a concept I loved. We got this during the phase my son was in love with butterflies.
The kit contains two background scenes and and 5 glitter sheets. Kid has to peel the white stickers and put the glitter sheet on it and then peel off. The glitter will stick and there is no mess.
The manufacturer recommended age is more than 5 years but after trying it I can say that my three year old thoroughly enjoyed it. Perfect for the winter crafts.
The scenes are not reusable. But as I said since I really liked the concept its worth buying once. May be you will enjoy it as much we did .
Melissa and Doug Tape Activity Book
This is another great toy from Melissa and Doug. My son and I have been using it after my son was 2.6 years old. And we love this tape book.`
So what this Tape Activity book kit contains is 20 reusable pages featuring 20 unique pictures. The pictures have to completed using tape. So the activity involve peeling tape, breaking it (it can be easily cut with hand) and pasting it on the pictures.
So it is a kind of cut and paste activity with tape. And my son loved doing these activities.
This activity books is good for hand eye coordination, fine motor skills and increasing concentration.
Last updated on 8th September 2023 10:48 pm
Imagimake Circus Puppets
The craft kits contains Peel & stick puppet templates so its easy enough for three year olds. I am yet to buy and try this one but I liked the concept. I love quilling and would love to introduce it to my three year old whenever I can.
So this kit can be used to make 5 circus puppets. Great for developing hand eye coordination and fine motor skills.
Last updated on 8th September 2023 10:48 pm
Imagimake Floating Lights – Make and Decorate Floating Candles
This is another interesting craft kit that I am planning to buy. The kit contains 3 Floating Foam Base,  3 T-lights and 1 Stone Set. Using above materials kids can make floating candles.
We (me and my three years old) love doing sticking stones and making crafts, so I think this one would be worth exploring.
Such crafts are great for developing fine motor skills and hand eye coordination.
Last updated on 8th September 2023 10:48 pm
Imagimake Christmas Craft kit
Well this is something that I found after Christmas was over but will definitely try out whenever I can.
We had made handmade Christmas ornaments and did Christmas crafts and activities but would have liked to try the kit above.
The craft kit contains 30 Foam Pieces, Googly Eyes, Paper Fastener & Sparkling Stones. 5 Piece Foam Model Making Set for Christmas Tree and Snowman, 50+ Peel & stick Glitter Ornaments.
The craft kits sounds easy enough for toddlers and preschoolers. And again such peel and stick crafts are great for fine motor skills and hand eye coordination.
Melissa and Dog – Design your own Bracelets
This is another craft kit I want to try. I am not sure if its apt for a three year old. And I don't know if my son would enjoy it. But I loved the concept and I usually like Melissa and Doug toys so I have included it here.
The craft kit includes 4 double-sided bracelets and 100+ sparkle-gem and glitter stickers. The bracelets have easy tab closure so they can be used again and again! Also the bracelets are reversible and adjustable.
And all time favorite for kids at all ages is Play dough. I usually get most of stuff from amazon but was surprised to see that toys are available on Shoppers stop as well :-). So you can get play dough sets from local market, or Amazon or Shoppers stop. But in general play dough is great for kids.
Check out Play dough from Shoppers stop or Amazon below
Last updated on 8th September 2023 10:48 pm
So here we come to an end of craft kits ideas for toddlers and preschoolers to engage them these winters.
Hope you enjoyed this list of winter craft kits for toddlers and preschoolers and no have easy ways to keep your kids happy and engage these winters. Do you have any recommendations I can add in the list, do let me know using comments below.
Don't miss to pin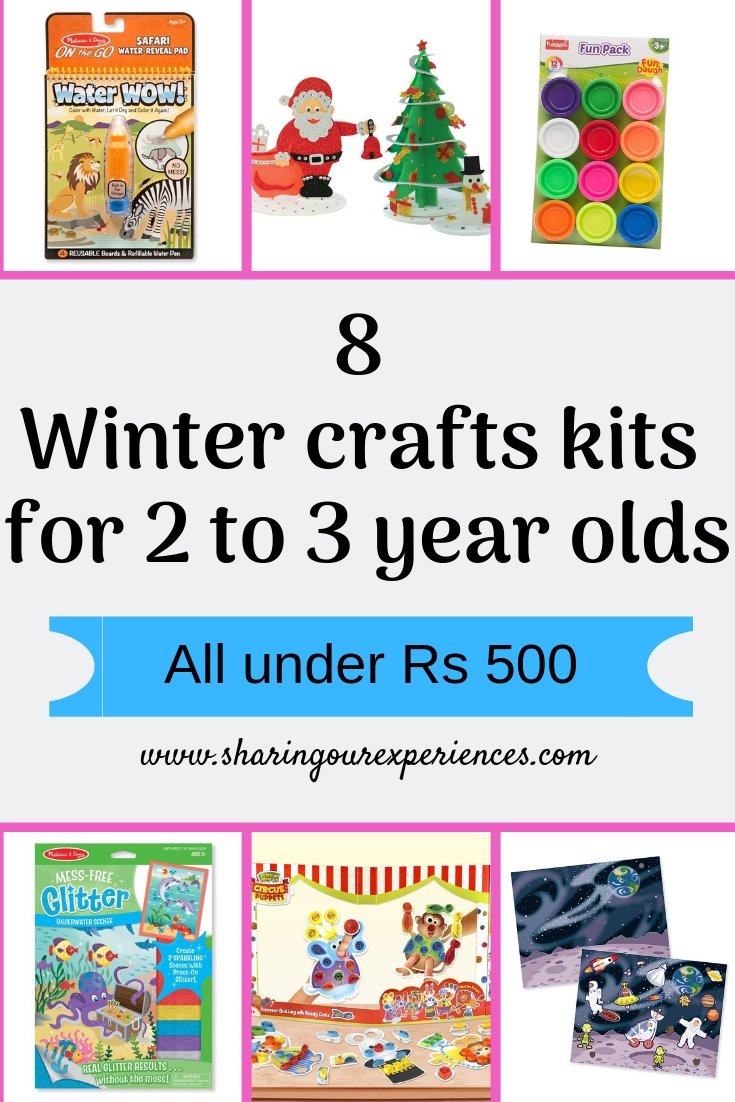 If you want to check out how, do read our popular posts on Child Growth and Development. Hope you enjoy reading it and find it useful.
Liked This Post ?
You may also want to read our popular post on Games, Activities and toys for 2 year olds
Your Turn Now
In case if you liked this article do show your support by sharing this article.
Like our Facebook Page 
Stay connected with us using your favorite social media, we can be found on
Do you want to share your parenting tips, stories, toy or book review, let us know by using comments below or mailing us on sharingourexperiencesblog@gmail.com
Add a comment
Did you find this list of crafts kits for toddlers and preschoolers useful ? Do you want to add anything to the list of craft kits for 2 to 3 years old. Do let us know using comments below. We would love to hear from you.