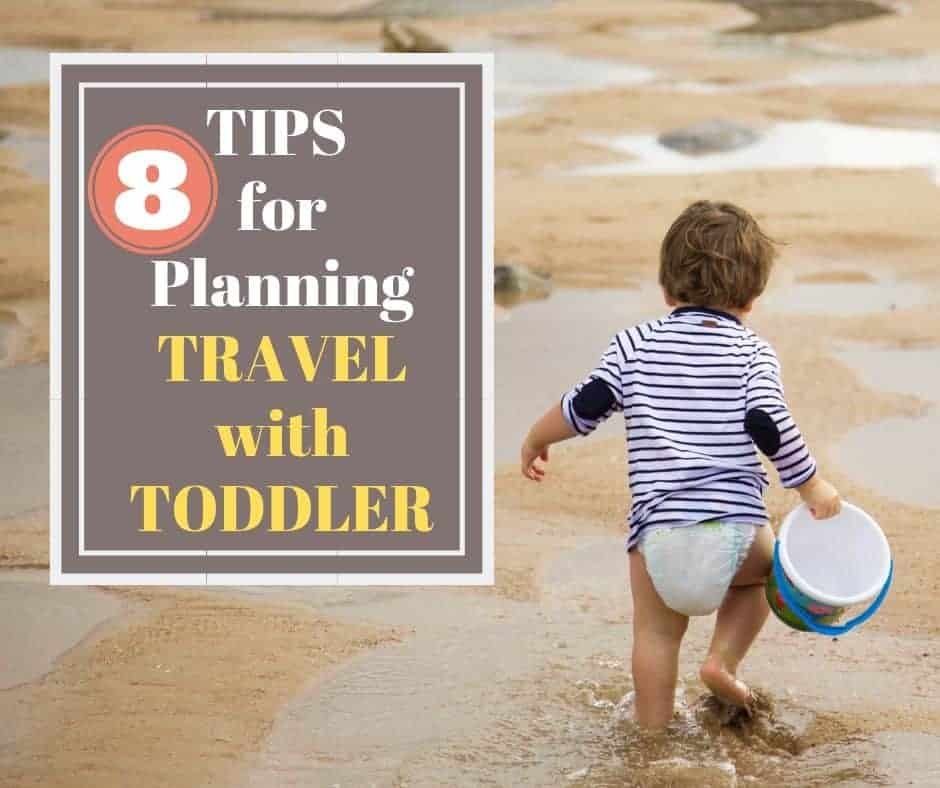 Looking for tips for travelling with toddler. Here is what has worked for a globe trotting mom. A free travelling toddler checklist printable included
Travelling with toddler is every one's dream and hassle-free travelling is an achievement.
Yeah! Which is impossible, isn't it? But don't worry you'll survive.
Travelling with your toddler can be exciting and tiring at the same time. Toddlers are different from babies, they want to be mobile and independent and throw tantrums if things don't go their way.
So here I am sharing my experience with quick and handy tips for travelling with a toddler. I have also included a checklist that works for me when travelling with my kid. You can download the toddler travelling checklist here.
Tips for Travelling with Toddler
Plan – Each and Everything
Those were the days when you used to just pack your bags and just fly. But its no more the same. So before you fly or take road trips with toddlers, make sure you plan things accordingly. Check the climate of the city/country you're travelling to. So that you can travel lite.
Make a trip plan that's not too hectic. Check the places to visit and the time they open and close. Also check if there are any places that your toddler would enjoy – for e.g. you can include a visit to the Zoo, or plan an extra hour at beach with sand pretend play toys.
If you're a photography lover, don't forget to pack your DSLR and tripods along.
Pack your Emergency Bag
You may laugh but yes I call it as an emergency bag. So what I pack inside?
Medicines for your kid, yeah you may need it at any time. Do visit your pediatrician before you travel and carry some medicines. So that if case of any emergency you can call the Dr and administer medicines as needed.
Few medicines I carry from my experience. But don't just follow below – meet you pediatrician before you travel and neve give a medicine wit your doctor's prescription.
A Paracetamol syrup is must to carry for toddler and an ear drops must for flight journeys.
Nasal drops
Colic syrup
Extra Band Aids
I also carry snacks in my emergency bag and lots of wipes and diapers (very helpful if your kid is not potty trained) and disposal bags. And for road trips carry potty seat along with disposal bags available on amazon for potty trained toddlers.
Plan Activities and pack travel toys to keep toddlers occupied
Pack new toys as presents. This will make your toddler happy and keeps them engaged.
Keeping a toddler occupied when travelling for long time is not easy to manage. So as per my experience carrying handful travel activities and toys always works great.
Best Travel toys for toddlers
Here is a list of toys that have worked for me when travelling with my toddler and I recommend them to my friends as well.
Write and wipe clean boards are the best while travelling. These water wow reveal pads work well too. Also they work for a very very long time
You can get also get Quiet books for kids.
These Reusable Sticker books , coloring books and crayons, dry brush pen paints, stamps work great to have a screen free journey (irrespective of whether you are travelling by train, car or flight.
You can take flashcards, reusable wipe clean activity cards and read books.
And do not forget the play-doh. It works best for long flights.
Carry an iPad as your last resort.
If you're on a road trip, show them the nature out, talk about it, ask them if they want to know more. Taking a snap of the place and talking about it later is our favorite thing to do while travelling.
Here is a list of travel games that you can play with your toddler
Must have items when travelling with toddlers
Things you should never forget to carry if your travelling with a toddler– their favourite toy, blanket, favourite small pillow to make them feel comfortable and feel like home.
Prepare your toddler before the trip
Talk to your toddler about the upcoming trip. Tell them in advance on what they can expect, things that they going to see and fun they're going to have.
If possible involve them when packing, or ask them what do you want to carry with you. Kids surprise us all the time.
Also try to make things fun and weave a story around it. You can tell them that their favourite toy or their bag will go for a check up in a x-ray machine and you will get it back soon.
I remember my daughter cried her lungs out while her 'Minnie Mouse' soft toy went for a security check.
So next time we told her everything in advance and things went smooth and hassle free security check.
To-do list for MOMS
Make sure you have a travelling with toddlers checklist that you can refer to when packing and check your checklist before you leave. I will be including a checklist at the end of this article that may help you as well.
So here are some tips to make your travelling a little easier:
First of all , Don't forget to pack your stuff 🙂
Try wearing light to avoid removing jackets, boots or belts at the airport security check. Carry a paracetamol tablet in emergency bag for yourself too.
Try moving around while you are in airplane or take breaks when you are travelling with car to avoid blood clot.
Take a break (sleep, read or do things you like) when your little one goes to sleep.
Watch your favorite show and eat food on time.
Stay hydrated.
Try using airport restroom before you board the plane.
Use airport soft play area to keep your toddler busy.
Don't hesitate to take help if you're travelling alone. There are people who are always willing to help.
Carry snacks
Yes you heard it right and you may hear this great tip from all the moms.
Carry tummy filling snacks like bananas, fruit bars, sandwiches, dry fruit balls, makhanas, packed flavored yoghurts and oatmeal cookies. And any thing else that your toddler loves and is easy to carry.
Check out these travel foods when travelling with kids
Tips for travelling with toddler on a flight
Choose flight timings wisely to try to align with your toddlers nap schedule
Avoid transits flights as much as you can
Book your flight in advance.
While you book your flight, book a bassinet seat.
If you can afford book an extra seat too for long flights if you have a lap toddler. Otherwise request a seat with less people around when you are checking in.
Don't forget to carry your important documents – Passport, travel tickets and hotel reservations. Keep more than one copy of the documents
Jot down your trip plan in a handy note book.
Carry toys for your toddler
Dress your toddler in layers as the temperature in flight varies from that on the airport
Some Additional tips if you are traveling with toddler on a train or taking road trip
 Be prepared. If you're taking long road trips, don't forget to carry the car seat. Travel at night time. If you're toddler is a lap child then sit on the backseat of car and relax with your toddler.
Travelling with Toddlers Checklist
Diapering Essentials
Diaper, Diaper Bag
Changing pads and wet wipes
Nappy rash cream
Disposable cover
Sanitizer
Tissue paper
Related – Here are the Best Diaper bags loved by moms with more than 100 positive reviews
Everyday Essentials
Clothes for all climates
Shoes and socks
Bathing suits and towels
Tooth brush and tooth paste
Toiletries – soap, shampoo etc
Nail clippers
Portable toys/books/games
Related –Here are the best travel toys for toddlers that you can carry 
Meal and Sleep time
Handy Snacks
Sippy cup and water
Feeding essentials – Spoons and no spill Bowls
Bibs
Favorite bed time toy or book
Night light
Related  – Here is a carefully selected list of feeding essentials when travelling with a toddler
Health and Safety
Any prescribed medication
Thermometer
Paracetamol syrup
Nasal and ear drops
Band aids
Stroller
You can download the toddler travelling checklist by clicking here.
DON'T FORGET TO PIN IT FOR LATER 
Taking toddlers along with you to explore the world is the best life lesson you can give to them. So don't hesitate to travel with your toddler. Plan and give your parenting a challenge.
Liked this
You may also want read one of our other popular articles on How to encourage healthy eating habits in kids
Your Turn Now
In case if you liked this article do show your support by sharing this article and Liking our Facebook Page
Stay connected with us using your favorite social media, we can be found on
Do you want to share your crafts, parenting tips, stories, toy or book review, let us know by using comments below or mailing us on sharingourexperiencesblog@gmail.com
Add a comment
Don't you find the Tips on Travelling with Toddlers useful and interesting ? Try it and let me know using comments below. Would love to hear from you.