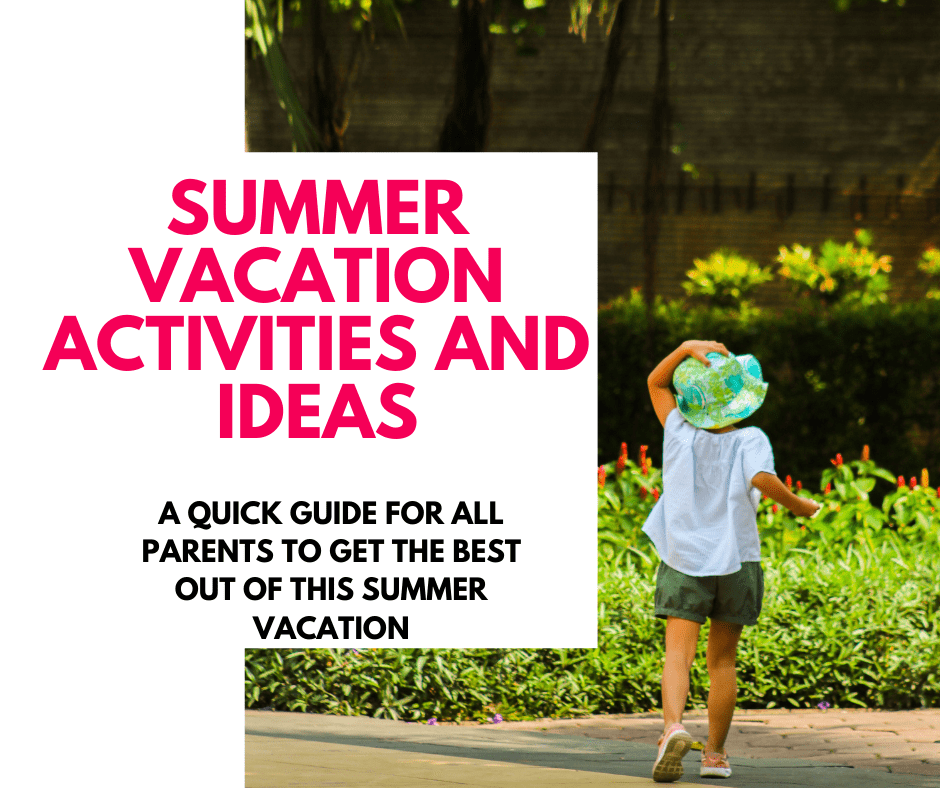 Looking for ideas to keep kids engaged during their summer holidays? You would love this list of best summer vacation activities for kids. I have included list of items that I bought to keep my son engaged during current scenario of lockdown where we have been indoor for months now.
Summer vacation means lots of fun for your child. They do not have to worry about getting up early or going to school.
There are many options that children can choose in order to make their summer holidays more enjoyable and to best utilize their time.
Also Read – Top 40 Indoor games for kids to Burn Energy and Beat Boredom
Here is a quick list of these options:
List of 25+ Summer vacation activities for kids
Looking for something fun to do on vacation with the kids? Look no further than these exciting activities!
There's something for everyone to enjoy. Start your vacation today and let the fun begin!
-Take a trip to the zoo
-Visit a nearby amusement park
-Head to the beach for a day of fun in the sun
-Explore a nearby city or town
-Visit a local museum
-Go hiking or camping in a nearby state park
-Take a road trip and visit some new places
-Stay at home and have a staycation!
-Visit a farmers market
-have a picnic in the park
-go for a bike ride
-play games at the park
-have a water balloon fight
-have a scavenger hunt
-make homemade pizzas
-have a themed movie night
-make a fort in the living room
-have a dance party
-have a water day where you run through sprinklers and play in hose water
-have a themed dinner night
-make your own ice cream sundaes
-have a picnic lunch in the backyard
-camp out in the backyard
-make s'mores over the fire pit
-have a movie marathon
-have a game night
The Most fun activities in summer vacation
Most likely, after compiling the list, you still have many "idle" days. Take on the following list – things that you can do in the holidays with your child. Dozens of ideas to help make it interesting, literally every summer day!
Relive your Childhood Moments
Parents should share their childhood memories with children. Stories from your childhood will help you connect better with your children and vice versa. Your child will know how things were many years ago when TV had limited shows and children limited options.
Share stories about your friendships, mischiefs, grandparents, and anything that you can recall.
Indulge in Sports
Keep evenings reserved for outdoor play. No person would want to send their child to play in the park outside the house on a hot afternoon, but ensure that your child gets his due outdoor time in the evenings, that also gives you child an opportunity to mix up with other kids.
In lockdown situation – if you are not able to go outside you can actually get some games like below to keep yourself physically active
Get Home a Trampoline
I have this version and it is good for kids as well as adults.
If you want something for younger kids, you can go for this one
Indoor Table Tennis
This is another good find on Amazon and I got it for 6 year old. This is a good way to learn how to control the ball
You can also go for ladder for kids or indoor basket ball game
Drawing and fun worksheets– Perfect Activities for Pre-school Children
You can get this drawing book to teach kids how to draw, I have got this one recently.
You can also download any of our worksheets and solve at home, We have multiple fun worksheets for kids here.
Also Read – 30+ Easy to do Best Out of Waste Craft Ideas for Kids that will keep them busy for hours
Gardening
Gardening is a work that brings peace and pleases the mind. This is the best way to connect children to nature, along with this, children learn about the environment. plant lifecycle and much more from gardening.
Check out this colorful set for gardening, your kid is sure to enjoy his/her experience
If not you can go out – buy seeds from Amazon or seeds from vegetables you use like capsicum, tomato and chillies.
I have literally bought seeds, soil, planters and manure from Amazon nowadays and set up my small balcony garden.
These flower seeds grew very fast. I have got this manure, this soil and these hanging baskets for my balcony.
Handbuilding Pottery with Potter's Clay
Potters' clay is easily available in the markets for kids' use. child and parents can all sculpt from clay together.
You can also check out sets like this on amazon
Painting
Painting is the best way to express creativity. If your children are fond of painting, then why not send them this summer vacation to a painting class. You could even enroll in parent and child art or painting classes, that way you will get to learn something too.
Check out this painting kit for beginners
Another product that is loved by many parents is this Rock Art painting set by Toing
What is the importance of art to students?
Arts have an enriching effect on lives. They activate many areas of the brain and improve creativity. Arts have been proven to help children in academics too. People learn about different art forms across the world.
Arrange a Treasure Hunt
Search for treasures in the house or in the yard. First, of course, you need to hide what the child can eventually find.
My son loves making his own simple treasure maps. So just introduce the concept and you would be surprised by the creativity.
Read Books – Best Selling Children's Book of All Times
Reading and storytelling is fun and there is no better friend than good books. Poor reading habits among children is a matter of concern all over the world. Reading books opens a whole new world to our children and also keeps them away from screens.
Cooking and Baking for Children-
Summer calls for delicious treats, you can try simple recipes or purchase a children's cookbook for more inspiration. You can choose from sandwiches, salads, chapatis to ice creams, cookies, and cakes.
Fun Activities at Home
If your child is aged 3-5, then you have a lot to do. Engaging these little munchkins is a difficult task. Get open-ended toys and let your little ones explore, imagine and play.
Get toys that allow the child's creativity, critical thinking abilities, and space. Increases related awareness and communication skills.
We have covered here – best toys for kids
Engage Children in beadwork
Creating beads and other jewelry. Weave from colored rubber bands. There are a lot of ideas and ready-made sets in catalogs in order to learn different ways of creating jewelry from different materials.
You can check out loom kits like these or create friendship bands using kits like these
Teaching Children Embroidery
Learning Embroidery also can help your child in enhancing their Fine motor skills and hand and eye coordination. Start with simple patterns.
I had recently got this cross stitch kit for my kiddo
Set up a campsite
This can be on your lawn/balcony or even in your bedroom. There will be plenty of options available for this one. It will be a great thing to be experienced by your kids. For outdoors a binocular or a telescope can lead to a lot of exploration.
If you want you can get this basic tent and just set up anywhere 🙂
Learn Music
It is said that there is magic in music, music can bring tremendous change in them. See what your child takes interest in, piano, violin, guitar, sitar, drums, or vocal music. The current pandemic has led many music teachers to switch to online music classes; so Covid19 is no more a barrier to the ones who want to learn!
For younger kids – you can get musical instruments for kids . We personally have a CASIO that we love and are learning basic songs on it.
We have this version of the Casio at home.
Drama/Theatre/Basics of Film Making –
Children learn the art of speaking and expression through Drama, teenage is the ideal age for it. No better use of summer vacation than to give drama training to a child.
For younger kids you can get any of the pretend play kits and let them explore
If your child loves being police – You can get this Police set. My 6 year old loved it
A candle-light Family Dinner
Buy different candles or you can even make some candles with your children, place them on the table. Arrange the table with your child's help. Prepare or order something that everyone likes and enjoy your candlelight dinner
Here are some candle making kits if you would like to get started
Rearrange the furniture
Decoration or changing the set-up can be a very interesting activity. If it is your child's room let them plan the whole set-up.
Candle making or Soap making
Arrange a day of soap making or candle making, you can let these activities be followed by a nice bath, home pedicure or a candlelight dinner. You can use soap making kits like these
Go to a Water Park or Set up a Pool at home
At normal times, when we were not hit by the pandemic, visiting a water park at least once during the summer used to be our summer goal. Kids love playing with water. You can inflate a large intex pool during current times and fill it with water and have your child spend a fun time there.
I had personally got this one last year and am really happy, It is like a tub can also be used by adults. Do check the dimensions of your bathroom before buying to ensure these fit after inflating
Card games, Puzzles, and Board Games 
There are many options that you can choose for different days. You can make a list of games and play them on different occasions during the summer break.
You can check out board games like these
We recently got this wooden magnetic chess and it is fun for the full family, Also I love playing this brainvita game.
I personally loved playing Brain vita as a kid – if you have not played it before its a fun game in which you have to move the marbles around in such a way that in the end you get only one marble left. Fun and brain development at the same time.
Arrange a Picnic
Pick up your picnic basket with your breakfast or lunch. Choose a place, for example, somewhere in a park or it could be your own yard.
Create a Home Spa or a Salon
Experiment new hairstyle with your kids, let them comb your hair too. You can have a nail spa or plan a family pedicure/manicure at our home. Each one of you can give a massage to one another. Put soothing music, light fragrant candles, and create a spa-like ambiance. Recommending a wonderful kit for creating your own tropical spa at home.
Check out this kit that you can use for the same,
Make a Birdfeeder
If you have your own plot, hang up a feeder and watch out for the birds. If not, just feed the birds in the city.
Arrange Science Experiments 
Look up children's science books and experiment kits and practice various fun experiments. you can take some inspiration from here – SCIENCE EXPERIMENTS FOR PRESCHOOLERS
Most of the experiments can be done with things available at home – but if you want you can check this kit as well (as it makes setting up the experiment easier)
Book Reading Sessions
Go for book reading sessions or book launch- have read aloud family sessions at home too, tales, classics, and children's books are suitable for this.
Check out the best books for kids that you can read
Download Best audiobooks
Sit as a family and listen to the audiobooks. If others are busy, the child can listen to fairy tales or classics on their own.
✅ Best place for all audio books You can read 5 audiobooks for FREE – Click here to register
Teach your Child to Ride Scooter, Cycle, or skates
Think about what interests you and your child. your child can learn to ride in the summer. It is always a nice thing to learn a new thing, especially for children activities involving fine and gross motor skills.
Prepare the School Bag and Books
Get your child engaged in wrapping and sticking name stickers. Before preparing for school in advance, you can start by choosing and ordering the right things online, or buying them at nearby stores.
Skipping a Rope and other Activities
Buy a rope and take it with you outside, teach your child to jump through a rope. Look at another gym equipment. All these products are very useful for the physical development of children.
If you do not have a skipping rope yet – you can get from here
Make a Herbarium
Make crafts or herbarium from natural materials. Take your children for nature walks and collect pebbles, leaves and create an artwork with these.
Plan a Breakfast in a Nearby Cafe
Somehow kids enjoy different, unique experiences, you can have breakfast in a cafe – for children, this is often a new and interesting experience, or you could just pack homemade food and plan a short early morning picnic.
While in lockdown – we just pretend that our home is a restaurants and weekly one night we have home made French fries, pasta or pizza with cold drinks. And believe me my son has a gala time – usually we call it Sunday Funday.
Learn New skills 
Teach your child to show magic tricks, juggle, twist a hoop, etc. Some of these things can be easily learned from YouTube channels.
Build a Fort
From cushions, a table, and blankets or a starched saree make a fort/ tent or anything your child wants to imagine!
Teach your child to fly kites. Trust me they will love it. We all loved flying kites and girls like my little sister always used to sit beside me and watch the kite. Girls love it too.
Nature Walks
Children should be made environmentally conscious and should be made to feel responsible. As a parent, you can do that by helping them to form a relationship with nature.
A week spent in a nature camp, away from technology and luxury, will serve as a great inspiration for the children to sow the seeds of love for mother nature and also give them an opportunity to understand the importance of nature and the environment to live a balanced and healthy life.
Other benefits of Nature Camp include; lots of time to relax, share, discover and learn a lot of amazing things about nature, enjoy nature photography, bird watching, and an eco-friendly atmosphere.
Making new Friends
The above activities include many of such activities where your child will make many new friends. This will be helping him to overcome his shyness issues which we discussed above. This will help your child to be more confident.
Teach your child to Reuse
Teach them to Recycle old clothes, cans, etc. There are many organizations that take old clothes for resale or you can donate them or you can make beautiful things for your room for decorative purposes. There are plenty of e-books available where you can learn many designs.
Plan a Kids Night at home
If you have close friends with children, invite them home and have them spend the night with your kids, you can plan some fun games or activities.
It may not be possible during current lockdown situation but something you can do once situation eases over.
Do not miss local events for Children
Check the newspaper and your local Facebook, WhatsApp groups for shows and events. Go for these shows and events with your children.
Go to a Zoo or a Botanical Garden
You can easily spend the whole day there! If there is no such garden nearby, take a walk from one flower bed to another, figuring out which flowers grow where.
Join Hobby classes based on child's interest
Join any class according to your interest such as singing, dancing, painting, music, cooking, swimming, skating, etc. Each will be discussed in detail below. Although, some of these activities may be out of scope due to the current pandemic.
Whatever your kid's hobby is, take time for it and try to get as much information about it as possible
Join a Sports academy instead of playing games on a computer.
For older children, apply for extra classes in whatever subject your kids are weak in; so that they can strengthen their hold on that subject and are prepared for the challenges the coming year brings their way!
If their handwriting is bad, then take some time out during these holidays to improve handwriting skills.
If you want to go for outing somewhere, plan to visit some historical places like Mandu, Gwalior Fort etc. and when you go there, collect information about its history. In fact, wherever you go, try to take notes on the geography and history of that place. This will improve your kids' GK.
During these holidays, you definitely can choose to enroll your child for a Personality Development course.
Learning Arts not only improves creative thinking but also helps in better academic performance. There are some classes that your child will love attending during their summer vacation-
Dance
Dancing is not only joyful but also builds kinesthetic memory, improves endurance. Looking at the current situation there are many online dance classes being conducted, it is a good idea to enrol and see if your child is inclined towards learning any dance form now.
Reading and writing
Reading here does not mean reading syllabus at all. Reading means that you give children a good and positive book to read, as well as motivate them to write their thoughts, this will improve the writing skills of the child and increase his level of knowledge.
Cooking
If your child is fond of cooking, you can send him to a cooking class. Cooking is one of the essential life skills that will help your child even when he/she grows up. considering the current pandemic situation, there are many online cooking and baking classes that you can enroll your child in.
Language
This summer holiday you can send your children to language classes. It is said that people who know more than two languages are better multi-taskers. The benefits of knowing more languages are aplenty, can make your travel easier, can improve your job opportunities, and knowing more languages can also help you connect with ease to people with different backgrounds and nationalities.
Computer and Coding Classes
Nowadays children are experts in technology, and they learn things quickly. You can teach children MS Office, at home. If you see them taking interest in learning more, you can take a trial coding class. If you are a parent and want your children to make good use of the summer holidays, then this will definitely go a long way.
Swimming
Swimming is a fun water sport that each child must learn if they get that opportunity. Swimming is an essential life skill and a very good sport for the overall body.
Current times have laid restrictions on our usual holiday plans, but if your child loves playing in water and you have space at home, then these tub sets are a must have for you-
Sports Activities for children
If you want, you can send your children different sports coachings. Nowadays, sports are a good career option too, so if your child wants to make a career in sports, then it is important to send him/her for the coaching of a sport of their preference.
How to Plan Summer Break for Your Child?
To get started, make an action plan for the summer months this year and spend this time with your children as much as possible. Since this pandemic has robbed our kids of their summertime at grandparents' homes, you need to plan the summer in advance. When you, as a parent, have to stay at home with the children every day all summer, the summer will seem long. It is always better to plan things in advance. Of course, some of the best summer activities are usually unplanned.
Take out time to walk and chat with your children while they are not learning. Play board games. Get your children involved in household chores.
This step-by-step guide for summer planning will help you get started.
Schedule Your Summer Weeks on a Calendar
Check out this Fun and attractive journal for your child
Prepare a summer vacation planner with your child
It is best to have a separate notebook, diary, sketchbook, in which to put all your plans and ideas (and at the same time learn to draw). If space on the pages allows, you can also leave impressions about the day spent there, make sketches. The child will help you beautifully design pages for memory.
But first, it's best to take just a piece of paper and try to think about what things you and your child might be interested in. Camping trips? Theater? Picnics? Tours? Circus and zoo? Walking in the park?.
You need to start summer planning with events that have specific dates. If one of your loved ones has a birthday in the summer, and you can go there for a visit with your children – make a calendar entry right away. All other events will be able to take other dates. But birthdays, fairs, exhibitions, trips to the camp – they have dates determined in advance.
With a calendar for the summer, you will have an approximate idea of ​​how many days or weeks are available for which you need to draw up a summer plan, and what dates you need to remember.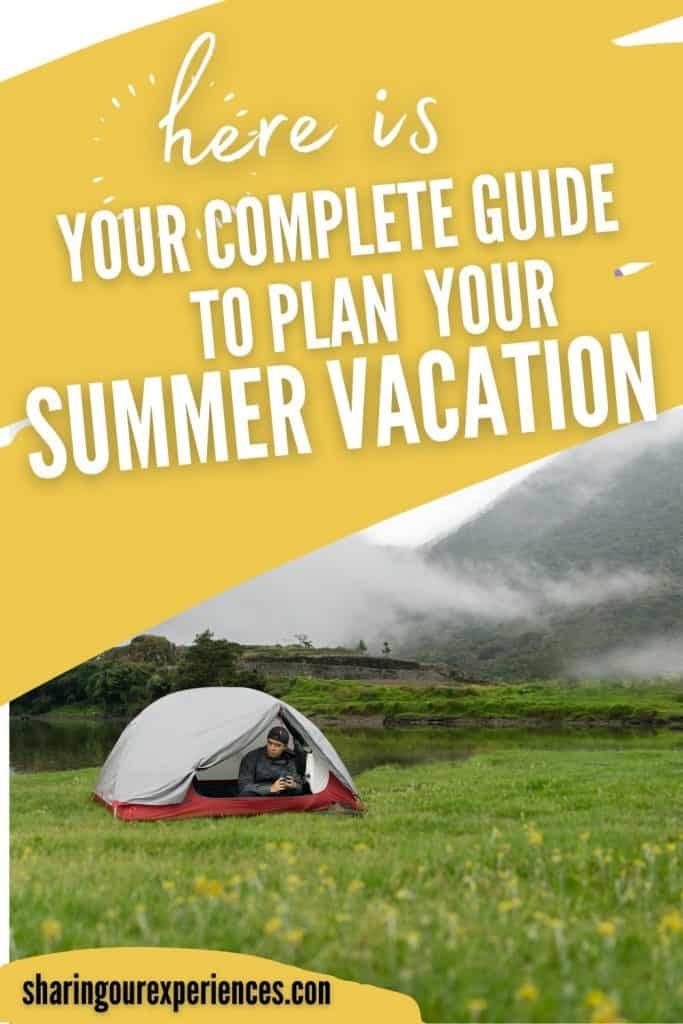 Set Your Summer Goals for Summer Vacation
When the first draft of the summer schedule is ready, it's time to start setting goals. Goals in the calendar must be entered for each family member.
Summer goals can be anything – work or family relationships, training in any craft or art. Professional goals can be ambitious (completion of a complex project), or simply – to work so many hours a day.
Goals can be creative – for example, you can learn to embroider stitch, and a child to weave from beads. Remember those things that are of interest to you, summer is a time when you can set a goal for yourself and achieve it.
One of the mandatory summer goals for a child in the summer is to complete all the given lessons and the books for extra reading. These are very important things that need to be planned in advance.
Summer Camps for Children
These days there are ample options when it comes to summer camps. Although due to the pandemic most activities are happening online, they are worth a try if you have a good internet connection. Camps for exploring nature, language camps, craft, or just relaxing – choose to your taste. It is best if the child does not go alone, but with one of his friends. You will be much calmer, so try to negotiate with friends, parents of other children in your class.
Often parents use a mixture of different types of summer activities, and this is perhaps the best thing – the child receives the maximum amount of experience and is not bored. Summer camp for one week, grandparents for the next couple of weeks, the cultural program in the city (with zoos and museums, theaters), a tourist trip with a class, etc.
Any other ideas for your favorite summer activities? Write to us and share your ideas in the comment section below.
Thanks for reading and for your time. It will be very kind if you'll share this with your loved ones on social media.
Have a very happy and memorable Summer with your kids!
Tag – summer vacation activities, activities in summer vacation