Want to know which are the best swings in India? Why should you allow your kids to swing from an early age?
Swinging was my all-time favorite activity. But after becoming a mom I started to realize the benefits of swinging. For toddlers, swinging will help build and improve their balance. In children, swinging is associated with their gross and fine motor skills. Gross motor skills include pumping, jumping, and pushing oneself to keep the swing in motion. Fine motor skills include gripping, hand, arm, and finger coordination.
If you don't have much time to go through the article and want to know >>> WHICH BABYSWING IS THE BEST IN INDIA <<just check the table below
The best advantage of swinging is that it prevents children from getting motion-sick. This is also a great way to improve their balancing skills all while having a lot of fun. How do we know which swings for babies, swings for toddlers or kids to buy? I'm here to help because while shopping for my children I went through extensive research. Here is a list of the best swings in India for babies, toddlers and kids.
This bouncer and cot set is just perfect in case you want to rock the baby to sleep and then let them finish their nap on it as well. You can detach and use this basket as a baby carrier alone. This also comes with an electric music system that plays soothing music to help the baby sleep better. This is the best electric baby swing bouncer in India for 1-year-olds. A mosquito net protects the baby while they're sleeping. For safety precautions, we have a 3 point safety harness that would allow the baby to be protected while they sleep. The bedding on the cot can be cleaned and washed separately. This is the best baby swing bouncer in India. I have used this personally and benefited from this greatly.
✅ Checkout this trending article >>> Best Gifts For 1 Year old child <<<
Baybee cradles are the best baby cradle because it comes with a cushioned body. This helps to keep the baby comfortable and cozy so that they sleep longer. These come with a mosquito net which protects the baby at their most vulnerable. This can be used for newborns to about 8 months of age or till they start sitting up on their own. Babybee Cradle metal window hangers allow you to hang baby cradle swings from windows when you don't have ceiling hooks available. I recommended it as the best baby cradle swing in India because they are affordable, washable, and extremely safe for infants.
Cuddlycoo bucket swing is the best eco-friendly swing available. They use cotton canvas and wooden dowels for their swings. So if sustainable living is your style, then this is your best bet. It is affordable and classy. Easy to set up, maintain and clean whenever required. The adjustable ropes will help you customize the swing size easily based on your child's requirements. This is perfect for toddlers who enjoy moving around a lot. It's the best swing for 2-year-olds. This is the most comfortable swing in India for toddlers.
This is the best investment you can do for your toddler's development. This acts as a swing for babies from 4 months of age. They can use this as a jumper when they get slightly older and need to exercise their tiny legs. This also comes in handy as a walker when they are ready to start walking. The best advantage of this swing come walker is that the baby doesn't move from a fixed position but at the same time gets all the necessary motor skills. The safety of the child is the biggest advantage as their area of movement is extremely limited while sitting in this swing. This is the best swing Jhula for 1-year-olds in India.
This swing can be modeled in 3 different ways. This is like a one-time investment. You can use it from 6 months to 6 years of age. This swing provides age-appropriate parts, that can be easily removed as your child outgrows each stage. This makes it worth the money spent on it. The ropes also allow you manually adjust the height of the swing as your child keeps growing. This is the best baby swing for 6-month-old babies to 3-year-olds. This is the best convertible swing in India.
Foldable swings are great at space-saving. These swings come in handy when you live in small areas but have to keep your child swinging indoors while staying engaged. These swings work both for indoor and outdoor spaces. The best part is that they can be folded after use and kept aside. They are the best baby swing for small spaces available in India for your children. This is the best swing jhula with a stand as it can be used for children up to 5 years of age. This makes it worth its value.
Shaped like a horse with barricades, this swing is made from wood. The ropes are made from woven fiber and are strong and sturdy to bear the weight of the child efficiently. The ropes can be adjusted according to the height of the child. This gives it the accolade of the most eco-friendly swing. The natural wooden look is a classic method to avoid toxic chemicals around children. The wooden safety barriers are a definite plus when it comes to being called the safest swings.
Made from woven cotton threads, this swing is perfect for children 5 years of age and above. It's the perfect swing for a balcony space as it doesn't swing too high. The large size allows parents to steal a sitting on these swings. The sturdy frame gives sufficient support to children using this swing to read. This is the best space-efficient swing for small apartments.
Cuddlycoo Hammock swings are eco-friendly. They are made from soft cotton which is cushioned to the center. This gives children an extremely comfortable swinging experience. This swing requires just one hook to fix this swing from the ceiling. This can be credited as the most adjustable swing. The ropes can be manually modified to adjust the height of the swing. The swing has a capacity of 60 kgs making it all the more suitable even for early teenagers.
This will make a beautiful and sturdy piece of art for your indoors. This swing is perfect for young and adults alike. The wood makes it sturdy and strong. The metallic rings make it easy to assemble. You can swing on these for hours. They're the most comfortable swings available. They are expensive but totally worth the experience.
Swings For Newborn Babies
newborn babies find it difficult to fall asleep when put on bad or floor as they are used to movement while in their mother's womb. Swings or rockers can be of great help.
✅ You must consider this >>> most popular swing for newborn babies- INFANTSO Baby Rocker & Bouncer, Portable with Calming Vibrations & Musical Toy <<< This one is absolutely loved by parents check out the Reviews for newborn baby swing
Many families in India prefer traditional paalna for babies, in Gujrat a portable paalna is used, it is called ghodiyo. My baby slept very well in ghodiyo. Ghodiyo is popular because being portable it can be carried anywhere. secondly, it helps in easy sleep initiation, babies who are worn or put in hammocks have lower chances of colic. Hammock swing- baby swing jhula with stand
You may like to explore below unique swings too
Are you a parent to a toddler- check out this popular article that you will certainly find helpful in raising a reader–>>> List of Best Books for 1 Year old <<<
Are baby swings good for babies?
Indoor baby swings are essential especially in this pandemic when we don't allow our kids to step out of the house. Swinging improves both fine and gross motor skills. It also helps children to get over motion sickness. Swinging allows babies to experience a sense of flying and freedom even when they don't understand any of it. It's one way of learning to balance the body.
When should I introduce my baby to a swing?
Babies can be introduced to swinging as soon as they are born. During the initial days, the baby will be swung in the arms of the caretaker. Soon after, they can be introduced to the best swing jhula that will replicate the feelings of a mother's womb. You can start introducing your baby to toddler swings at around 6 months of age. The baby's neck needs to be sturdy and strengthened. Ensure that the baby is able to hold their heads up without any support. Always let babies swing under adult supervision and do not swing them too fast or provide jerky movements.
You can check the swings here- Best baby cradle
What are the different types of swings?
The different types of swings are:
Bouncer Swings
Jumper Swings
Rocker Swings
Battery or Electric Swings
1. Bouncer Swings:
These swings move up and down with a bouncing movement. This helps new moms to do other work. This would be useful only for infant stage. I really liked this baby bouncer- rocker by Infantso

2. Jumper Swings:
The baby is suspended from elastic ropes which allows the baby to jump up and down. This is very useful for active babies who always want to be on the move.
✅ You must check out this insanely popular jumper saucer- Jumper swing for babies

3. Rocker Swings:
These swings move back and forth with a rocking movement. This will allow babies to sleep without having to rock them in your arms especially if the baby enjoys being rocked. Helps deal with cranky babies who need pacification all the time.
Check out this Baby Bucket Rocker Baby Swing online on Amazon

4. Battery or Electric Swings:
These baby swings are automatic and don't require manual intervention. They usually move in all directions with music and toys to accompany children while playing.
Check out Amazon for best offers on this >>> R for Rabbit Automatic Swing Cradle <<< Irresistible deal going on!!!

5. Combination Baby Swing:
This is usually a combined version of a glider, rocker, bouncer, and baby cradle. This will have all the combined actions of each of these products. This is a pocket-friendly option for new parents.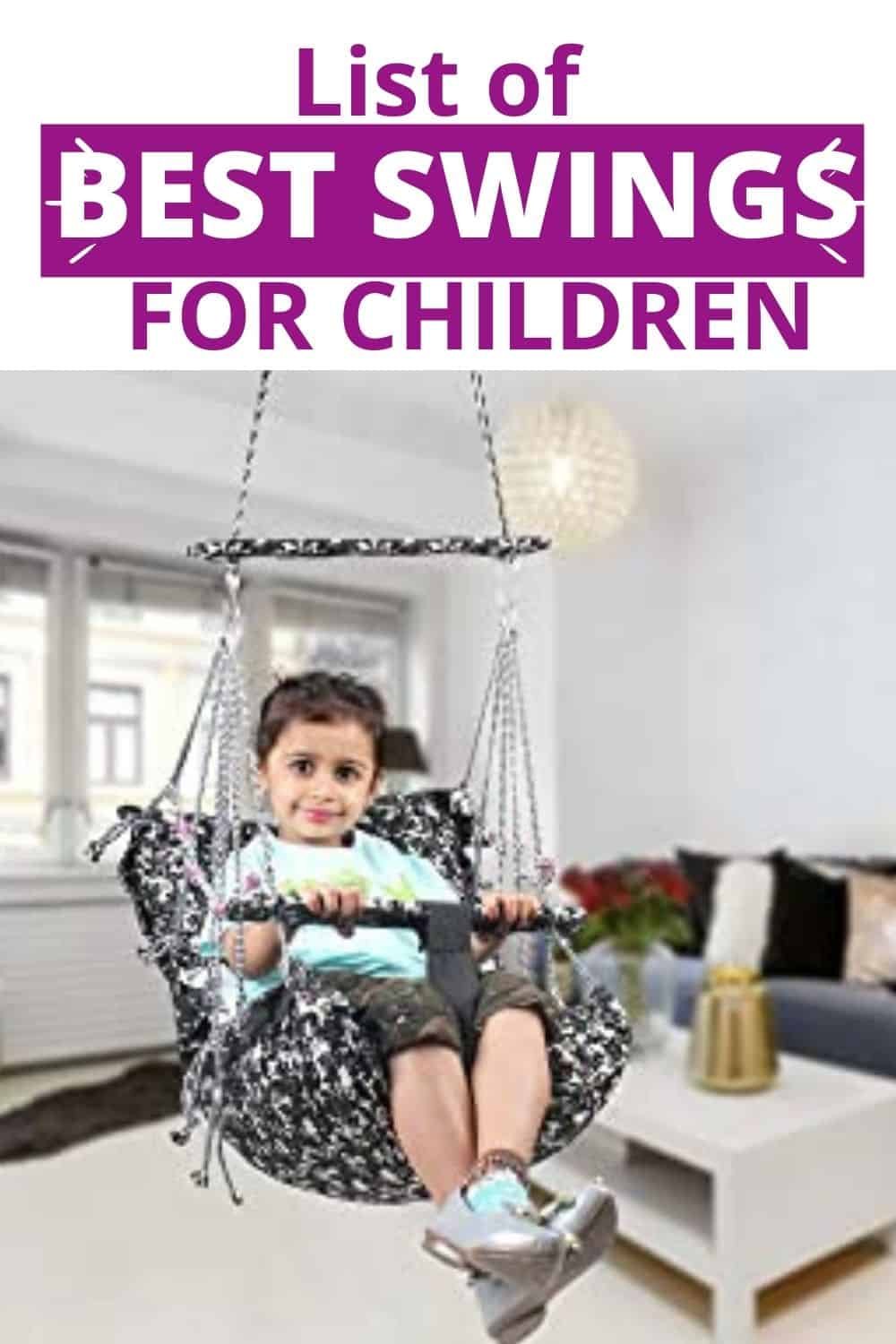 How long can I leave my baby in a swing?
You can leave your baby for up to an hour daily on the swing. It would be better to break up this time over multiple sessions on the swing so that your baby enjoys the activity without getting bored. Do not leave your babies unsupervised on the swing and once asleep ensure the baby is immediately moved to a crib or bed.
although we recommend against leaving the baby unattended on any of the swings, we would however also advice parents to install baby monitors, to keep a close eye on babies/children and ensure utmost safety. Afterr our research we found this particular baby monitor really good- Baby Cam WiFi 1080p Full HD Smart Baby Monitor with Baby Cry Alert, Alexa Enabled, 2-Way Talk Back Audio, Lullaby Player
Which baby swing should I buy?
Buying a convertible swing would be the best in terms of value. Children will be able to use it for longer. Also, the convertible design ensures that the kids don't get bored of the swing easily. All the swings mentioned above are good and are worth the value.
You must check out this swing for your child, it is a very good investment- 3in1 swing for babies- Best Babies Cradle Swing in India
What should I look for when buying a baby swing?
Swings have to be adjustable in length based on the height of the child.
Safety is the next major concern as kids are unpredictable and unaware of consequences. Look for age-appropriate swing designs and ensure the availability of safety harnesses or seat belts.
Assembling a swing can get tedious. Look for simple designs that can be assembled and dismantled easily.
Timed swings stop once the time is up. This allows kids to have fixed swinging times for each session.
Metal framed swings should be preferred over plastic frames as they don't degrade or break under fatigue stress.
Padded and adjustable seating allows kids to have a comfortable swinging experience
Toys and music are an added features that will help kids enjoy the swinging experience even more.
Speed settings allow you to define the speed at which your baby will be allowed to swing.
How to choose between portable or full-size swing?
Portable swings are perfect for smaller areas of space while full-size swings would be perfect for large and open areas. Budget is also a reason why people consider different kinds of swings. We can get both portable and full-size swings at affordable prices.
Traditional Indian swing called Ghudiyo is a heavy yet portable swing, newborn babies sleep really well in it, you can carry this cradle just by folding the frame. It is useful up to one year of age.
Are rockers good for babies?
Rockers help babies fall asleep without the tedious work of holding them in their mother's arms while trying to put them to sleep. Rockers replicate the rhythmic motion that babies experienced when in their mother's womb. While not an absolute necessity, they help a tired mom get some rest.
This Rocker is one of the Best rated Rockers in India- Baby Rocker & Bouncer , Portable with Calming Vibrations & Musical Toy
Is it worth investing in a rocking swing?
Rocking swings allow cranky babies to be soothed easily. They also allow babies to fall asleep without being rocked manually. If rocking is what comforts your baby through the day, then it would be worth it to buy a rocking swing. This will definitely help new moms to relax a bit.
Which baby rocker is the best one?
The key factor to check while buying a baby rocker is to ensure that the baby can finally fall asleep on the rocker itself. For this the rocker should also have adjustments to make it flat once the baby is asleep. Look for safety harnesses to keep the baby in place while sleeping. An upright rocker with no adjustment option is a big no.
LuvLap, FisherPrice, Infantso, Mastella, Meemee all have rockers cum cots which would be the ideal choice.
How high to tie a swing from the floor?
Usually, the perfect swinging height is 17-19 inches above the ground. You can customize this further based on the age and height of your child.
The ease of climbing on and off needs to be considered as well. When a child sits on a swing, their feet should touch the ground while extending or stretching their feet.
How to adjust the height of a swing?
Height adjustments usually depend on the swing type. The foldable swings have a one size fits all structure. Swings with rods can be adjusted to a certain height. They can't be customized to the perfect requirement.
Swings with ropes are perfect for customized height adjustments and are suitable for usage amongst different age groups of children.
How far should a swing be set up from any structure?
Swings should be set at least 6 feet apart to the sides from any surface or wall. The front and rear sides of the swings should be positioned at least by a distance equal to twice the height of the swing's top bar.
These precautions are mandatory to avoid fatal damages to children in case of any unfortunate accidents.
Can chains be attached to eye-bolts while setting up a swing?
Linking chains to eye-bolts in setting swings is absolutely not recommend. Both these metal parts can cause wear and tear due to constant friction, which then becomes a great safety threat.
The chances of chain-breaking are very high in this method. We recommend the use of swing hangers to avoid wear and tear due to friction.
What should I consider while buying a swing?
The age of your child should decide on the swing structure or design. Swings with backbone support is an added advantage. Material is important.
For babies, washable cotton is a great choice while for toddlers wooden or plastic would be a better choice. Teenagers can benefit from woven cotton designs.
Multi-purpose swings are great because they can be used over several years as your child grows to make them more sustainable.
Which are the best baby bouncers in India?
Bouncers allow babies to play by themselves so that the mother can get some me-time. The overhead toy bar keeps the babies deeply engrossed in playing. Some of India's best bouncers are:
1. Ingenuity Smart Automatic Swing Bouncer
2. Fisher Price Curve Bouncer
3. Fisher Price Luminosity Baby Bouncer
4. BabyBjörn Bouncer
Last update was on: 22nd November 2022 1:14 pm
Can I build my own swing?
You can definitely build your children a swing if you have the required tools and materials. It needs to be safety compliant and strong to ensure the safety of the child. The good quality finish and portable features would be available only on store brought swings.
Found this article helpful? Don't miss toddler care section on our website- All about Toddle Care & Development