In this article, we have amazing 20+ best birthday gif ideas for 1-year-old baby Boy and Girl. Gifting is an art, when we gift something it shows our choice and preferences, so choosing the right gift becomes important. However selecting gifts for little ones is always a task, and first Birthday gifts are always the trickiest.
Wondering what to gift to a 1-year-old boy/girl? Here, I have listed some of the items that my son received on his first birthday, these are the things that we totally loved. Others are well-researched toys that we purchased over the years for our own child and for others to gift. Hope you find this gift guide useful!
Have a look at this list and I am sure you won't be disappointed!
Best toys for one year old India 2021
These are my personal favorite gifts for 1-year-olds:-
Which Toy is best for a 12 month old?
When you begin your search for toys to gift, the ideal thing is to think about age, hobby, need, and interest. At one year a child doesn't have any hobby or interests, except for the need to explore and learn. The gift thus should be attractive, engaging. Since most one-year-old children are still learning to balance; work on fine and gross motor skills and hand and eye coordination; it is best to give gifts that support these. We have Some best gifts for 1 year old toddlers that you can get in different price ranges.
Ride on For 1-4-year-old children
These Ride-on cars are sturdy, perfect for little 1- 4-year-old children. Helps them to balance and learn about the directions. The buttons activate playful songs and rhymes. Also supports physical activity as they have to push it with their legs.
This toy can be used at home or outside and can be used easily for up to 4/5 years of age.
Baby Pool or Ball Pit
Ball pit offers great sensorial exposure to babies & toddlers. It allows them to strengthen their muscles, as they continuously move around the pit, throwing and rolling the balls.
Baby Pools too offer sensory play to children. Water play helps in strengthening the muscles and is also a lot of fun. You can get one of these inflatable pools for your one year old before you actually hit the toddler pool outdoors. At all times, do ensure that the baby/toddler is not left unsupervised.
Toddler Swing for Home
Who doesn't enjoy swinging? Even as adults when we can enjoy swinging, then imagine how much would such rhythmic movement bring joy to little children!
Swinging is not only fun, it also improves gross motor skills, strengthens muscles, and gives a sense of grip, movement, and direction to the children. Installing a swing with a harness at home is a great idea.
Wooden Hammer Ball Knock Pounding Bench
These brightly colored, wooden pieces help build shape, color, and size differentiation skills. Hammer Ball helps develop gross & fine motor skills, hand-eye coordination.
Hammer Ball helps your Toddler to recognize different colors and match them with well-made attractive and colorful balls and enhances wrist strength Made of wood with safe and non-toxic materials.
Check>>> educational toys for 2-3 year olds india <<< An Awesome Ready List of Toys Recommended by Parents, For Parents!
Musical Mobile Phone for Kids
This is a fun and engaging toy for little ones, as they begin their first sentences or words and won't stop the chatter, this toy mobile makes a perfect toy.
TRENDING NOW >>> Dentist tips on Oral Dental Hygiene for Toddlers<<<
Swirl Ball Ramp
A fun and engaging toy that teaches little babies about cause and effect. The toy can keep your child happily engaged for a long time as they watch the ball swirl down the ramp.
the toy comes in bright colors with interactive sounds. It works on enhancing fine motor skills and problem-solving skills and hand-eye coordination for babies and toddlers.
Unique Gifts for one year old India
Below we have put together some off-beat, unique gifts for one year old babies. Although most of the toys in this article are unique, the below ones are the most uncommon toys of all.
Wobbling Bell Sounds Roly Poly Tumbler Doll
This tumbler doll wobbles, nods its head, and never falls when pushed gently. It makes soft and sweet sounds, making the baby curious and happy at the same time. Lures and excites the baby to touch and grab it. European standard – safe and durable
Plush Baby Ball with Rattle Sound
This baby ball is a soft plush toy with a rattle inside. It helps your baby understand color, shape, size, and sound through fun-filled play activities. If you are looking for a toy that is soft, has no sharp edges, is big enough not to be swallowed, and is small enough for your little one to hold, then little's baby ball is your best choice
Plush Cushion Baby Sofa Seat
The cushioned baby sofa is a wonderful gift for 1st birthday. It makes for such an eyecatching nursery or kids' bedroom accessory. Not only it looks great but is functionally wonderful too. The only flipside is that the back cushion is not too sturdy.
Play Tent or Large Playhouse
Tents are a home within a home. As a child, I always fancied having a tent, but these things weren't readily available back then.
I loved this particular tent for its castle design, instantly transports one to afairy land, this beautiful and remarkable princess house can help your little prince/ss dreams come true.
Although, a one year old may not really need a tent, but this is a great gift for first birthday, as first birthdays are a big milestone, worth deserving of Special Gifts!
This is the cutest fairy house tent, providing a private space for your kids to entertain themselves
Practical gifts for 1 year old
Here are some musical toys, balance bikes, and other fun toys loved by little children. We have researched and identified the best-rated toys that will help physical movements, bring spatial awareness, and will be fun at the same time
Musical Learning Table Early Educational Development Activity Center
This is a versatile toy, it lights up and allows for free play, classic melodies, and introduces baby to colors, music, and much more.
Made from safe and non-toxic ABS plastic. Great gift idea for 1st birthday.
Best Toys for 1 year old baby
Drum Set for Babies
Toddlers will love to beat the drums and cymbals with sticks. The drumset comes with lights.
The best part about this drumset is that your baby can sit on the floor and play it.
Drum & Piano Foldable Music Mat
We have this Foldable Drum and Piano mat and we totally love it. It was gifted to my son on one of his birthdays. It is a great gift for children of any age, even adults can enjoy playing music on it.
Though the product hasn't been bought or reviewed on amazon as much, we totally love this product.
Balance bikes for 1 year old
Whether you buy a balance bike for your own child or for anyone else's; you will be loved or rather respected for making such a smart gifting choice.
Brilrider is India's highest-selling balance bike, it is the best balance bike available in the market! The bike has ultra-light metal frame; it's so light (less than 3 kgs) that even a 2-year-old can lift it!
Tricycle with Parental control for 1 to 4 years old
A one-year-old may not really take to a tri-cycle, but it is a wonderful gift that can last the next few years. You can choose to gift a cycle with cushioned seat and parental control, your one-year-old toddler will enjoy the ride as caregivers gently take them outdoors in their first bike.
Check this out- One of the Best Available Tricycle for one year old
Looking for a tricycle? Here is our POPULAR article on – How to Choose a Cycle for Kids – A complete guide that you shouldn't Miss
Educational Toys for 1 year old India
Bring a fun learning experience to your little one with these popular educational toys. The child learns while playing and these toys can keep them engaged for a long time.
Educational Kits & Busy Books for 1 year old
Busy Books offer fun textures to toddlers. These books are filled with educational activities that encourage healthy development and sensory stimulation.
This educational kit is also a great gift for a one year old toddler who is beginning to explore his/her environment.
Best Shape Sorter and Musical toy
Shape sorters are perfect toys for babies From eight months and above. Children start playing, using a shape sorter toy by trying to match the shape with its slot, identifying colors, and even recognizing numbers.
Do ensure that the shape sorter piece and hole are the right size for your little one.
Shape sorting toys are great for fine motor skills, hand-eye coordination, and problem-solving. Depending upon the toy, you can use it for other types of play too. stacking different shapes, one on top of another, making patterns with the shapes. Improve their vocabulary by introducing shapes and talking during the activity!
Educational Toy Laptop
These make for wonderful educational toys, as they have in-built features where the child sees letters, numbers, and objects. They also are perfect for pretend play. With parents sitting the whole day in front of their devices, why should children not mimic them?
Baby Touch: Series of Touch & feel Books
It is never too early or too late to introduce books to children. This Vehicles Tab Book is very popular amongst 1-year-old children.
Babies & toddlers love this touch & feel book as it exposes them to many different textures, shapes, and colors.
My First 1000 Words: Early Learning Picture Book
Here is one of the best-selling Early learning picture books to Learn Alphabet, Numbers, Shapes and Colours, Transport, Birds and Animals, Professions, Opposite.
Baby's First set Of Blocks
This block set makes a great gifting option for 1-year-old toddlers. All blocks fit inside the bucket for storage and can be easily carried along for play. Introduces baby to colors and shapes. For babies ages 6 months and older.
FAQs
Which brand is best for baby toys?
There are many good brands making child-safe toys. Below are some common and popular brands, however, our list has top products from across many brands, not just limited to the ones below.
Which toy is best for 1 year old?
Any toy that is safe for the child and keeps the child engaged is a great toy, even kitchen utensils, and homemade rattles can be very good toys. So, as per your budget, you can choose a toy.

Still, confused? Check this to get the >>> best toys for 1 year old india <<<
Last updated on 18th November 2022 2:29 pm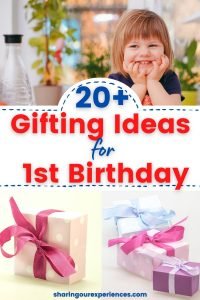 Liked this article, found it useful? You are sure to love this article on Best Books for One Year Old (An awesome list of books for your little one)