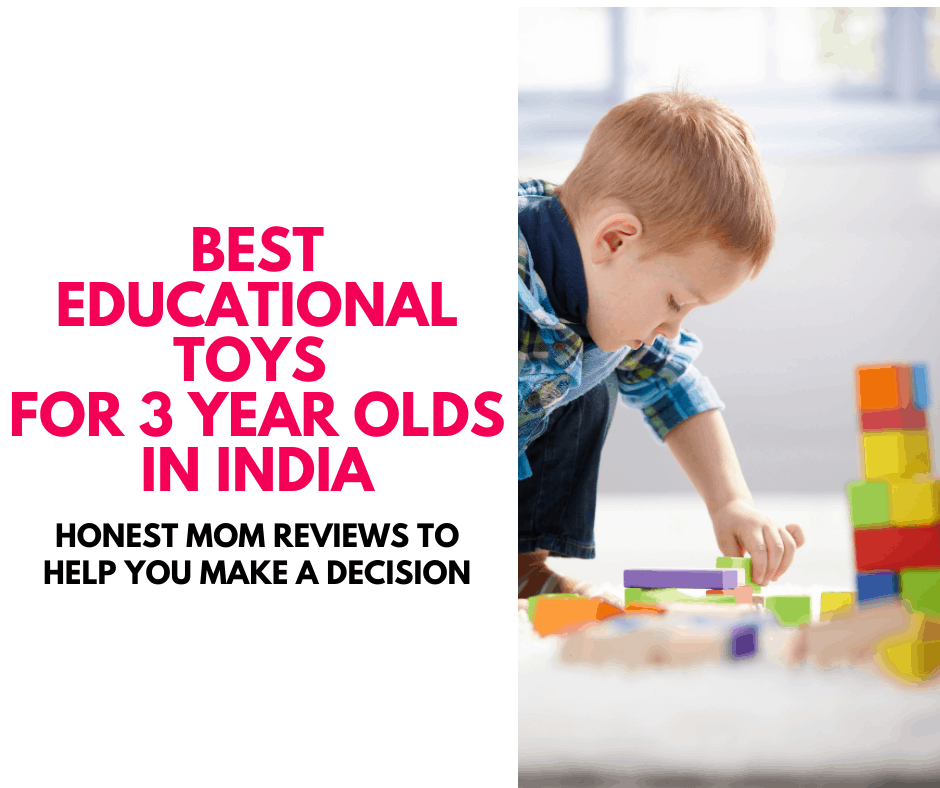 Looking for the best educational toys for 3-year-old? Here I have covered what are educational toys, How to choose educational toys for your three years old and list of educational toys that have worked for me, and much more
The last decade has seen a rising trend in educational toys. With a plethora of options available in the market, both online and offline, it is confusing for parents to choose the correct toys for their little ones
If you are in a hurry, you can have a quick look at this table below-
Top Educational Toys for 3 years old
We often look forward to recommendations from other people, friends, and peers alike. I, being a parent to a four-year-old doll definitely knows the exact confusion that exists. I used to read a lot of articles and made fairly good decisions.
In the process, I learned, and am still learning, that there coexists a relationship between toys and education. With technology seeping even into toys, the good old open-ended and simple toys have lost their shine.
What are educational toys?
In simple words – a toy that helps a child in learning about something or in developing a particular skills
How to choose educational toys for kids
While choosing toys for your precious ones, we must bear some vital points in our minds.
They must be chosen to keep in mind the age and interests of the child
Introduce them to toys that will improve their existing skills and encourage independent learning.
It should be low-tech and capable of developing their ability to focus and improve their fine motor skills alongside.
The toy should be safe for the kid's use and should promote growth through play.
What should a 3 year old know academically?
We all agree to the fact that each child is different and has his own pace of development. In general, a 3-year-old must be able to :
Identify different colors and shapes
Recognize (and write in some cases) all the alphabets
Recognize and count at least 1 to 10
Recognize community helpers, animals, and birds, fruits and vegetables
Tell their different body parts
Use commonly used words.
Draw and color basic shapes
So before buying a toy ask yourself – Is it age appropriate? Will it help my kid in developing a skill? What subject or theme will my child learn while playing with this toy.
✅ Best educational toys for 3 year old (Preschool and Nursery kids) 2022
Following is a list of some educational toys for a 3 year old.
The toys mentioned below develop basic and necessary skills. They help in developing a child's fine motor and cognitive skills. These learning toys for 3-year-olds help kids grow emotionally and teach them how to interact and cooperate with others.
Magnetic & Writing Board
A magnetic writing board is a perfect mix of a toy and educational aid. It invites the child to play with the colorful letters and the magnetic board fascinates him. It is durable and has a whiteboard too.
A must-have educational toy for kids of all ages and you can get these once your child is 3+.
Now you can get either small magnetic writing slates (like these), magnetic boards, or magnetic easels (like these) based on your budget.
Click here to see the top 3 Bestselling Magnetic boards for kids
This one is a fun magnetic game that is one of the bestselling toys for kids
Jigsaw Puzzles For 3-Year-Old Kids And Above
Puzzles were an absolute favorite with my daughter.
Puzzles challenge the thought process of the child.
Teaches them patience.
Develops hand-to-eye coordination.
Kids learn to rectify their own errors.
Introduces kids to the process of problem-solving
There are plenty of options available for 2-3 pieces of puzzles. You can easily choose as per your needs and preference.
Like this, you may also like this Wooden Jigsaw Puzzles for Kids
I personally have tried this brand and like their puzzles
Click here to see handpicked Jigsaw puzzles for 3 year old in different themes
Want to know what real parents are buying? Click here- puzzles for 2-4 years old
Colouring MATs for Kids
The love for colors and paints need not be explained to anyone.
This mat is a delight for both the parents and the child.
It is reusable and washable too.
The child can be left alone for some time.
Good value for money
Increases focus and creativity
If instead of mats you want to invest in reusable wall colouring rolls. You can check below one. Check this option (its awesome)
Classic Wooden Toy
Abacus is a great toy and educational aid to introduce your child to the world of numbers and counting. You can check out this one here
The wooden beads are colorful and attractive
Improves logical thinking in a child
Learns to recognize numbers and count
A good toy to keep the child away from gadgets
Another interesting option is this one as I love this brand.
Water Doodle Mat
You may want to check this one too- PATPAT Water Doodle Mat – Aqua Doodle, Toddler Aqua Drawing Activity, Perfect for No-Mess Art Water Coloring & Drawing Activity
This Water Drawing Mat is a great educational toy for toddlers. They can spend hours drawing whatever they like without wasting paper and pencil. Decorated with colorful letters and cartoon animals, the mat is designed to inspire imagination and creativity, getting kids of any age to grow their drawing ability and color discrimination.
Check out more Water Doodle Mats, More Varieties, more sizes, and more options, you will be spoilt for choice.
These are beautiful wooden blocks, perfect for block printing and creating simple, artistic works. Both kids and parents are sure to love this gift.
Colour And Shapes Sorter
This Colour and Shape sorter is another useful toy that proved immensely helpful in teaching my daughter about shapes and colors in an interesting way.
It keeps the child occupied for a few hours and after a few guidance, the child can play on his own.
It enhances visual discrimination skills.
Develops hand-to-eye coordination.
Can be played in different ways to keep the child interested.
If you like open-ended toys for your child, then this magnetic Puzzle set is a MUST BUY– Magnetic Shapes STEM Toy for – 23 Pieces | A Perfect Educational Toy Gift that offers Unlimited Imagination
Mini Puzzle Foam Mat for Kids
This bright color foam mat is a must for all kids. I mean kids just love them.
It serves as a building block too.
Can be used as puzzles
It is made of non-toxic material and is anti-slip too.
It increases a child's interest in learning the alphabet and numbers.
Helps in developing fine motor skills.
These are bestsellers in Puzzle mats
Building Blocks for Kids
Blocks are a Must-have educational toy for kids of all ages. This beautiful colorful set of blocks is an all-time favorite with kids.
It endorses creativity and imagination in a child to create something new.
Develops their observational skills.
This block set comes with wheels and it only adds to its charm.
Helps build the attention span in the child
The child learns to be patient.
You can also invest in these wooden block toys if you would like to. I personally have them.
Playdough pack for kids
Playdough is another must-have educational toy for kids. I usually get this brand and small colourful tubs of playdough.
This playdough set comes in a variety of sizes. This pack of 12 different color tubs
Lets the child explore his creativity.
It strengthens his hands and fingers muscles
Makes him confident with his choices and work.
Patterns Pencil Control toys and book for kids
This is the right age for kids to start developing their prewriting skills via practicing pattern writing. You can check out more prewriting book for kids by clicking here
This a great reusable activity cards set to introduce to the tiny tots.
It has several prewriting worksheets
Kids learn to control pencils.
Activities like tracing and joining dots keep them entertained.
Introduces writing in a fun way.
It helps them recognize alphabets and numbers.
Kids learn to draw lines, curves, and patterns.
If you are looking for prewriting skills pdf – get from here at a deal price
For practicing prewriting – you can also get these tracing boards and below wipe clean cards.
My First Animal Sticker Book: Exciting Sticker Book With 100 Stickers
This Sticker book has got good amazon ratings and reviews. Many parents have bought this on our recommendation and loved it.
This book has cool 100 plus colorfully illustrated stickers to have fun while learning basic concepts. Colorful stickers enhance your child's learning adventure and help them develop their creativity and fine motor skills.
You can also check the animal & Transport sticker books bundle, don't miss out, both the books together at an exciting price
505 Activities For Kids
This – 505 Activities for kids is a wonderful activity book with a variety of educational fun-filled activities to enhance reading, problem-solving, imagination, coordination, and motor skills. The book focuses on learning through fun which children will delight in completing and learning.
Don't miss our TRENDING ARTICLE on>>> Best Books for 3 year old children <<<
The Jungle Puzzle for 3-Year-Old Kids and Above & Frank
The Puzzle set For 3 year old is a wonderful set to keep your child engaged.
Assembling the puzzle will improve the child's fine motor skills, concentration, visual skills, hand-eye coordination, and logical thinking.
Parents may be required initially to guide their child into this new creative activity so as to get them into the flow of arranging all the pieces correctly.
Best Book on Safe and Unsafe Touch
This is also the right age to teach Safe and Unsafe Touch, you can check out this popular book that many parents have bought and recommended.
Pretend Role Play Gift for Kids Children 3 Years Old
Roleplay is very important in a child's development.
Roleplay infuses confidence in kids and improves their communication skills.
Increases a child's interactive skills and increases their knowledge too.
Roleplay encourages them to take up problems and find solutions.
Roleplay teaches kids group work and keeps their minds fertile and active.
Various Pretend playsets you can go for:
Doctor playset ( Kids learn more about various body parts and their functions and introduces kids to the world of doctors). This one is good
Special Force Battlefield Army Military Play Set Toys. This one is good
Tool Set Toys for Kids. Check out this one
Icecream Trolley pretend playset
Faber-Castell Kindergarten Grip Crayons – Pack of 10 (Assorted)
Everyone buys crayons but getting the right set is very difficult. This is a great set of crayons for our 3 years old.
These colors provide a good grip ( unlike many colors), and I personally loved it.
It helps develop the palm muscles and strengthens the knuckles which further helps in holding pencil later.
Sewing Toy Butterfly – Lacing toy for kids
Lacing is a great toy in the initial years of development.
It improves fine motor skills.
It increases the attention span of the child.
It comes in a variety of shapes and sizes.
I have this one but you can get any other shape based on your kid's choice.
Skillmatics Educational Game: Dots and Mazes (3-6 Years)
This reusable activity mat is a great toy for kids.
The mat can be wiped and reused.
It has prewriting activities that can be played repeatedly.
The activities increase concentration in kids and are fun to do also.
Memory Game – Fronts and Back
As the name suggests:
This game boosts the cognitive skills of a child.
Kids learn to identify and visualize objects.
Great for improving visual discrimination skills
Check out this interesting>>> Funskool Memory game <<<
Magna-Tiles Magnetic Building Toys, Clear Colors Set
This is perhaps the best investment you can make, I say investment because it is an expensive set, but worth every single paisa. So, don't think twice before ordering this.
Get the Magna tiles- Magnetic Building blocks , the original magnetic blocks, absolutely amazing set for your child and you. This set has immense possibilities for open-ended, creative play.
You may want to explore some less expensive options too, we have identified some very good options of magnetic tiles for you.
>>> Magnetic tiles available in India <<<- Most Brilliant Set of Toys for all Age-groups. Even adults love these magnetic tiles
Many people ask why are Magna tiles expensive and which are the strongest magnetic tiles, so the answer is- Magna-Tiles are heavier and much stronger than other brands and are very well made when compared to other tiles.
Best Alphabets Writing Activity for 3+ years old
This is a great product for 3-year-old kids just learning to write.
Introduces the child to prewriting skills.
The child learns to recognize the letters and write as well.
Revision sheets and fun activities to keep the child engrossed.
This one is our favorite set of Flashcards – Flashcards for 3 year old children
Best Alphabet Tracing Wipe Clean cards
This Learning Educational Game is for 3 years old. These are designed to help kids learn and practice Capital alphabet tracing at an early age. The pack has back-to-back printed cards and comes with wipe-clean pen included) which help the kids learn in a fun way. Kids just love these so something you can definitely get.
You can also get Alphabet toys like below. They are fun and help kids in learning Alphabet in a fun way
Must have Wipe and Clean Early Learning Activity Book
>>> SOE Store Kids wipe clean early learning activity A4 book for toddlers 40 brain development Activities (2 to 5 Years) <<< Check out this ULTIMATE Activity book you can get your hands on for your 2 to 5 years old children
You can also get this in normal early learning activity book format here. This is a MUST HAVE as kids love this activity book. You can get it for 2.5 year onwards 🙂
Best Activity flash cards for 3 year olds. – Fun learning game
You may want to get these reusable activity flash cards. They are of amazing quality and kids just love them. Also they cover the FULL syllabus that your child should be knowing at this age so overall a very good gift for kids
Liked this article on best learning toys for kids
Hope you enjoyed this list of best educational toys for preschooler and nursery kids. Do share it with your friends and social media.
If you have any questions feel free to ask me in the comments or if there is any toy that worked for you, do share in the comments