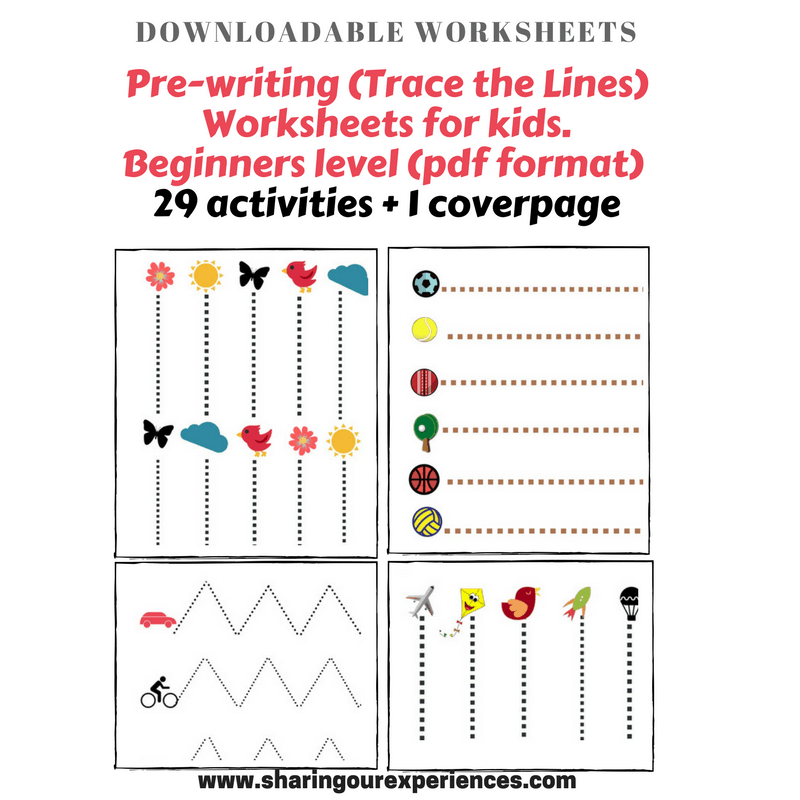 Are you looking for pre writing worksheets pdf? These pre-writing worksheets are designed for toddlers and young kids (Beginners level) and 3+ year olds (Advanced level). These are designed to improve the fine motor skills and pencil griping of kids. It has lines that are bold and thick which are easier for young kids to trace.
You can use these worksheets for
Tracing lines
Improving Fine Motor skills
Improving Hand Eye coordination
Before kids actually start writing it is very much required to develop their finger muscles so that they can hold the pencil correctly and can write properly. We can do this in number of ways. The most common is scribbling, finger painting, beading, sorting, peeling, tracing etc. We would be talking about these in greater details soon
Pre writing worksheets pdf for toddlers
This set of worksheets is beginners level as initially it starts with sleeping and standing lines and then slanting lines. To make the worksheets fun and interesting for kids we have added some familiar objects on sheets. Kids will love to recognize them and would love to have discussion around them.
Prewriting worksheets Toddlers Features
1 Cover page + 29 prewriting worksheets for practice
Minimum recommended age 2.5 years old
Bold and thick simple patters to get started with prewriting (Beginners level)
PDF downloadable worksheets pack of A4 size
Improve fine motor skills and hand eye-coordination of kids.
Activities in these sheets:
Trace the sleeping lines.
Trace the standing lines.
Trace the slanting lines.
This downloadable worksheets pack contains 30 sheets (of A4 size) with one cover page containing instructions and 29 worksheets with activities to practice the pre-writing sheets.
Prewriting worksheets PDF for 3+ years Features
After you are done with beginners level, The next set of activities to do with kids is to trace lines, curves and shapes
These advanced level prewriting worksheets pdf are designed for 3 year old above kids to improve the fine motor skills and pencil griping of kids. This prewriting strokes worksheets pdf focuses on lines, curves, shapes and various other patterns.
Contains – 1 Cover page + 23 prewriting activities worksheets for practice
Pattern tracing on these help kids to improve prewriting skills, kids learn to control their hand movement which helps them in creating a foundation needed for learning writing alphabet and numbers
How to buy these Prewriting worksheets for 3 year old (Advanced set)
These worksheets are only for personal purpose
The PDF would be delivered to yourself via instamojo (India) and our website (USD) which is completely safe for digital downloads
Click here to get Pre writing worksheets pdf for 3+ year olds
How to use these Prewriting worksheets
You can use these worksheets by showing your kid how to trace on them. For younger kids you can laminate them and place playdough or pebbles on the lines. You can talk about various objects you see on the worksheets as you solve the worksheets.
There are different types of activities in the printables for tracing and prewriting. Let your kid do it using crayons and guide in how to hold crayons. You can also use the sheets to stick pom poms or place beads on the lines.
Tips for Prewriting strategies for preschoolers
Development of Prewriting activities for toddlers and preschoolers requires doing hands on activities more than worksheets which help kids in their writing process.
Development of Prewriting skills and fine motor skills is essential before a child has ability and strength to be able to hold pencil and be able to control effectively to write alphabet, numbers, colour or draw.
I have heard multiple questions like – How do I teach my 3 year old to write? My child is 4 year old and not interested in writing, what can I do
Please note different kids, master prewriting at different ages. Kids effectively start writing at the age of 5 above so please do not force them and give them time and ample opportunity to be able to improve Prewriting skills
How can you help Toddlers and Preschool Children develop prewriting skills
If you are wondering How you can improve my toddlers writing skills? You can do below activities to help your child develop pre-writing skills. Practice and improve fine motor skills by :
Tearing and pasting paper
Sand or salt tracing
Playing with playdough – making different shapes with it or making alphabet with it.
Playing with building blocks
Pasting pom poms or stickers
Doing art and craft projects
Lacing beads
Activities or toys that needs kids to button or unbotton
Give kids free time and material to draw, scribble and make what they want to using paper and crayons. In beginning you can get them fat crayons.
Give kids opportunity to write on vertical surface. If possible get an easel and let them express ideas using chalk and blackboard
Above activities would help you encourage early writing skills at home
You can get these FREE playdough alphabet mats and FREE number mats for preschool kids
Here are multiple cut and paste craft projects and fine motor skills activities and crafts that you can do with your child.
Toys and Supplies that help develop Prewriting skills
Here are few of my favourite supplies and toys that can be used for developing prewriting skills (apart from doing worksheets)
Lacing Toys for toddlers
Check this one in India, Check this cute one if you are not in India
Chunky puzzles for kids
Check this one in India, Check this one if you are not in India
Wooden writing practice boards
Check this one in India, Check this one if you are visiting from outside India
Magnetic slate for kids
Check this one in India, Check this one if you are not in India
Puzzles with knobs
Check this one if you are in India, Check this one if you are not in India
Chunky Crayons for Kids
Check this one in India, Check this one if you are not in India
Easel for kids
Check this one if you are in India, Check this one if you are not in India
More Hands on Prewriting activities for preschoolers
Here are some prewriting activities that you can do with kids using this reusable wipe clean product. Its a STEAL DEAL for the offer price 
Check reviews of reusable wipe clean prewriting cards .
Here are some fun prewriting activities that you can do with kids using these. 
How to convert these worksheets into Reusable worksheets
More FREE FUN preschool worksheets
DO NOT MISS MANY MORE FREE worksheets and printable pdf here
Buy Prewriting skills Book for Nursery kids online
Click here to see latest price

Clic
Click here to see latest price
Go back to all Parenting Blogs and articles on Child Care, Growth, development and safety.