Prewriting Worksheets Beginners Level pdf printables downloadable (Cover page + 29 worksheets)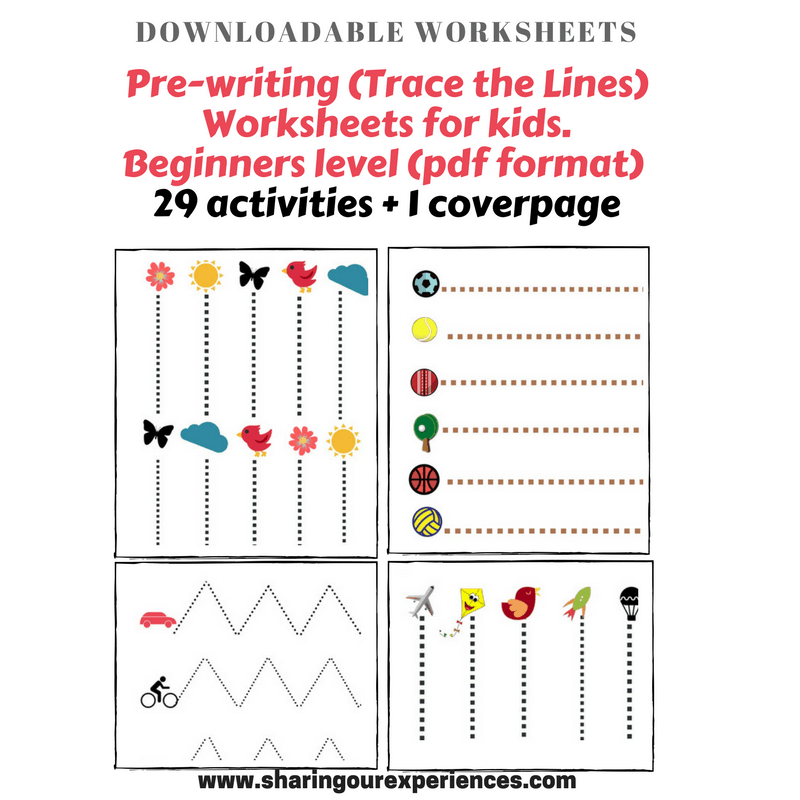 These pre-writing worksheets are designed for toddlers and young kids (Beginners level). These are designed to improve the fine motor skills and pencil griping of kids. It has lines that are bold and thick which are easier for young kids to trace.
You can use these worksheets for
Tracing lines
Improving Fine Motor skills
Improving Hand Eye coordination
If you are in a rush – you can get prewriting worksheets for toddlers in India Rupees by clicking here. It is also available in USD – Click here to get at 50% off.
There is also an advanced prewriting set for preschoolers – you can get it in India Rupees by clicking here and again only for 1$ by clicking on this special link
Before kids actually start writing it is very much required to develop their finger muscles so that they can hold the pencil correctly and can write properly. We can do this in number of ways. The most common is scribbling, finger painting, beading, sorting, peeling, tracing etc. We would be talking about these in greater details soon
Do Not miss this 9$ Coupon to shop on Etsy. Claim you 9$ Coupon here
This set of worksheets is beginners level as initially it starts with sleeping and standing lines and then slanting lines. To make the worksheets fun and interesting for kids we have added some familiar objects on sheets. Kids will love to recognize them and would love to have discussion around them.
---
---
Prewriting worksheets Toddlers Features
1 Cover page + 29 prewriting worksheets for practice
Minimum recommended age 2.5 years old
Bold and thick simple patters to get started with prewriting (Beginners level)
PDF downloadable worksheets pack of A4 size
Improve fine motor skills and hand eye-coordination of kids.
Activities in these sheets:
Trace the sleeping lines.
Trace the standing lines.
Trace the slanting lines.
This downloadable worksheets pack contains 30 sheets (of A4 size) with one cover page containing instructions and 29 worksheets with activities to practice the pre-writing sheets.