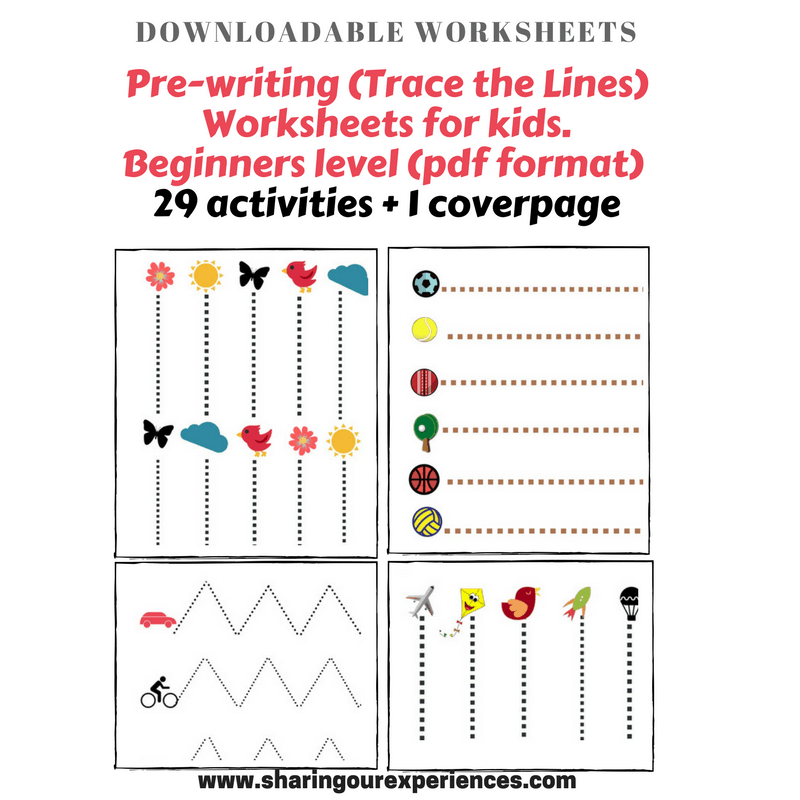 ---
These pre-writing worksheets are designed for toddlers and young kids (Beginners level). These are designed to improve the fine motor skills and pencil griping of kids. It has lines that are bold and thick which are easier for young kids to trace.
You can use these worksheets for
Tracing lines
Improving Fine Motor skills
Improving Hand Eye coordination
Before kids actually start writing it is very much required to develop their finger muscles so that they can hold the pencil correctly and can write properly. We can do this in number of ways. The most common is scribbling, finger painting, beading, sorting, peeling, tracing etc.
This set of worksheets is beginners level as initially it starts with sleeping and standing lines and then slanting lines. To make the worksheets fun and interesting for kids we have added some familiar objects on sheets. Kids will love to recognize them and would love to have discussion around them.
---
In this article
---
Advertisement| Article continues below.
---
---
Prewriting worksheets Features
1 Cover page + 29 prewriting worksheets for practice
Minimum recommended age 2.5 years old
Bold and thick simple patters to get started with prewriting (Beginners level)
PDF downloadable worksheets pack of A4 size
Improve fine motor skills and hand eye-coordination of kids.
Activities in these sheets:
Trace the sleeping lines.
Trace the standing lines.
Trace the slanting lines.
This downloadable worksheets pack contains 30 sheets (of A4 size) with one cover page containing instructions and 29 worksheets with activities to practice the pre-writing sheets.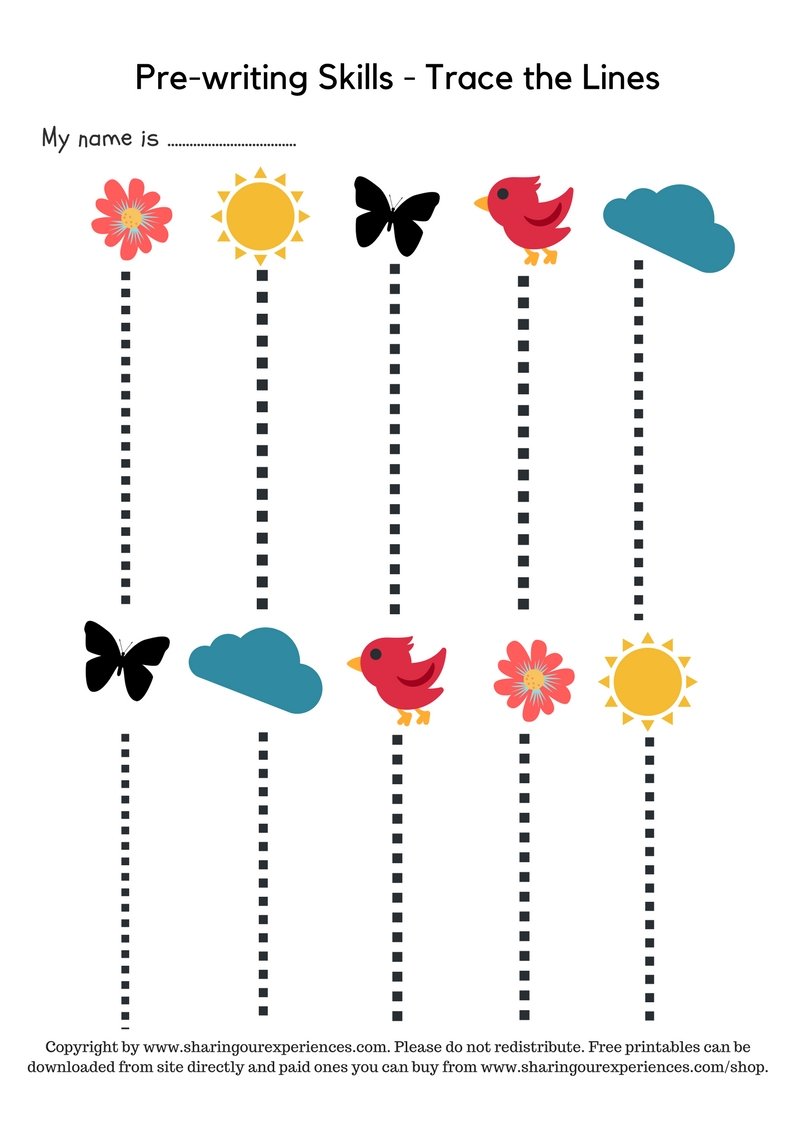 back to menu ↑
How to use these Prewriting worksheets
You can use these worksheets by showing your kid how to trace on them. For younger kids you can laminate them and place playdough or pebbles on the lines. You can talk about various objects you see on the worksheets as you solve the worksheets.
There are different types of activities in the printables for tracing and prewriting. Let your kid do it using crayons and guide in how to hold crayons. You can also use the sheets to stick pom poms or place beads on the lines.
Please note that each child is unique, please start these when you think your kid is ready for these activities and using worksheets. Worksheets are to be used for young kids for very small duration these concepts can also be taught in a variety of other ways.
back to menu ↑
How to buy these Prewriting worksheets
These worksheets are only for personal purpose

The PDF would be delivered to yourself via instamojo (India) and sendowl (USD) which is completely safe for digital downloads
Note – This is a copyright property. Not for commercial use (to be shared or sold)
If you are interested in next level of Prewriting activities for your kid. Get these reusable wipe clean prewriting cards . Here are some fun prewriting activities that you can do with kids using these. Its a steal deal for the offer price 
back to menu ↑
How to convert these worksheets into Reusable worksheets
You can turn these printables into reusable worksheets by laminating them using Laminating sheets and laminator.
I use this Laminator and sheets as home and they work great
If you are not in India, check this one out it has more than two thousand reviews
Let your kid solve the puzzles and solve these sheets and you can guide them. Have fun together, you are doing great 🙂
Liked this post ?
You may also want to check our other popular articles and activities for child development. Hope you enjoy reading it and find it useful.
Go back to all Parenting Blogs and articles on Child Care, Growth, development and safety.
 Your Turn Now
In case if you liked this article do show your support by sharing this article.
Like our Facebook Page
Stay connected with us using your favorite social media, we can be found on
Do you want to share your parenting tips, stories, activities or crafts you do, toy or book review, let us know by using comments below or mailing us on sharingourexperiencesblog@gmail.com
We love hearing from you. Add a Comment using your Facebook id (if you don't want to use Facebook, scroll down to leave a reply using other options)