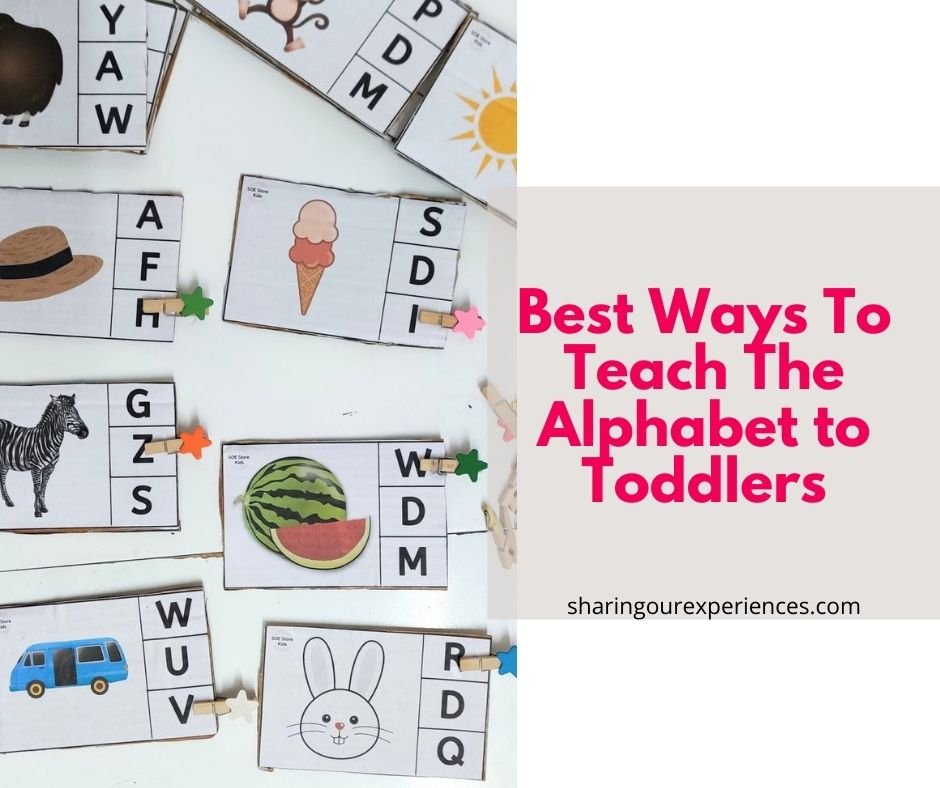 Is your 3-year-old struggling to write letters of the alphabet?
Is your pre-schooler not showing any interest in the writing alphabet?
Actually, there is no hard and fast rule to teach writing alphabets to preschoolers but there are some self-tested tips and tricks that helped my 3-year-old to practice writing alphabets with fun.
In case if you are looking for an activity book that helps in alphabet writing – Just close your eyes and buy this Alphabet writing book for 3 year olds and you can thank me later. If you looking for digital products – just go for this alphabet learning pack.
There are several challenges that mothers/parents face when teaching the alphabet to their children:
Keeping their attention: Children have short attention spans, so keeping them focused on learning the alphabet can be a challenge.
Making it fun: Children are more likely to engage in activities that they find enjoyable, so finding ways to make learning the alphabet fun and interactive can be a challenge.
Keeping it age-appropriate: Different children develop at different rates, so it's important to ensure that the activities and materials used to teach the alphabet are age-appropriate.
Inconsistency: Children benefit from consistent and repetitive practice, so it can be a challenge for mothers to ensure that they are consistently teaching the alphabet in a way that is effective.
Managing expectations: Mothers may have high expectations for their children, so it's important to be realistic and patient as they learn the alphabet.
Balancing individual needs: Different children may have different learning styles, so it can be a challenge for mothers to balance their individual needs and teach the alphabet in a way that works best for each child.
Finding appropriate materials: With so many different options available, it can be a challenge for mothers to find the right materials and resources to effectively teach the alphabet to their children.
I personally found this alphabet writing activity book to solve above challenges. As it keeps their attentions – by providing engaging and interactive activities that will keep children's attention and make learning the alphabet more enjoyable. All activities – such as coloring pages, puzzles, and matching games, help children learn the alphabet while having fun. This is truly age appropriate. Also, this activity book provides a structured and consistent way for mothers to teach the alphabet, ensuring that the child gets the practice they need to master the letters. There are variety of activities that cater to different learning styles, allowing mothers to balance their children's individual needs. This provides all the materials and resources needed to teach the alphabet in one convenient package, eliminating the need for mothers to search for additional materials.
So, check this must have Amazon find here.
Now let us get started on how to teach alphabet to your child.
1. Teach The Right Order To Write ABC To Kids
We followed a simple rule to begin writing with the standing lines, then slanting lines, half curves, and then full curves like
First Step: L, I, H, E, F, T
Second Step: V, X, N, M, W, A, Y, K, Z
Third Step: C, D, B, O, P
Fourth Step: U, J, Q, R, S, G
2. Simple Short Tricks To Follow
Remembering all 26 letters in order from A-Z would be very difficult for a beginner to remember, rather you can follow these verbal tricks to make them understand the flow of writing.
Letter H: Two standing lines connected with a sleeping line at the center, as two parallel lines joined with a bridge in the middle
Letter I: One vertical line drawn from top to bottom, like a person is standing wearing a hat at the top and shoes at the bottom Letter B: A standing line blowing two bubbles connected together.
3. Use Sensory Trays To Practice Writing
Another fun trick that helped my 4-year-old to practice writing the alphabet in a fun way was writing in the sensory tray. Give a big tray filled with mustard seeds/sand/salt/or rainbow rice and alphabet flashcards to trace uppercase or lowercase letters into the sensory tray with fingers.
You can get these physical flashcards or use this alphabet learning pack as it has everything you need in one place
Check out the best >>>Montessori Tray <<<Click here
4. Alphabet Worksheets Practice
Make a regular habit of writing alphabets on >>> worksheets <<< click here to get the Ultimate alphabet bundle, maybe one stroke at a time or one letter for a week.
This will teach them the right hold of the pencil without any fail.
5. Introduce Flashcards For Tracing Alphabets
Flashcards are a handy and pocket-friendly way to teach any fundamental concept in an experimental way. You can use our Alphabet Flashcards from Alphabet Bundle (available in two variants) to help kids teach tracing alphabets.
Click here and get the >>> Alphabet worksheets set <<<
Just download the flashcards, take printouts and get them laminated for reusability. You can use whiteboard markers to trace the letters.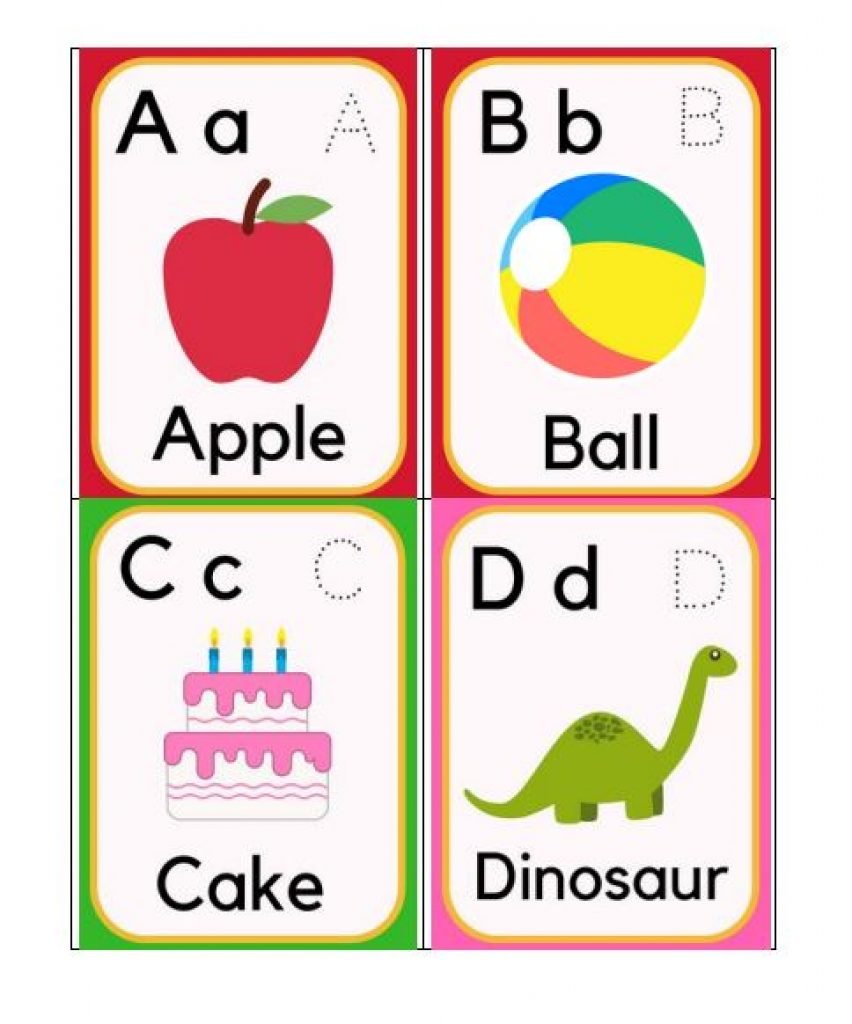 6. Fun Ways To Teach Alphabet Writing To Kindergarten
If you ask me "How do I teach my 3-year-old to write the alphabet?" then you should look few below-mentioned skill-based learning activities that helped my 3-year-old to write in a fun way.
Work on Fine Motor Activities To Build Hand Strength For Writing
The muscles in tiny hands need extra strength to be built to teach them the right hold of a pencil/pen (tripod hold).
These are the few activities that will work wonders for pincer grasp development.
1. Alphabet Sponge Dab Activity
Give a white chart with some paints to your child, place alphabet sponges (you can also use magnetic letters) at one place, and let the child dip the letter sponge in paint and dab it on the chart. Click here to check Alphabet Sponges >>> Alphabet Sponges <<<
2. Trace The Letters With Pom Poms
We used our Alphabet playdough mats to trace the letters with pom-poms. You can also use buttons, any kind of beans from the kitchen. This helped my 2-year-old to learn about the actual flow of letter formation- i.e. start from the top do son, and then left to right.
Want to buy pom-poms at the best rate>>> Click Here <<<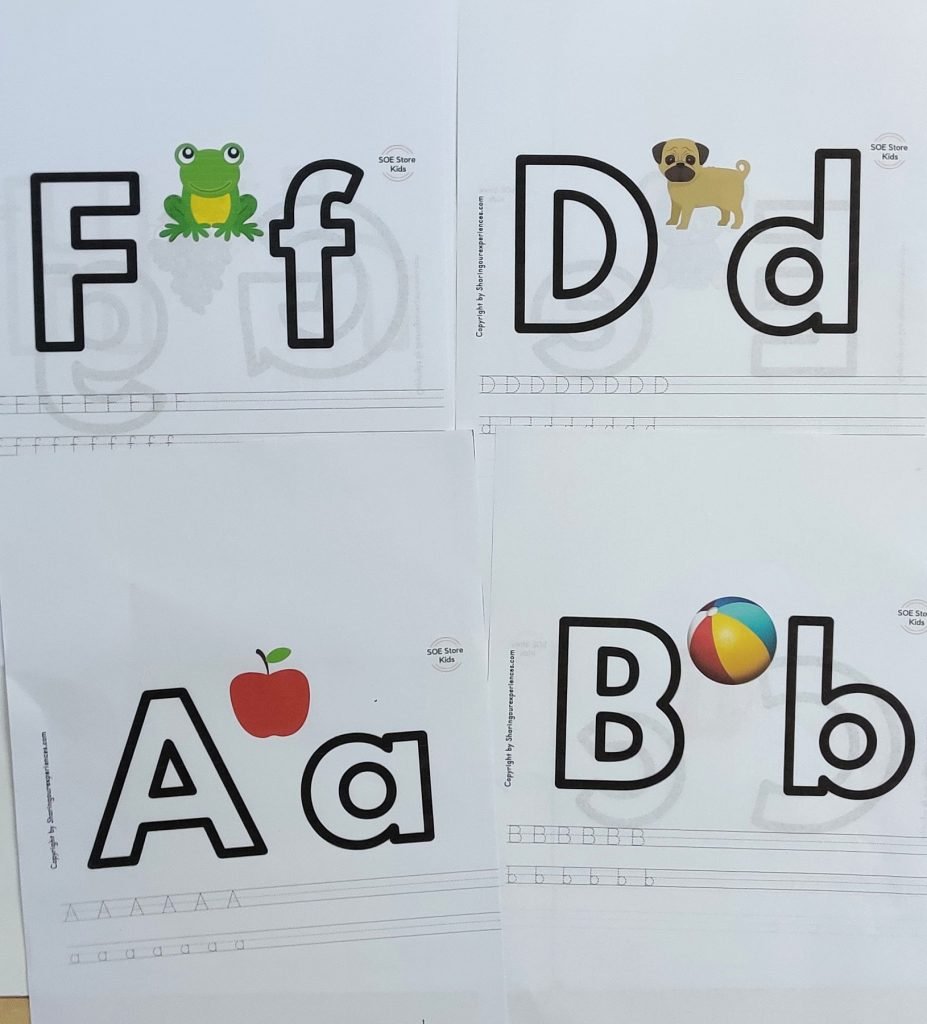 This will help your child work on building a great pincer grasp that will enforce their small finger muscles to work with greater strength when they begin to write formally.
3. Alphabet Uppercase, Lowercase Letter Matching Clip Card Activity
This is one of the activities from our Alphabet Bundle which helped my son practice alphabet recognition in a fun way. Just took printouts, pasted them on cardboard cuttings, and the child has to clip the right letter with cloth pegs.
4. Lowercase Uppercase Alphabet Matching Cut & Paste Activity
This one is a great fine motor activity and will be every child's favorite as it works on building great scissor skills. My son just loves cut and paste activities and learning things in a fun engaging way.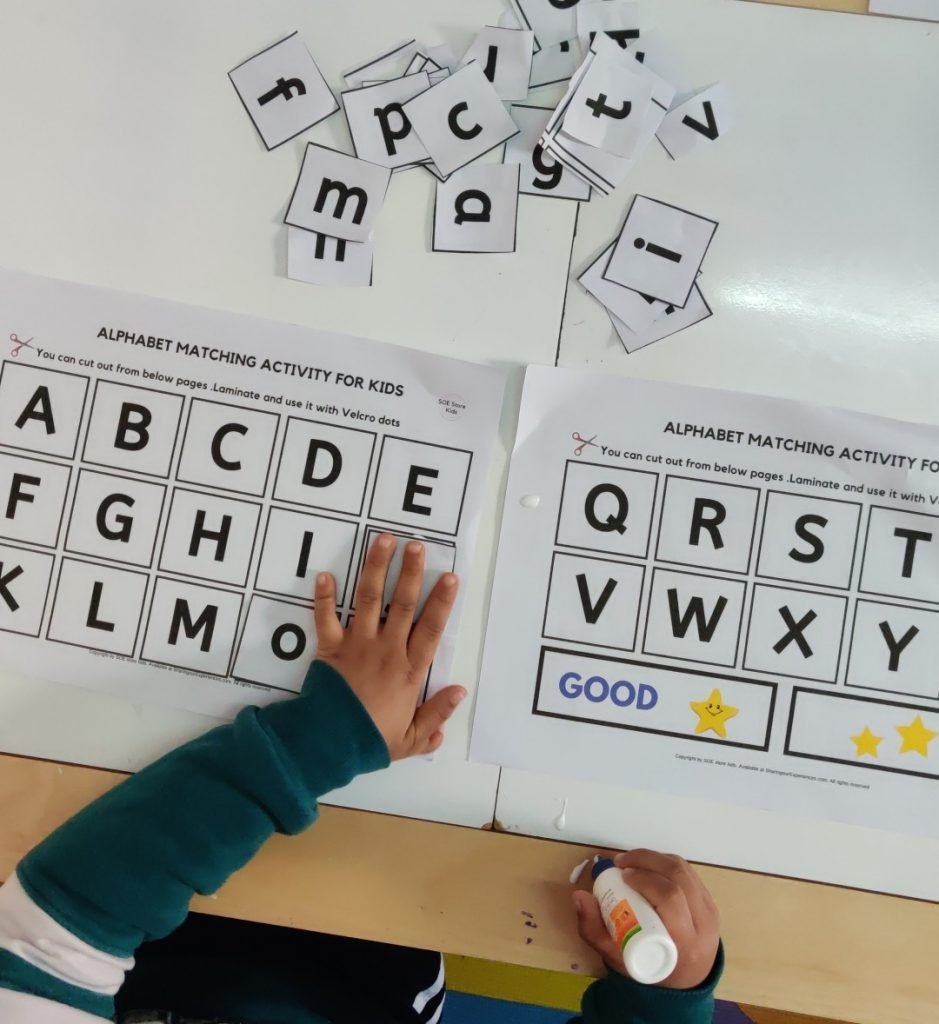 Work on these Visual Discrimination Activities To Practice Alphabet Writing
We used different Alphabet Activities from our Alphabet Bundle for both Uppercase & Lowercase Letter Recognition. You know, before we expect a 3-year-old to write, we need to make them confident with alphabet recognition- both uppercase and lowercase.
Get your >>> Alphabet Bundle <<< Click here
1. Uppercase/Lowercase Alphabet Matching Clip Card Activity
Just 10 minute preparation time and endless fun added to our learning time. We used uppercase letter recognition activity with a twist of coloring.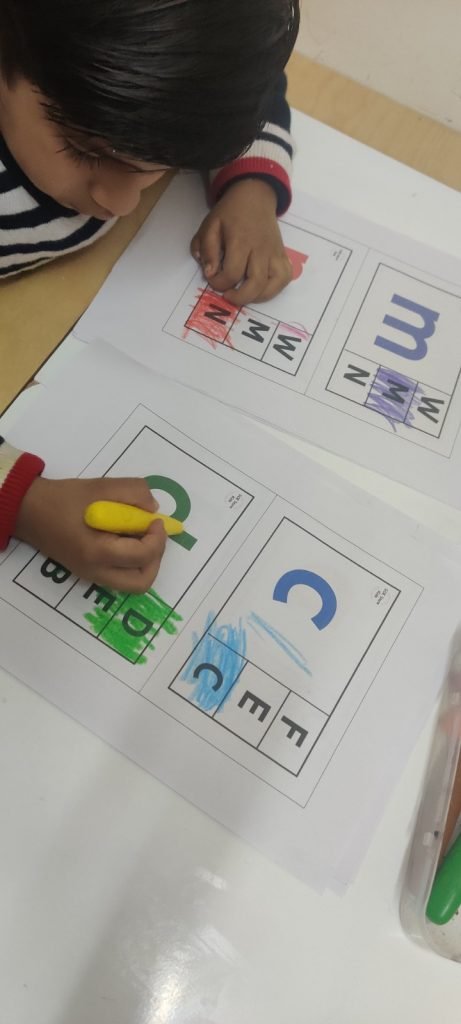 2. Find & Color Letter Hunt Activity
Big sized alphabets on A4 size sheet with alphabets in random order. The child has to find and color the letter. We used this sheet for tracing uppercase letters.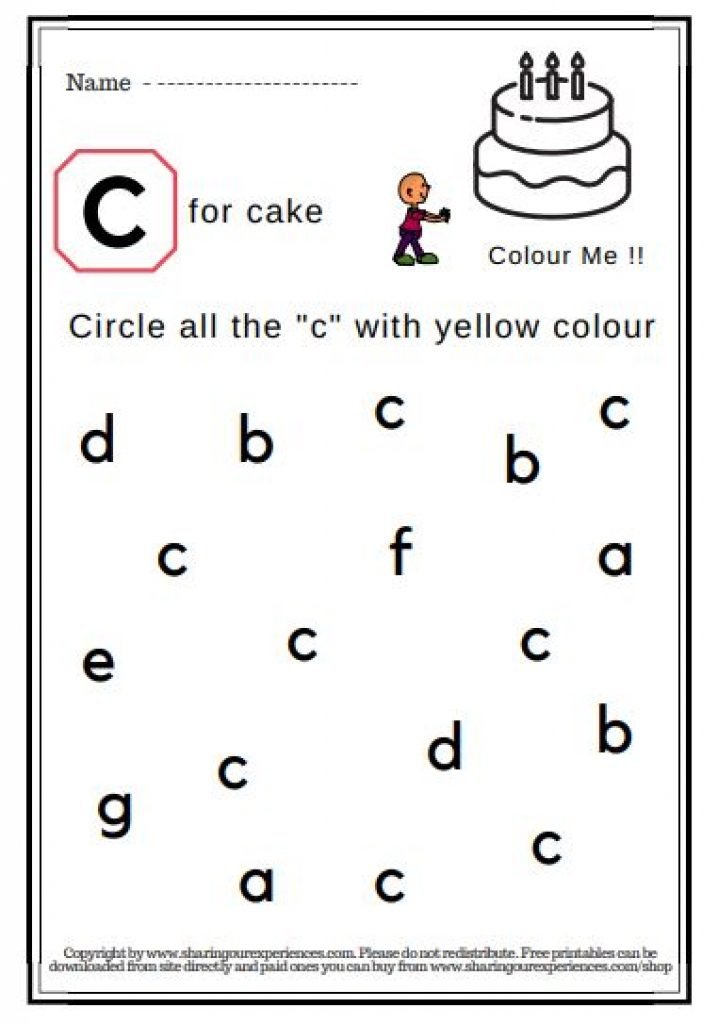 Use Art Techniques To Improve Writing Skills In Kids
Paints are every child's first love and if we use them in their learning it gives an excellent output. Check out this amazing Watercolor Resist Letter Painting
You will need:-
White Watercolor Paper
Paintbrush
Watercolor Paints
Water
White Crayon
You can get watercolor paper on amazon. Watercolor paper is a thick absorbent sheet mostly made up of wood-pulp, or mixed with cotton fibers.
Improve Literacy Skills
You can use Rainbow Puzzle Card Game for matching uppercase and lowercase letters from our Alphabet Bundle. This way learn letter recognition very quickly in a fun way.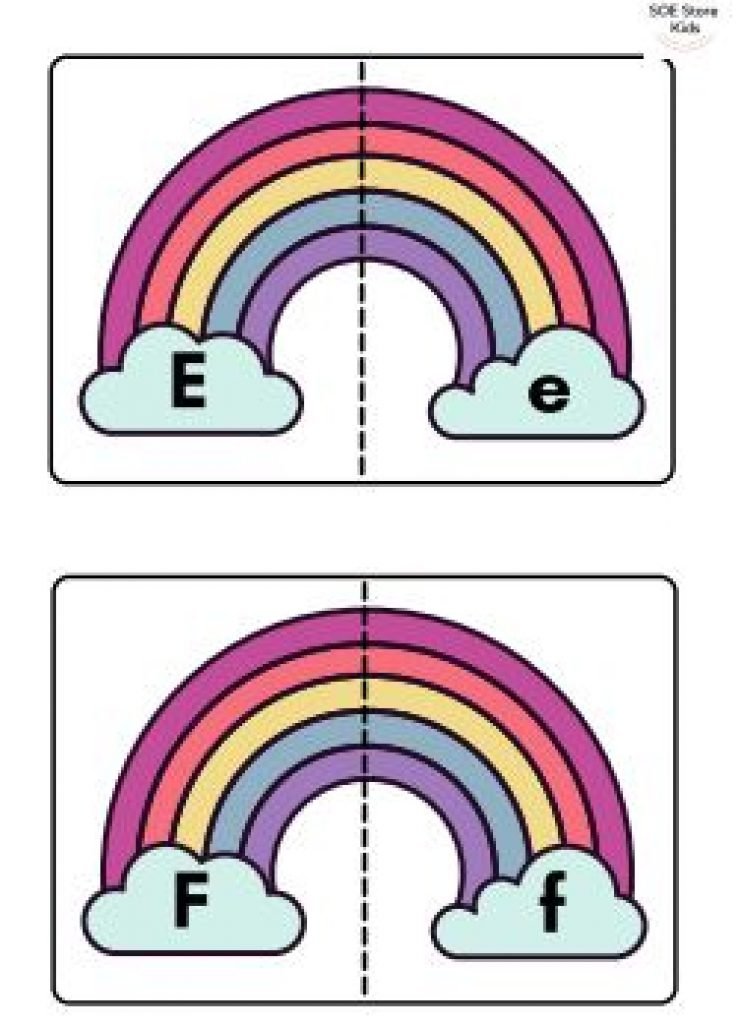 Teach Kids To Write With Blocks
Legos or blocks can be found in every house and you can put them to the best of their use to create letters.
Teach Multi-Sensory Writing
Make your own tactile cards using either glue gun/ wool/ beans or pipe cleaners and give the best sensory experience to explore the letters with their fingers. This will help kids understand the path of motion needed to write letters in the correct order.
Get the best Glue Gun here on Amazon <<<Click Here
Use Science Activity To Teach Alphabet Writing
We did a salt painting science experiment to inculcate fun into our alphabet learning. Take some cardstock paper cuttings, draw alphabets with white glue and sprinkle salt on them to form the letters. Give diluted watercolors with a dropper to the child and watch them pour these on the salt formations to reveal the colorful alphabets.
Plan Outdoor Alphabet Tracing Activities
If you are struggling with how to practice alphabet writing for kids, then you must try this Alphabet Tracing fun activity when you take your child outdoors.
Just draw letters on the ground with chalk and ask your toddler to collect some pebbles lying around and trace the alphabet. This way we can incorporate learning during playing time even.
5 Common Mistakes To Avoid While Teaching Writing To Kids
If you are really interested to teach alphabet writing to your toddlers smoothly, then you must avoid these common mistakes:
Mistake 1: Don't Rush
The biggest mantra to achieve success for any challenge is patience. If your child is not showing interest in anything (even tracing) do not overemphasize it. Keep calm and do when your child shows cues to initiate writing. Kids need a lot of time to explore crayons, colors, paints, and other tools before they begin to start formal writing with a pencil.
Mistake 2: Don't Miss The Cues Given By A Child To Write
Pencil/Crayon/Thick Markers/Chalk and Paper/Chart/Slate should always be easily accessible to the child. You never know when they are going to surprise you. It's not like we ask them to write and they begin, in fact just observe them providing easy access to stationery supplies (colors, marker, paper, or whiteboard)
Like in our case, one day my son (2.5 years old) got a sketch pen and started doodling on the floor, instantly I gave him one big chart and observed- and to my surprise, he made H, L, T, X, 1, I, 7, 0 randomly on it. I was thrilled to see that urge to learn and write.
Mistake 3: Don't Jump To Alphabet Worksheets Before Kids Are Ready
Many moms have a misconception that a preschooler should do writing on worksheets, I definitely agree that a few 3-year-old or 4-year-old kids can write smoothly on worksheets but if your child doesn't, please do not panic. There are lots of surfaces and materials for them to explore to write.
Mistake 4: Teaching Writing ABC In Wrong Order
Do not always start to teach writing alphabets from A, B, C – Z, instead go with the flow from easiest to hardest:
E, F, H, I, L, T, V, W, X, K, M, N, Y, A, Z, C, O, G, Q, B, D, J, P, U, R, S
If we follow a structured approach we always get a positive outcome. Begin with standing, sleeping lines, then slant lines, and then continue to follow with curves.
Mistake 5: Don't Neglect The Letter Formation Flow
Young writers usually get confused with the proper flow of writing, they begin to find the shortest way to write ABC which may lead to poor handwriting. Like always teach them to start from the top, go down, and then from left to right.
My 3 Year Old Runs Aways From Writing
If your child also walks out whenever you ask them to write then please focus on below-mentioned points before you expect big from them:
Make Reading/Recognition Practice A Daily Routine
Daily revision keeps the charm alive- likewise, I keep talking about numbers and Alphabets with him- like " Do you know how 1 is formed? – A big standing line, How E is formed? – One Standing line, three sleeping lines (one at top, one at middle, and one at bottom) with proper actions using my hands/fingers.
In lowercase letters, b has a potbelly, while d has a big bum. p always looks to the right, while q to the left. This helps create a visual in their mind that they always try to copy.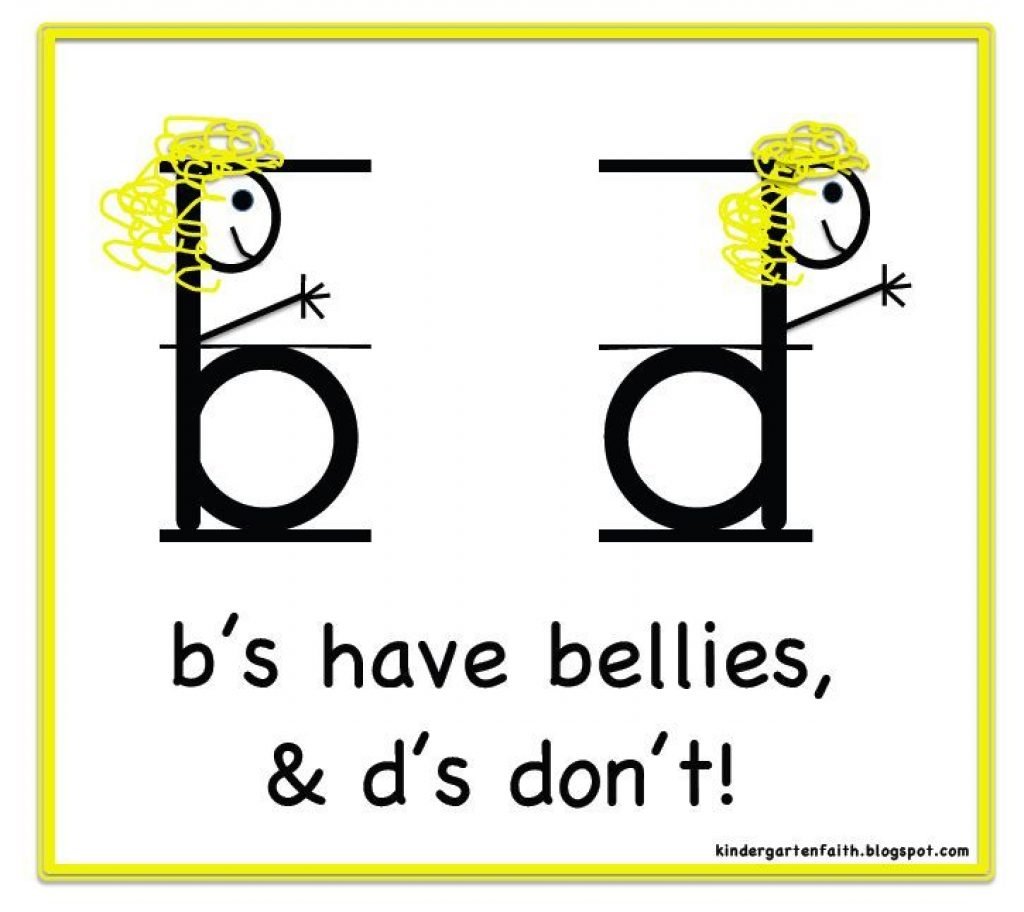 Have A Defined Plan
I know your expectations are very high for a 3-year-old to begin writing, but let me tell you that without an actual plan you won't be able to succeed. We all moms are too busy in our chores whether home or office that we somehow fail to make a plan.
All we need to teach them writing is an easy-to-follow step-by-step plan that we can follow without breaking our heads. Without letting your child drill into so many things, you can help your preschooler to write the alphabet in a fun way.
That's the reason I have created my own One Letter A Week Alphabet Activity Plan that is very easy to implement and will show you simple ways of how to teach the alphabet to toddlers?
Invest In An Alphabet Curriculum
Teaching letters to preschoolers can be as tricky as climbing a mountain. But if we emphasize on right skills at the right age, it becomes very easy to lay a strong foundation to teach alphabets to preschoolers in a fun way.
Keeping that in mind, I am here to introduce our Alphabet Bundle that every parent should invest in to teach ABC to 2 year old. It is a jam-packed bundle of activities that covers all basic concepts that a preschooler needs to learn to read/write.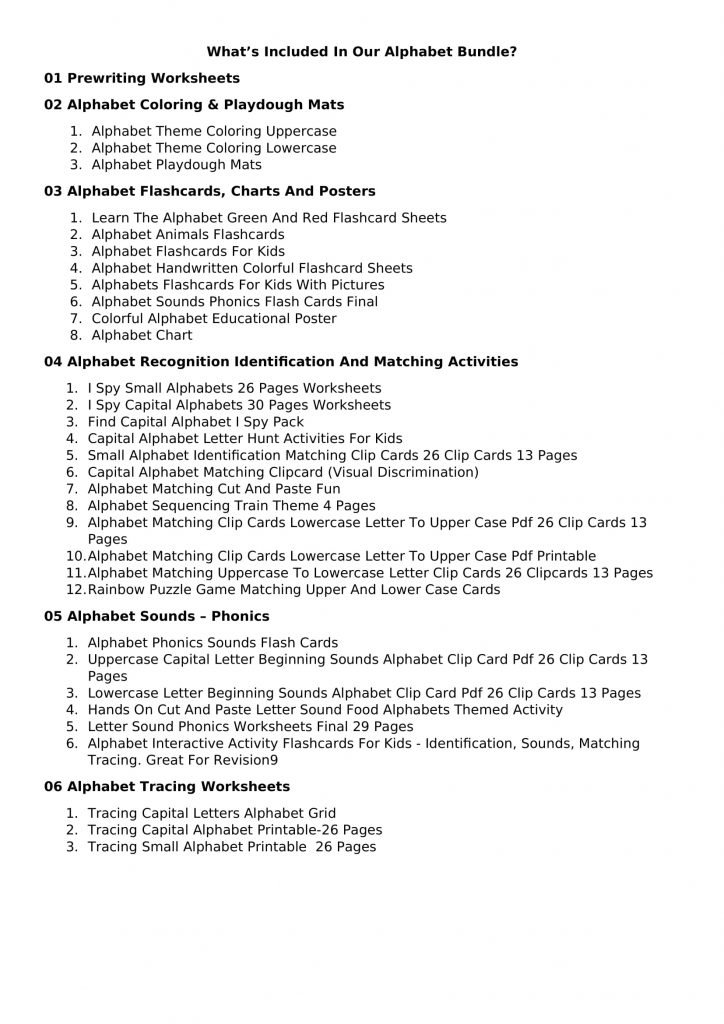 From pre-writing tasks to alphabet recognition, formation of letter sounds, beginning sound, middle sound, or ending sound to building simple CVC words, the bundle includes plenty of hands-on activities to keep our young minds engaged while they practice reading, writing, and mastering the alphabets.
Other Resources for teaching Letters of the Alphabet
Below we have put together a list of resources that will help you teach your child letters of the alphabet.
Books to teach Alphabets
Alphabet sets- Magnetic/Non-Magnetic
Puzzles to Teach the Alphabet
What Order To Teach Letters To Pre-Schoolers?
There are many different ways to teach the right order to write letters, but what made our writing journey smooth and effective is what I am going to share with you guys.
We started with some basic Strokes- Standing Lines, Slanting Lines, Sleeping Lines (L to R & then R to L), Curves (Up to Down, and vice-versa, the deep Up or Deep Down Curve), and then Half Circle ©, Full Circles (O) to learn the accurate format for writing Alphabets.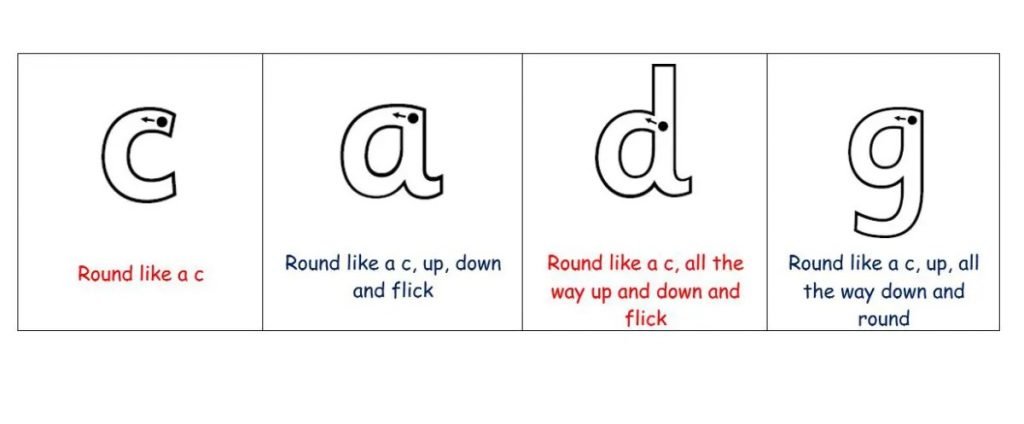 The right order to be followed when teaching a 3-year-old to write alphabet in an effective way should be like:
L, I, H, E, F, T
V, X, N, M, W, A, Y, K, Z
C, D, B, O, P U, J, Q, R, S, G
At What Age Should A Child Start Writing The Alphabets?
Writing is one developmental stage that varies from one child to another, some may begin to show interest in writing at a very early stage when they are around 3 years and some may fall escaping even after they turn 4.
Do not compare your child with others and stress yourself as a parent if your child is not showing any interest in writing. A lot depends on the approach we follow to work on building their fine motor skills.
Should A 3 Year Old Be Able To Write Letters?
It is not at all necessary to expect a 3-year-old to start writing, studies have shown that a 4-year-old child when he is ready to go to preschool is suitable to start with writing. Before that, we can work on building their pre-writing skills to enhance their tripod grip which most kids lack during their early years.
Our all-in-1 alphabet learning bundle is a powerful resource that will make your child confident in writing uppercase and lowercase letters without demanding your extra efforts.
From alphabet recognition to the connection between alphabet sounds and the letters they represent, the bundle has a jam-packed set of activities that focus on building multiple skills a kindergarten need to build during his early years.
All the worksheets have been thoughtfully designed by education experts to teach multiple strategies for teaching letters and their sounds. You just have to download and take printouts of the worksheets for hands-on learning.