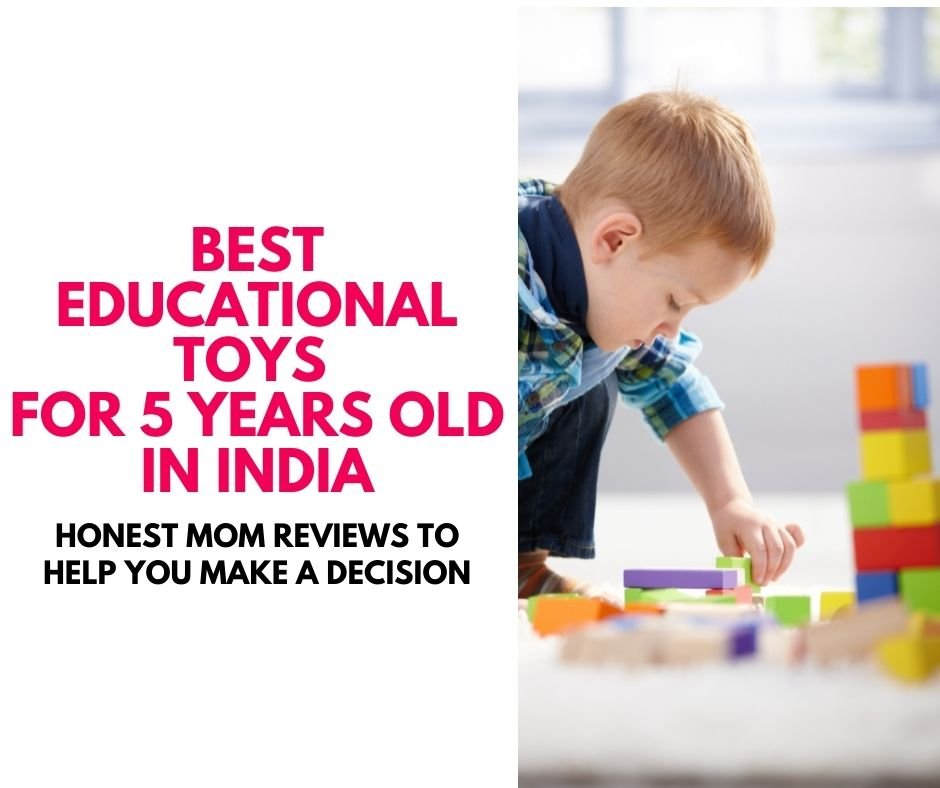 Looking for Best Educational Toys for your 5 years old child? In this article, you will find all the answers to your questions, and if you have any questions that are not answered, feel free to ask us in our comments section.
Toys play an essential role in children's growth and development. They are not just instruments to entertain kids for fun; they can be the best educational tools there ever can be.
As a parent, you already know how toys contribute to your child's learning process. A child needs a specific type of toy at a specific age. Many first-time parents or new parents are worried about their choice of toys.
We understand that, as a parent, you might be concerned about your child's academic learning and future. We also know that you desire to bring the best things for your child that will leverage his academic capability.

In this article, we will understand which of the educational toys are suitable for your 5-year old.
Award-Winning Toys for 5-year-old boys in India
Here we have listed some toys that were awarded in different categories in the Toy of The Year (TOTY) Award. The toys are carefully selected and checked on several parameters. Although these toys can be played with by both boys and girls, they seem to be more popular among boys.
Award-winning toy 2021-
The awards are given on the basis of several parameters, they are first tried and tested by the experts checked for their popularity, and then finally awarded.
Story Time Chess
Story Time Chess is a revolutionary new game that helps you teach your child how to play chess at the young age of 3, a 5-year-old will love it.
The battle academy is an excellent value-for-money game for children 5 and above. This is very popular among Pokemon-obsessed kids. The instructions are well written with a lot of pictures. The board is of good quality and the counters and coins all seem to be durable enough.
PAW Patrol Dino Patroller Spin Master
This Dino Patroller is the first-ever motorized team vehicle! It moves just with the push of a button.
When you spot a dino in trouble, just launch the rescue nets!
The PAW Patrol Dino Rescue Dino Patroller makes for a great toy for kids 3 years old and up.
Top educational toys worth buying for your 5-year-old
Children often look forward to playing with their favorite toys and game sets, they learn while they play. There are many thousands of toys claiming to be educational and it becomes difficult for parents to make a good choice. Some of the toys that we have listed here are tried and tested toys and shared by real moms, so these can be a good option for your 5 + years old child and can be a perfect gift too.
Einstein Box Science Experiment Kit
Complete kit for simple and interesting science experiments. There are also new experiments that even interest the adults. My son totally loved the activities. The instruction booklet is also very simple and easy to understand. An excellent kit for gifting.
A very good way to introduce geography to your child, it is even enriching for adults. This consists of a unique, fun, and exciting foam map puzzle with 75 Country shaped puzzle pieces that will help the child learn the locations of the countries.
The materials used in this kits toys conform to the ASTM standards for toys so the parents can confidently choose this product to provide an innovative, delightful, and safe play experience for their children
Hasbro Gaming Classic Jenga, Hardwood Blocks, Stacking Tower Game
Jenga is a classic game made of hardwood blocks. It is the original woodblock game that families have loved for generations
One can play the block-balancing game, pull out a block, place it on top, without letting the tower fall! Even if you don't have friends around, you can still play the classic Jenga solo! Practice stacking skills, building the Jenga tower.
The Classic Jenga set includes 54 precision-crafted hardwood blocks.
It can make for a wonderful party game. It is easy to learn and fun to play with.
Skillmatics Educational Game: Space Explorers
These mats by Skillmatics are reusable write and wipe mats, the set Includes 6 double-sided activity mats, 2 pens, 1 Duster cloth, and 1 Achievement Certificate. The instructions are very easy to understand. The activities are highly engaging, teaching them skills like problem-solving, creative thinking, improved observation, and concentration.
Scrabble Board Game
Classic word game Scrabble is popular for ages and loved by all age groups. Can be played between 2-4 players. 5 years old children begin to form words and this game can help them learn it better and also improve their vocabulary.
Genius Starter Kit
OSMO makes fun-filled & award-winning learning games. Children interact with actual handheld pieces & an iPad, bringing a child's game pieces & actions to life (No WiFi necessary for gameplay). Children can arrange over 100+ puzzle designs/pieces to match on-screen shapes (Tangram), they solve creative physics puzzles by drawing lines, learn to draw anything with creative drawing skills, add, count, subtract & multiply tiles to pop the number bubbles solving math equations (Numbers), learn spelling & vocabulary with on-screen images & skill level selection (Words).
Best Amazon Toys For 5-year-old Boy
We have listed below some of the best-selling toys preferred by 5-year-old boys, although these toys can be played with by girls and boys.
Rubik's cube is a very engaging toy, a five-year-old may take a bit of time to get used to it, but learning it is not so difficult, once they learn it, they love it. This set consists of 3 shapes-cubes and a pyramid. These are fast and move very smoothly unlike many other Rubik's cubes.
Inexpensive Toys for 5-Year-Old Child
Our children demand toys every now and then and soon get bored of them too. While I am someone who doesn't buy toys too often and rather I reserve occasions to get them, if you are tired of spending thousands of rupees on toys frequently, here are some inexpensive, yet very good toys for you to choose from.
ButterflyEduFields 3D Animals Puzzles for Kids 10 Wildlife Wooden DIY Animals Toys
Priced at only 299/ on amazon.in this set is a very good deal.
This is a set of 3-d jigsaw puzzles, that allows kids to make big standing 3D animal models. This is a wonderful toy for improving hand-eye coordination and increased motor skills. This is designed to encourage visual perception skills, hand-eye coordination, and problem-solving skills, this puzzle is made from an extra-thick, high-quality laminated board and is easy to grasp.
Tangram puzzles are good for STEM (Science, Technology, Engineering & Maths) skills. These act as puzzles for kids for age 5+ years and continue association as puzzles for adults with more challenging versions. This Magnetic Tangram, Junior Edition contains 7 magnetic tile puzzle pieces, a magnetic board, and a book of puzzles. This Magnetic Tangram is a great travel board game for kids.
This product comes with a detailed and easy-to-understand manual so that the user can learn the basics of fitting, it also guides them through the process to build 6 unique models by using 75 parts that include nuts, bolts, a screwdriver, and a spanner. A perfect toy for fine motor skills, logical thinking, cognitive thinking, creativity, dexterity, and problem-solving skills in kids.
Imagimake Mapology India With State Capitals
Learning about countries, states, and their capitals have been made interesting by this educational jigsaw puzzle by Imagimake. It comes in the form of a puzzle which when set to pieces form the map of India. It is a great playtime involvement for schoolgoers who want a break from their Geography books. Gather around some friends and help the young minds learn in a play way manner.
Butterfly EduFields STEM Construction Toys
 In just 40+ mins, children can create their own catapult, Once the catapult is built, they can have fun aiming at the opposing target and striking the balls to win
Unique & Unusual Gifts for 5-Year-Olds

If you are planning to surprise your own child or some other child, it calls for a special and unique gift. some of the gifts listed below are very nice and have been loved by the kids to who I gifted these.
Junior Musical Drum Set
Junior Drum Beat Set comes with a sing-a-Long microphone and working lights this drum has an applause button, Mp3 Plug-in Option, Real Working Lights. An excellent item for kids who have an interest in Music.
This is an interesting and engaging activity kit. my child spends hours creating different forms and patterns with these magnetic shapes.
Shifu Orboot Earth – Interactive AR World Globe for Kids 
Orboot Globe app takes your child on an augmented reality-based trip around the globe. It is interesting, engaging, and interactive. Your child will learn Geography, History, and Environmental Science.
This can make for a good and unique gift for your close family/friends or for your own child.
Genius Box Learning STEM Toy for 5+ Year Age: Art and Murals DIY, Activity Kit
This is a step-by-step D.I.Y kit to engage the kids. The kit includes Rainbow Art, Octopus Sand Art, Butterfly Mosaic Art, Design Your Own Wrapping Sheet, Toucan Sand Art, Rocket Mosaic Art, Giant Coloring Floor Mural, Submarine Mosaic Art.
This enhances their awareness, sensory & motor skills, language development, creativity & imagination, cognitive development, socio-emotional development, and logical thinking.
Here is something that you should definitely get, adults and children both love this toy – Jump Rocket Stomp Launcher
Frequently asked questions
What Are Educational Toys?

Educational toys are playing objects that are specially designed for children for stimulating the learning process. They are instruction toys that improve your child's IQ by better memory retention, coordination, and increased literacy. Education toys are designed for children to aim their overall growth and development with fun.
Why are Educational Toys Important?
Educational toys are important for keeping them constructively engaged and for enhancing their creativity while they play.
How To Keep My 5-year-old Engaged During Lockdown?
These are testing times for all, adults and children alike. Apart from the online classes, the child can be engaged by planning a few activities every day. With everyone at home, it is also ideal to engage your 5-year-old child in daily household chores. These will help them go a long way. A 5-year-old is beginning to get more independent, thus involving them in activities like folding clothes, dusting, sorting vegetables, and no fire cooking, etc. can keep them constructively engaged, build their confidence, make them feel an important part of the household, and also equip them with life-skills needed for a happy life.
See what real moms are buying to keep their children occupied- Best Puzzles on Amazon.in
How to Choose Educational Toys for Children?
The marketplace is full of toys, there are different kinds and qualities. If you are looking to buy educational toys, please keep in mind the following things:-
The toy should be engaging and fun to use
Improve your child's creativity
Ensure that most toys are open-ended
Toys should encourage imaginative play
Toys should enhance and improve their knowledge

As parents, we all want the best for our children. Five years is the age when children begin to read and write and get introduced to academics. Therefore, we should find toys that help children in their learning process.
5-year-old Development Checklist

Every child is unique and born with unique talent and qualities. Every child learns different things at different timings. However, it is always good to be aware of the average developmental milestones.
Most children between 4-5 start becoming more independent. They are more curious and eager to learn new things. They can engage themselves now, and will seldom seek your attention. Here is a list of some more milestones that you may want to check for your 4-5 years old child.
Language and Cognitive Milestones for a 5-Year-old child
Your4-5 years old child will now be able to recognize most letters, speak longer and more complex sentences and correctly name most of the colors, esp primary colors. In most cases, your 5-year-old will also be able to write their name.
Your 5-year-old child will also understand the concept of money and time; your 5-year-old will be able to count to 100 or more.
You may be interested in buying this first illustrated science dictionary
Fine & Gross Motor Milestone for 5-year-old Children
Your child now at this stage, will take interest in writing and drawing. He/she will be able to draw basic human figures, shapes, trees, etc. Your child will learn to wear their clothes on their own, but may still need some help with buttoning and tying the laces.
Social Development For A 5-6-Year-old
A 5-6-year-old will be calmer than what he/she was as a 3-4-year-old. The child now will learn to take turns, begin sharing and play team games rather than solo or parallel play, peer acceptance becomes very important for them at this stage.
5-6-year-old children can identify emotions and are better able to express themselves, hence, you will see lesser meltdowns, but remember, your child is still a child, so may still not have full control over his emotions.
Benefits of Educational Toys for Kids Development
little children are ever so curious about the world around them. As educators/parents what we can do the best to satiate their curiosity is doing activities with them that will benefit them. Here is where Educational Toys come into play.
Educational Toys help your growing child and his need in many ways. Some are listed below-
Improve their IQ
Work on overall development and all the senses
Enhance Creativity
Improve problem-solving skills
Improve focus and concentration
Educational Toys for 5-year-old
As we have seen above, developmentally a 5-year-old child is much different than a 3-year-old or a 10-year-old child, hence we must get toys that are appropriate for them and their growth.
How to find the best educational toys for a 5-year-old kid?
Here are the things you should keep in mind before buying toys for your 5-year-old child.
Your child's interest and inclination
Which area do you want to target, what do you want the toy to achieve for your child.
How sturdy is the toy?
What is your budget for the toy
Is the toy safe for your child