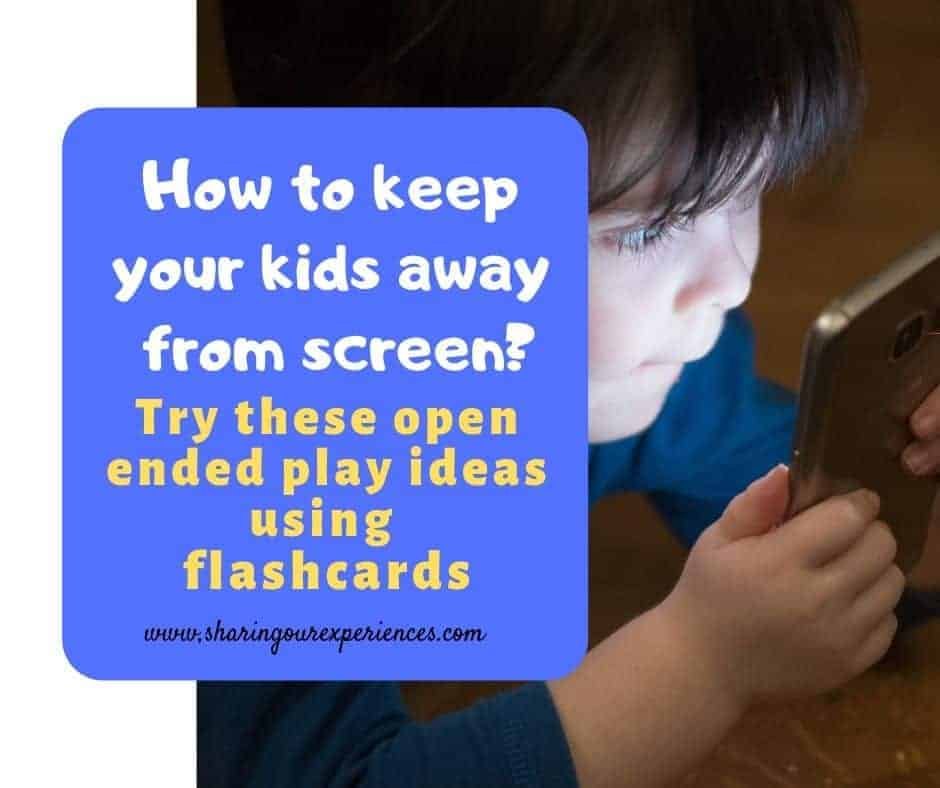 Do you wonder how to keep kids away from screen (Mobile, TV and tabs)? Then this article is for you. It shows WHAT works for real moms. And one inexpensive way to reduce screen time for kids
While technology keeps on getting smarter, at times I feel people who are using them are getting dim-witted day by day! and with exposure to too much screen time I am afraid the same can happen to our kids.
Children switch to screens because it's addictive and active while they sit idle and enjoy. Parents give their kids screens since it is convenient. But most of us are unaware of  how these screens i.e. televisions, mobiles, calculators, video games and I pads are slowing are children down.
You can read Is Screen time for babies and kids safe or unsafe here
---
In this article
---
Some might contest my opinion but I personally am awestruck by this generation's ability to imitate Peppa Pig cartoons and their parallel inability to arrange a six piece puzzle or name five good books.
And I feel much of this disappointment boils down to the inability of today's generation to sit without a screen for an hour.
Did you know that sedentary screen time for a child below two years is completely prohibited? And For 3-4 years it is advisable to limit screens to one hour.
You can read American Academy of Pediatrics views in usage of media here
How to keep kids away from screen or reduce screen time
While most parents do this owing to their ignorance others switch to screens because they cannot find suitable alternatives to keep their hyperactive children occupied.
There are multiple ways to keep kids away from screen. 
Here in this article I give you one such alternative to screen time which is light on pocket and efficient when it comes to engaging kids for a suitable amount of time.
When you want to keep your kids occupied during travel, dine out or home ; it's better to hand over flash cards instead of a mobile screen .
While a digital gadget slows a child's brain in the longer run, flash cards stimulate them and helps them learn.
Some parents might shudder at the thought of making their child study in the restaurant but give it a deep thought; Toddlers if not told it's study take even numbers and alphabets as play.
Flash cards if carefully chosen are very interesting and engrossing for young minds. I have relied on flash cards for the last one year and my bag always has a set when I leave home!
I am curating a collection here for busy parents to choose from. You can use flash cards to teach alphabets, numbers, basic life concepts, association and relative awareness.
How to choose Flashcard for Kids
Points to be kept in mind while choosing flash cards for kids.
Good material
Thin flash cards can cut a child's fingers. Opt for thicker ones with blunt edges.
Bright images 
Images should catch a toddlers attention to engross them. Dull and small images don't hold a kid in one place.
Well researched
Good companies put a lot of research into their products and the time a child spends with the product on his own speaks for it.
Age Appropriate
The cards should be comprehensible to the child and parent should go through them with the child once before handing them over for independent play.
Flash cards available in market
Here's a list of good flashcards options available online for toddlers and preschoolers that you can choose from
ALPHABET FLASH CARDS
You can choose flash cards according to the stage of learning your child is at. The easiest one are the SOE alphabet cards. They come in both capital and small cases

Last update was on: 3rd February 2023 9:37 pm
If your child has already mastered his Alphabets, then you can choose the phonics based SOE flash cards which will help the kid associate an alphabet, it's sound and the related object .

Last update was on: 3rd February 2023 9:37 pm
You can also check creative's alphabet fun game which combines alphabet with related objects. These pieces can be used as cards to stimulate a child's word game.
NUMBER FLASH CARDS
Math when played becomes really interesting.
You can carry your number flash cards anywhere and play along as your child associates numbers on the cards with the things around .
You can tell the child to search for random numbers on car number plates. Kids thoroughly enjoy placing cards parallel to the restaurant's price list.

Last update was on: 3rd February 2023 9:37 pm
TEACH THEM SHADOWS
At times children resist anything that resembles homework.
For those smart kids, it helps to use flash cards as games which can be carried along. I tweaked a shadow game and used them as travel cards to teach my girl shadows.
One of the options available on Amazon is

Last update was on: 3rd February 2023 9:37 pm
PATTERN GAMES
A good foundation to mental ability is laid by playing with patterns. A child develops association skills and hence improves overall intelligence in the long run.
One can always tweak these game cards and use them as flash cards and memory cards while travelling.
Here is an interesting option
REWRITABLE FLASH CARDS/ACTIVITY CARD GAMES
These are the best cost effective option with toddlers since they can be used repeatedly.
They are available in various activity formats ranging from SOE's REWRITABLE cards and Ratna's alphabet cards
You can use reusable cards for teaching numbers and counting

Last update was on: 3rd February 2023 9:37 pm
Or you can use the for teaching writing alphabets

Last update was on: 3rd February 2023 9:37 pm
Or you can use them for teaching preschool concepts

Last update was on: 3rd February 2023 9:37 pm
So in short – You can use cards as per your choice depending on what concepts you want – colouring, drawing shapes , counting objects with numbers.
VOCABULARY FLASH CARDS
These are the most effective object flash cards for small babies. When shown repeatedly and told the names of objects, children magically pick up vocabulary. You can find a high quality option here

Last update was on: 3rd February 2023 9:37 pm
THINGS THAT GO TOGETHER CARDS
This is a challenging game which is excellent for brain development. Develops logical thinking and problem solving in kids.
We love these cards.
Game ideas that you can play with flash cards
Here are a few GAME IDEAS which can be implemented while using flash cards with kids
Arranging in order
Placing missing card
Reverse abc
Completing a puzzle
Sensory basket
Finding colour
Flash cards are magical boredom Buster's and have an engaging power which surpasses screens. The key is to start early before the child gets addicted to moving images on the screen.
What to do if my child is hooked on screen
If your child is already Hooked to the screen, then I would suggest going slow. Keep yourself prepared for some public tantrums as you refuse a screen and place a set of flash cards.
Kids will eventually warm up to the idea that they have to be actively engaged in an activity rather than the idiot box.
It will surely take some time and some curious stares from the onlookers but trust me it will be worth it.
Children tend to eat better, converse better and behave better when kept away from screens and engaged productively in means which channelize their energy.
Have a happy parenting.
DON'T MISS TO PIN HOW TO KEEP KIDS AWAY FROM SCREEN USING FLASHCARDS TO REFER LATER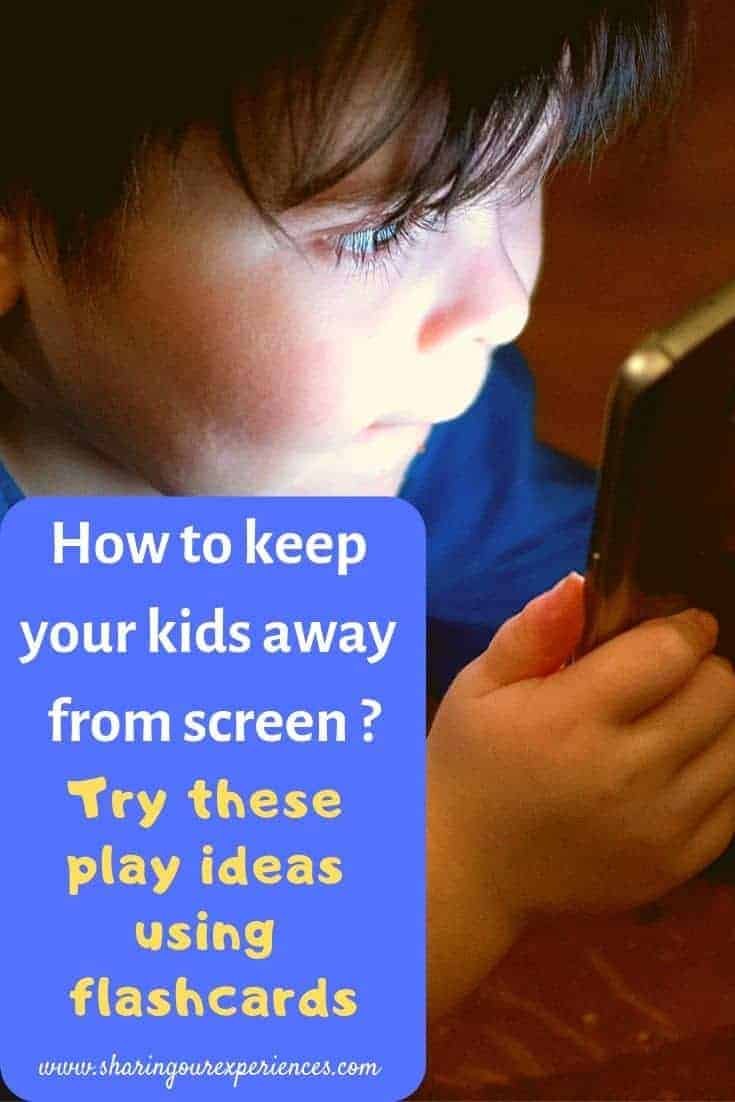 Liked this post ?
You may also want to read Quick and Easy flash card activities for Toddler.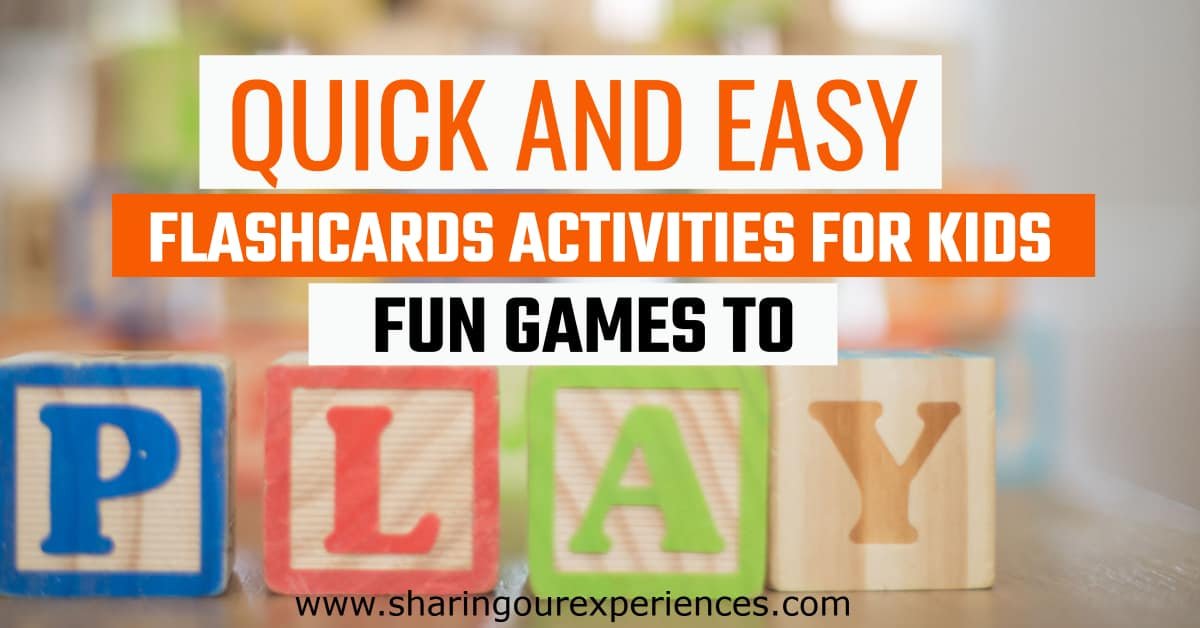 Your Turn Now
In case if you liked this article on Flash cards for kids and think it may help someone do show your support by sharing this article.
Like our Facebook Page
Stay connected with us using your favorite social media, we can be found on
Add a comment
Did you like these guide on fun ways of playing with flash cards with your kids?  If you do have any question please let us know using comments below. Do you also try different ways of learning with flash cards? Would love to hear from you.