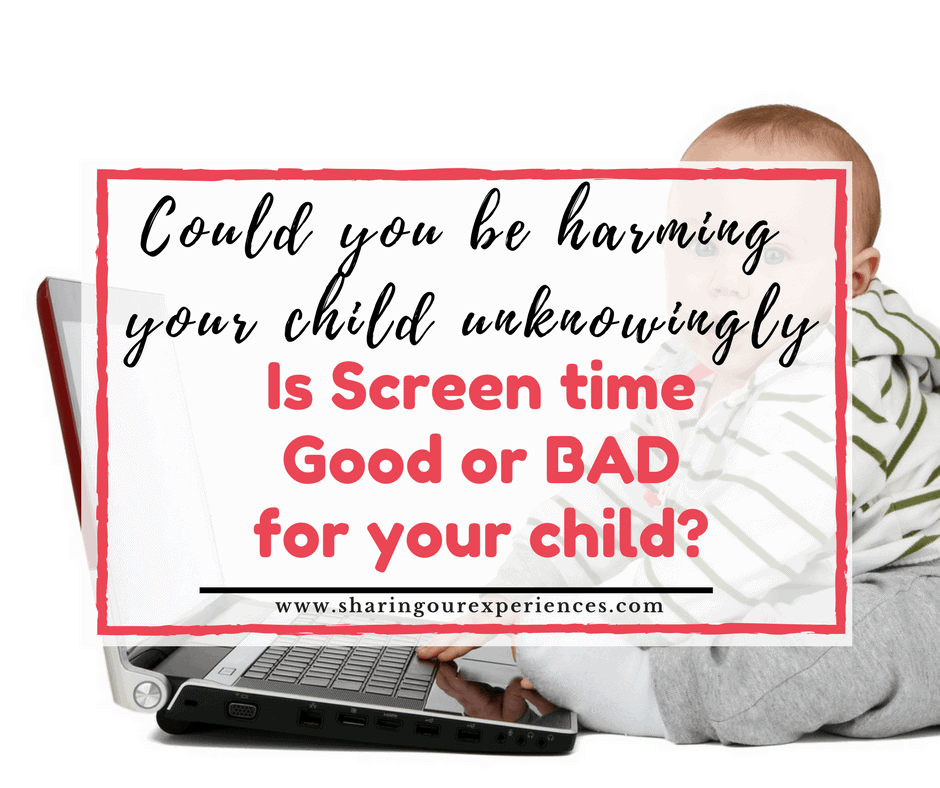 Is screen time for babies and toddlers – Good or Bad ? We have all faced this dilemma at one or the other point after becoming a mom.
In this article I will try answering questions like – Is it bad for babies and toddler to watch TV or watch videos on phone ? How does screen time affect babies and toddlers? And why it can be bad for their development ? How much TV time or screen time is Ok for babies and toddlers ? Is there any way we can manage screen time and make the most of it ? Are educational videos good for babies and toddlers ?
Before I get started with "Is screen time for babies and toddlers – good or bad ? Let us talk about an incident that happened and which got me thinking about this.
Few days back when I was searching for a preschool for my toddler, one of the criteria's I had was that the preschool should not have a TV or an Audio visual room (as it is referred to nowadays). While I was telling this to a friend, she mentioned – Why what is wrong with TV or screen time? They are kids after all !
I did not respond then but then I thought to myself – When did watching TV or working on computers become a symbol of childhood?
You can call me crazy or an over protective parent but I do not encourage screen time of any kind – TV, tablet, phone or computer for kids below 2 years. And I prefer limited screen time after the kid turns two.
Some people tell me that in this era of technology this is essential. Yes it is and our kids will learn when the time is right.
How does screen time affect babies and toddlers and why it is said to be bad for their development ?
Children grow and acquire skills rapidly during the first five years of their life. What we do during these years lays the foundation for the rest of their life.
Before we go ahead, let us talk about why I believe that we should not introduce kids to TV, computers or mobile and what effect does screen time have on babies and toddlers.
1.   Effect on Gross motor skills development
This is the age when babies and toddlers are practicing and developing their gross motor skills.
If you are wondering what are Gross motor skills – then in simple words these are skills that are involved in movement and co-ordination of arms, legs and other large body parts. Their development is required for actions such as walking, running, swimming etc.
Now, Gross motor skills are developed mainly by practicing. Sitting passively in front of TV can result in these skills not being developed and thus hampering in meeting normal developmental milestones.
Do you know if gross motor skills are not developed properly then a child may fail to meet simple milestones like playing with friends and at times even simple things like standing ?
We must avoid screen time because we want our kids to be physically active. I want them to jump around, dance, run and play. We want them to be able to live their life fully.
2.   Effect on Speech and social skills development
When kids spend their time in front of TV, mobiles and computers which need them to just watch or tap or press buttons, speech development and social skills development gets hampered.
Have you ever wondered why you nowadays hear most of the moms around you complaining that their toddler does not speak much ?
There are two reasons, one they don't hear much of their family members conversing and second that they are being understood without having to speak much. So there is no need for them to speak. Moreover smart phone and TV encourages them to "do" rather than "talk".
At young age, kids are learning and developing their social and language skills, so this time can be spent instead in reading stories, playing with toys and talking to other kids and any other activity that requires them to be active involved rather than being a passive listener.
We should avoid screen time because we want our kids to be actively involved, interact socially and play with each other and not just sit together busy with their tablets.
3.   Effect on child's Brain development
Have you noticed when your kid sits in from of TV he does not even blink at times?
Screen time does not encourage your kid to perform a task or encourages him to think. Thus it does not help your kid develop fine motor skills or helps in child brain's development by encouraging problem solving (also called cognitive development).
I believe we should switch off our TV, computers, tabs because the time spent on them can be used instead in acquiring life skills, or exposing your kid to variety of DIY crafts and activities or solving puzzles or reading books.
The more exposure you give to your kid the better he will get to know the world around him.
4.   Effect on attention span and behaviour
Do you know studies have linked screen time in kids with shorter attention time spans and increased aggressions?
The American Academy of Pediatrics (AAP) recommends that children under 2 do not watch television as it does not help with brain development and actually can cause some harm to children's brains over time. For kids aged 2 to 5 AAP recommends to spend no more than an hour a day with screens of any kind – TV, tablet, phone, or computer.
I believe watching TV can hamper with our kids development. And even after the kid's grow up it's a good idea to limit the screen time.
How much TV time or screen time is Ok for babies and toddlers ?
I would go with the experts here. Screen time or TV time is not recommended for babies and kids under two years. After 2 years you can expose your kids to screen time for 30 minutes. And as they grow up you can extend this time limit but to no more than an hour.
How to manage screen time and make the most of it
Below guidelines can help you in managing screen time and make the most out of it:
1) Choose age appropriate content for your kid
2) Review the content that your kid is exposed to
3) Choose content that encourage interactivity rather than passive watching
4) Be around and be involved along with your kid and talk about what is happening
5) Set up rules around screen time from day
Are educational videos good for babies and toddlers ?
I personally do not believe in showing educational videos to babies as they are very young to understand them and there are multiple other activities that you can do with them so why rely on educational videos ?
For toddlers and above any content can be useful only if its presented in the right way. Showing videos because they are educational through out the day is not going to be useful in long term. Better to have your toddler playing with open ended toys, or learning life skills. Or even just jumping around building his own toys from things in the house.
These education videos can be useful if you watch them along with your kid for limited time and make the process interactive.
Liked this post ?
You may also want to check out another of our popular post How can you contribute to your child's growth and development.
Your Turn Now
In case if you liked this article do show your support by sharing this article.
[shareaholic app="share_buttons" id="27265281″]
Like our Facebook Page and Stumble It!
Stay connected with us using your favorite social media, we can be found on
Add a comment
If you have any suggestions or reviews don't forget to share in the comments below. We would love to hear from you.