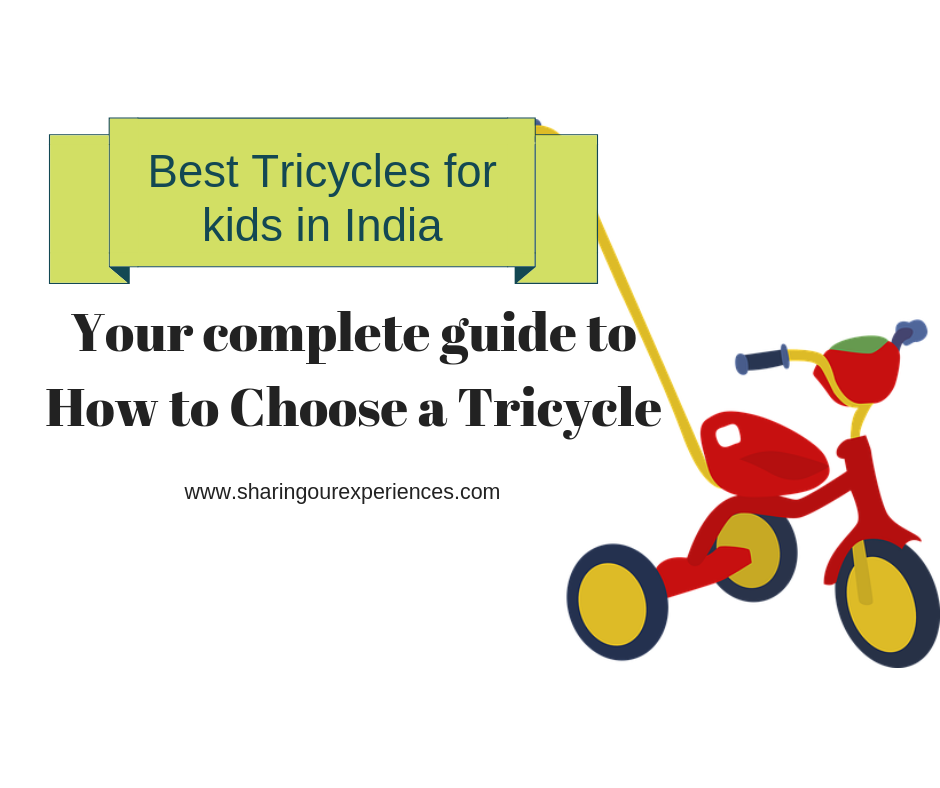 Looking for the best tricycles for toddlers or the best trikes for toddlers in India? Check out this complete guide on How to choose a tricycle for 2-year-old toddlers in India, What factors to consider when buying a tricycle for kids and at what age can a child ride a tricycle, different types of tricycles or trikes for kids, and a lot more.  
As a parent, selecting proper toys to assist your child's development is often troublesome and even sometimes stressful. There are so many questions that pop up in your mind and the most important one is: HOW DO I CHOOSE A TRICYCLE?
In case if you are in a hurry, Take a look at Top Tricycles for kids online. This can help you quickly compare and pick up the best tricycle in your budget.
Note – Check out this tricycle, takes only a quick 5 minutes assembly time. Check out Tiny Toes Grand – The Smart Plug N Play Tricycle
You can read details about each tricycle and pros and cons later in the article in this section  Best tricycles for toddlers in India.
These are the BEST rated and most loved tricycles for kids available online
I still remember when I had to choose a tricycle for my 2-year-old, I was worried about which type of tricycle should I take, what age should I buy a tricycle, what are the best tricycle for a 2-year-old. I remember I was even confused with words like trike and tricycle.
Struggling with Potty training? Check out this post with Tips on Potty Training a Toddler (Some easy tricks and a list of products that have surprisingly worked for many parents)
After reading more I came to know about words like push tricycle or tricycle with push or parents handle and a lot more.
So here is a complete guide on what I researched and analyzed on How to choose the best tricycle for kids. I have also added few pointers on what I think is the best tricycle for toddlers and kids. The list provided here is purely based on our research, actual reviews from the buyers, and the best features available in trikes.
Best tricycles for 2 -5 year old in India 2023
I have first covered a list of the Best tricycles in India followed by frequently asked questions on how to choose a Tricycle for your child
Best Brands for best tricycles in India
You may also find this useful >>- Best Strollers for toddlers in India (Hands down best guide I have read on choosing a stroller – I wish I had read above earlier)
What are the Tricycles options available online?
Amazon offers a wide range tricycles for your tiny tot. You can see the actual reviews of the parents who bought them. To make it easier for you, here is the list of 10 trikes (NOT in the preferential order) age-wise with their pros and cons.
Trending >> Do not miss to check handpicked and most loved – Best Ride on Toys for kids in India and Best Balance Bike for toddlers in India
✅ 

Best Tricycles for Toddlers in India
Baybee Mario Sportz – The Stylish Plug and Play Baby Tricycle with Canopy and Parent Control with Reversible Seat (Now with Rubber Wheels) ( Orange )
Age group: 0.9 yrs to 5 yrs (Tricycle for baby as well as toddlers)
Price of Baybee Mario Sportz on Amazon and color variants
If you are looking for a Tricycle that is reasonable yet sturdy, you can Check out this BAYBEE Electra Buzz Plug n Play Ride-on Tricycle
R for Rabbit Tiny toes Grand baby
While you are considering this brand you can also consider R for rabbit Tiny toes Grand baby. It can support weight till 25 kgs which makes it stable and secure. The only difference I can see between both variants is it does not have a foldable canopy.
Price of R for rabbit Tiny toes Grand baby on Amazon and colour variants
Luvlap – 18637 Elegant Kids Tricycle with Push Bar, Full Metal Frame & Anti-Slip Pedals, 1.5 to 5 Years, Carrying Capacity up to 25 Kg (Red)
Luvlap – 18638 Elegant Kids Tricycle with Push Bar, Full Metal Frame & Anti-Slip Pedals, 1.5 to 5 Years, Carrying Capacity up to 25 Kg (Orange
Luvlap – 18634 Joy Baby Kids Tricycle with Full Metal Frame & Anti-Slip Pedals, 1.5 to 5 Years, Carry Capacity up to 25 Kg (Red)
Little Pumpkin Classic T20 Baby Tricycle Smart Plug and Play Tricycles for Kids|Boys|Girls of 1.5 Years to 5 Years(Green)
GoodLuck Baybee Breeze 2 in 1 Kid Tricycle Convertible Baby Tricycle Kid's Trike with Parental Adjust Push Handle Children with Seat Belt
Age group: 1.5 yrs to 4 yrs
Chicco Toy U go Trike Ducati
Age group: 2 yrs to 5 yrs
Luusa RX-500 Plug N Play Kids / Baby Tricycle with Parental Control , Cushion seat and seat Belt
This tricycle is perfect for 12 Months to 5 years children and easily can carry up to 30kgs
JoyRide Metal Tricycle with Parent Push Handle
Joyride Cycles are easy on your pocket and have good amazon ratings, to check more click here
Budget-friendly tricycle for kids
If you are looking for a cheaper tricycle for kids in India we have included some easy on pocket tricycles for toddlers below
Goyal'S Mr. Rambo Baby Tricycle Ride-On Bicycle – Foldable Rider With Music & Lights (Red)
Age group: 1 yrs to 3 yrs
Want to raise a reader? Start with this amazing list of books for children- List of Books for 1-year-old.
Price of Rambo baby Tricycle India on Amazon 
Fun Ride Charlie Foldable Tricycles with Music and Lights
Age group: 1.5 yrs to 5 yrs
Price of Fun ride Charlie Tricycle for toddlers India on Amazon 
Age group: 1 yrs to 3 yrs
Click here to Explore more tricycle for 2 year olds on Amazon.in
✅ 

BEST Tricycle for kids in India – WINNER

Based on our analysis this tricycle on Amazon wins hands down. It has great customer reviews and is indeed the best thing available at this unbelievable price!

This tricycle comes with a basket, mudguard, handle, Seat, Bottle, movement rod. It also has Cushioned seats and a cushioned parental control. Unlike other tricycles. This is the best-rated cycle and is ranked amongst the best 100 toys and games.

See Colour options, latest price, and reviews here

Note – Do check this Amazon's Choice Baybee Mario Sportz Trikes Baby, Kids Tricycle with Canopy and Parental Adjust Push Handle – Smart Plug & Play with Rubber Wheels Baby Cycle.
Best Tricycles for 1 year old
Children start riding tricycles the best at around 3 years of age; However, if you want to get a tricycle for your child before that you can choose the ones that are closer to the ground and have parental control. Here are a few best-rated and fancy tricycles perfect for one-year-old children.
Amardeep And Co Baby Tricycle Red
Amardeep and Co. Tricycles are loved by many, These cycles are available in a variety of colors.
This one is perhaps one of the fanciest tricycles available in India for toddlers. It has parental control for steering and speed control. other features include Rear Basket to keep their favorite toys and other belongings. The tricycle also has an armrest to safely enclose your child on the seat and prevents from falling off even if he/she is too young to balance. There is also a removable footrest. The canopy protects your kid from harsh sun rays and drizzles. there is music too, what more do you want in a tricycle? 
Click here for the best deals and offers on this cycle.
Joyride Learn-to-Ride Trike
This tricycle is the best choice as an outdoor companion for children from 12 months onwards. Safe design and specifications make it an ideal choice for toddlers.
Click here to know more about this cycle.
Luusa RX-500 Plug N Play Kids / Baby Tricycle
This Luusa tricycle is easy to install as Besalmost all its parts come pre-assembled. All the parts are Smart Plug and Play-based. The most important part is the SEAT BELT which comes as standard in all LUUSA Tricycles. There is storage space to keep stuff for kids. The cycle also has a foldable and rotatable footrest which can be adjusted as per the need. With cushioned parental control it is very easy to maneuver the Tricycle. All the Luusa products are ISI marked and BIS compliant
Best Lightweight Tricycle for Toddlers- R for Rabbit Tiny Toes Lite Kids Baby Tricycle Cycle for Kids Tricycle for Kids 
R- For Rabbit cycles are EN 71 Certified which is the most stringent certification defined by European standards for Tricycles for Safety of Babies and Toddlers. This Tricycle can be used from 1.5 Yrs to 5 Yrs of Child's age. It can support upto 25 Kgs of weight which makes it stable and secure. The cycle only needs 5 Mins Installation with Plug and Play Wheels. It weighs only 6.8 Kgs.
Best Push Cycle For Toddlers- Luusa TFT RX-500 Plug N Play Kids
This is a sturdy budget-friendly Push tri-cycle that can carry up to 30kg of weight.
What is a Tricycle?
A vehicle similar to a bicycle, but having three wheels, two at the back and one at the front. It is safer and more stable than a bicycle. These are also known as trikes. So you can refer to them as tricycles or trikes, both are the same.
How does a Tricycle help in child development?
Tricycles can be used both indoors and outdoors and can help your child develop their mobility skills (especially gross motor skills and hand-eye coordination).
By riding a tricycle (also called trikes), your child will get lots of exercise and improve both coordination and balance.
Interestingly, steering a tricycle teaches kids their rights and lefts, and that there are different consequences to going in each direction. Riding a tricycle also helps them learn about the concept that their body has sides four sides (left, right, front, back) and improves spatial awareness.
You may also be interested in reading – Toys that have really worked to keep 2 years old engaged (honest reviews by other moms) 
At what age can a child ride a tricycle?
Each child and his or her development is different, so you don't need to worry if your neighbor's child is pedaling his tricycle earlier than your child.
Most kids are ready for a tricycle by the age of 2, but you can also use tricycles cum strollers that are pushed from behind (toddler push tricycles and also referred to as toddler trikes with parent handle) once your child is able to sit with help i,e, when he or she turns around 1 or one a half year old. Check out this popular choice of many parents
By the time they turn 4, they become pro in pedaling, steering, and controlling the tricycle and are ready to move on to a bicycle with training wheels.
What features you should consider before buying?
A comparison of a few features of a tricycle will help you buy the best one for your baby. These are the factors you should consider when buying a tricycle for your kid.
1. Safety certification
Whatever toy we choose for our little one, it's important to look at the safety standards and/or certifications.
EN – 71 is one such certification defined by European standards for Tricycles for the Safety of Babies and Toddlers. For e.g. I could find 'Baybee' company and 'R for rabbit' has this certification for its tricycles.
This takes care of every minor point to give the safest product  – in this case, tricycle for your Baby.
Related – Explore Baybee tricyles on Amazon.in, R for Rabbit tricycle on Amazon.in
2. Frame
Industry standards for cycles generally prefer steel frames that remain durable, and largely resistant to weathering, which is important if you plan on passing a tricycle down from one child to another.
But tricycles with plastic frames are also available and used by many parents.
3. Color
Bright colors attract kids and allow a tricycle to stand out. Look for the one your child is attracted to.
4. Wheels
Certain tricycles provide rubber wheels as against the traditional plastic ones. These rubber wheels are shock absorbing especially when the child rides over uneven surfaces.
Also, some tricycle has big wheels for toddlers. Choose a tricycle with big wheels and which is lower to the ground as it is more stable and does not tip over easily.
5. Cushioned seats
Seats for these tricycles are generally made of plastics. For younger ones, they provide a thin layer of sheet on top of it. This layer provides a cushion that is not only comfortable but also helps to keep a child from sliding off.
6. Storage
Most of the tricycles are now offering storage in the tricycle.
A basket or a bucket type that depends on the type of tricycle you're choosing. These storage can be at the back of the seat or under the seat. These can be used to keep bottles, toys and other essentials.
7. Ground clearance
Yes, tricycle makers also consider this feature. Generally, tricycles are built low to the ground to accommodate small children while also preventing the risk of certain accidents. As lower tricycles with a wide base are more stable and less prone to tipping over.
The only area where this could be a concern is if the tricycle's rear bar/ platform tends to scrape along the pavement.
8. Footrest
The kids can keep their foot on these foldable/ removable bars while they're being pushed. It avoids dragging of the foot on the floor when they are not in the mood to pedal but still want to enjoy their independence.
I would suggest taking a tricycle with a comfortable and if possible foldable footrest.
9. Height adjustment
Parents may think that choosing a tricycle that is bigger will be useful when a child grows taller. Please choose what is the best fit now.
A child must be able to place his feet on the pedals, once seated, and comfortably being able to ride the tricycle.
Seats for certain tricycles are made adjustable – so you can use the same tricycle after adjusting the height as your baby or toddler grows up.
Since a tricycle is used for a maximum of two years, my experience is I never needed to adjust height though we had bought a tricycle with this feature so I will not call it an essential feature
10. Safety harness
Safety harnesses are essential to protect the child from sliding off, you should look for a tricycle with at least 3 point safety harness.
It's basically a safety belt that protects the child in case of a sudden jerk. I will call this an essential feature and would recommend that you use it.
11. Canopy/ sunshade
In order to protect the delicate skin of the kids from harsh sun rays, certain tricycles offer sunshade on top. These are either foldable and/ or removable.
This is a personal choice, so you can choose accordingly.
Hope you have not missed this ridiculously reasonable Cycle with canopy and all other wonderful features>>> Click Here to check it.
Mostly we ride tricycles in the evening so my personal opinion is having a canopy makes the cycle a little bulky. But there are many variants that have foldable canopy options so choose what you think is best for your child.
12. Assembly instructions
Every tricycle bought online needs to be self-assembled.
You can do this using the assembly instruction provided or can take the tricycle to the nearest cycle shop for the same.
I could find assembly instructions for most manufacturers like 'Babybee ', 'Chicco', 'R for rabbit, 'Babyhug', Bajaj' on youtube.
13. Push bar with directional control
There are multiple tricycles available with parental push control where parents van push the tricycle from behind but very few tricycles have push bars with directional control. I would prefer a tricycle with a push bar with directional control as in that you can actually guide the tricycle very easily while pushing.
You can check this highly popular Cycle that parents have loved– Click here
What matters the most when buying a tricycle?
Safety
Apart from safety features on the trike that you are buying for your baby, toddler, 2-year-old or 3-year-olds, you need to take care of the below tips for your child's safety.
To avoid an unavoidable accident that might occur, you need a helmet that can protect your child from any minor head injuries (to say the least).
Also always remember to supervise your child at all times when he or she is riding a tricycle.
Always keep your child away from any intersections or high-traffic areas. It is better to use sidewalks, public parks or secluded areas.
Budget
We all love the grown-up feeling when we buy our own vehicle or home. The feelings are similar when your child gets his first vehicle that is Tricycle.
At times, to see that big smile parents are ready to shell out money on buying expensive items. You can act smart and look for budget-friendly options.
Budget-friendly doesn't always mean non-expensive items. Here it means to look for additional things like adjustable seats, sun shades, and other accessories that may come as a package.
Secondly, consider the usage of the toy. For e.g. If both the parents are working and the child spends most of the time at a daycare, you may not require a fully loaded trike. As will be very low.
However, if you plan to pass on the same trike to the second child, you may like to look for a stronger and sturdier option.
Again it is a personal opinion and choice, Decide your budget, do the analysis, and make the best use of online deals and coupons when buying a tricycle.
Compare Tricycle for kids in India (Sorted by Price)
I hope this article on the best tricycle for kids in India and the guide to choose the tricycle helps you in answering your queries before you make the decision to buy a tricycle for your child. Wish you all the best.
If you know anyone who is looking for a tricycle for a 2-year-old and even younger kids, don't forget to share this article with them.
DON'T MISS TO PIN THE BEST TRICYCLES FOR KIDS IN INDIA GUIDE FOR LATER


Liked this post ?
You may also want to read
Best toys, activities and games for 2 year olds, 
In case if you liked this Shopping guide on tricycle and think it may be useful to someone, do show your support by sharing this article.
Like our Facebook Page and stay updated
Stay connected with us using your favorite social media, we can be found on
Do you want to share your crafts, parenting tips, stories, toy or book review, let us know by using comments below or mailing us on sharingourexperiencesblog@gmail.com
Add a comment
Which tricycle are you planning to buy for your kid? Do let me know using the comments below. Would love to hear from you.
Best Tricycles for  kids (1, 2 and 3 years old)
Amazon has some really cute-looking tricycles for 1,2 & 3 years old children. Mostly you will see a 1-2 years old child interested in ride-on. Some of these cycles here are a combination of ride-on and a tricycle, CLICK HERE