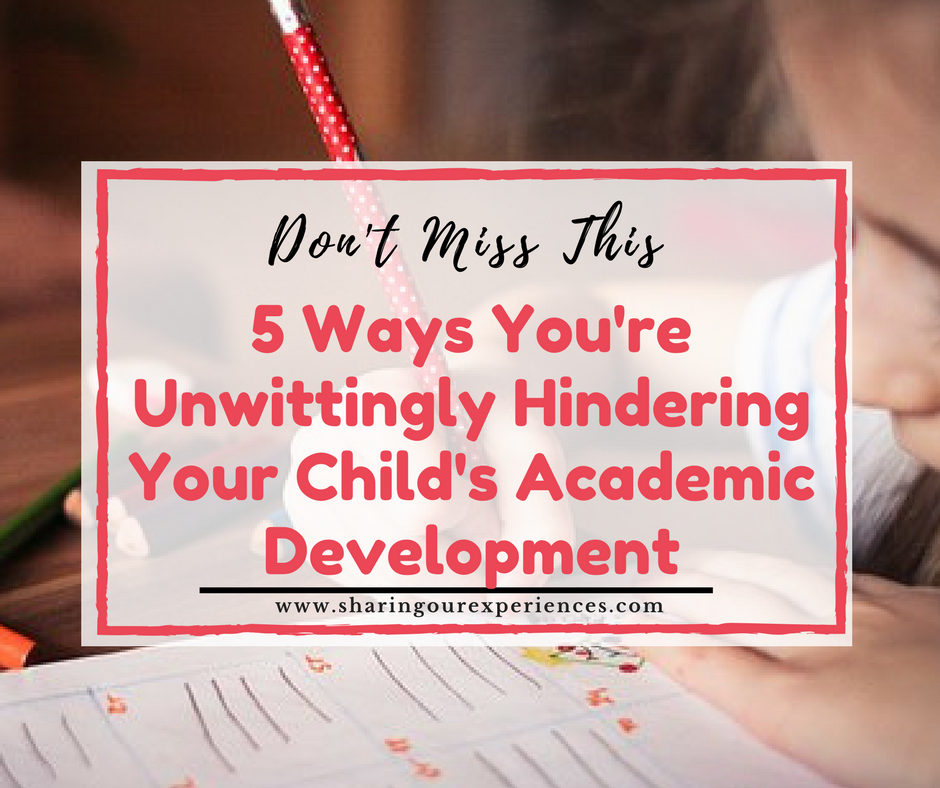 Parents always say that they only want the best for their children – it truly is their life's desire.
However, there is no getting around this simple fact: No parent is perfect, and just like anyone else, they are capable of making mistakes that come with consequences they never would have expected.

If you are a parent yourself, you may have committed some such mistakes before. Most were probably harmless, but there may be some that have affected your child negatively in different ways.
For example, in addition to the healthy snacks you make sure to have at home for your child to take to school or to munch on when they get home, you probably also include some sweet and colorful processed treats every now and then.
An occasional indulgence is fine, but if you know that your child can't resist the sweet goodies and ends up consuming more than is allowed, keep in mind that high blood sugar is associated with high levels of cortisol. Cortisol is a stress hormone that compromises cognitive functioning and impairs the memory.
Meanwhile, artificial food coloring has been linked by countless studies to ADHD in children. This basically indicates that sugary and artificially colored foods can reduce your child's ability to process and retain information. If these foods are readily available at your house, then you might actually be sabotaging his academic performance to some extent.
So, what other things could you be doing that are hindering your child's academic performance? Check out the five examples here.
Being too busy
Research reveals that children who frequently get quality time with their parents perform better in school. Also, kids whose parents are quite involved in their education enjoy higher levels of academic performance than those whose parents are too busy to participate in school activities.
If you rarely find time to see your child's performance in school or to come to special school events, this could automatically affect your child's commitment to schoolwork and interest in school dynamics.
Constantly complaining about the cost of things
If you are the type of parent who tends to focus too much on how expensive things are, your child may be discouraged to present his desire to study more if some form of payment is involved.
Say, he's interested in signing up for a course on educational Aeromodelling camp; he may be reluctant to tell you about it because he is under the impression that the family can't handle any more additional expenses.
While it may be true that money is tight for the family, it's important for your kids to understand that for anything that will help them achieve their personal goals, communication lines are always open. Money issues will always have a solution, especially when all members of the family are willing to help out.
Also read : Critical Thinking activities for kids
Giving him more online time than necessary
If your child can go online whenever and for as long as he pleases, you can be sure that "doing research" will eventually involve going on YouTube, Facebook or Twitter, and perhaps even playing a few games.
The internet is full of distractions for a child who should be studying. As such, if you fail to set a reasonable time limit for his use, the work he needs to accomplish for school with the help of the internet can get pushed aside. Be proactive about devising a schedule that will enable home to complete his homework while also allowing a little recreation time.
Excessively relying on the internet
Cost-effective learning solutions can be found on the internet. The downside, however, is that online learning does not provide enough opportunities for socialization and practical experiences, both of which happen to be important for children in school.
What's more, a child gets very little (if any) bodily-kinesthetic learning from the internet. Most of the time, kids just read information off of websites or watch a demonstration video. To ensure that children have a sufficient grasp of important information, the application of knowledge is necessary.
For example, your child is interested in robotics. He will learn much faster from a robotics training program in a more traditional setting where there is a teacher, he has all the materials on hand, and he has classmates performing similar activities, asking questions and exchanging information with him, than if he were to just read or watch about the topic online by himself.
Also read : Reading books to kids
Focusing too much on academics
It may seem like concentrating more on academics is the smartest way to ensure a solid scholastic performance, but young learners will tell you right away that it is not. Every now and then, children need a break in order to deal with stress and refresh their minds for school.
Letting your child engage in fun recreational activities such as volunteer work, art lessons, or ice skating classes can actually help him perform better academically. From these, he will learn valuable life lessons or principles that are applicable to school and can mold his personality better to ensure academic success.
All in all, effective learning is about striking a balance, and parents may find themselves struggling with this even as they do all they can to raise their kids well. It is completely understandable how you, wanting only the best for your child (and also wanting your child to be the best), can become oblivious to the effect of some of your actions.
As such, it helps to recognize that taking some time to study how your actions and decisions impact your little learner can offer insights into ways that your child can be guided better toward academic success.
About the author – Maloy Burman is the Chief Executive Officer and Managing Director of Premier Genie FZ LLC.
Liked this post ?
You may also want to read  Child Behavior and Discipline Tips
Your Turn Now
In case if you liked this article do show your support by sharing this article.
[shareaholic app="share_buttons" id="27265281″]
Like our Facebook Page and Stumble It!
Stay connected with us using your favorite social media, we can be found on
Do you want to share your crafts, parenting tips, stories, toy or book review, let us know by using comments below or mailing us on sharingourexperiencesblog@gmail.com
Add a comment
Don't you find this article interesting and useful ? Try it and let me know using comments below. Would love to hear from you.