Can Too many toys be bad for my child ?
---
Having too many toys can be causing more harm to your child than you can think. Here are 15 reasons why fewer toys can can actually benefit your kids. And why you should ask yourself a question whether – your child has too many toys ? 
---
---
Before we go ahead and talk about the adverse affects of too many toys on kids. Let is first take a quick quiz on whether you have too many toys at your home
Do you have too many Toys - Quiz
Do toys occupy every available space in your home ?
Is there a play kitchen, blocks, art paraphernalia, riding toys, piles of puzzles, stacks of games, baskets of small treasures scattered around ??
Are the playthings piled against walls, overflowing the shelves and stowed in every available nook and cranny of your home ??
Do you hoard stuff from preloved stores, thrift shops or grab deals because it's cost effective at that moment of time ?
If you have answered YES to even one of the above, you really need to rethink and do something about your situation.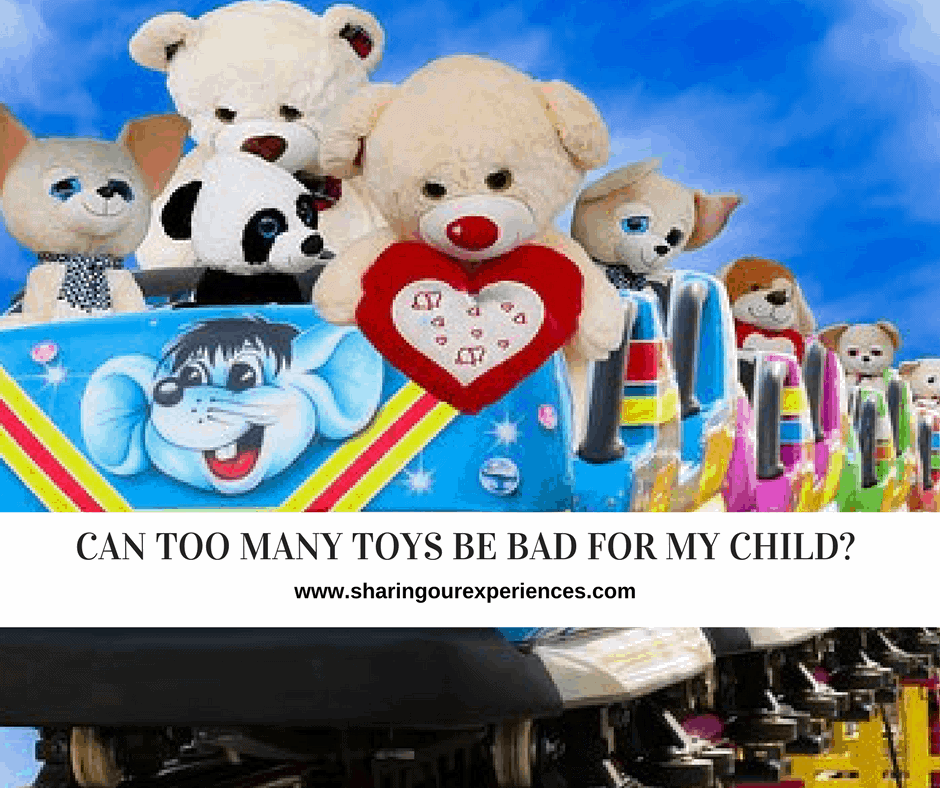 Advertisement| Article continues below.
---
---
When is too many toys TOO MUCH ?
I am NOT against toys. They are wonderful. "TOO MANY" is a relative term.
And with the options available today, YOU are spoilt for choice for your kids. You as a parent tend to justify each toy as being educational or developmentally essential.
BUT ARE TOYS REALLY DOING THAT ? NO. Here are 15 reason why too many toys can be harmful for your child.
back to menu ↑
Why too many toys can be bad for kids
@ For toddlers and preschoolers, an overload of playthings and toys can be overwhelming and distracting.
@ Having too many toys does not encourage toddler's to build their attention span. They pick up one toy, drop it, and move on. As a result they can't focus on using any of their toys to the fullest.
@ Toy overload can lead kids age 6 and older to think that everything is replaceable and nothing is valuable.
@ Kid's don't learn to appreciate their possessions or feel a responsibility to care for them.
@ Too many toys cannot hold an attention span of a child long enough to actually learn from them, instead kid's feel compelled to rummage through and touch everything without ever fully immersing themselves in any one activity.
@ Children who are provided too many toys are quite fidgety and will simply go about touching anything and everything within their grasp just for the heck of it.
@ Tantrums are the devices of young children to show they are overloaded. It's a child's undeniable message that they are too stimulated.
@ If every time your baby fusses, you give her a new toy to entertain her, you've trained her that the way to happiness is more new toys. And you've trained her that your job is to keep her entertained at all times.
@ Feeling surrounded by choices can create an internal pressure to play with everything, and stress over choosing which toy to play with next
@ If your child plays in room where a TV is on, he will spend less time with individual toys and shift attention more quickly from one activity to another.
@ Many toys also have pre-determined characteristics and storylines. This restricts a child's creativity and imagination. So its always advisable to buy open ended toys.
@ Too many toys takes away the "specialness" of an item and the child is unable to strike a bond. For example, one special stuff toy compared to a bag full.
@ Too many toys causes a sense of entitlement or normalcy. You end up setting a standard and it becomes a norm. Your child gets upset when you buy 3 gifts instead of the usual 5 for a festival.
@ Giving toys all the time will also prevent kids from understanding the concept of "enough."
@ Too many toys cause sensory overload. Rather than having downtime after a long day, they're triggered from too many choices.
back to menu ↑
So what can you do as a parent ?
Always REMEMBER – There does not exist "the one best toy that all kids need" in order to learn and grow. Our kids can, and do, learn from everything in their environment. Everything else is all a marketing gimmick.
Another tip that has worked is – to take out few toys at a time and let your kid play with them and rotate toys every few weeks.
For more tips how to Limit number of toys read Easy tips for Limiting toys at home.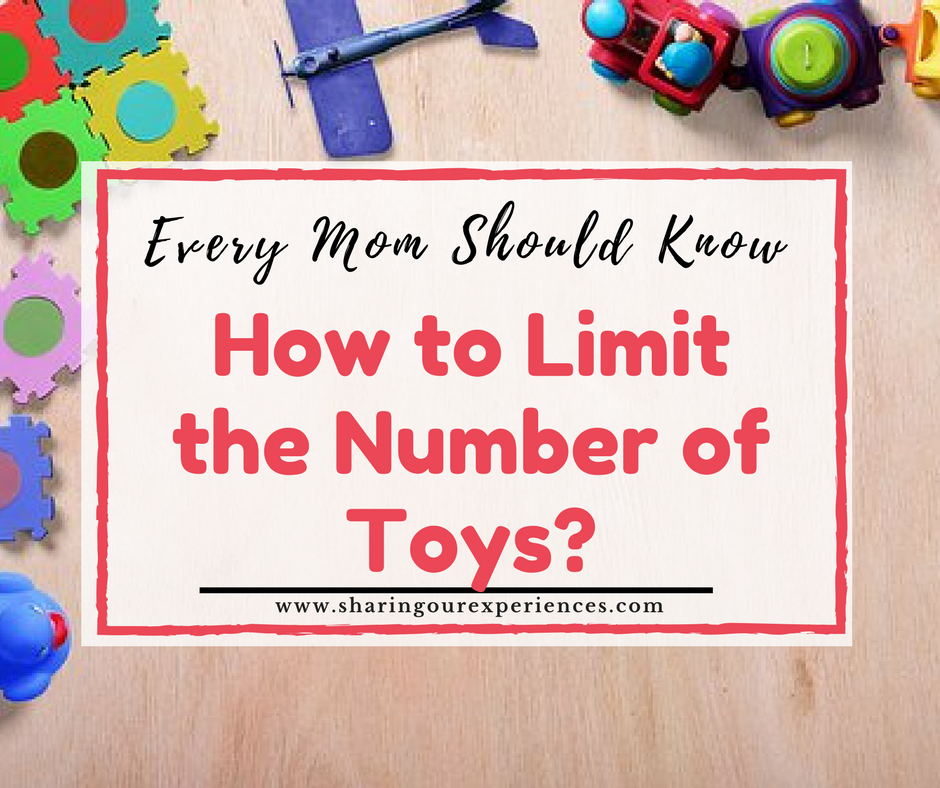 Liked this post ?
You may also want to check out our popular posts on Child Growth and Development.
Hope you enjoy reading it and find it useful.
Your Turn Now
In case if you liked this article do show your support by sharing this article.
Like our Facebook Page
Stay connected with us using your favorite social media, we can be found on
Add a comment
If you have any suggestions or reviews don't forget to share in the comments below. We would love to hear from you.
We love hearing from you. Add a Comment using your Facebook id (if you don't want to use Facebook, scroll down to leave a reply using other options)