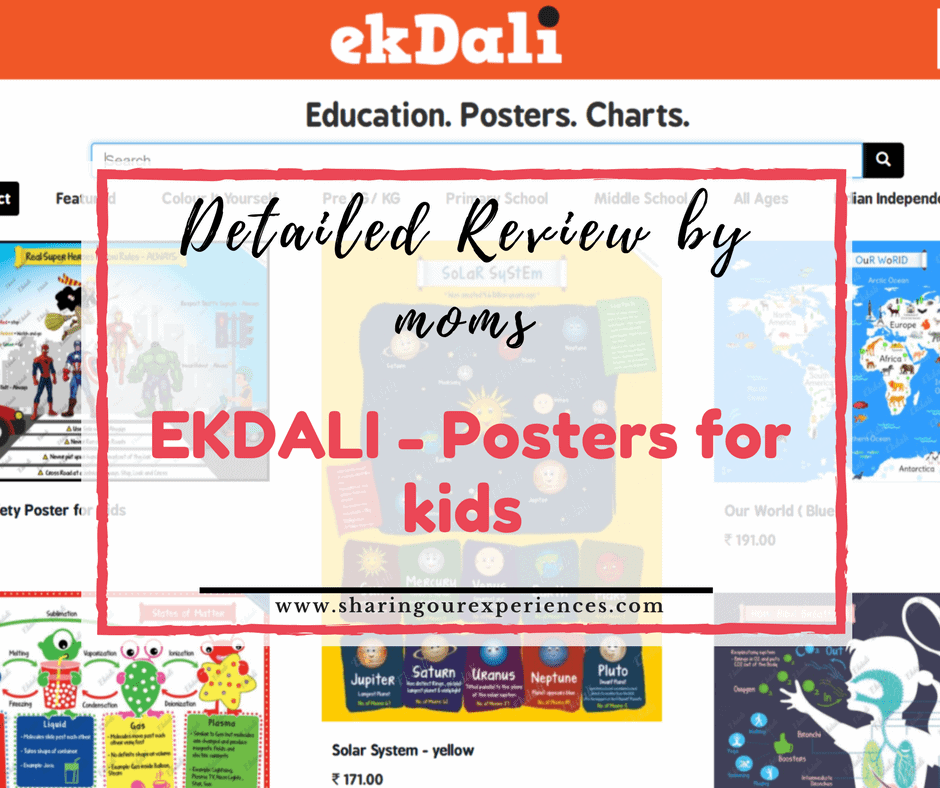 Read review of Ekdali a place where you can find posters for kids at great prices. You can use posters to help kids learn and answer their questions.
Kids and their curiosity to learn has no boundaries. Every day everywhere is a new learning for them.
By the age of 5 years the brain of the child will be close to the adult size and volume and it is not that the child knows everything a grown-up does but their curiosity to know more and more increases.
My kids are 3years old and ask umpteen number of questions everyday out of curiosity and most of the time I have to login to my laptop to search answers in Google. My hubby even calls them question answer and question bank but till the time they are satisfied with answers they'll ask and ask.
This same thing happens with mostly all the people all around the world and same happened with Roomana founder and CEO of Ekdali.
Her 3year old asked her almost 1219 questions in a day when they visited a zoo!
This question answer session gave birth to the creative poster Ekdali – which means dot. Dot is a easiest and smallest thing to draw on a piece of paper.
Review of Ekdali (Posters for Kids)
The posters are made in lively colours with fun images with which child can easily relate when shown on a daily basis. What I find is kids enjoy learning and interacting more through images.
This posters are available in two sizes A2 and A3 and can be easily bought from Ekdali
What I liked about the site is that it is simple with products on the home page and you are guided to buy products by age group – like Pre KG, Primary school, Middle school or by theme colour it yourself.
You can choose the ones you like and select the size.
I would have liked to see more filtering options or themes so that its easier to find products. But considering that all products are easily visible on home page above is still acceptable
What I liked most about these posters are – That they are quite affordable.
 How can you use posters for kids
These posters can be hung in the kids room which will enhance the decoration of the room.
The learning can be even counted as family bonding time where we parents can show , highlight and tell kids and kids in turn can ask questions.
Posters help in listening and increase attention span in kids. Kids grasp and understand things more easily when they see the same tings everyday.
I was sent three posters of my choice. As we are learning about world I chose :
1 Seven wonders of the world
2 History of life
3 States of matter
Through states of matter I have started teaching them solid,liquid and gas state. I being a mother of curious boys and an early learning enthusiast will give my thumbs-up to this fun learning posters from Ekdali.
Last updated on 3rd October 2023 1:08 am
Liked this post ?
You may also want to read Nurture early childhood qualities of your child
Your Turn Now
In case if you liked this article do show your support by sharing this article.
[shareaholic app="share_buttons" id="27265281″]
Like our Facebook Page and Stumble It!
Stay connected with us using your favorite social media, we can be found on
Add a comment
Don't you find this Ekdali review useful ? Let me know using comments below. Would love to hear from you.
Do you have any parenting tips or toy reviews that you would like to share with the world. Mail us at sharingourexperiencesblog@gmail.com