Looking for fun Holi craft for preschoolers and engaging Holi worksheets for kids. This FREE Holi printables pdf will give an extra special touch to your festival and help you engage kids in indoor quiet time activities at home.
Holi is a festival of colour whenever I think of Holi I remember smearing colour/gulaal on friends, cousins and relatives and filling small balloons with water (and at time colours) and using water guns or pichkari to hurl water playfully at each other. It was fun! We so looked forward to Holi 🙂
Now as a mom not only I do above with my kid but also plan few Holi crafts and activities before the festival as it gives me opportunity to have a conversation on why we celebrate Holi. We also read loads of Holi books for kids.
Also Read – 6 Simple ways to celebrate Eco friendly Holi | Save environment
Best Holi crafts for preschoolers and Activities for kids
Mess-free shirt painting Holi craft activity for aged 2+
Holi is all about splashing colors and getting messy but, it can also be mess-free. Have you ever thought about a mess-free, yet colorful Holi activity for toddlers? If not, then try this colorful shirt painting with your tiny tot.
This is a post shared with us by @smileon0187. She says they enjoyed a lot making this Holi craft activity.  
Also Read – 30+ Good manners for kids that every child should learn (includes time-tested tips on how to teach good behavior)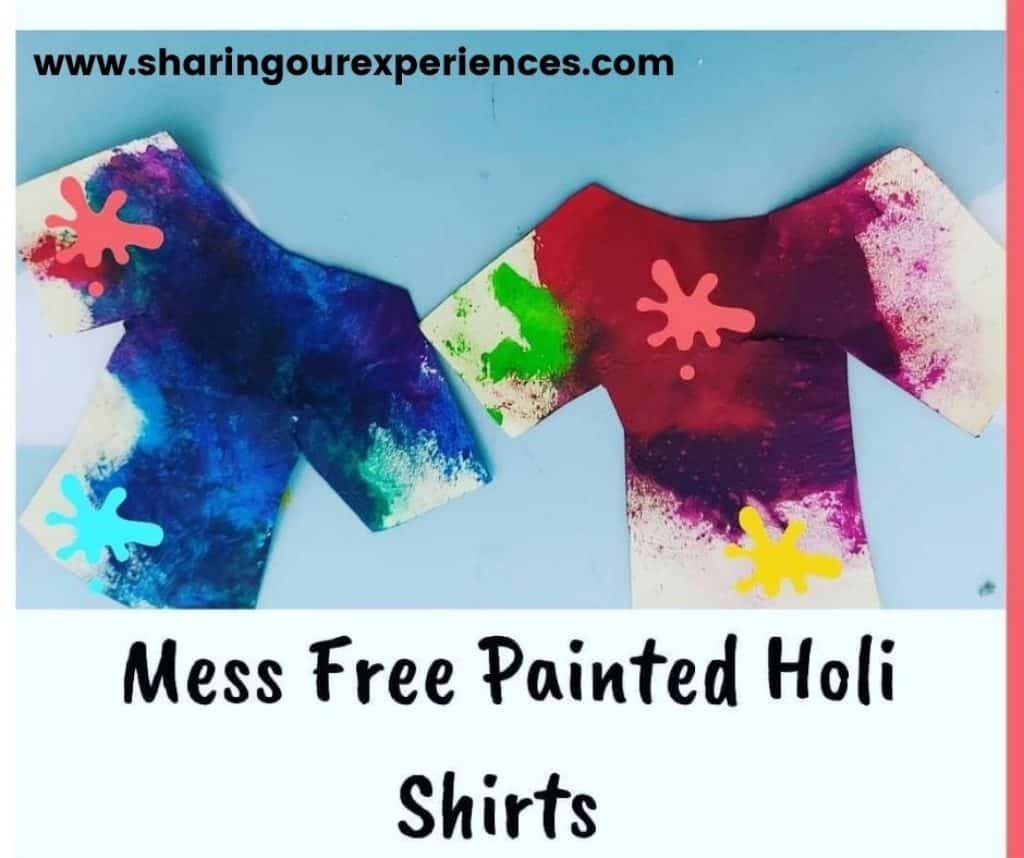 Holi – the festival of colors is the perfect time to teach color recognition to toddlers and preschoolers. This bag painting activity is an easy-to-do activity for the kids. Let us see what all is required and the procedure to follow for this activity.
Supplies required for this easy mess-free Holi activity:
White paper
Ziploc pouch
acrylic colors
Tape
Step by step instruction to follow for the mess-free painting Holi craft:
Step 1: Take a T-shirt cut out from the white paper, Squirt some colors on the sheet.
Turn it into a color mixing activity by using two or more colors.
Step 2: Next insert the paper carefully inside the zip lock bag.
Step 3: Seal it tight and tape it to the working area
Allow your toddler to work with the fingers. Guide your toddler to spread the color over the T-shirt to make it colorful.
Learning Outcome:
👉Excellent fine motor activity
👉Color recognition and mixing
👉Hand-eye coordination
👉Increases focus
Easy Hand printing Holi craft idea for preschoolers
Holi- The festival of colors is here and we all enjoy celebrating with our kids. A day before the Holi festival is Holika Dahan celebrated. So here is an activity, perfect for the toddlers, preschoolers, and kindergartens to learn and do about this festival.
While doing this wonderful Holi activity, reading stories about the Prahalad and the Holi festival celebration would be good. Now if you feel that your kid is too young to understand all that then in-short the explanation is " We should never lose faith in God. God is always there to help us".
It is a little messy art but a fun activity to enjoy.
The materials required for this easy-messy Holi activity are:
Cardboard/ craft paper
Acrylic paint
Paintbrush
How do we do this colorful messy Holi activity?
Apply paint red and yellow on your toddler's palm and make hands impression on the cardboard or craft paper sheet as you can see in the picture.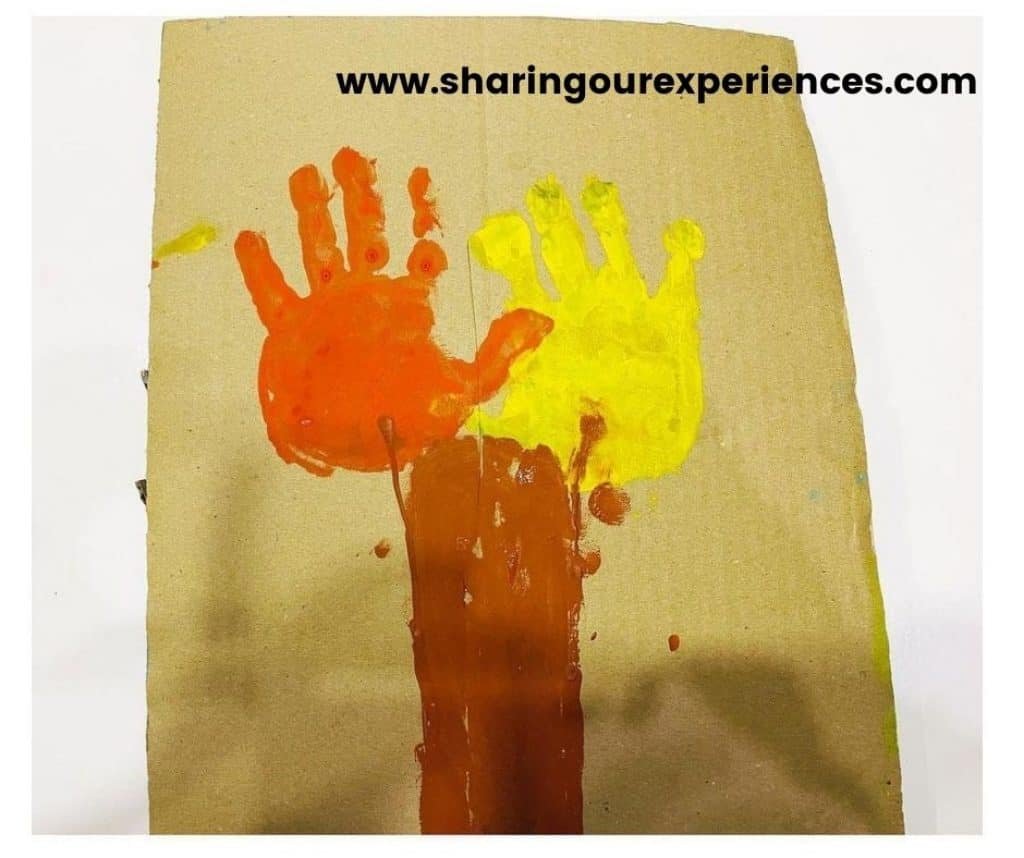 With the paintbrush make the log for the pyre.
Let your toddler dip his fingers in the paint and make finger prints on the side of the pyre to complete the picture.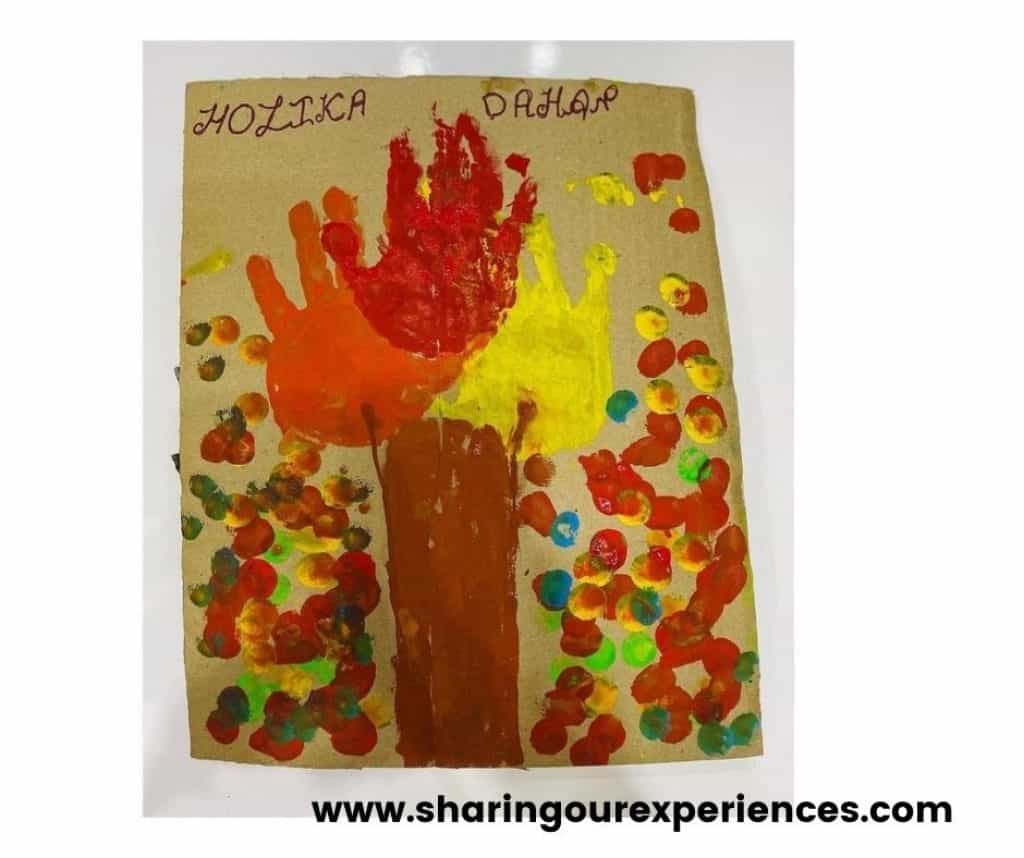 Now our awesome piece of art for the Holi celebration is ready. Pair it with story reading about the festival and kids will remember it for their life. This Holi activity is ideal for preschoolers, toddlers, and kindergartens for theme-based projects.
Also Read – How to Teach Phonics to Kids (Step by Step Instructions for Parents)
Holi Ke Gubbare – Holi balloons with vibrant color (Fun Holi craft for preschoolers)
Check out this color-coded number activity for toddlers, preschoolers, and kindergarten kids to make learning, interesting.
This color-coded sensory learning is the perfect Holi theme activity for kids to play and enjoy. This is a fun hands-on activity for kindergarten kids to promote number learning in a creative method.
Materials required for this sensory color coded Holi activity:
For this sensory activity, all you need is RED, GREEN, YELLOW, and ORANGE color, Craft paper glued in balloon-shaped, spoons and numbers with color codes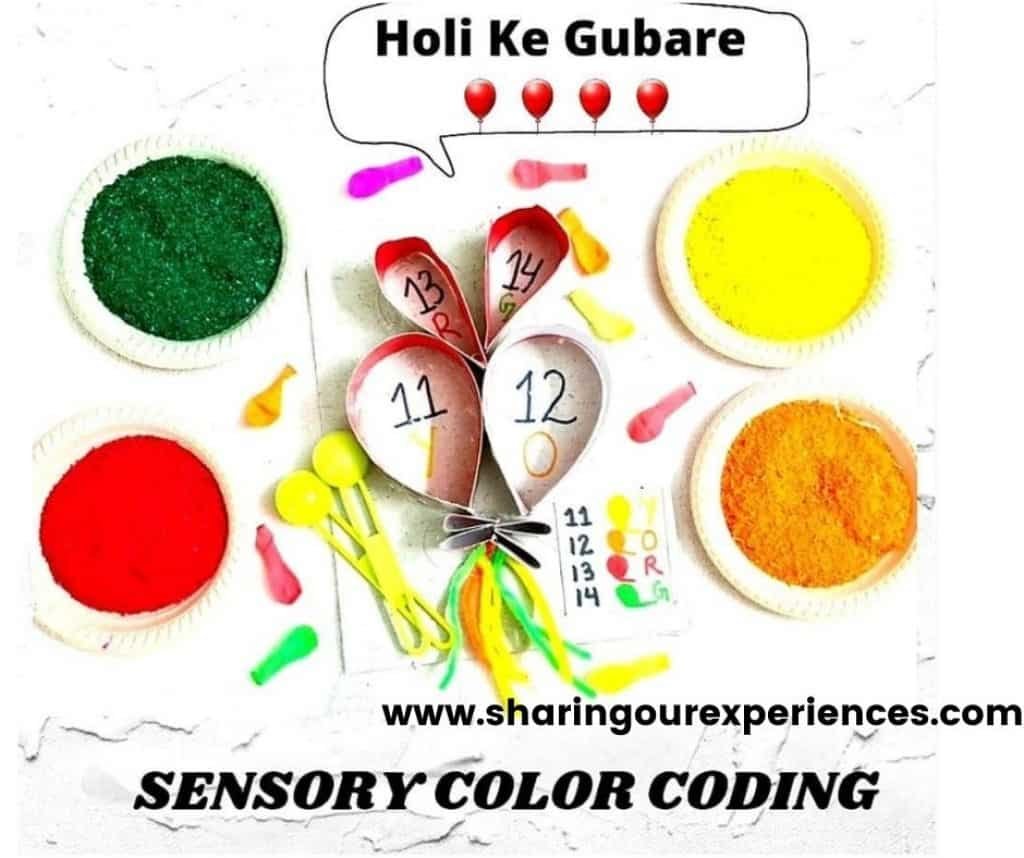 How does this color coding activity work?
Make activity sheet as you see in the above picture and color code the numbers i.e 11- yellow, 12-orange, 13-Red and 14-Green.
Now let the toddler identity the number and fill the color in the balloons with the matching color.
This is a very easy Holi activity for toddlers for numbers learning.
Color-coding activities are very beneficial for preschoolers to learn numbers. This color-coding helps in developing problem-solving, color recognition, and fine motor skills.
Fun Holi Color Scavenger Hunt for Preschoolers
Looking for some fun and engaging activity with no mess or preparation? Then here it is! The color Scavenger Hunt is a perfect game to play this festival of colors. The best part about this game is that it can be played throughout the year. Kids can play this game indoors and outdoor all season.
This color scavenger Hunt game idea is a post shared by @neeldeepscreations. She says that her son enjoys playing it. They go on scavenger hunt outdoors in search of Holi colors in nature. What Fun! Let's see how they do this colorful activity.
All you need is a cardboard sheet with this drawing and a color-splash cutout.
Take this cardboard and tell your toddler to find something of a particular color. Example: some thing blue – so it can be blue sky or flower or paint or water.
Nature is so colorful that kids will enjoy exploring in a different way.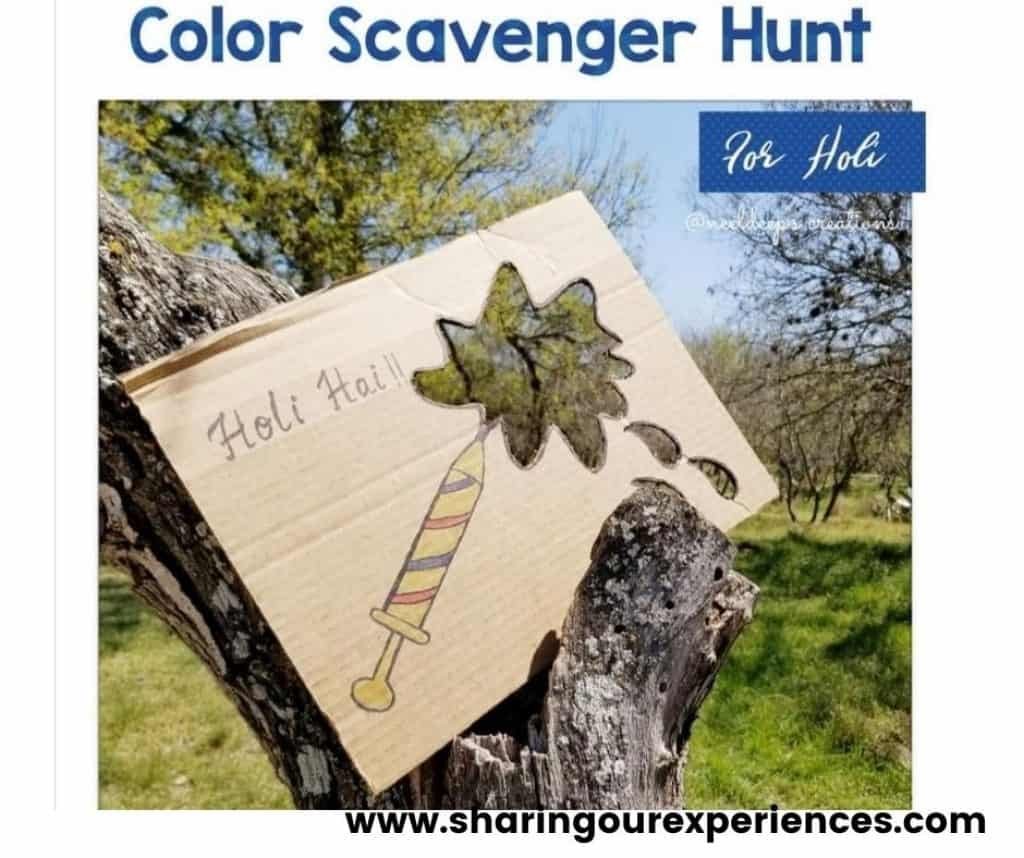 Also Read – How To Teach Moral Values To Kids
Holi Splash painting activity with cotton balls for toddler
Holi is all about vibrant colors and splatting water on each other. check out this fun-filled yet simple splash color painting activity with cotton balls. This is a post shared with us by @mommynyuvi.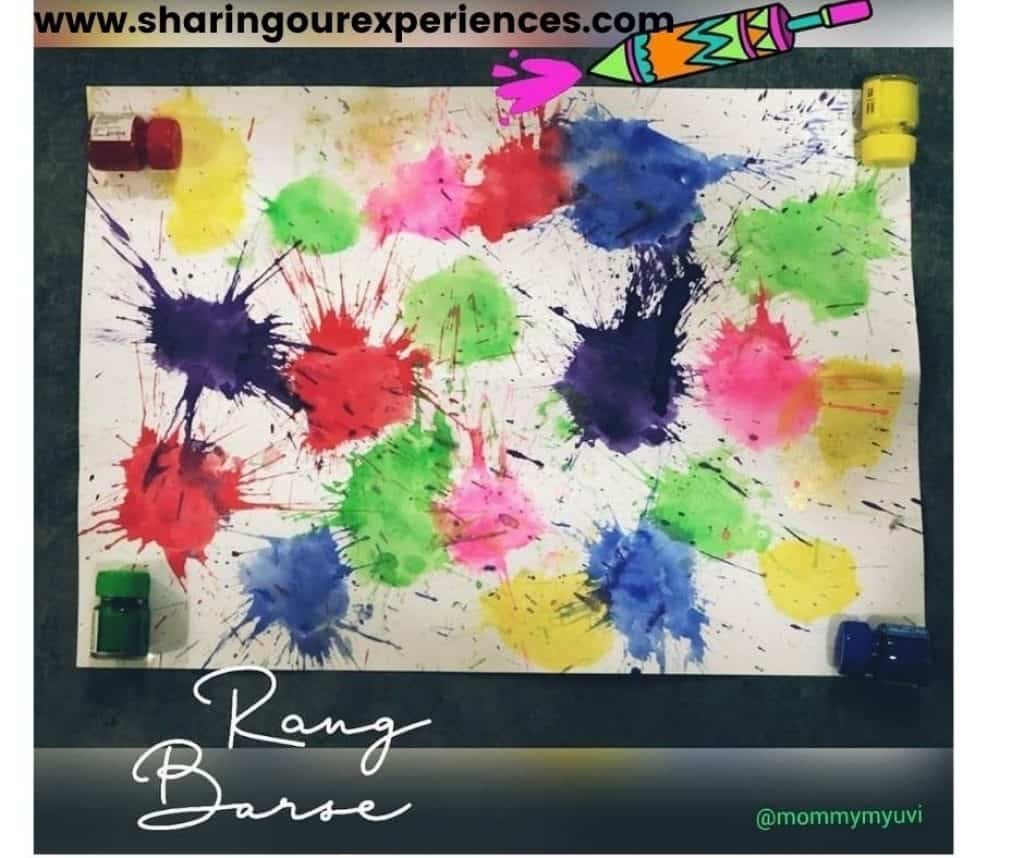 Materials required for this fun color splash activity are:
Different water colors
cotton balls
Mixing bowl
Kitchen Ladle
Drawing Paper
Procedure to do this Holi color splash painting activity:
Mix the color with more of water
Take small cotton balls, dip it in the color and place it on the drawing paper.
Now ask your toddler to hit the color dipped cotton balls with the ladle.
Watch the color splatting across the cotton balls on the paper.
Repeat the process again with different color and make your abstract art this Holi.
Playing with colors truly gives the Holi feel to the Kids and it is beneficial in fine motor skill development. This art paper can be used later to make greeting cards or gift wrapping too. Try this with your toddler and share your fun moments with us.
Fun Holi Secret Color coding activity for preschooler
"Bura na Manno Holi Hai" – We say this when playing prank and splashing colors in this Holi festival. Here we have another fun and challenging activity for kids to play. This is a post shared by @toontots. She says that her kid loved playing it and later, it turned out into a colorful piece of art. She has named it "Decode and reveal the secret message".
Let us see how to make this secret reveal color-coding activity:
As this is based on Holi theme, draw circles with different colors and assign different alphabets to each of these colors.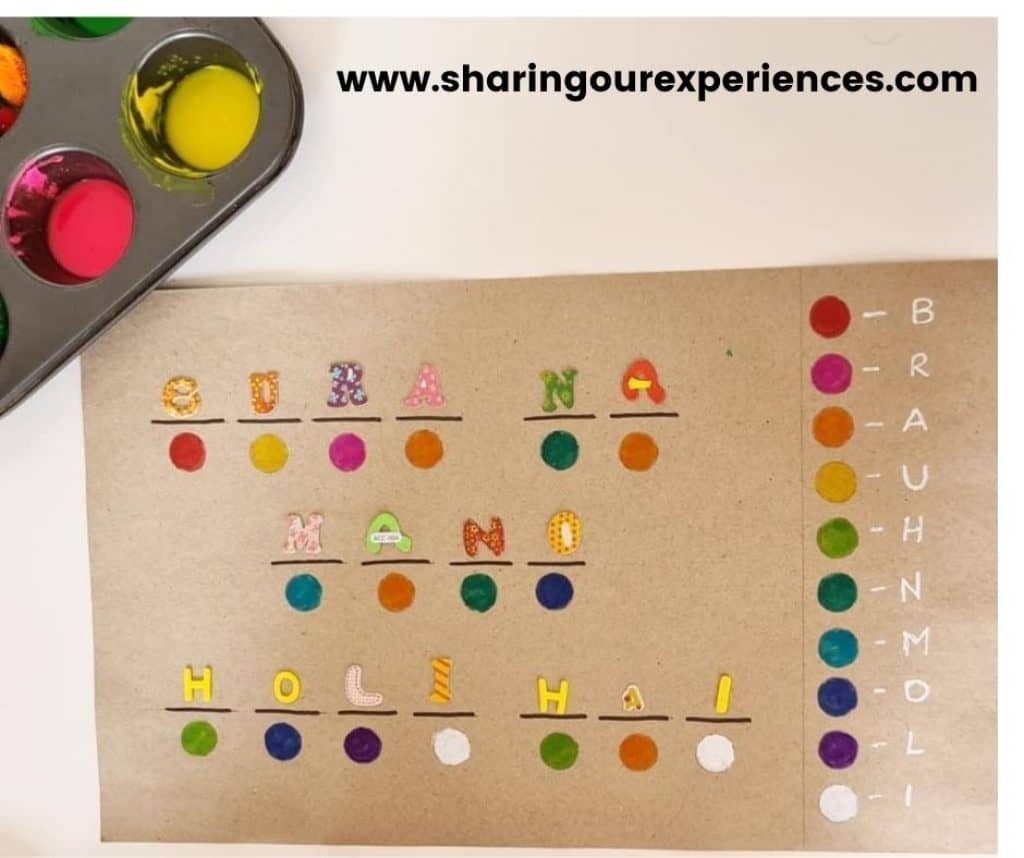 Give alphabet stickers to your kid and ask him to stick the alphabet that matches with the color given.
Then ask him/her to dip the cotton balls in the colors and dab on the paper around the Alphabet sticker.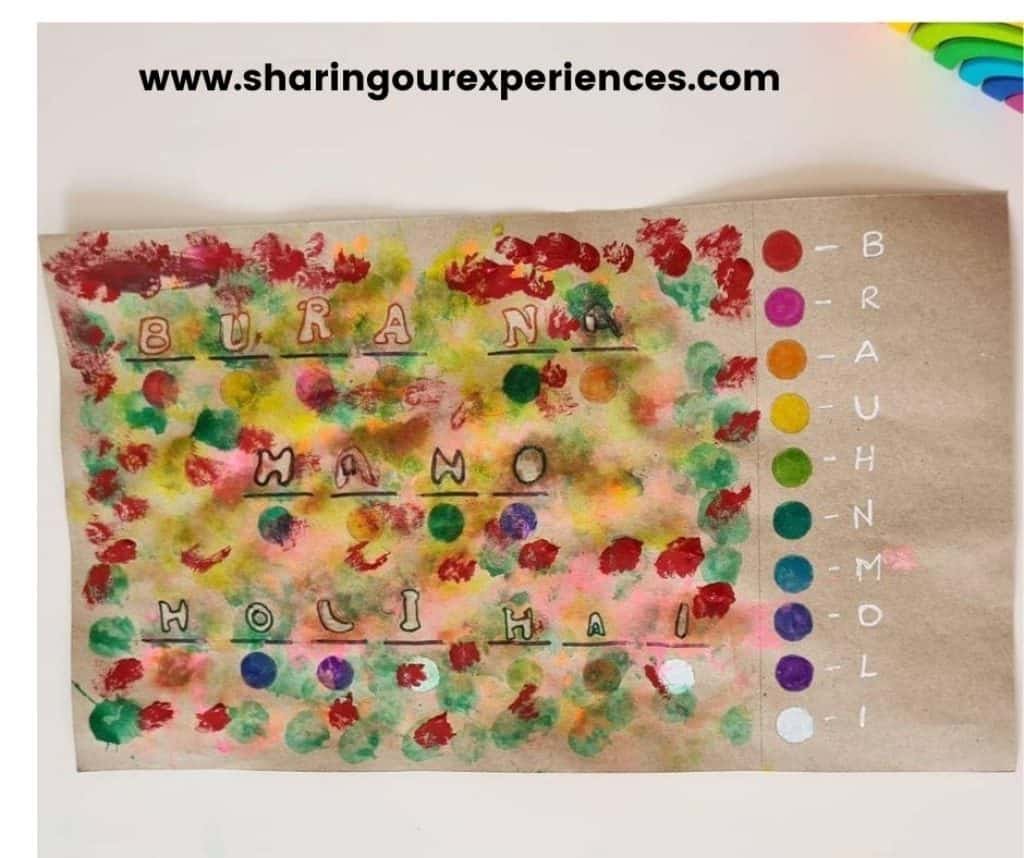 Now remove the alphabet sticker to reveal the secret code message.
Colorful balloons name in Hindi Holi activity for toddlers
Check out this easy and fun colors activity to know names of different colors in Hindi and also what they mean or symbolize. This post is shared with us by  @saransh_sapling.
Holi festival is celebrated during the spring season in India and every color carries a meaning. Here is a fun activity to introduce color names in Hindi and what they symbolize.
Make a cardboard sheet as you see above in the picture and along with your toddler. Now make the same color balloons out of paper/cardboard and ask your kid to fill this bucket with the colorful balloons as he reads the color name and its meaning.
Isn't it an easy and fun activity to learn color names? You can add color names of any language you want to teach. Activity-based learning is easy to learn and remember.
Also Read – How to teach kindness to kids
Easy Holi Pickhari maths activity using pom-pom for school kids
Kids are always excited about the Holi festival as they get to have fun with their friends and they are not punished for being messy with colors. Check out this fun with math's activity based on the Holi theme. This post is shared by @creativecrazymom. Honestly, I never thought math's could be taught in such a fun and colorful way too.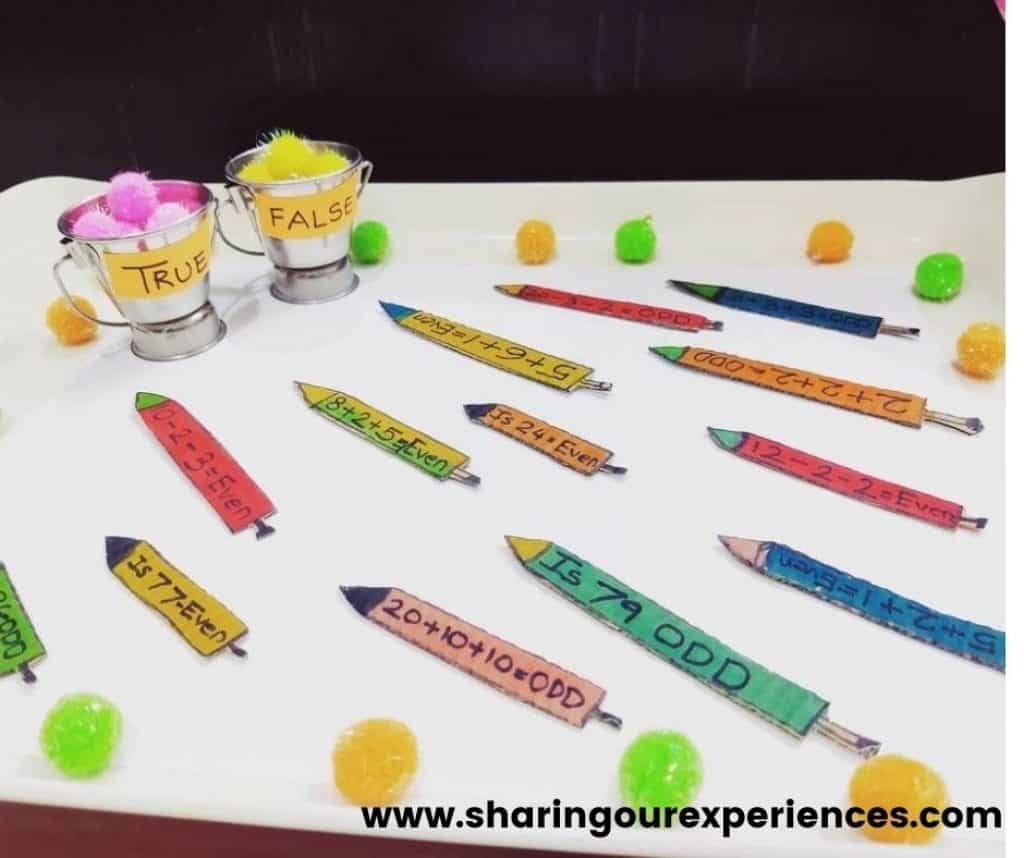 A colorful Holi craft with a literacy twist to learning math. This mom made maths revision a fun activity for her kid. Here we have mentioned below the method to do this activity.
As the kid is learning tens and ones, even and odd, she made pickhari out of cardboards with math questions written on it. Like: 2+2+2=Odd, 77=Even, 5+6+1=Even …….
Two buckets or containers with true and false stickers pasted on them, filled with pink and yellow pom-poms.
Pink if the answer is true and Yellow if the answer is false.
Ask your kid to solve the question and place the pickhari in the bucket that suits the answer.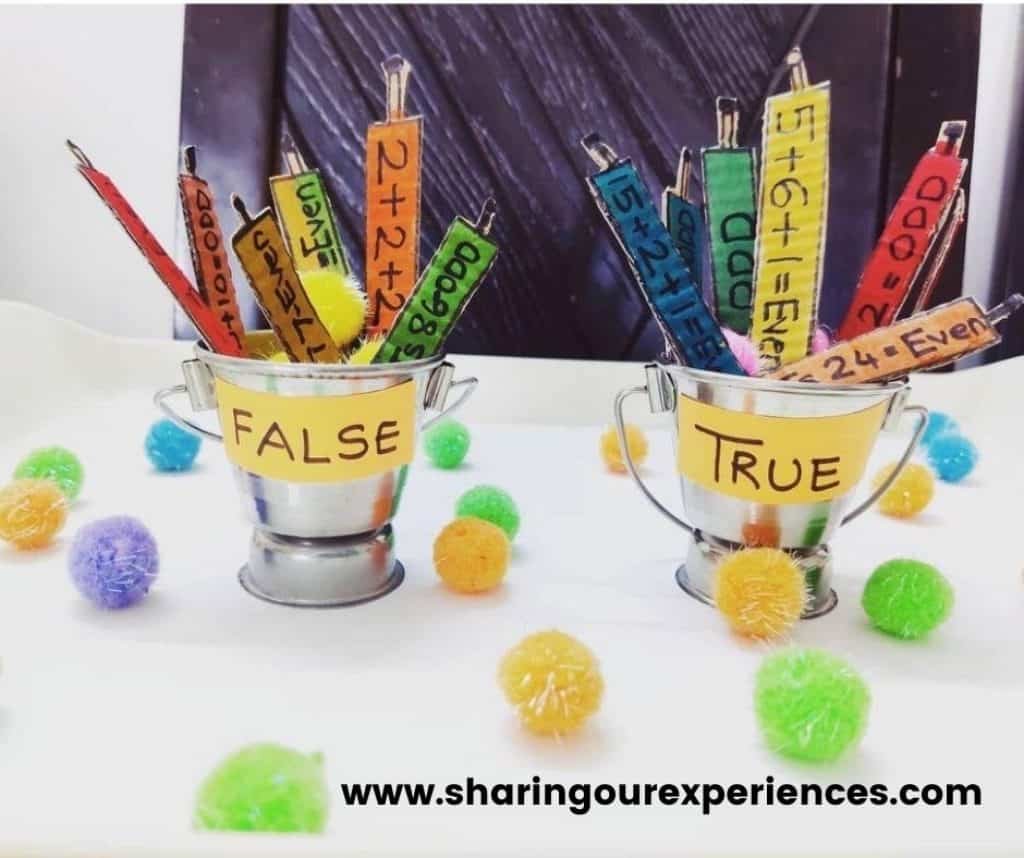 This is an easy-to-do and simple activity to play with your preschooler, toddler, or kindergarten kid. You can change it to word learning or grammar learning activity too.
Colorful sensory activity this Holi for preschooler
Vibrant colors make everything look so beautiful. Whenever an activity involves colors, it grabs the attention of the toddlers. So, here I am sharing with you a color sensory activity that toddlers, preschoolers, and kindergartens can do.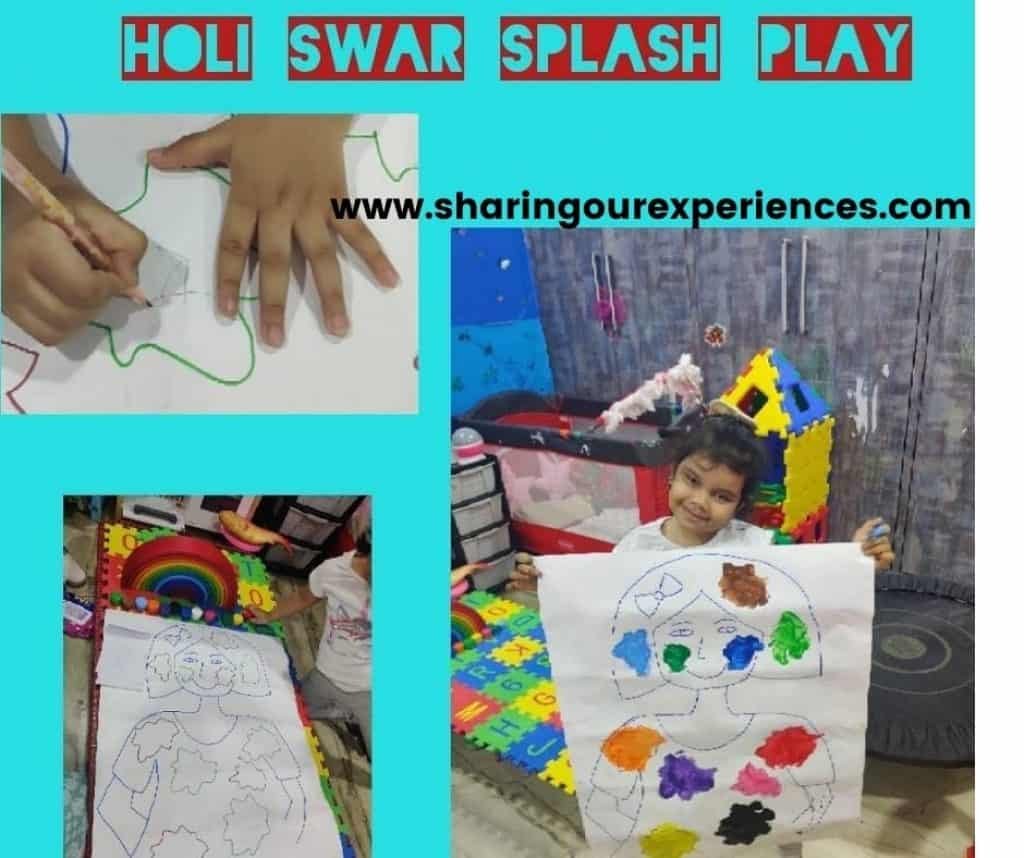 Holi theme-based color sensory activity for the toddler to learn letters and their sounds. This is a post shared by @anjuri5. She made this Holi color activity for her kid to learn Hindi letters. Here below is how she played this activity with her kid.
First, she drew a girl's picture and added chits with swar in them. Her kid had to pick a chit and read it. Then write on any space on the picture color splash area. Later, color the space with the finger painting method. She says that her daughter had fun doing this activity-based learning. This is a very easy Holi theme activity for preschoolers.
Benefits of this color sensory activity:
fine motor skills
letter recognition
imaginative skill
color recognition
sensory play
letter writing and sound recognition
Color grid Holi theme idea for preschooler
Holi is all about playing with colors and having fun. It is the perfect time to engage kids in some color based Holi activity. This is a Holi theme based craft shared with us @iracreativeengine. She made this color grid for her kid with different color tone, hue, tint and shades.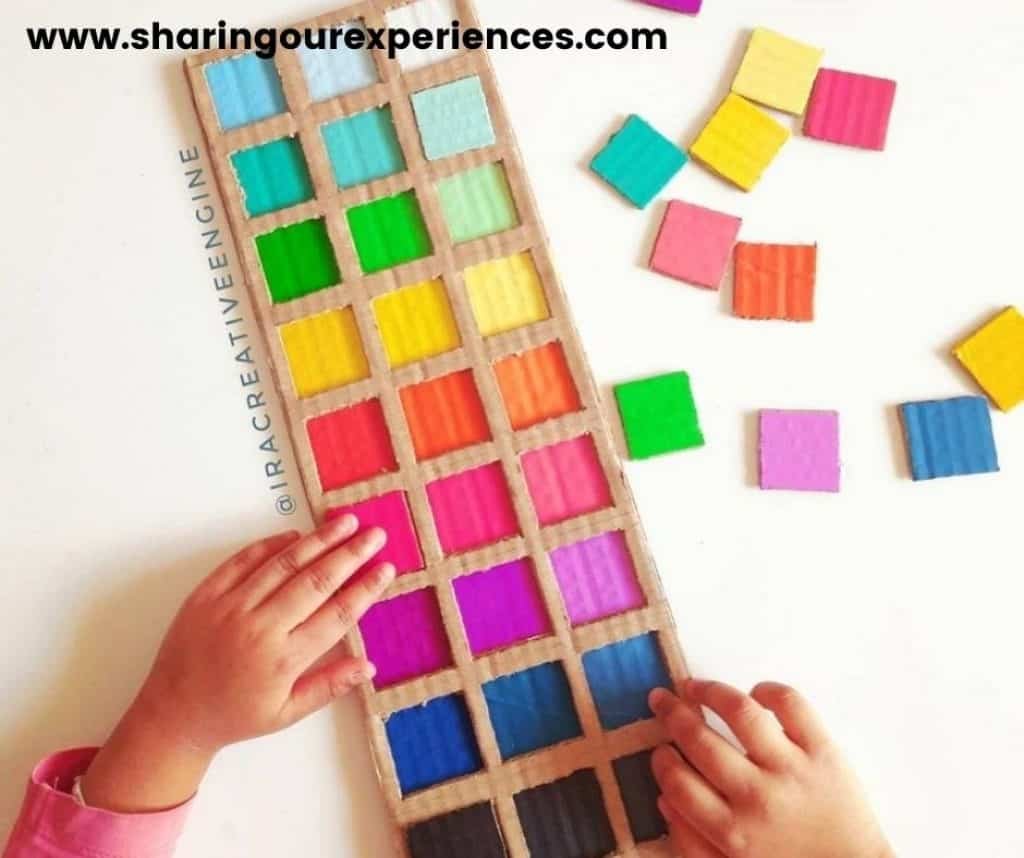 This is so vibrant and easy craft for kids to develop color recognization. Here is how she did it: – It is fun for kids to see so many colors in one place and few are of them look very similar.
Here are the step by step procedure to make this Holi craft:
All you have to do is make a grid as you see in the above picture using cardboard
Paint it with different color tones, hues, and tints. make cardboard pieces with the same color tone.
Ask your kid to match the colors on the gird and fix the pieces.
Now comes the role of visual discrimination, hand-eye coordination, scanning, and color recognition.
This is an ideal Holi craft for kids of preschool, kindergarten, and toddlers to learn colors and distinguish them. You will be surprised to watch your kid doing it with such fun.
Holi creative craft idea – festival joy in Vrindavan for Preschooler
The Holi festival is celebrated all over India and every state has its own belief and stories behind this colorful festival. In most parts of North India, Holi is the festival in remembrance of Lord Krishna and Radha.
Here is a Holi craft idea shared with us by @growing_again_with_your_child. She made this beautiful art and craft to teach her kid about the our culture and festivals. Everything in the picture is made by her except the doll's.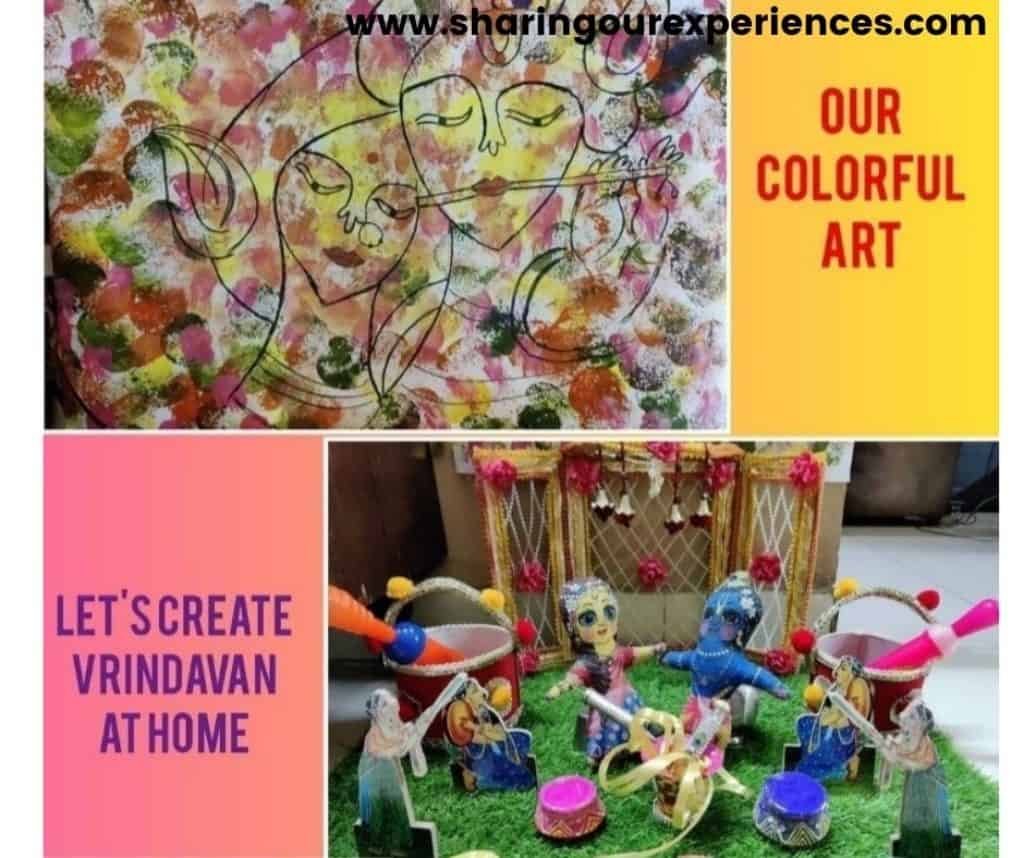 She made the Radhe Krishna picture by stamping different colors on plain paper and once it was dry, she drew the picture. Isn't it beautiful? She made this amazing pretend play setup to explain Holi to her kid. Such craft activities are perfect for theme-based project activities and also for story reading sessions for preschoolers, toddlers and kindergartens.
Amazingly easy shadow box – Holi craft activity for toddler
Holi is round the corner and what can be better then colorful Holi craft that showcases our culture. Here is a wonderful Holi theme based art and craft shared with us by @toontots. She says that her kid enjoyed a lot making this craft with her.
This is such an interesting craft for the festival theme projects. It is perfect for storytelling sessions as prop. Let us see, how she has made this craft and what materials are required.
Cardboard box as frame
Color papers
White Glue
Skewer sticks
pair of scissor
Foam thermocol sheet for the base
Procedure to make this beautiful Holi theme craft:
Draw the shapes as you see in the picture above and ask your kid to cut the shapes with the scissor.
To make the "Holi Hai" message use resist tape and paint around the tape. later remove it.
At last stick the pickhari, bowl paper cutout, and Dhol on the thermocol to the cardboard for durability.
Now our Holi theme-based craft is complete.
This craft-making involves scissor cutting and assembling to make an amazing shadow box for the festival. It is very beneficial for fine motor skill and creative imagination skill development. It is an ideal craft for kids of preschool, kindergarten and toddlers for some fun time.
Holi color pots missing number activity for toddlers
Holi festival is at our doorsteps and it is all about colors and masti. So, why not combine these colors and learning to make it more interesting for the kids. Here is a post shared by @all_about_me_montessoriway. This mom always creates some awesome activities for her daughter to make learning fun.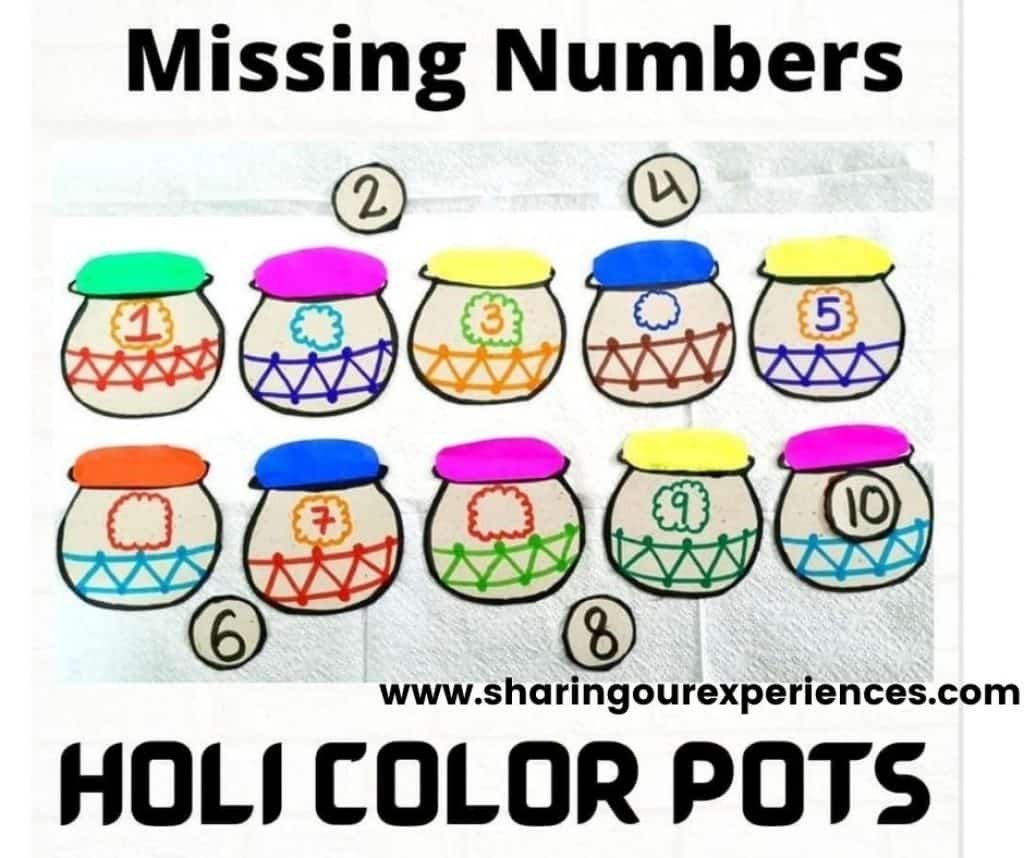 This DIY Holi colors Pot activity is easy and quick to make, all you have to do is: Just draw pots as you see in the picture. Write alternate numbers on the pots and ask your kid to fill the empty spot with the missing number and complete the number sequence. TADA! Our missing number Holi pot activity is complete. Isn't it easy?
This DIY activity can be adapted for odd and even number learning or words and letters learning based on your toddlers skill and age group.
Benefits of this missing number Holi activity:
Logical thinking
Number recognition
Number sequencing
Complex thinking
Hand-eye coordination
Below are few more activities I did with my kiddo this Holi. These are no-prep, fun, and easy activities you can try with your kid.
We did this with the help of crayon shavings. So if you have old, broken crayons lying with you and wondering what to do with them. Just sharp them and collect the shavings. Draw and apply glue and sprinkle the crayon shavings on your design. Remove the extra colour and you will have a masterpiece in your hand.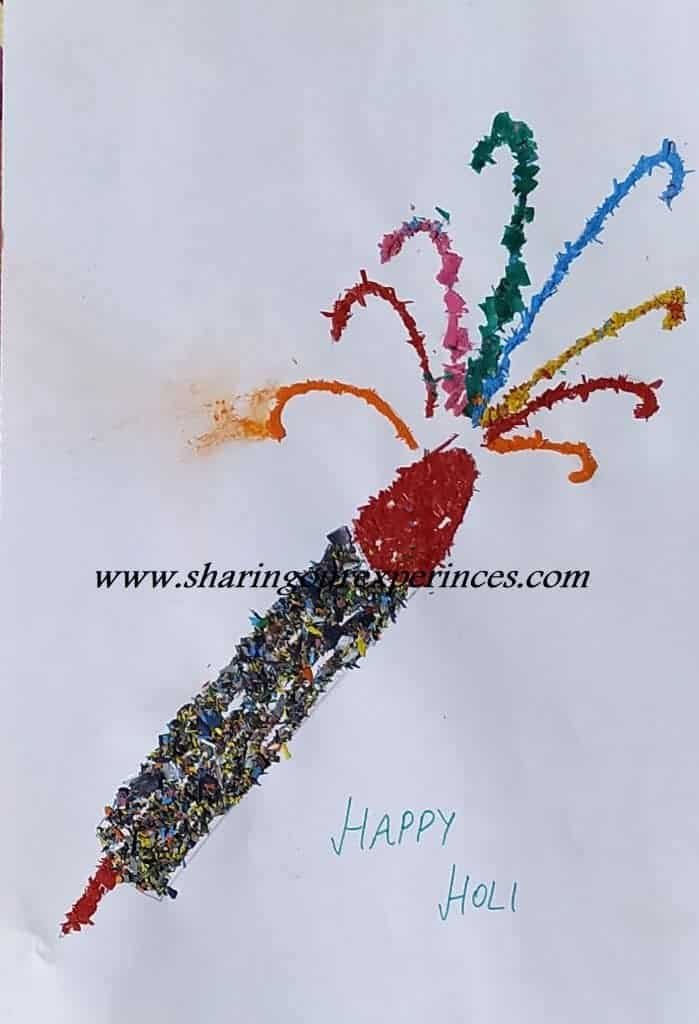 As Holi is the festival of colour. We made this Holi colour tree with blow painting.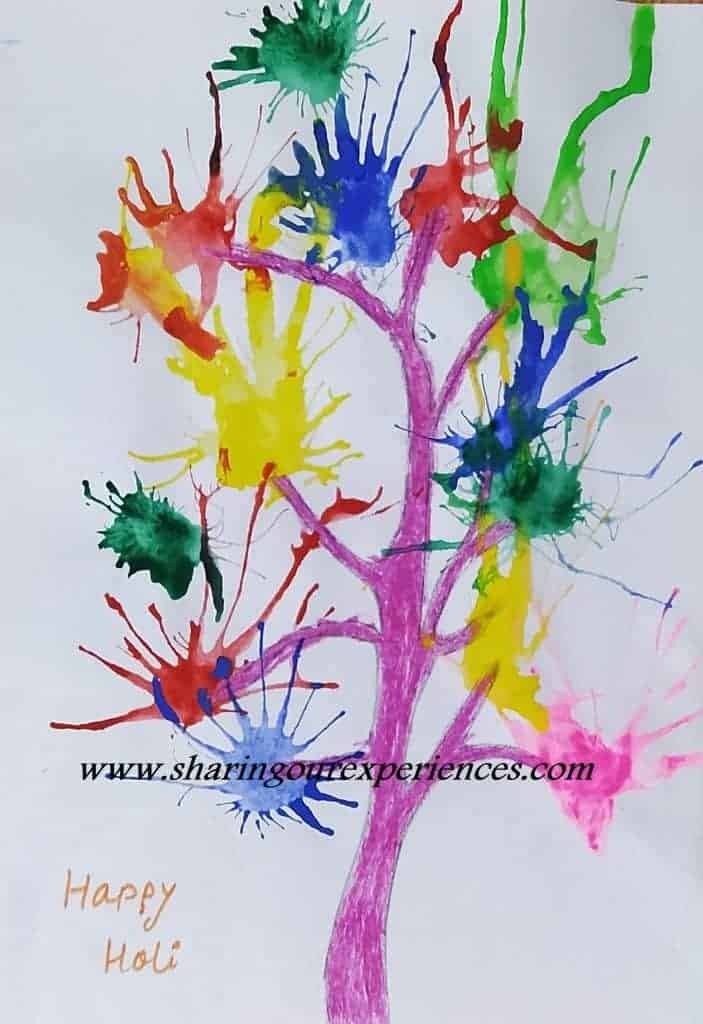 Blow painting Holi coloring activity for preschooler
Holi festival of colors is a Hindu festival but it is celebrated by all, irrespective of any caste and religion in India. It perfectly symbolizes – "Unity In Diversity". Here we have Holi art activity which symbolizes this message.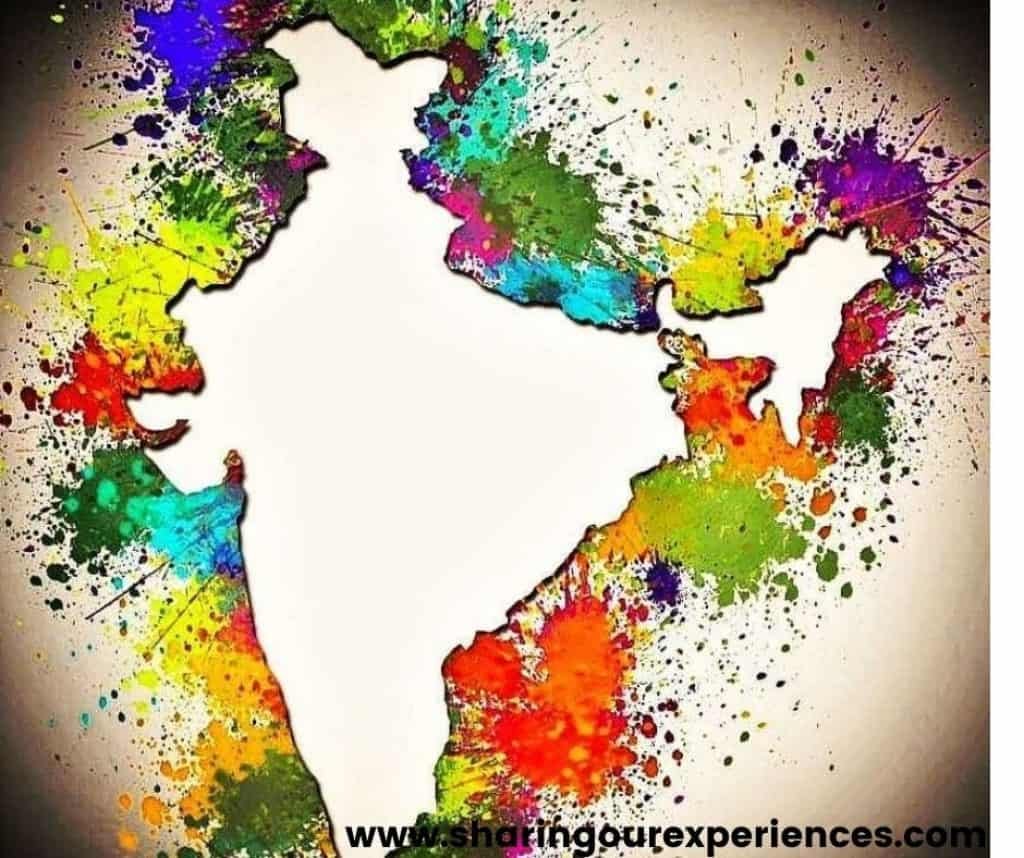 FREE Holi Activities for toddlers and preschool printables
I have also prepared this Holi printables set to plan some activities on this festival and combine it with educational concepts being taught in school in a fun way. If you enjoy printables you would love this set.
These preschool printables and preschool worksheets are suitable for children ages 2 to 8. It is mixed set of varying difficulty more ideal for 3-5 years but coloring and Holi card making can be done by elder kids as well.
The FREE set covers colours identification, letter sounds, Visual discrimination, Pattern game to encourage problem solving in kids, math activity to help kids with counting, Colouring and some cut and paste crafts.
Download these FREE Holi worksheets, just give your mail id and name to get a link to download in your mailbox.
Don't forget to share with others.
PIN THIS PRINTABLES SET FOR LATER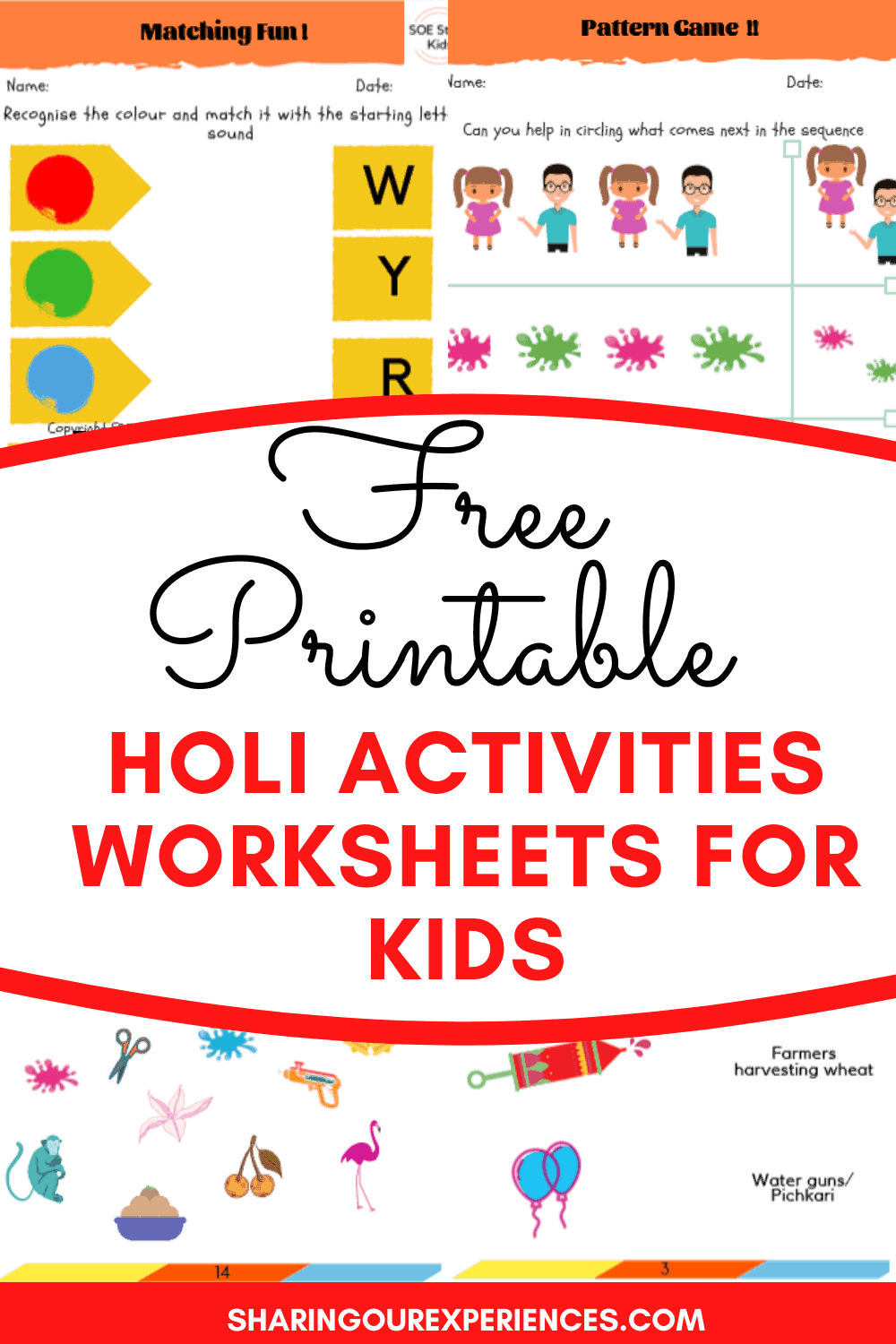 FAQ Why do we celebrate the Holi festival?
Holi is the most colorful festivals of India. This festivals is the vivacious colors and celebration filled with fun and joy. It is the festival to celebrate the victory of good over evil. Holi also signifies the arrival spring season after the harsh winters. It is the festival to spread joy, Happiness and thanksgiving for worthy harvest.
If you want to know more about the Holi celebration and the legend stories associated with the festival. You may also want to read: Why do we celebrate Holi?
Carefully selected Holi books for kids.
As kids grow their curiosity increases to know more. Now as the Holi festival is around and we have few crafts activities for kids to play and learn, you might also want to know about good Holi books for kids to read 9 Fun and Interesting Holi Books for Kids – Honest mom reviews.
Simple ways to celebrate Eco-friendly Holi
Holi – the festival of colors is celebrated to welcome the spring session. The festival reflects the colors of nature and people play with the different shades of color that represent joy and happiness. But nowadays colors used to play Holi are made of harmful ingredients that are not only unhealthy but also dangerous.
There is awareness among people and everyone is trying to play an eco-friendly Holi. So, if you are looking for more information on then here is a full article on this topic: simple ways to celebrate Eco-friendly Holi
Liked this article on Holi crafts for preschoolers
Share it with your friends and let us know any ideas you have in comments below