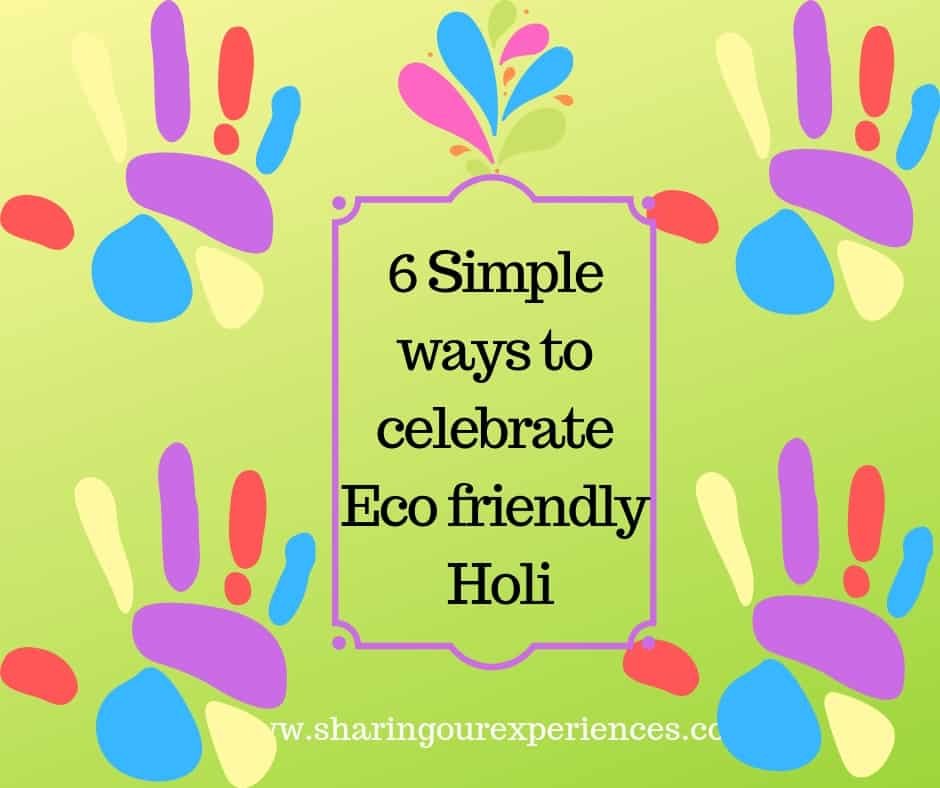 Check out 6 simple environment friendly ways to celebrate eco friendly Holi. These easy ways can help us celebrate and play Holi in a fun way but responsibly and thus help to save environment. 
The colorful festival of Holi is to celebrate the arrival of spring season, so even the colors used to play Holi reflect the various shades of this season. But, these days Holi instead of all these beautiful things has become heartlessly commercialized like all other festivals and has become yet another source of ecological degradation.
But its good to see that People have started realizing the ill effects of the pollution caused due to Holi and are trying to return to the natural ways to celebrate this colorful festival.
The purpose of this article is to create a general awareness about the ill effects of Holi celebration and inspire people to enjoy celebrating an Eco-friendly Holi!
In case if you are wondering what is the significance of Holi, Do read why do we celebrate Holi. It covers so many stories that we have in India around Holi.
6 simple environment friendly ways to celebrate eco friendly Holi
Here below are few simple and environment friendly ways to rejoice Holi a festival of colours with less impact on the environment
Play Tilak Holi 
Instead of smearing colors and colored water on each other go for a simple Tika Holi. Just celebrate by applying a mark of colour on each other's forehead.
Celebrate dry or Water less Holi
Instead of hurling water based colours and water filled balloons at each other, we can celebrate a dry Holi. Play Holi with only dry colours (Gulal) and no water.
In these days of water scarcity if one person uses one bucket of water that means he is using 15 liters of water and may be more as we even need water for washing of colours. This way a lot of water is used in Holi Celebration.
Its a good idea to sensitize kids and tell them we have limited natural resources and we need to use it judiciously.Even if we really want to play Holi with water it is suggested that we do it together via a community pool and gulaal.
Celebrate Holi with flowers (Phoolon Ki holi)
Holi celebration signifies the arrival of spring season so in some places people decorate themselves with ornaments of flowers to welcome spring along with traditional clothes.
It is a good idea if you can organize Holi celebration in your society or home and play with flowers instead of harmful and colors that contain chemicals. Flowers when thrown can easily be disposed and recycled. Colors laden with chemicals are harmful to skin and overall environment and increase pollution.
Note that if you are planning to play with flowers then arrangements should be made for proper disposal of flowers. Many parts of North India as in Lucknow and Pushkar people involve in this kind of celebration.
Avoid usage of Plastic
We can try avoiding or minimize usage of Plastic balloons and Pichkaris during Holi.
I remember when we were younger we had steel and copper pichkaris, I don't see them in markets now but reusing metal pichkaris can reduce the amount of plastic waste we generate after Holi.
If possible we can avoid and minimize usage of plastic during festivals time and rely on other ways of celebrating Holi.
Holi Metal pichkari on Amazon
Last update was on: 6th February 2023 3:41 pm
Play Community Holi
As they say more the merrier, it would be a better idea to play Holi with your family, friends and society together. This way it frees you from the mess cleaning.
You can make this Holi more meaningful by playing it with kids at an orphanage or old age homes. Playing with your family and friends in a common area outdoors adds to the fun and reduces the cleaning effort.
Celebrate with Eco friendly Organic Colours
Organic colors are an excellent alternative to chemical or synthetic colors. Chemical colours not only harm our skin, hair and eyes but also cause pollution as these chemicals are absorbed in the environment after the festival.
In olden days Colours were made organically at home using materials available and flowers (More on this below)
Nowadays organic colors are easily available online and some stores also stock them due to the growing demand for organic colors. According to the experts these colors are photo sensitive and become active when come in contact with the sunlight. They help in getting rid of the micro-organisms that harm the skin. Another reason to use organic colors is that, in little way we save our natural and also promote the growth of small scale industries that produce them.
Holi Organic Colours on Amazon
Last update was on: 6th February 2023 3:41 pm
How to make Eco friendly Colours for Holi?
Everybody enjoys playing Holi and if you too love this festival then you would be amazed to know that we can make naturals colors easily.
This way we can not only save ourselves and our friends from harsh chemicals but also save atmosphere from toxic chemicals that the colors are made of which otherwise flows in water when cleaned.
In ancient days the festival was celebrated with natural Holi colors made out of flowers that bloom during spring season, as in the  Flame of the forest (Kesu) and Indian Coral tree (Parijat) both trees bear bright red colored flowers. There are several trees blooms that make available the raw material through which various shades of Holi colors are prepared. Holi colors made out of these trees are actually favorable to the skin and possess some medicinal properties.
Simple methods to make your own Holi colors using kitchen ingredients are:
Yellow:          Mix Haldi (Turmeric) with Chick pea(Besan)
Deep pink:   Slice beetroot and soak in water for some time
Orange :       Henna leaves dried powder can be mixed in water
Yellow :        Boil marigold flowers in water
Red:              Boil Hibiscus flower in water
Points to remember and implements this Holi and Celebrate Holi safely and responsibly
Celebrate Holi in a common community place as much as possible.
Make sure and decide in advance not to waste water.
Plan the celebration earlier and burn environmental friendly waste for Holi bonfire
Use Eco-friendly colours, play dry Holi and avoid the use of plastic and balloons.
Apply oil or appropriate cream on your skin before going out to play Holi so that it is easy to wash it later.
Keep an eye on children and keep emergency numbers handy.
To protect your hairs from the color wear a cap or apply coconut oil and thus save good amount of water.
After playing Holi brush your face with milk cream, besan or gram flour and few drops of lemon juice to help fade the colors from your skin.
This way we can enjoy the festival by spreading happiness and love celebrating in an Eco-friendly manner. It will help us to preserve our environment and spread the message of love, peace and brotherhood in a simple way.
Holi Books for kids on Amazon
Last update was on: 6th February 2023 3:41 pm
Don't miss to pin

If you liked this article on Eco-friendly way of Celebrating Holi. Don't forget to Pin it
[pinterest-image message="Check out 6 simple environment friendly ways to celebrate Eco friendly Holi. Play safe and Celebrate responsibly. Also contains how you can make eco friendly organic colours at home and significance of Holi #Holi #Holidays #Ecofriendly #Homemade #Organic #DIY #Colours #Safe #Festival #Kids #Parenting #Environment #SafeHoli" custom_image="https://www.sharingourexperiences.com/wp-content/uploads/2019/03/6-Simple-ways-to-celebrate-Eco-friendly-Holi_pin.jpg"]
Liked this post ?
You may also want to read Holi Books for Kids
Your Turn Now
In case if you liked this article on Eco-friendly way of Celebrating Holi and think it may help someone do show your support by sharing this article.
Like our Facebook Page and Stumble It!
Stay connected with us using your favourite social media, we can be found on
Add a comment
Did you like these guide on How to celebrate Eco-friendly Holi? Do you want to add anything else to this article on significance oh Holi or ways of Celebrating Holi in an eco friendly and responsible manner or How to make organic colours. Do let us know using comments below and if you have any more questions or something to add we would love to hear from you.