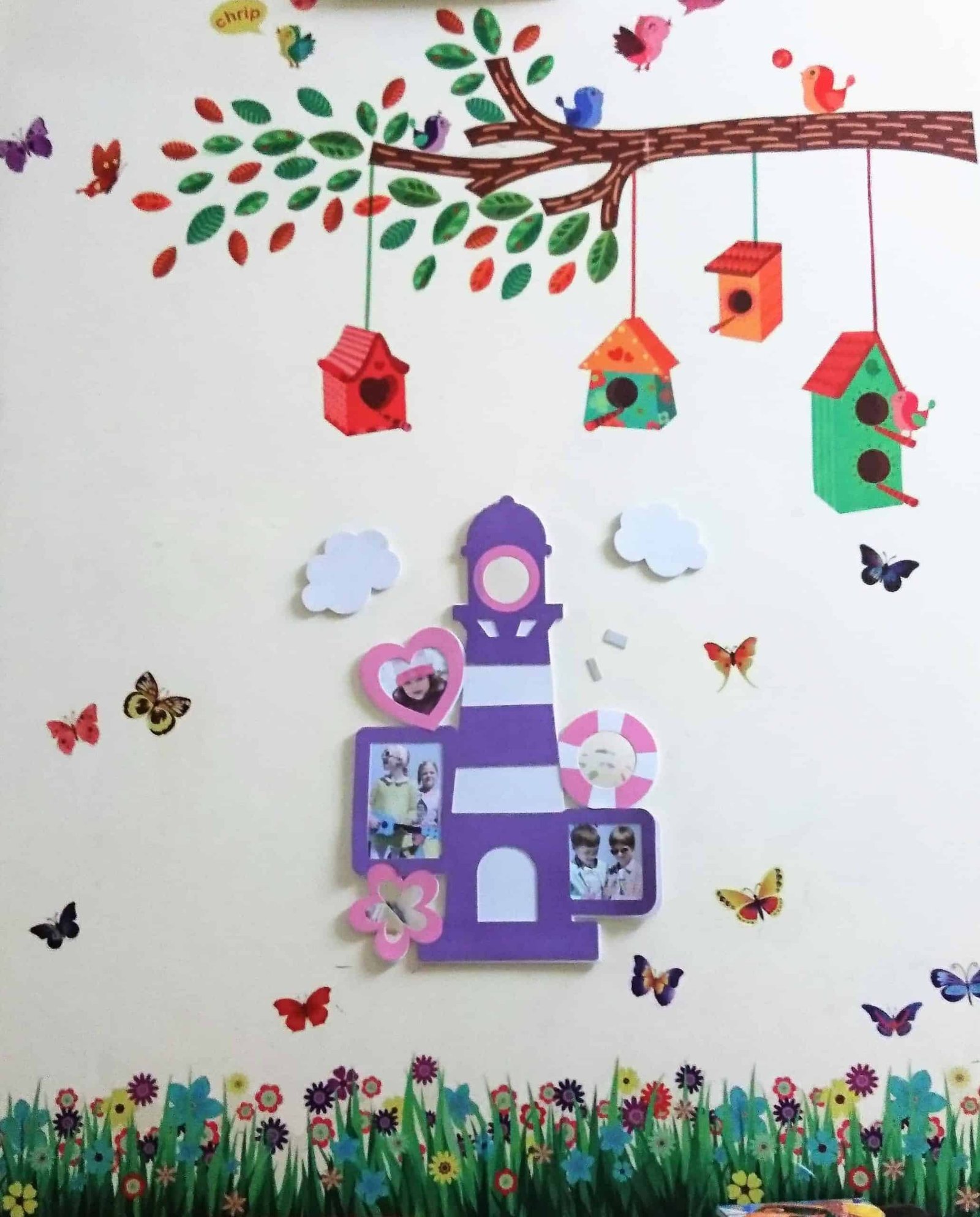 Check out this super easy wall decor idea for beautifying your kids room
I had been thinking for some time how to add some colour to my kid's room. I had thought of various things but all required time and energy. And, all of us know how much time and energy we have left after a full day of running around with kids.
Then I saw an amazon advertisement of wall décor stickers in my mail box. Since the price was not too much I decided to give it a try. And I am so happy with the result that I am actually writing a blog on this.
Here is how our wall looks after sticking the decals.
What you need
Wall stickers
Foam photo frames (The castle in the middle)
And some time to peel them off and stick to a wall
That's it 🙂
Stickers that I bought from Amazon to achieve the look above
The Foam photo frame that I have used is a gift that I already had. For the purpose of making this blog complete, I am including some suggestions from Amazon below
Note – The above are Amazon associates link so on clicking will take you directly to Amazon shopping page

Tips for buying wall Stickers
1  Do not rely only on image, check the Item size to get an idea of how they will fit on your wall.
2  Go through the customer views as some of the customers have added actual photographs. These pics are very useful to understand how the stickers will actually look
3  I noticed that the stickers that were pre-cut in small sizes were easier to stick on the wall. For e.g. the bird and trees in the above Image. The grass and flowers sticker above was pre-cut into a larger sizes. So they were comparatively difficult to stick in one go. My advice to you will be – "pick up a scissor and cut the sticker into smaller easily manageable pieces and then peel off and stick them".
4  Don't worry about sticking these stickers as per the image provided. Get creative and play around to see how they will best fit in your room. You can buy a combination of stickers to get the desired effect.
My toddler and I had lots of fun doing this wall décor and the end result was beautiful too. So I am planning to convert the whole room into a beautiful play area using more of such stickers.
If you get inspired to do something similar, please do share with me.
Liked this post ?
You may also want try your hand at this interesting How to make paper quilled flowers

Your Turn Now
In case if you liked this article do show your support by sharing this article.
[shareaholic app="share_buttons" id="27265281″]
Like our Facebook Page and Stumble It!
Stay connected with us using your favorite social media, we can be found on
Add a comment
Don't you find this idea interesting and beautiful ? Try it and let me know using comments below. Would love to hear from you.