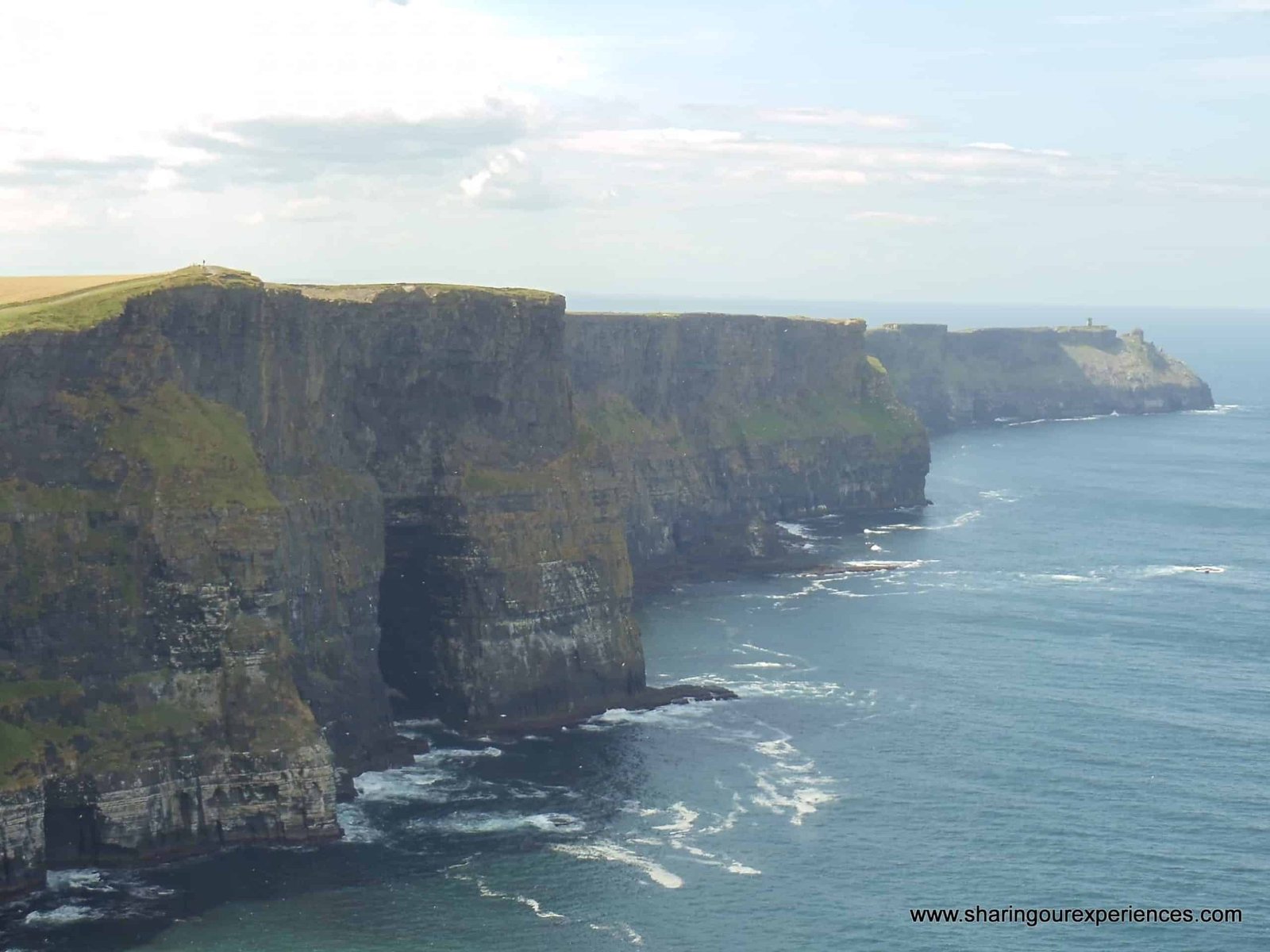 A visit to Cliffs of Moher Ireland. One of the topmost attractions in Ireland and one of the seven natural wonders of the world.
Majestic Cliffs dropping down 120 meters to meet the blue Atlantic ocean with nothing else in sight – Cliffs of Moher are absolutely stunning and no doubt the most visited tourist attraction of Ireland.
There are some places you have to see in person to experience them. Cliffs of Moher are one such place. Green grasslands, blue ocean, ground beneath your feet literally dropping a few hundred meters, sound of waves crashing on the cliffs, winds so strong that they sway you and last but not the least breathtaking views.
Where are Cliffs of Moher located
On the western coast of Ireland in county Clare
How Cliffs of Moher got its name
The old Irish word "Mother" means ruined fort. Therefore the Cliffs of Moher means the cliffs of the ruined fort.
It is said that in 1st century BC a fort stood where Moher tower now stands. Although there is no trace remaining of this two thousand year old fort it has given name to these cliffs
Interesting Facts about Cliffs of Moher – Why Cliffs of Moher are famous
How many people visit Cliff of Moher annually
Cliffs of Moher are visited annually by almost 1 million visitors
How long are the Cliffs of Moher
These Cliffs stretch for 8 Km (5 miles) and stand 214 m (702 feet) tall at their highest point. And the rocks that make up the Cliffs of Moher were formed over 300 million years ago
Are there any movies shot at these Cliffs
Many movies have been shot at this location, one of them being the famous – "Harry Potter and the half blood prince"
What is Hag's head
– At the southern end, the cliffs form an unusual rock formation that resembles a women head looking out to the sea.The name given to this is Hag's head.
One legend relates how an old hag, Mal, fell in love with the Irish hero, Cú Chulainn and chased her would-be suitor across Ireland. Cú Chulainn escaped by hopping across sea stacks as if they were stepping stones. Mal, however, not being so nimble lost her footing and was dashed against the cliff
How to reach ?
The Cliffs of Moher are easily accessed by road from Galway (1.5 hours), Ennis (40 minutes), Limerick (1.5 hours) and from the ferry to and from Killimer in Kerry (45 minutes). Dublin is approximately 3.5 hours via Limerick. The closest airport is Shannon International airport approximately 50 minutes by road.
We had booked a 1 day tour from Dublin and had arrived via bus coach. The tour operator had taken a circular route with an intent that we do not see the same scenery again and cover other attractions as well. So from Dublin we went to Limerick (approximate time taken 3.5 hours) and then arrived in Cliffs of Moher (approximate time taken 1.5 hours) and on the way back covered Buren and took Galway bay route.
What to Do once there ?
Walk along the Cliffs and enjoy the spectacular views. On a clear day you should be able to see the famous Aran islands, Kerry mountains and Galway bay. The Cliffs of Moher has three primary viewing platforms – The main platform, The North platform and the South platform and multiple pathways spread around.
Watch thousands of sea birds. Take photographs to capture all the natural beauty around you.
Climb the spiral staircase of O'Brien's tower and enjoy 360 degree view of the surrounding areas. Note that entry to this tower is chargeable.
Visit the visitor Centre. You can take a self guided our of their exhibition centre. Allow yourself 25-45 minutes for the same.
Tips
– Do check the weather before you visit. Try to visit Cliffs of Moher on a clear day
– Wear sensible walking shoes as you will need to walk around to enjoy the view
Official website of Cliffs of Moher
Liked this post ?
You may also want to read about Taktsang Monastery Paro or The Tiger's Nest
Your Turn Now
In case if you liked this article do show your support by sharing this article.
Like our Facebook Page 
Stay connected with us using your favorite social media, we can be found on
Add a comment
Don't you find this place interesting and beautiful ? Have you visited it. let me know using comments below. Would love to hear from you.