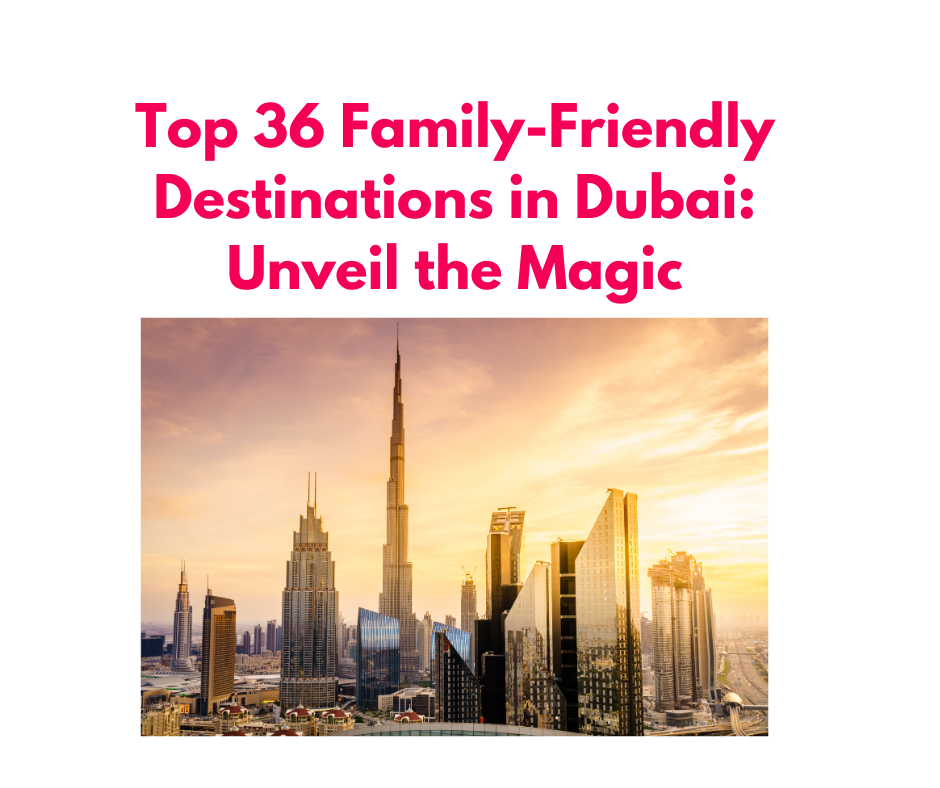 Discover 36 Must-Visit Family-Friendly Places in Dubai! From dazzling skyscrapers to enchanting gardens, explore the best attractions for a memorable family adventure. Get tips, prices, and FAQs. Your Dubai family journey starts here.
Are you a parent on the lookout for the perfect family-friendly destination that will captivate the hearts and minds of your loved ones? Planning a vacation with your family can be an exciting endeavor, but it can also pose a delightful dilemma: how to choose the ideal place that caters to every member's interests and preferences. Dubai, a city that seamlessly blends tradition with modernity, offers a plethora of attractions and experiences that cater to the diverse tastes and ages within your family.
Whether you're navigating the maze of shopping malls, gazing at the spectacular skyline, or immersing yourselves in cultural heritage, Dubai has something to captivate everyone's imagination.
Join us on a journey to explore 36 family-friendly places in Dubai, complete with detailed information, pricing, tips, and answers to those frequently asked questions, to ensure that your family's adventure is nothing short of magical.
>>>Unlock Dubai's best-kept secret: a pass that offers incredible savings and unforgettable experiences. Don't miss out on this exclusive offer – grab your Dubai Pass now! Simply Click here to get up to 45% off<<<
Let's embark on this virtual expedition and discover the perfect destinations for you and your loved ones in the heart of this dynamic city.
Exploring the Best Places to Visit in Dubai with Family: A Memorable Adventure Awaits!
Burj Khalifa
The Burj Khalifa is an iconic skyscraper and a must-visit attraction in Dubai. You can take an elevator ride to the observation decks on the 124th and 148th floors, where you'll be treated to breathtaking panoramic views of the city. The experience is truly awe-inspiring, and it's a great way to kick off your Dubai adventure.
Is it kid-friendly? Absolutely, kids are welcome! There's a specific area with a glass floor where they can get a unique perspective
Price: Tickets start at around AED 165 for adults and AED 135 for children (under 4 years old enter for free). To skip the lines and get priority access, you can opt for the "At The Top SKY" experience, which is a bit more expensive but offers a more exclusive visit.
Unlock exclusive savings of up to 30% by booking via this site. Not many are aware of this so seize this limited-time opportunity now!
Tip >>For the best views of the Dubai Fountain show, plan your visit to the Burj Khalifa's observation decks during the evening, as you can witness the fountain's mesmerizing display from above.
The Dubai Mall
The Dubai Mall is one of the world's largest shopping malls and offers more than just shopping. It's a family-friendly paradise with a plethora of activities. Inside, you'll find the Dubai Aquarium, which is home to thousands of aquatic creatures. Plus, there's an indoor ice rink for those who want to glide around on ice.
Are there food options for picky eaters? Yes, there's a range of restaurants, including family favorites like McDonald's and pizza places.
Entrance to the mall is free. The Dubai Aquarium and Ice Rink have separate admission fees. For example, the Dubai Aquarium & Underwater Zoo starts at AED 82 per adult and AED 69 per child.
To escape the crowds and enjoy a quieter experience, visit The Dubai Mall early in the morning or on weekdays. It's an excellent way to explore the attractions and have a more relaxed shopping experience.
Dubai Aquarium & Underwater Zoo
Located within The Dubai Mall, the Dubai Aquarium & Underwater Zoo is a mesmerizing experience for the whole family. You can walk through a tunnel surrounded by an enormous tank filled with marine life, including sharks and rays. The Underwater Zoo offers more close encounters with aquatic creatures, such as penguins.
How long should we plan for? You can easily spend 2-3 hours exploring both the aquarium and the zoo. It's a great way to escape the mall's hustle and bustle.
Price: Ticket prices start at AED 55 for adults and AED 45 for children.
Consider purchasing combo tickets that include access to both the aquarium and the underwater zoo. It's a cost-effective way to explore both attractions and immerse yourself in the marine world.
Dubai Ice Rink
Located inside The Dubai Mall, the ice rink is a great place for family ice skating. It's an ideal activity to cool down after a day of shopping and exploration.
Is there skate rental available? Yes, skate rental is available at the rink. Do they offer skating lessons for beginners? Yes, they have lessons for beginners and experienced skaters.
Price: Skating sessions typically start at around AED 60 per person, including skate rental.
Consider booking a skating lesson for beginners, especially if your family is new to ice skating. It can help everyone gain confidence on the ice.
Dubai Fountain
Located right in front of the Burj Khalifa, the Dubai Fountain is a captivating water and light show set on the artificial lake. The show is choreographed to music, and the water dances in mesmerizing patterns.
Is it free? Yes, watching the fountain show is absolutely free, and it's a great way to spend an evening in Dubai.
The evening shows are especially magical, but it can get crowded, so arrive a bit early to secure a good viewing spot. For a prime viewing spot of the Dubai Fountain show, head to the waterfront promenade near The Dubai Mall. It's a popular spot, so arrive early to secure a good position.
IMG Worlds of Adventure
IMG Worlds of Adventure is the largest indoor theme park in the world. It's a fantastic place for families to have an action-packed day filled with fun. The park is divided into several zones, each themed around popular cartoon and movie characters. You'll find rides, attractions, and even a haunted house.
What's the age range for this park? The park is suitable for kids of all ages, with various rides catering to different heights and thrill levels.
Price: General admission tickets start at around AED 175 per person.
Since this theme park is quite large, make sure to arrive early, stay hydrated, and take breaks when needed. Consider using the park's app for ride wait times and show schedules.
The Green Planet
The Green Planet is a fascinating indoor rainforest that houses a variety of plant and animal species. It's a unique opportunity for your family to explore a lush tropical environment in the heart of the city.
What's the best time to visit for a quieter experience? Mornings are typically less crowded. Arrive early to see the animals when they are most active and to avoid larger crowds later in the day. Don't forget your camera to capture memorable moments.
Price: Admission prices start at around AED 100 for adults and AED 75 for children.
Ski Dubai
Ski Dubai is an indoor winter wonderland where you can experience skiing, snowboarding, and snow play in the middle of the desert. The temperature inside is kept at a chilly -4 degrees Celsius, so you'll need to dress warmly. They provide all the gear you need for snow activities.
Is this suitable for young kids? Yes, there are snow play areas perfect for little ones, and they provide suitable clothing and equipment.
Price: Prices vary depending on the activities you choose. For a Snow Park pass, it starts at around AED 190 per person.
Don't forget to dress warmly when visiting Ski Dubai's snow park. While they provide snow gear, wearing layers is a good idea for added comfort.
Ski Dubai Snow Park
Ski Dubai's Snow Park is a winter wonderland offering snow activities such as snowball fights, tobogganing, and building snowmen. It's perfect for families looking to experience snow in the desert.
Is it necessary to bring warm clothing and gloves? Ski Dubai provides snow gear, so you don't need to bring your own winter clothes.
Price: Snow Park passes start at around AED 190 per person.
Dubai Safari Park
Dubai Safari Park is a vast wildlife park where you can observe a wide range of animals, from lions and tigers to giraffes and zebras. It's a fantastic opportunity for your family to get closer to nature.
Can we bring our own food and have a picnic? Yes, there are designated picnic areas, so bringing your own food is a great idea for a family outing.
Price: Admission fees are approximately AED 50 for adults and AED 20 for children.
To avoid the heat, opt for a late afternoon or evening desert safari. Be sure to bring sunscreen, hats, and sunglasses to stay protected from the sun.
Opt for the guided tours available in the park to learn more about the animals and their habitats. Remember to stay hydrated and wear sunscreen during your visit.
Desert Safari
A desert safari is a thrilling adventure that allows your family to experience the beauty of the Dubai desert. Activities typically include dune bashing, camel riding, sandboarding, and the opportunity to witness a spectacular desert sunset.
Is it safe for kids? Yes, many tour operators offer family-friendly safaris, and safety is a top priority.
Price: Prices start at around AED 150 per person, but they can vary based on the type of safari and additional inclusions.
Global Village
Global Village is a cultural extravaganza where you can experience the world in one place. It features pavilions from different countries, showcasing their food, art, and entertainment. It's a delightful place for families to explore diverse cultures and cuisines.
What's the best time to visit? Evenings are ideal, as the park comes to life with colorful lights and live performances.
Price: Entrance tickets cost around AED 15 per person, and you'll need to pay extra for rides and food.
Try the various cuisines from around the world at the international food stalls, and be sure to bring cash for convenient purchases.
Dubai Miracle Garden
Dubai Miracle Garden is a one-of-a-kind floral paradise, featuring a stunning array of colorful flowers and unique floral sculptures. It's a great place for a leisurely family stroll amidst nature's beauty.
Is it open year-round? The garden is typically open from November to April, as this is the best time to enjoy the flowers in full bloom.
Price: Admission for adults is around AED 55 and for children around AED 40.
Visit in the early morning or late afternoon to avoid the midday heat. Also, take the time to explore the themed gardens within the Miracle Garden.
Dubai Butterfly Garden
The Dubai Butterfly Garden is a serene indoor garden that houses thousands of colorful butterflies. Strolling through this enchanting garden, you and your family can get up close and personal with these beautiful creatures.
What's the best time of day to visit? Mornings are recommended as the butterflies tend to be more active. It's also the best time to capture stunning photographs of these delicate creatures.
Price: Tickets typically start at AED 55 for adults and AED 35 for children.
Dubai Parks and Resorts (Motiongate Dubai, Bollywood Parks Dubai, and Legoland Dubai)
Dubai Parks and Resorts is a one-stop entertainment complex featuring three major theme parks – Motiongate Dubai, Bollywood Parks Dubai, and Legoland Dubai. Each park offers a unique experience for family members of all ages.
Are there any height restrictions on the rides? Some rides do have height restrictions, so it's a good idea to check each park's website for details.
Price: Ticket prices vary based on which park you'd like to visit. It's often more cost-effective to purchase a multi-park pass if you plan to explore all three.
Save time and money by purchasing a multi-park pass if you plan to explore all three parks in Dubai Parks and Resorts. It offers greater value and flexibility.
Legoland Water Park
Legoland Water Park is part of Dubai Parks and Resorts and offers a day of aquatic adventures for the whole family. It's designed with children in mind and features various water slides, wave pools, and splash zones.
Are there height restrictions for the water slides? Yes, some slides have height requirements, so make sure to check before you go.
Price: Admission prices start at around AED 175 per person.
KidZania Dubai
KidZania Dubai is an interactive edutainment center where kids can immerse themselves in a variety of professions. They get to role-play as doctors, firefighters, chefs, and more while learning valuable life skills.
What age is this suitable for? KidZania is designed for kids aged 4 to 16.
Price: Ticket prices start at around AED 75 for kids and AED 95 for adults.
Check the schedule for professions your kids are interested in, as different activities and jobs are available at different times. Arrive early to ensure they have ample options to choose from.
Dubai Science Park
Dubai Science Park is a fun and educational experience for kids interested in science and technology. The park features interactive exhibits, workshops, and live demonstrations.
What are the opening hours? It's typically open from 9:00 AM to 6:00 PM.
Price: Admission costs around AED 50 for adults and AED 20 for children.
Aim for a weekday visit to avoid weekend crowds and have a more personalized experience with the various scientific exhibits and activities.
Dubai Opera
Dubai Opera is a world-class venue that hosts a variety of performances, from operas and ballets to concerts and family-friendly shows. The building itself is an architectural marvel.
Can kids attend? Yes, there are often kid-friendly performances and special family events. Check the schedule before your visit.
Price: Ticket prices vary depending on the performance. For family shows, prices start at around AED 150 per person.
Check the Dubai Opera schedule in advance and book your tickets for a show that suits your family's interests and preferences. Seats with the best views and acoustics tend to be in the stalls and balcony.
Hatta Heritage Village
Hatta Heritage Village is a historical site that showcases Emirati culture and traditions. It's an enriching experience for your family to learn about the history and heritage of the region.
Is it open year-round? Yes, Hatta Heritage Village is open year-round, offering a glimpse into the region's history.
Price: Entry is typically free.
Combine your visit with a trip to Hatta Dam for a full day of outdoor activities, like swimming and kayaking. Bring comfortable walking shoes for exploring the village.
Al Fahidi Historic District
The Al Fahidi Historic District is the old part of Dubai, offering a charming contrast to the city's modern skyline. You can explore traditional Emirati architecture, visit museums, and experience the culture of the past.
Are there guided tours available for families? Yes, guided tours are available and recommended for a deeper understanding of the area's history.
Price: Guided tours and museum entry fees vary, but they are generally affordable.
Wear comfortable footwear for exploring the cobblestone streets of the historic district, and visit the Al Fahidi Fort, which houses the Dubai Museum.
Dubai Dolphinarium
The Dubai Dolphinarium is a family-friendly entertainment center where you can enjoy spectacular dolphin and seal shows. It's a great place to spend quality time with your family while witnessing the incredible talents of marine animals.
Can we interact with the dolphins and seals? There are opportunities for interactions with the animals, but they may require separate bookings.
Price: Tickets for the dolphin and seal shows start at around AED 60 for adults and AED 30 for children.
For the best seats and photo opportunities during the dolphin and seal shows, book tickets in advance, and arrive a bit early.
Dubai Creek
Take a traditional abra (wooden boat) ride along the historic Dubai Creek, the city's lifeline. You'll get a glimpse into Dubai's trading past and enjoy scenic views of both the old and modern parts of the city.
How much is an abra ride? A one-way abra ride typically costs around AED 1 per person. It's an inexpensive and authentic way to experience Dubai's heritage.
For a scenic experience on an abra ride, choose the route that takes you from Deira to Bur Dubai (or vice versa) during sunset. The lighting is fantastic for photography.
Dubai Autodrome
If your family has a need for speed, head to the Dubai Autodrome. This motorsports venue offers go-karting experiences suitable for both kids and adults. It's an exciting way to enjoy some adrenaline-pumping fun.
Are there age or height restrictions for go-karting? Yes, there are minimum height and age requirements for go-karting, so be sure to check before you go.
Price: Go-karting prices vary depending on the type of session, starting at around AED 100 per person.
Wear comfortable clothing for go-karting and closed-toe shoes. Remember to follow the safety guidelines provided by the venue for a safe and enjoyable experience.
Adventureland
Adventureland is an indoor theme park located at Sahara Centre in Sharjah, which is not far from Dubai. It features various rides and attractions suitable for kids and families.
What are the opening hours? Adventureland typically opens in the early afternoon and stays open until late in the evening.
Price: Prices for rides and attractions can vary, but there are often packages and deals available.
Arrive early to enjoy the park with shorter lines and cooler temperatures. You'll have a better chance to try your favorite rides multiple times.
Al Mamzar Beach Park
Al Mamzar Beach Park is a serene beach park offering a family-friendly environment. You can enjoy the beach, have a picnic, swim, and make use of the park's facilities like playgrounds, barbecue areas, and lush gardens.
Can we rent beach equipment like umbrellas and chairs? Yes, you can rent umbrellas and chairs to make your beach day more comfortable.
Price: Park entry typically costs around AED 5 per person, and there's a separate fee for renting chalets and facilities.
Bring your own picnic supplies and enjoy a family meal in one of the designated barbecue areas. It's a great way to relax and soak in the beautiful surroundings.
Dubai Outlet Mall
Dubai Outlet Mall is a shopping haven for those looking for discounted designer brands. It offers a wide range of fashion, accessories, and homeware stores.
Are there any particular seasons for better discounts? Dubai's shopping festivals in January and July offer significant sales and promotions.
Price: Shopping costs depend on your purchases, but you can expect to find deals and discounts throughout the mall.
Dubai Garden Glow
Dubai Garden Glow is an enchanting outdoor attraction featuring illuminated sculptures and installations. It's a unique and magical experience for families to explore at night.
What time does it open? Dubai Garden Glow typically opens in the evening, around 4:00 PM, and stays open late.
Price: Ticket prices start at around AED 65 for adults and AED 55 for children.
To beat the crowds, consider visiting Dubai Garden Glow on weekdays. The illuminated installations are at their most enchanting after sunset.
Here are answers to some frequently asked questions for families and parents seeking places to visit in Dubai with their loved ones.
What are the best family-friendly attractions in Dubai?
Dubai boasts a plethora of family-friendly attractions. To name a few, Burj Khalifa offers stunning city views, The Dubai Mall has exciting features like the Dubai Aquarium and Ice Rink, IMG Worlds of Adventure is an indoor theme park suitable for all ages, Dubai Miracle Garden is a floral paradise, KidZania Dubai lets kids role-play various professions, Ski Dubai offers indoor skiing and snow play, and Global Village is a cultural extravaganza. Each of these places promises unique experiences for your family.
Are there age restrictions for certain attractions in Dubai?
Indeed, various attractions in Dubai may have age or height restrictions for specific rides or activities. For instance, theme parks like IMG Worlds of Adventure and Dubai Parks and Resorts may have rides with height requirements. It's crucial to visit the official websites of these attractions or get in touch with them directly to obtain comprehensive information regarding age and height restrictions.
What's the best time to visit Dubai with family?
Dubai is at its most inviting during the cooler months, from November to April. The weather is exceptionally pleasant, which makes it an ideal time for outdoor activities and exploring the city with your family. During this period, you can comfortably enjoy outdoor adventures and attractions.
How do we get around Dubai with children?
Dubai boasts a reliable and safe public transportation system, including the Dubai Metro and buses, making it easy to get around with children. Taxis are also readily available, providing convenient transportation to your desired destinations. Most family-friendly attractions are accessible via these modes of transportation, simplifying your travel.
Are there family discounts or package deals available for attractions in Dubai?
Many attractions in Dubai offer special family packages and discounts for children.
What clothing should we wear when visiting Dubai with kids?
While Dubai is known for its modernity, it's important to dress modestly, especially in public areas and religious sites. For the city's warm climate, lightweight, comfortable clothing is ideal. Ensure to bring swimwear if you plan to enjoy water attractions with your children.
Are there baby-changing facilities available at popular attractions?
Yes, most popular family-friendly places in Dubai provide convenient baby-changing facilities. These facilities can commonly be found in malls, restaurants, and attractions, ensuring that the needs of families with young children are well taken care of.
Can we bring our stroller to the attractions?
Yes, the majority of attractions in Dubai are stroller-friendly, making it easy to navigate with your young ones. Nevertheless, it's a good practice to confirm in advance. Some attractions even offer stroller rental services, which can be quite convenient.
What are the best times to avoid crowds at popular attractions in Dubai?
To ensure a more relaxed and crowd-free experience, consider visiting attractions during weekdays, especially in the mornings. Mornings are typically less crowded than afternoons and evenings, giving your family more space and time to enjoy the attractions.
Do we need to book tickets in advance for popular attractions?
For the most popular attractions, it's a good idea to book tickets in advance, especially during peak tourist seasons. This helps you avoid long lines and ensures you secure your preferred time slots. It's also wise to check for any online discounts when booking in advance.
Can we bring our own food to the attractions for a family picnic?
Many attractions in Dubai offer designated picnic areas, allowing you to bring your own food and enjoy a family picnic. However, it's important to check with each attraction's specific guidelines, as some may have restrictions on outside food and beverages.
As we conclude our journey through the myriad wonders of Dubai, envision the excitement and joy awaiting your family in this captivating city. From the towering heights of Burj Khalifa to the enchanting blooms of Miracle Garden, Dubai beckons with experiences that will etch everlasting memories in your family's heart.
Your adventure doesn't end here; it's merely the beginning. Embrace the diverse culture, indulge in thrilling escapades, and create bonds that will last a lifetime. Dubai's family-friendly embrace invites you to explore, discover, and relish each moment with your loved ones.
So, what are you waiting for? Let the magic of Dubai unfold for your family. Start planning your unforgettable journey now and make every moment count.