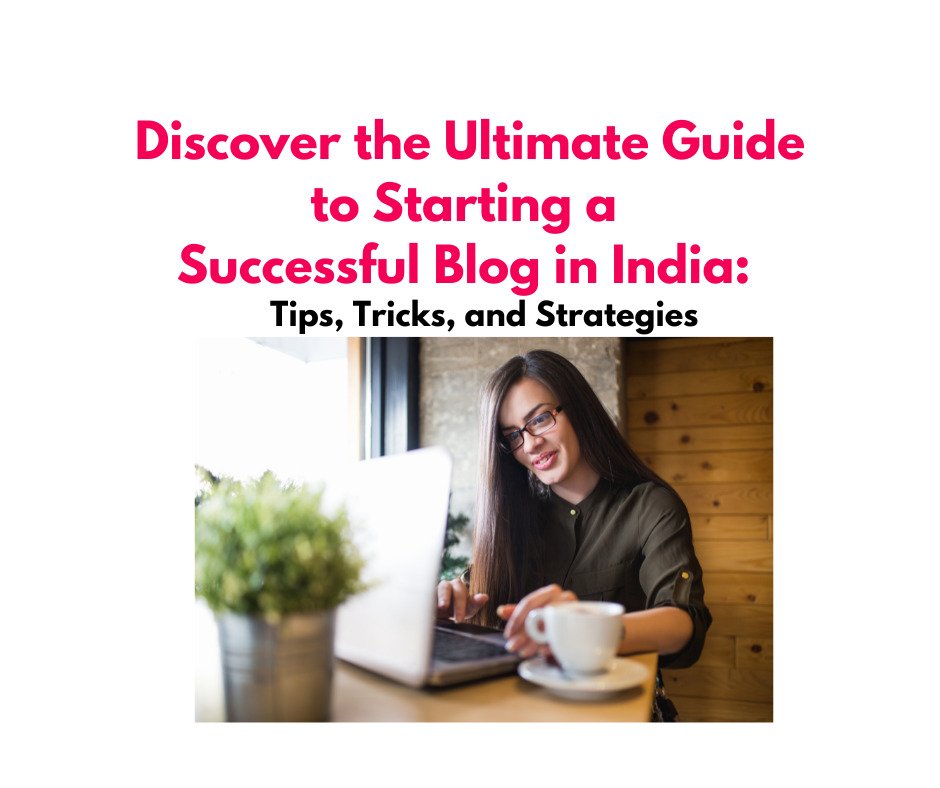 Looking to start a blog in India? Look no further! Our ultimate guide provides you with all the tips, tricks, and strategies you need to kickstart your blogging journey and make it a success. Whether you're a seasoned writer or a beginner, this guide has got you covered. Start your blogging journey today and turn your passion into a profitable online venture!
Are you passionate about writing and eager to share your thoughts and ideas with the world? Starting a blog is a great way to do just that! Not only can it be a creative outlet, but it can also help you connect with like-minded individuals and even generate some extra income.
But where do you start? With so much information out there, it can be overwhelming to figure out the best approach. That's why we've put together this ultimate guide on how to start a successful blog in India.
From choosing your niche to creating killer content and promoting your blog, we've got you covered with all the tips, tricks, and strategies you need to make your blogging journey a success.
Before starting a blog, please understand why you want to start a blog.  
If it is for fun and sharing your thoughts – start a free blog from WordPress.com.
If you are interested in making your blog an income generating channel then please get a domain and self hosted blog and read below steps
Also Read – 20 Must-Follow Mommy Influencers on Instagram in India: Discover Inspiration and Tips for Parenting, Lifestyle, and More
So what are you waiting for? Let's get started!
What You'll Need To Start A Blog Or Website
DOMAIN NAME –
Domain name is a name of your website. For e.g. name of my website is bloggingmadeeasier.com. Choose a domain name related to what you are going to write about or related to your readers.
You can get your domain name for free when you buy hosting fomr my favourite hosting provider. Click here to get started
HOSTING
Hosting is where your website is stored. In simple language consider it a special computer that stores your website and provides services such that your website will be visible on the internet. You can get shared wordpress hosting from here
THEME
Theme is how your website looks like. I mostly use WordPress as a software to build websites so choose a good WordPress theme.
Step to Start blog in India (or elsewhere in the world) specially if you want to make money
1) Identify your niche
2) Choose a blogging platform
3) Decide on your blog name
4) Create your web hosting account
5) Install SSL
6) Install WordPress on your blog
7) Log in to your new website
8) Set up your website correctly (settings)
9) Set up your website theme
10) Create categories
11) Set up your website menu
12) Set up your website widgets
13) Set up essential plugins
14) Create MUST have pages on your website
15) Write and Publish your first blog post
IDENTIFY YOUR NICHE
What to do before starting a blog is as much important as actually starting a blog.
Identifying correct niche can make or break your blog specially if you want to make money from your blog. 
What is niche?
Niche is a specific topic that you will be writing about and creating content for. Parenting is a huge category – but may be kids activities for toddlers is a smaller niche that you want to talk about. 
Choosing Your Niche: Finding the Perfect Topic for Your Blog
When it comes to starting a blog, choosing your niche is one of the most important decisions you'll make. Your niche is essentially the focus of your blog – the topic or theme that your content will revolve around. It's important to choose a niche that you're passionate about and that has the potential to attract a dedicated audience. Here are some tips for finding the perfect niche for your blog:
Identify your passions and interests: What topics do you love to read about and talk about? What are you knowledgeable about? What are your hobbies and interests? Your blog should reflect your passions and interests.
Research your competition: Before settling on a niche, research what other bloggers in your chosen area are writing about. Is there room for you to provide a unique perspective or angle?
Consider your target audience: Who do you want to read your blog? What are their interests and pain points? Your niche should be one that resonates with your target audience.
Evaluate the potential for monetization: While it's important to choose a niche you're passionate about, you also want to consider whether it has the potential to be profitable. Can you create products or services that your audience will be willing to pay for?
By taking the time to choose the right niche for your blog, you'll be setting yourself up for success and ensuring that your content resonates with your audience.
Questions you can ask yourself to identify your niche?
Here are the questions you should ask yourself to establish your niche.  In case if you would like to download a workbook with example – you can download it by clicking here 
1) Why am I starting a blog?
2) What are MY Parameters of a Successful Blog?
3) What motivates ME to Write
4) What can I write about such that it truly helps
my readers
5) What is my strength
6) Who is my audience
7) Why should someone come and read my blog 
Remember you are unique and you have something to offer to your readers and to help them.
Now once you have established above – Also find who your competitors are. Is a very competitive niche? If very less competition think why – do not choose a niche just because there i no competition in it. May be there is no competition because there are no products to recommend or may be because very few people are searching for solution to that problem.
Also think how you would be making money out of your blog. Will it by ads income, affiliate income or your own products. See if you have good affiliate products that you can recommend for your niche.
Also Read – 10 Profitable Blog Niche Ideas for Stay-at-Home Moms to Start Their Own Blogs
Setting Up Your Blog: A Step-by-Step Guide
Setting up a blog may seem like a daunting task, but with the right guidance, it can be a straightforward process. Here's a step-by-step guide to setting up your blog
Choose a Blogging platform
The first step in setting up your blog is choosing a blogging platform. There are several popular platforms available, including WordPress, Blogger, and Wix. Each platform has its own set of features and benefits, so it's important to choose one that meets your specific needs. I personally recommend WordPress.
Choose WordPress.org (rather than wordpress.com) And stay away from all others – Squarespace, weebly or anything else.
With millions of users and companies using WordPress.org – you can go for it.
Please note WordPress.org and WordPress.com are different. I have explained it in above FAQs as well.  So you need to choose WordPress.org.
Here is why I recommend WordPress.org over other platforms:
– It is open source so you will find multiple free themes, plugins and everything you need to run a successful blog
– It is easy to get started and you do not need any technical knowledge or coding experience
– You will full control over everything – designing, creating, monetizing and if you ever decide to even leaving. 
Many platforms make it really difficult to leave with your data and have hidden charges which come into effect specially when you want to scale your business or your blog. 
Choose a domain name\ blog name
Blog name is mainly your site name. For example my domain name or blog name is sharingourexperiences.com 
Your domain name is essentially the web address for your blog. Choose a name that's easy to remember and reflects your blog's niche. You can purchase a domain name through your blogging platform or through a separate domain registrar.
You can buy a domain name from namecheap.com and then proceed as below for buying hosting.
Or you can buy domain along with hosting from chemicloud (as explained below)
Few tips to choose a good domain name (do not make the mistakes I did)
– It should be easy to understand and easy to remember. Avoid numbers, special characters,, hyphens and ambiguous spellings.
– It should be short (check if you can get that name in twitter and Instagram in advance – no one else should be using it)
 – It should be related to your niche and audience. You can actually do keywords research to see what people are searching for.
– Do not be too creative.
– If you are establishing yourself as a brand then you can keep your name as the website name. Else keep the name as per your audience and your niche. 
Buy hosting
Hosting is the service that allows your blog to be accessible on the internet. Many blogging platforms offer hosting services, but you can also choose to use a separate hosting provider.
WHERE CAN YOU BUY HOSTING FROM
Based on my experience and hosting providers I have personally used – I can recommend below hosting providers to you. My first preference is Chemicloud so you just close your eyes and can go for them. My sites and those of my clients are all hosted on Chemicloud for years.
Usually people recommend Bluehost and Siteground but I have found them expensive. Chemicloud has been much better in terms of cost and value for money and support
Click here to check Chemicloud out 
You can click here to buy domain and hosting from Chemicloud. Once you click on this link you would see multiple types of hosting. 
We need to click on "Learn more" in WordPress Hosting
Now Opt for 3 years of hosting in WordPress Starter Plan and click on Order now
Select whether you already have a domain or you want to register a new domain. When we are starting a new website or blog – we would choose "Register a new domain"
**If you are moving hosting from another hosting provider select "I already have a domain"
This would take you to Configure page. You can change your server location based on where you are located
**We do not need to buy any additional service. 
No additional Addons are needed so click on Continue (if there is any coupon you would need to add Explicitly)
And make the payment
Congratulations. You Now Have A Domain Name And Hosting Space For Your Website
Install SSL
Once you have bought hosting from Chemicloud. Chat with the support to install SSL.
SSL in very simple terms is https:// in front of your url or website
INSTALL WORDPRESS
Chat with the support and request them to install WordPress on your website. Or you can use the tutorial below
1) Login into your cPanel.
2) Scroll down to the Softaculous Apps Installer section and click on the WordPress logo.
3) Click on Install button
You can also refer to this tutorial on Chemicloud site
Log in to your new website
Congratulations you now have domain, hosting and WordPress installed on your website. Now it is time for you to log in and start setting up your website.
One of the frequently asked question is How do you login to your new site. Type below in your browser and you are ready to start.
<Yoursitename>/wp-admin e.g. – http://www.newdomainname.com/wp-admin
How to transfer existing data from WordPress.com
If you already have a Blog on WordPress.com the first step you would need to do is transfer your data from Free WordPress to your new WordPress installation.
Log in to your WordPress.com account.
Export data and
Then login to your new website and you would see one of the tools as Import data. So import existing data on your new website
How to point your existing domain to new hosting
This is an extra Step for those who have already have a domain.
You would need to change your DNS name servers to point to new hosting.
Now we have to set up your new website. 
HOW TO SET UP YOUR WEBSITE CORRECTLY
Login to your website.
And then on the Dashboard go to left hand side and find settings and work our way towards – General settings, writing settings, Reading settings, Discussion settings, Media and Permalinks.
In General settings
1. Change Site Title – Your website name
2. Tagline – if you have any tagline associated with your website add here
In Reading settings
You can change whether you want your home page to display Static page or your latest posts. For most new bloggers it would be Latest posts.
With time I would suggest that you move to Static home page but that is a topic for more advanced courses.
You can choose how many posts show at most on your Blog page and syndication feed. I usually set it up as number 6.
For each post in a feed – include Full
text or summary. I usually choose summary.
Change your permalink to remove date from your url
Go to Settings -> Permalink settings and choose radio button next to post name. This is helpful for SEO
Change Default "Admin" username
For security you can change default "Admin" username and keep something more secure.
Install and set up your website theme
Your blog's theme determines its appearance and functionality. Many blogging platforms offer a range of free and premium themes to choose from, or you can hire a designer to create a custom theme for your blog.
I think one of the most difficult decision for me when starting a website was what theme to choose for my website. And honestly – I have made enough mistakes in choosing themes.
First things first – Don't spend months in choosing a theme for your site. It is something that can be changed later as well.
I mean give due consideration; and invest on a good theme but don't delay launching your website for months just because you are not able to decide on a theme.
You may find this article useful on – How to choose a WordPress theme. It also has details of my inputs on best Free and paid WordPress themes.
I personally am using this theme for my website.
CREATE CATEGORIES FOR YOUR WEBSITE
Decide what categories you are going to write about. Do not set up too many categories. Mainly divide main buckets you want to write about and set them up as categories. 
Categories are important from SEO perspective as I have explained in my SEO Simplified e-book for beginners
How to create category in blog (video tutorial)
SET UP YOUR WEBSITE MENU
Menu is what comes at the beginning of your website. Setting a menu is very important as it helps a reader browse your site.
Once a reader is on your site then your menu can help him/her read more related topics and subjects and thus that means more page views (traffic) for you.
Different themes will have menu at different locations. But all of them will have a primary menu and the way to set it up would be same
SET UP YOUR WIDGETS
First let us talk about what are widgets
A WordPress widget is a small block that performs a specific function.
These widgets can be added to sidebar and footer area of your site.
How we can set up widgets is to go to Appearance – > Widgets and then we can drag and drop widgets to widget ready area of our WordPress website
SET UP ESSENTIAL PLUGINS
Plugins are a piece of code or software that you can add to your website or blog to add a functionality to your blog. For e.g. if you want your website to have frequent backups. You can add a Backup plugin and set it up.
If you want to be able to stop spam comments on your site – you go with Antispam plugin. And so on.
Please NOTE the less the number of plugins on your site – the better it is.
I had read blogs from some top shots in blogging business and had 40 plugins at a point of time. Well that advice was wrong advice. Stick to minimum number of plugins.
How to install plugins (Video tutorial)
SET UP THESE MUST HAVE PAGES ON YOUR WEBSITE
Below are the few must have pages that you need to have on your site
Home page
About Page
Services, shop or Sales page
Contact Page
Privacy Policy
Disclosure
Opt-In Landing page/ Free Resource page 
Moreover, once the site reaches a particular stage, making these changes gets more and more difficult to bring it up to speed and catch up with things we have not done correctly.
Hence it is imperative to start RIGHT. 
I have covered above steps in details in my How to start a blog e-book. If you have not downloaded yet do check out here on Amazon.in. It is available on Amazon.com here.
Customize your blog
Once you've installed your theme, it's time to customize your blog to reflect your brand. This can include adding a logo, changing colors, and creating a navigation menu.
WRITE AND PUBLISH YOUR FIRST BLOG POST
With your blog set up, it's time to start creating content. Your first blog post should introduce yourself and your blog's niche, and give readers a sense of what they can expect from your content.
Congratulation you are now ready to start your journey of Blogging.
Note – Writing a blog post is very different from writing work we did in school and colleges. This is the reason many people who start a blog do not continue it after a period of time.
Very few  people actually are able to start a successful blog. The difference is because they do not know the art of content writing . I have covered content writing in by ebook- How to write awesome content that helps you earn money and win readers. 
How to add a new post in Gutenberg editor
(video tutorial)
Promote your blog
Finally, it's important to promote your blog to attract readers. This can include sharing your posts on social media, guest posting on other blogs, and engaging with your audience through comments and email newsletters.
By following these steps, you'll be well on your way to setting up a successful blog that attracts and engages readers.
Creating Killer Content: Tips and Tricks for Writing Engaging Blog Posts
Creating high-quality content is key to building a successful blog. Here are some tips and tricks for writing engaging blog posts that keep readers coming back for more:
Know your audience: Before you start writing, it's important to understand who your target audience is. What are their interests and pain points? What types of content do they enjoy reading?
Write attention-grabbing headlines: Your headline is the first thing readers will see, so it's important to make it attention-grabbing. Use numbers, questions, and powerful language to entice readers to click through and read your post.
Create an outline: Before diving into writing, create an outline of your post. This will help you organize your thoughts and ensure that your post has a clear structure and flow.
Use subheadings and formatting: Break up your post into sections using subheadings and formatting. This makes it easier for readers to scan and digest your content.
Write in a conversational tone: Blog posts should be written in a conversational tone that feels approachable and relatable. Write as if you're talking to a friend, and avoid using overly technical or academic language.
Include visuals: Visuals like images, videos, and infographics can make your posts more engaging and shareable. Use visuals to break up text and illustrate your points.
End with a call to action: Every blog post should end with a call to action that encourages readers to take action. This could be to leave a comment, share the post on social media, or sign up for your email list.
By following these tips and tricks, you can create blog posts that not only attract readers, but keep them engaged and coming back for more.
Designing Your Blog: How to Create a Beautiful and User-Friendly Website
Designing your blog is an important step in creating a beautiful and user-friendly website. Here are some tips for designing a blog that looks great and is easy for readers to navigate:
Keep it simple: When it comes to blog design, less is often more. Choose a clean and simple design that doesn't overwhelm readers with too many colors, fonts, or graphics.
Use white space: White space is the area of your website that's left blank, and it's important for creating a clean and uncluttered look. Use white space to separate elements on your page and make your content more readable.
Choose a color scheme: Choose a color scheme that reflects your brand and complements your content. Stick to a few main colors and use them consistently throughout your website.
Use easy-to-read fonts: Choose fonts that are easy to read and don't strain the eyes. Stick to basic fonts like Arial, Helvetica, and Times New Roman.
Make it mobile-friendly: With more and more readers accessing websites on their mobile devices, it's important to ensure that your blog is mobile-friendly. Choose a responsive design that adjusts to different screen sizes and load times.
Include social sharing buttons: Make it easy for readers to share your content on social media by including social sharing buttons on your posts.
Use images and graphics: Use high-quality images and graphics to add visual interest to your posts. This can help break up text and make your content more engaging.
By following these tips, you can create a blog that not only looks great, but is also easy for readers to navigate and enjoy.
Promoting Your Blog: Strategies for Getting Your Content Seen
Promoting your blog is crucial for getting your content seen and reaching a wider audience. Here are some strategies for promoting your blog and increasing traffic to your website:
Utilize social media: Share your blog posts on social media platforms like Twitter, Facebook, LinkedIn, and Instagram to reach a wider audience. Use hashtags and relevant keywords to make your posts more discoverable.
Engage with other bloggers: Engage with other bloggers in your niche by leaving comments on their posts and sharing their content. This can help build relationships and increase your own visibility.
Guest post on other blogs: Guest posting on other blogs in your niche is a great way to reach a new audience and establish yourself as an expert in your field.
Use email marketing: Build an email list and use it to promote your blog posts and special offers. Be sure to include a call-to-action in your emails that encourages subscribers to visit your website.
Optimize for search engines: Use search engine optimization (SEO) techniques to improve your website's visibility in search engine results pages (SERPs). This includes using relevant keywords in your content and optimizing your website's structure and design.
Participate in online communities: Join online communities and forums related to your niche and share your content. Be sure to engage with other members and offer valuable insights to build trust and establish yourself as an expert.
Collaborate with others: Collaborate with other bloggers, influencers, and brands to reach a wider audience and increase your visibility.
By using these strategies, you can effectively promote your blog and increase traffic to your website. Remember to focus on building relationships and providing value to your audience, and the results will follow.
Monetizing Your Blog: Turning Your Passion into Profit
Monetizing your blog is a great way to turn your passion for blogging into a profitable business. Here are some ways you can monetize your blog:
Advertising: You can place ads on your blog using platforms like Google AdSense or by partnering with brands directly. This can provide a steady stream of passive income.
Affiliate marketing: Affiliate marketing involves promoting other companies' products and earning a commission for any sales made through your unique affiliate link. This can be a great way to earn money without creating your own products.
Sponsored content: You can partner with brands to create sponsored content, such as blog posts or social media posts, that promote their products or services.
Digital products: Creating and selling your own digital products, such as eBooks, courses, or printables, can be a lucrative way to monetize your blog.
Services: You can offer services related to your niche, such as coaching or consulting, and promote them on your blog.
Membership or subscription model: You can offer exclusive content or resources to subscribers for a monthly or yearly fee.
Donations: You can add a donation button to your website and ask your audience to support your content.
When monetizing your blog, it's important to choose strategies that align with your values and goals. Be sure to disclose any sponsored content or affiliate links, and prioritize providing value to your audience over making a quick profit.
With dedication and hard work, you can turn your blog into a profitable business.
Staying Consistent: Tips for Maintaining Your Blog and Building Your Audience
Staying consistent with your blog is key to building and maintaining your audience. Here are some tips for staying consistent with your blog:
Set a schedule: Set a regular posting schedule, whether it's daily, weekly, or monthly, and stick to it. This helps your audience know when to expect new content and establishes trust and reliability.
Plan ahead: Create an editorial calendar to plan out your content in advance. This can help you stay organized and ensure that you have content ready to publish on schedule.
Repurpose content: Repurpose old content by updating it or turning it into a new format, such as a video or infographic. This helps you save time and still provide valuable content to your audience.
Engage with your audience: Respond to comments and messages from your audience, and consider asking for feedback or suggestions for future content. This helps build a sense of community and encourages engagement.
Collaborate with others: Collaborate with other bloggers, influencers, or brands to create new content and reach a wider audience.
Take breaks when needed: It's important to take breaks and prioritize self-care to avoid burnout. Consider scheduling breaks into your editorial calendar or taking time off during slower periods.
Consistency is key to building a successful blog and maintaining your audience. By setting a schedule, planning ahead, engaging with your audience, and taking breaks when needed, you can stay consistent and build a thriving blog.
Frequently asked questions for starting a blog in India
How much does it cost to start a blog in India
You can actually start a free blog using platforms like WordPress.com. But if you want to opt for blogging as a career and eventually want to earn money blogging in India you need to become self hosted and buy domain and hosting. A good hosting like chemicloud would cost you Rs 6000 to 7000 for 3 years (36 months) so approximately less than Rs 300 per month. 
 You can also claim free domain name for the first year.
Is blogging still profitable or a waste of time
I would say Blogging (when done correctly) is still profitable. There has never been a more profitable time to start a blog in India or anywhere else in the world.
So go ahead start yours today :-). Any questions you can ask me.
You can also read this book to help you in starting  a successful blog in India
How can I start a free blog in India
In case if you want to earn money blogging I would recommend not to use free blog platforms.  
But if you really want to start a free blog use free platforms like WordPress.com and blogger. I would recommend using WordPress.com and getting started. If you need help in starting  a free blog – you can get this how to start a free blog course and follow steps.  
In my book how to earn money using blog and social media – I also talk about how you can earn money using a free blog 
How much a blogger earn in India
Blogging income can come from various sources and depends on multiple factors like traffic, niche and how much is a blogger trusted. Is he or she also an influencer. Doe he or she have hos own products
Bloggers can earn between $300 to $400 per month. Some bloggers also earn as much as $10,000 per month and some established 6 figure bloggers can earn as much as $20,0000 to $30,000 per month.
This income can come from 
Ad income
Affiliate income 
Products and Endorsements
Do bloggers get paid? If yes, how long does it take for a new blogger to earn money?
Yes bloggers do get paid. To start with you can work as a content writer for others. (Read how to become a content writer in India)
Meanwhile work on your content strategy, by learning SEO and doing keywords research.
If you learn your basics correctly, usually bloggers start making money with in 1 to 2 years. Also, if you are an influencer and already have an audience you may start making money much sooner.
I am not good at English can I start blogging in India
Yes.
Nowadays there is also demand for content writers in regional languages so you can actually use your blog to showcase your work. Also you can target keywords in regional languages.
For English you would need to know the basics and keep on improving your skills with time. 
You can also use tools like Grammarly to help you. Grammarly also helps a chrome bar extension and free version.  
What are the best blogging tips for beginners?
Pick up your niche, know your audience and their pain points, write good content, learn SEO keyword research, create your content strategy, be consistent, know the ways to earn money and treat your blog as a business.
Also Read – Best Blogging Tips for new bloggers
How often should I publish content on my blog
There is no fixed rule. More than how often you publish content, It is more important that you write in SEO optimised format, write good quality content and create a content calendar after doing keywords research.
What should I blog about? You should choose a topic that you're passionate about and have knowledge or expertise in. This could be anything from food and travel to finance or technology. You can also research popular niches and see what gaps or opportunities exist in those spaces.
How do I choose a blogging platform?
There are many blogging platforms available, including WordPress, Blogger, and Wix. Consider factors like ease of use, customization options, and pricing before choosing a platform.
How often should I post new content?
It's important to post new content on a regular schedule to maintain consistency and build your audience's trust. This could be daily, weekly, or monthly, depending on your schedule and availability.
How do I promote my blog?
There are many ways to promote your blog, including social media marketing, guest posting on other blogs, and SEO optimization. Consistency is key, so make sure to regularly promote your blog and engage with your audience.
How can I monetize my blog?
There are many ways to monetize your blog, including advertising, affiliate marketing, sponsored content, selling digital products, and offering services related to your niche.
What is Self Hosted website?
A self-hosted website is a website that is hosted on a server that you control or manage. This means that you have complete control over the website's content, design, and functionality. With a self-hosted website, you purchase your own domain name and hosting, and you have the freedom to customize your website as you see fit.
Should I buy hosting from Godaddy or Bluehost
In above two – I would go for Bluehost.
Both GoDaddy and Bluehost are popular web hosting providers, and both offer a range of hosting options, including shared hosting, VPS hosting, and dedicated hosting. When deciding between the two, it's important to consider your specific needs and budget.
Here are some factors to consider when choosing between GoDaddy and Bluehost:
Pricing: Both companies offer competitive pricing for their hosting plans, but the cost may vary depending on the specific plan and any promotional offers available at the time of purchase.
Features: Both GoDaddy and Bluehost offer a range of features and tools to help you build and manage your website, including a website builder, domain registration, email hosting, and more. Be sure to compare the specific features included in each hosting plan to determine which one best fits your needs.
Performance: The performance and uptime of your website are crucial factors in the success of your online presence. Both companies have a strong reputation for reliability and uptime, but it's worth researching user reviews and performance benchmarks to compare the two.
Customer support: Quality customer support is important in case you run into any technical issues or need assistance with your hosting. Both GoDaddy and Bluehost offer 24/7 customer support via phone, email, and live chat, but again, researching user reviews and feedback can give you a better idea of their respective support quality.
What if I buy hosting and do not like it?
Most web hosting providers offer a money-back guarantee or a trial period for their hosting plans. This means that if you purchase hosting and are not satisfied with the service or features, you can typically cancel your account and receive a refund within a certain time frame.
The refund policy may vary between hosting providers, so it's important to read the terms and conditions carefully before making a purchase. Some providers may offer a full refund within the first 30 days, while others may only offer a partial refund or a credit towards a future purchase.
If you are not happy with your hosting service, the first step is to contact the hosting provider's support team and explain the issue. They may be able to help you resolve the issue or provide additional support. If you are still unsatisfied, you can typically cancel your account and request a refund.
It's important to note that some hosting providers may have cancellation fees or other terms that affect the refund process, so be sure to review the terms and conditions before making a purchase. Additionally, it's a good idea to research user reviews and feedback to get an idea of the hosting provider's reputation for customer service and support.
Should I move to self hosting ?
Whether or not to move to self-hosting depends on your specific needs and goals for your website. Self-hosting gives you more control and flexibility over your website, but it also comes with more responsibility and technical knowledge.
Here are some factors to consider when deciding whether to move to self-hosting:
Control and flexibility: With self-hosting, you have more control over your website's design, features, and functionality. You can choose your own domain name, customize your website's appearance, and install any plugins or tools you need to enhance your site.
Cost: Self-hosting requires you to pay for web hosting, which can be more expensive than using a free or hosted platform. However, the cost can vary depending on the hosting provider and the specific plan you choose.
Technical knowledge: Self-hosting requires some technical knowledge, such as setting up a hosting account, installing WordPress or another CMS, and maintaining your website's security and performance.
Support: With self-hosting, you are responsible for maintaining your website and addressing any technical issues that arise. However, most web hosting providers offer support and resources to help you manage your website.
Monetization: If you plan to monetize your website through advertising, affiliate marketing, or other means, self-hosting gives you more control over the placement and management of these monetization methods.
Ultimately, the decision to move to self-hosting depends on your specific needs and goals for your website. If you are looking for more control and flexibility over your website and are comfortable with the technical aspects of self-hosting, it may be a good choice for you.
Should I buy paid plans from WordPress.com?
My recommendation would be No. Rather than buying paid plans from WordPress.com you can actually take domain and hosting from provers like chemicloud.
However, if you prefer a simpler and more user-friendly approach, a free or hosted platform may be a better fit.
Whether or not to buy a paid plan from WordPress.com depends on your specific needs and goals for your website. WordPress.com offers a range of plans, from free to paid, each with different features and capabilities.
Starting a blog in India can be a rewarding and profitable venture. By choosing a niche you're passionate about, choosing a blogging platform, creating quality content, and promoting your blog, you can build a loyal audience and monetize your blog over time.
Also Read – Top Mommy Bloggers in India