Wondering if it is a good idea to read during pregnancy? or what kind of
books to read? Here we have answers to all your questions regarding the best books to read during pregnancy! Reading is a great thing, and trust me you may not really find the luxury of time to read post-delivery. So, savor each moment, and read on…
Just when people come to know of a pregnant woman, they start with
unsolicited advice. The books and websites are full of information, telling you
what to eat, what not to eat, what kind of hospital to choose, how to write a
birth plan; why water birth, why not a c-section! From birthing to
breastfeeding to diapering to baby's food and potty training, welcome to a
whole new world- a world of free advice!
Is it good to read books during pregnancy?
Yes, reading books during pregnancy does benefit. At around 18 weeks of pregnancy, the baby starts hearing their first sounds, and hearing rapidly develops from then on. The baby even starts recognizing voices. It is definitely a good idea to read and sing aloud to your baby during pregnancy. It is a great way to bond. How exciting that they will recognize your voice right when they are born.
Reading during pregnancy can help you relax and de-stress.
Checkout this TRENDING Article on>>> EASY PREGNANCY TIPS FOR NORMAL DELIVERY <<<
If you are in a hurry, then you must take a quick look at this table to know our handpicked Pregnancy books.
What type of book should I read during pregnancy?
You can choose a mix of different genres, as it will help you in your journey.
It totally depends upon the pregnant mother's taste and preference. Some like to read spiritual books, some turn to religious scriptures. Some pick up fiction books while most grab pregnancy and parenting books.
Best Pregnancy Books for First-time Parents
Here we have put together some very popular, loved, and recommended books for to-be parents. We hope you find these helpful during your pregnancy and parenting journey.
Pregnancy Notes: Before, During & After by Rujuta Diwekar
In this book, Rujuta Diwekar takes you through Pre-pregnancy, pregnancy, childbirth, and early motherhood. She shares tips for each stage. Each stage includes notes on food, exercise, and recovery. The book also has heritage recipes from across the country and from years ago, what you would call the wisdom of grandmothers. This is a must-have guide for every woman.
A must-have, necessary Guide for every pregnant Indian Woman- Best Book to read during pregnancy.
Passport To A Healthy Pregnancy- Dr. Gita Arjun

Indian couple. A must-have book to comprehend, tackle and enjoy the various
stages of pregnancy, this book demystifies pregnancy with easy-to-understand
language and simple graphics and illustrations.
This can be a go-to pregnancy guide for the modern
Get this book for free at Kindle unlimited >>> Passport To a healthy Pregnancy<<<
Nurture: A Modern Guide to Pregnancy, Birth, Early Motherhood and Trusting Yourself and Your Body
The Author, Erica Chidi is a doula, lactation counselor, and a trained chef. She is also the co-founder and CEO of LOOM, providing education, services, and inclusive community to the reproductively-curious, pregnant, and parenting. The book is a doula's account of pregnancy and baby care.
The book also garnered a lot of flak as it has endorsed alternate medicines and is also said to have unverified/unproven information. However, it also has many great reviews.
The Mama Natural Week-by-Week Guide to Pregnancy and Childbirth
Top 10 things you'll get to learn in this book:
Your perfect pregnancy diet (with weekly recipes)
How to ditch toxins in your beauty & cleaning routine
Natural remedies for common pregnancy symptoms
The truth about epidurals (and other interventions)
How to create your birth "dream team"
How & Why to eat for your placenta (or not)
Natural pain relief during labor
What to do during each stage of labor
Tips to navigate all those newborn interventions
How to start breastfeeding
What to Expect When You Are Expecting?
This one is one of the most popular pregnancy guides.
What to Expect When You Are Expecting was named one of the 'Most Influential Books of the Last 25 Years' by USA Today. Advice for Dads is fully integrated throughout the book. All medical coverage is completely updated, including the latest on prenatal screening and the safety of medications during pregnancy, as well as a brand-new section on postpartum birth control. Current lifestyle trends are incorporated, too. Plus it has expanded coverage of IVF pregnancy, multiple pregnancies, breastfeeding while pregnant, water and home births, and cesarean trends (including VBACs and 'gentle caesareans').
However, having gone through many reviews, many new parents feel that this book is over-rated
Check out The Best Pregnancy Book for first-time moms – An ultimate pregnancy guide for all parents.
Ayurvedic Garbha Sanskar (English)- Shri Balaji Tambe
This book, originally written in Marathi, 'Ayurveda Garbha Sanskar' serves as a complete guide to couples planning to start a family, starting out by getting pregnant, giving birth to a healthy child to looking after their baby.
Pregnancy – Nutan Lakhanpal Pandit
Nutan Pandit's 'Pregnancy' aims to educate expecting and new mothers about the entire process of pregnancy and tries to uproot certain existing myths and fears associated with it.
The book has good reviews, however, some of the readers of this book have rejected it on the account of lack of evidence and scientific backing.
What No One Tells You: A Guide to Your Emotions from Pregnancy to Motherhood
In What No One Tells You, two of America's top reproductive psychiatrists reassure you that the answer is yes. With thirty years of combined experience counseling new and expectant mothers, they provide a psychological and hormonal backstory to the complicated emotions that women experience.
Spiritual Books to Read During Pregnancy
The time of pregnancy is not only important for the parents but also for the child. Our mood, mental state, and physical health all are important and have a positive or adverse effect on the well-being of our unborn child. If you look back into mythological stories "Prahlad", the Asur prince became an ardent devotee of Lord Vishnu due to his mother's faith in God while she took shelter in the heavenly abode, there were sacred chants and bhajans in Lord's prayers and thus Prahalad became a Vishnu Devotee.
The Complete Book of Yoga : Karma Yoga, Bhakti Yoga, Raja Yoga, Jnana Yoga by Swami Vivekanand
Yoga, with its origin dating back to ancient India, has always been considered a pathway of achieving moksha. This edition combines the four paths of yoga as expounded by Swami Vivekananda in the nineteenth century. They include the three yogas mentioned in the Bhagvat Gita—karma yoga, bhakti yoga, and jnāna yoga—and Raja yoga, which is based on Maharshi Patanjali's yoga sutras, and together they speak to the active, the emotional, the mystic, and the philosophical inside us
The Complete Book of yoga- One of the Best Spiritual Books to read during Pregnancy
You can also check out this astounding collection at an unbeatable price- Best of Swami Vivekanand books
Expecting a baby soon or trying to get pregnant- Read about these SILLY MISTAKES that even SMART women make during their pregnancy >>> Mistakes to avoid during Pregnancy <<<
Best Mythological Books for pregnant women
Mythological stories are full of lessons. they talk about values, courage, and much more. Here we have put down a few books based on our experience and recommendations from parents all across the globe.
Check out some of my favorite books here; highly recommend these- The best books from mythology to read during pregnancy
Mythology With Sudha Murthy
Here is a bundle of Books by Sudha Murty, unusual, untold tales from Hindu mythology- Mythology with Sudha Murty
Bestselling author Sudha Murty takes you on a tour to a different era, telling you stories from the days when demons and gods walked alongside humans, animals could talk and gods granted the most glorious boons to common people.
Don't miss this awesome deal on this set of four books- click here>>> Bestbooks on Hindu Mythology for pregnant women <<<
Ramayana Versus Mahabharata: My Playful Comparison
Devdutt Pattanaik, India's most popular mythologist, explores the similarities and dissimilarities between the two epics in a 'playful analysis' accompanied by his signature illustrations. Whether it is the family structure, forest exile, or war, the comparison between the two epics proves a startling point—the Mahabharata is in fact a reaction to the events in the Ramayana.
Check the book reviews here >>> Ramayana Versus Mahabharata <<<
Hanuman Chalisa (Deluxe Silk Hardbound)
Starting your day with Hanuman chalisa will set your mood positive and you will feel energetic the whole day.
If you don't have Hanuman chalisa at home you can get your hands on this beautiful deluxe silk hardbound hanuman Chalisa
Self- Help / Motivational Books to read during pregnancy
If you have been waiting to introspect and change how you think, now is the time. Pregnancy for some can be a roller coaster ride needing a lot of physical and emotional support. Motivational books help you get a different perspective and can make you feel better. Here we have listed some best-selling books.
The Secret by Rhonda Byrne
A must-read for all the good things that are yet to unfold, this book will give you an altogether different perspective
Get a copy of this Life-Changing book – The Secret by Rhonda Byrne
The book makes proper use of the 'law of attraction' and shows how positive thinking can open a treasure trove of bountiful happiness, health and wealth. The book posits the law of attraction as a primeval law that completes the law of the universe (as well as our lives) through the process 'like attracts like. The author is also of the view that as people think and feel, so do they send a corresponding frequency to the universe that in turn attracts events and circumstances of the same frequency.
The Power Of Your Subconscious Mind
Dr. Joseph Murphy answers these questions in his bestselling self-help book The Power of Your Subconscious Mind. He reveals the innate powers of the subconscious mind by fusing his spiritual wisdom and scientific research. The Power of Your Subconscious Mind is one of the most inspirational guides of all time. It has helped millions across the globe achieve extraordinary goals and bring drastic improvements in their lives.
The Alchemist by Paulo Coehlo
This is one of my favorite books and an all-time classic by Paolo Coehlo. The book through a story talks about following one's dreams.
Paulo Coelho's enchanting novel has inspired a devoted following around the world. This story, dazzling in its powerful simplicity and inspiring wisdom, is about an Andalusian shepherd boy named Santiago who travels from his homeland in Spain to the Egyptian desert in search of a treasure buried in the Pyramids.
Don't miss checking this most enchanting and classical work by Paolo Coehlo- Inspirational Book to read during pregnancy
If you like Paolo Coehlo Books then you must grab this Essential Paolo Coehlo BoxSet, a pack of 6 inspiring books.
The Magic- Rhonda Byrne
We all fail to realize the purpose of our life. We do live and fulfil most of our dreams, yet feel something missing within us. This feeling of being lost and wandering around often comes without any answers which can get frustrating and draining. This is exactly why we all need some 'magic' in our life to help us out. This is where Rhonda Byrne's 'The Magic' enters the fray.
This one powerful book that you must read – click here to check the book Best self-help book
The Magic is a sequel to the author's second book, The Power. Like all other previous books of the author, this one too is a life-altering book that takes you on a self-help journey to spiritual enlightenment.
You can get the set of – The Secret, The Power and The Magic here- Click Here
Fictional books about Pregnancy and childbirth
To enjoy your pregnancy phase, it is a great idea to watch nice movies and read some fiction books. Here are a few books on pregnancy and childbirth. Do note that these are fictional books, if you find any part too heavy or serious, affecting your mood; just give it a pass.
Eleven Hours
Eleven Hours is the story of two soon-to-be mothers who, in the midst of difficult labor, are forced to reckon with their pasts and re-create their futures.
The book has an accurate medical description and great storytelling; with the perfect portrayal of labor and childbirth. Would not recommend it for a woman nearing labor or due date, but, this book can make a great read during pregnancy.
I am Pregnant, Not Terminally Ill You Idiot!!
This book does not talk about how the fetus grows, how to have an easy delivery, how to breastfeed, etc. There are so many books about these important topics. This book, however, interestingly captures how the typical Indian family, friends, and colleagues react when they come to know that a woman is pregnant. How a pregnant woman is given an overdose of advice by every relative and friend in the world. Also talks about gassiness, incontinence, morning sickness, sexual desires, mood swings, and all that a woman goes through during her pregnancy. The book also covers the bitter truth and politics behind normal and Caesarean deliveries and breastfeeding. The writing is frank and loaded with humor. This book is for those who want to what it's really like to have a baby.
Pregnancy Books in Hindi
Most of the above-listed books are published in Hindi and other regional languages too. The most popular Pregnancy Books in Hindi are listed here.
If you are looking for audio CDs then this one is the most popular Pregnancy Audio CD in Hindi
Best Books for Babies Brains
Reading good books, such as the ones listed above, will help you stay calm and happy. There are a few other books too that guide parents on how to improve a baby's brain function during pregnancy, below we have listed those too.
Brain Health From Birth: Nurturing Brain Development During Pregnancy and the First Year
This book very well explains the role of vitamins and supplements in pregnancy which is extremely interesting and not available readily. Also, the book teaches the vital importance of Choline during pregnancy and breastfeeding. Not many people in the field of health and nutrition have any idea about choline, forget about its importance.
If you're looking for a book that covers nutrition and particularly vitamins during pregnancy and breastfeeding this is a good book to read, with evidence-based reviews and clear summaries.
However, I wished that this book covered more on nurturing the child than just about nutrition. There was very little information covering topics like stimulation and nurturing the unborn baby.
Talking To The Baby In The womb- Garbha Vidya
This book utilizes gems from ancient wisdom and modern science. Easy to read and full of real-life stories that authenticate the techniques shared in the book.
You can check the raving reviews this book has received- "Talking to the baby in the womb"
When is the best time to start reading to a baby?
Right from 2nd /3rd trimester. I am sure you have read about Abhimanyu and
how he learned to crack the Chakravyuh.
Legend has it when Abhimanyu was in his mother's womb, he learned about entering the chakravyuh (one of the battle formations), but before Arjun could tell about exiting it, Subhadra (Abhimanyu's mother), fell asleep and Abhimanyu could not learn to come out of
it.
What kind of books should a mother read during pregnancy?
A mother's mental state is important for a baby's growth and health and hence it is recommended to read books that will make the mother happy and positive. A pregnant woman thus should refrain from reading books that cause anxiety or stress.
How can I increase my baby's IQ in the womb?
You can increase your baby's IQ by eating the right and healthy food, staying happy, and practicing yoga and meditation.
Here are some more things that you can do to increase your baby's IQ in the womb- talk to your unborn baby, play music, meditate and stay happy.
If you are interested in child development, you may find this book useful- Brain Rules for Baby: How to Raise a Smart and Happy Child from Zero to Five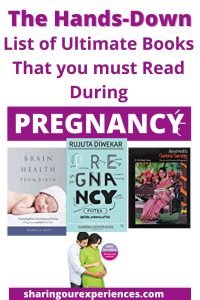 If you liked this article, you may also like our TRENDING ARTICLE ON >>> Unique Indian baby names <<<
Free books to read during pregnancy for baby brain development
There are a few key things that you can do during pregnancy to help support your baby's brain development. One of those is reading! Pregnancy is a great time to start or continue reading habits. It's a low-impact activity that you can do almost anywhere, and it's great for your baby's development.
Reading during pregnancy has been linked with improved brain development in babies, increased IQ scores, and even better sleep patterns. So, if you're looking for ways to give your baby a head start, reading is a great option.
There are tons of great books to choose from, but if you're looking for some specifically about pregnancy and baby brain development, check out these free books:
These are free with audible trial so you can listen to them – click here to get your free trial now
2. "Brain Rules for Baby (Updated and Expanded): How to Raise a Smart and Happy Child from Zero to Five" by John Medina
3. "The Whole-Brain Child: 12 Revolutionary Strategies to Nurture Your Child's Developing Mind" by Daniel J. Siegel and Tina Payne Bryson
Inspirational stories to read during pregnancy
Pregnancy is an amazing time in a woman's life. Your body is changing and you are bringing new life into the world. It can be easy to get caught up in the physical aspects of pregnancy, but it is important to remember the emotional and mental aspects as well. Reading inspirational stories during pregnancy can help you stay positive and focused on the wonderful things that are happening in your life.
"The Giving Tree" by Shel Silverstein is a classic story that can be read at any stage of pregnancy. This story is about a tree that gives everything it has to a young boy, even when he no longer needs it. The story reminds us that we should always be grateful for what we have, and that we should never take anything for granted.
Reading inspirational stories during pregnancy can help us stay positive and focused on the amazing things that are happening in our lives. These stories can remind us of the strength of a mother's love, and how we can overcome any obstacle if we just have faith. If you are looking for some great stories to read during pregnancy, be sure to check out the ones listed above. You won't be disappointed!
These are just a few of the great books out there on the subject. So, whether you're a first-time parent or a seasoned veteran, pick up a few of these books and start reading! Your baby will thank you later.