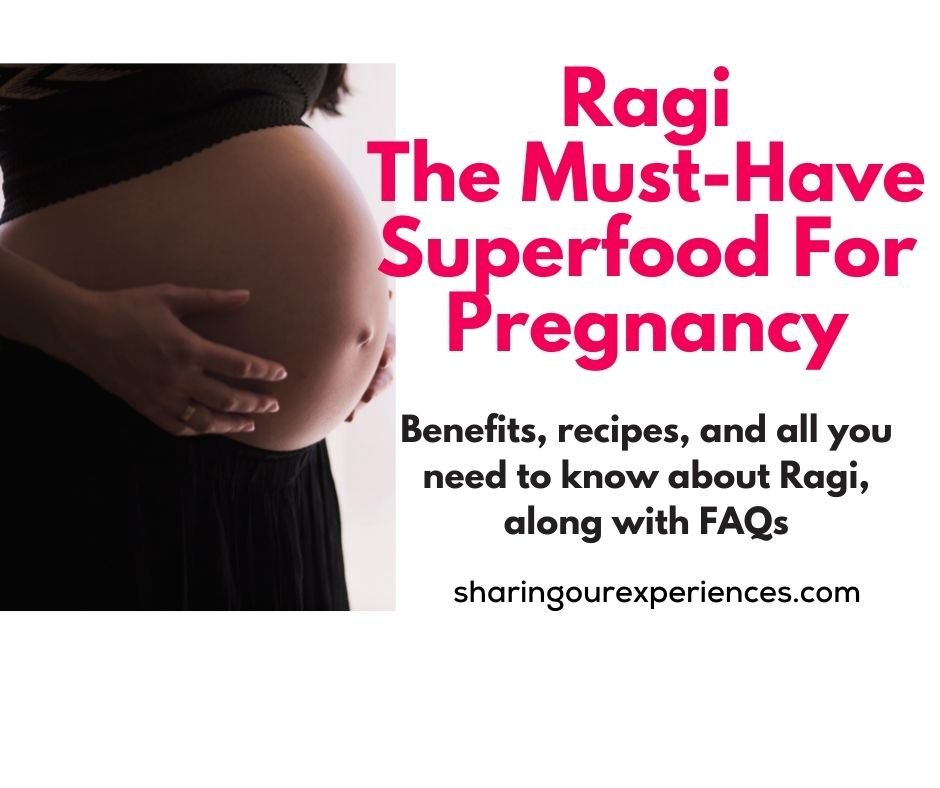 Ragi during pregnancy comes with a lot of health benefits. While pregnant women are asked to consume healthy foods, they must also be cautious about what to eat, what not to eat, and what not to eat. You generally get a lot of suggestions on what to eat and what not to eat during pregnancy. However, owing to its health benefits, ragi during pregnancy is recommended by many doctors and also health experts. 
Eating ragi during pregnancy has a plethora of benefits for pregnant women as well as the unborn child. It comes with a richness of essential minerals and nutrients. It is a known fact that the unborn baby gets all its nutrients from the pregnant mother. Hence during your pregnancy, you must make it a point to eat healthy foods that provide you with the required components. 
In this article, we have covered everything you need to know about ragi during pregnancy and why it is important.
What Is Ragi? 
Ragi is a nutritious millet that appears to be like mustard seeds. It is a rich source of protein, iron, calcium, and fiber. It is considered a valuable mile as it is a rich source of amino acid methionine. Ragi is known by many names such as finger millet in English, ragi in Kannada, Panaji pullu in Malayalam, ragulu in Telugu, Marwa in Bengali, and Nepali,nachni in Marathi and Gujarati kelvaragu or Keppai in Tamil and mandika in Hindi.
Ragi is a rich source of carbohydrates. It is consumed in its purest form as it is too tiny to be polished or processed. Ragi is gluten-free and hence can be included as a part of the diet for those who are gluten or lactose intolerant. Ragi is also a good source of iron making it ideal for pregnant women. You can eat ragi during pregnancy in the form of dosa, idli, chapati, etc. 
Nutritional Value Of Ragi
Ragi comes with a wide variety of micro and macronutrients along with the essential fats, protein, and minerals that are required for a pregnant woman. It is one of the superfoods that need to be consumed by pregnant women. A significant amount of amino acids such as isoleucine, tryptophan, threonine, methionine, and valine are easily available in this tiny little food. 
Ragi contains low-fat content and includes mainly unsaturated fat. 100 grams of Finger millet has roughly an average of 336 KCal of energy in them. 
Top Rated Ragi Flour on Amazon
100 gram of ragi contains
19.1 grams total dietary fiber
102 milligrams total phenol
72.6 grams carbohydrates
344 milligrams calcium
283 milligrams phosphorous
3.9 milligrams iron
137 milligrams magnesium
11 milligrams sodium
408 milligrams potassium
0.47 milligrams copper
5.49 milligrams manganese
2.3 milligrams zinc
0.42 milligrams thiamine
0.19 milligrams riboflavin
1.1-milligram niacin
What Is Ragi Malt?
The benefits of drinking milk during pregnancy are numerous. Those who do not like milk can consume ragi malt where the sprouted ragi flour is cooked with milk. In case you are allergic to milk, you can add sprouted ragi flour to water and avail of its benefits. This is a health drink that comes with a plethora of health benefits. This drink helps to reduce body heat, mouth ulcers, indigestion, and constipation. Consuming sprouted ragi during pregnancy has a lot of benefits for pregnant women as well as the baby to be born. 
Ragi is a Super Food with plenty of nutrients as we have seen above, and the process of malting improves the Digestibility.
Ragi Malt Brands Available Online
Ragi Malt can be used in Milk or just as flour. Check out the most >> popular Ragi Malts available online << Click here to check awesome deals on Ragi Malt.
How To Prepare Ragi Malt
Mix 4 tablespoons of ragi flour with 1 ½ cups of water. Make sure there are no lumps.
Turn on the stove and keep stirring to avoid lump formation. 
Keep stirring until the mixture turns glossy and thick.
Add jaggery or sweeter at this stage and keep stirring for a couple of minutes.
You can consume this by adding pre-boiled milk along with almond powder or dry fruit powder. Mix once to make it smooth.
For the salted version, after the ragi flour is cooked in water and turns glossy, cool it completely. Add salt and buttermilk to get the desired consistency. 
12 Amazing Health Benefits Of Eating Ragi During Pregnancy
It is important to include ragi during pregnancy as it comes with health benefits not only during pregnancy but also after delivery. Ragi comes with all the essential macronutrients such as carbohydrates, fibers, fats, and proteins.  It also contains a good amount of micronutrients such as vitamins and minerals. 
Ragi is also a fiber-rich food that can be used as an alternative to cereals such as rice, wheat, and barley. Since ragi is a rich source of iron and calcium, it is helpful to stimulate milk production and balance hormonal activities in expecting women and young mothers. 
Listed below are the benefits of consuming ragi during pregnancy. 
1. Rich in calcium
Ragi is a rich source of calcium — which is an important component for the development of teeth and bones in the child. Since the baby gets all its essential sources of nutrition from its mother, pregnant women must consume an adequate amount of calcium during pregnancy. It also helps to gain fetal weight. Including ragi porridge as breakfast is a great way to start the day. 
2. Richness in fiber 
Constipation is one major concern of every pregnant woman. They face this problem anytime during pregnancy. Eating fiber-rich foods such as ragi during pregnancy helps the mom to escape from this issue. Also, since it's natural for the growing fetus to apply pressure on your intestinal region, it is natural to experience irregular bowel movements. Consuming ragi helps to combat this problem and ease bowel troubles. 
3. Improves sleep 
Sleep deprivation is a common trouble for pregnant women, especially during the second and third trimesters. The presence of amino acids will help to improve the quality of sleep along with – tryptophan while consuming ragi during pregnancy.
4. Rich  in iron
Iron is a crucial element throughout the pregnancy for both the mother and the fetus. A lot of iron is required throughout the pregnancy for the production of red blood cells. Red blood cells are required to carry oxygen throughout the body for the mother and the fetus. Hence the requirement of iron multiples while the moms are expecting. That is the reason many doctors prescribe iron supplements. 
5. Good source of natural fat
Ragi is a great source of natural fat which is a great source of energy. Since pregnant women require a lot of energy, they tend to eat a lot of unhealthy fat which would lead to excessive weight gain causing health issues such as hypertension, diabetes, and heart-related issues. Ragi is a natural fat that helps to gain a healthy weight and is also beneficial to your health. 
6. Aids lactation 
Pregnant and new mothers should consume ragi regularly as it is a good source of iron, calcium, and amino acids. This helps to ensure that there is enough breast milk from the first day of delivery and there are no signs of a low milk supply. 
7. Helps reduce gestational diabetes 
The polyphenol content in ragi helps to reduce the chance of getting gestational diabetes. Since pregnant women are prone to the risk of gestational diabetes, it is advised to consume ragi during pregnancy. 
8. Helps control cholesterol 
Cholesterol levels need to be maintained under control which is crucial for both the mom and the baby's health. High cholesterol leads to hypertension which puts the mother at risk during delivery. Lecithin and Methionine are good sources to control cholesterol which are very much available in ragi. 
9. Prevents anemia 
While anemia is a common problem, it could cause a serious threat to pregnant ladies if they are already suffering from it. Since red blood cells are crucial for the development of the fetus, consuming foods that are rich in iron and vitamin C is the best solution. The optimal absorption of iron is necessary to do this. Since ragi is a rich source of Vitamin C, it helps in optimizing iron absorption to cure anemia. 
10. Helps to relieve stress 
Stress is common during pregnancy. While it is mostly related to physiological issues, sometimes it could also be due to hormones. Since ragi is a good source of amino acids, it helps to reduce stress and depression faced by pregnant women. 
11. Great source of protein and mineral
Ragi is one superfood that must be consumed during pregnancy due to its richness in protein and minerals. Finding the right source of protein could be a challenge for vegetarians. Just by eating ragi daily, a pregnant woman can meet the required minerals for her and the baby to be born.
12. It is gluten-free
Allergy is a common issue for many women. Due to this, they prefer to follow a gluten-free diet. Since ragi is gluten-free, it makes it safe for pregnant women to consume ragi during pregnancy. 
How To Eat Ragi During Pregnancy
There are various ways through which you can consume ragi during pregnancy. Be it as idli, porridge for breakfast, ragi malt during the day, or dosas or rotis during the nights. Since ragi is a versatile food, it is easy to make any dish out of it. You can also use it as an option for a quick meal or easy snack. 
Though ragi comes with all essential nutrients such as protein, calcium, and amino acids which aid the growth of the fetus, you must be mindful regarding your intake. Make sure not to use too much oil or spice as it might make the dish unhealthy. And always remember the rule to consume any food in moderation only. 
A few recipes for you to enjoy ragi during pregnancy. 
Ragi Dosa Recipe
Take 1 cup ragi flour, 1 cup Rava, and ½ cup rice flour along with add ½ cup curd, 1-inch ginger, 1 green chili, a few curry leaves, 2 tbsp coriander, 1 onion, 1 tsp cumin, ½ tsp pepper, and 1 tsp salt.
Make the lump-free batter by adding 1-2 cups of water to the mix.
Let the batter rest for 15-20 minutes. 
You can prepare a flowing consistency by adding 1 ½ cups or more cups of water. 
Pour this batter on a hot Tawa and sprinkle 1 tsp of oil around the batter.
Once the dosa turns golden brown, flip it to cook on the other side.
Serve instant dosa with mint or coconut chutney.  
Ragi Ladoo
Take 1.5 cups of ragi flour in a Kadai or thick-bottomed broad pan and keep roasting it.
Roast for 6 to 8 minutes until the color changes and you get a good aroma. 
Add 1/3 cup ghee to the flour and mix until the ghee melts.
Keep on stirring and roasting this mixture again for 5 to 7 minutes. 
The ragi should taste crunchy and the rawness should have gone by now. 
Switch off the flame.
Add 1/2 teaspoon cardamom powder and add 3/4 cup jaggery powder and keep mixing to avoid lumps.
Use your hands to mix this well once the mixture is cooled. 
Take a portion and try to shape it into ladoos. In case you are unable to get the shape, you may add a few tbsp of ghee to get the desired shape.
Store ragi ladoo in an airtight jar or container and enjoy eating it daily.
Potential Precautions And Risks When Eating Ragi During Pregnancy
Though ragi comes with a lot of health benefits, excessive intake of anything beyond the recommended amount could turn out to be dangerous as consuming too much ragi during pregnancy could lead to problems like bloating, gas, diarrhea, and constipation. 
For those who already have an existing kidney problem, it's better to limit or stop consuming Ragi. The high protein content of ragi can affect the kidney functioning of their body.
For those who go through stomach issues, ragi could bring in side effects such as diarrhea and stomach gas. In case you experience gas problems, you should strictly avoid taking ragi frequently.
If you are suffering from thyroid complaints, the best is to avoid consumption of ragi regularly as the presence of goitrogenic compounds in it could worsen your thyroid conditions. 
FAQs
Does eating Ragi during pregnancy make the baby dark?
Consuming ragi during pregnancy has a lot of benefits for your health and is in no way associated with the skin complexion of your baby. The color of your baby depends upon the genes of both parents and foods consumed by you have no role in it. 
How much Ragi is safe during pregnancy?
Ragi during pregnancy comes with a plethora of benefits and it is advised to consume it daily but at an optimum amount. You can talk to your doctor or gynecologist regarding the quality intake as they know your existing health conditions. Sprouted ragi is a better source of nutrients while you plan to consume ragi during pregnancy. However, anything in moderation is always the key to a happy pregnancy. 
Is ragi hot or cold for the body?
Ragi helps to cool your body from the inside. Many people prefer to eat ragi during winter as it helps to keep your body warm.
Who should not eat ragi?
Ragi is not recommended for those who have issues such as constipation, diarrhea, thyroid, and kidney-related problems as it could cause an adverse effect on the existing conditions. 
Is ragi good during pregnancy in the third trimester? Can we eat it daily?
Ragi can be consumed throughout pregnancy and is a safe and nutritious food however, be mindful of the quantity intake as consuming too much ragi could lead to issues such as constipation, floating, diarrhea, etc. 
What are the benefits of ragi for babies?
Ragi is a rich source of calcium and helps to strengthen the bones and teeth of the baby. 
It has high nutritional value making the baby get good nutrition. 
Helps to prevent the baby from being anemic.
This superfood for babies is easy to digest.
Ragi helps to boost the immunity of babies. 
It is a recommended food for weight gain.