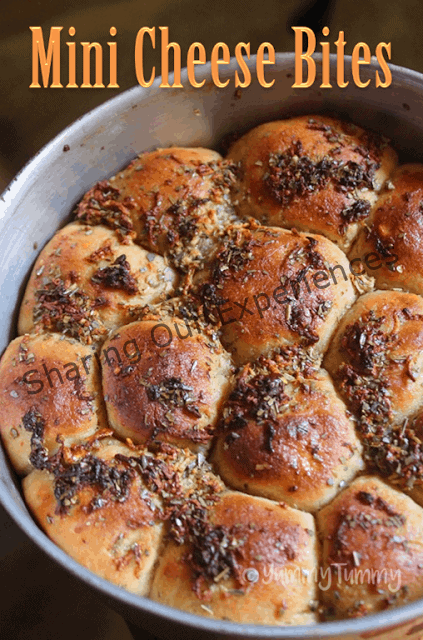 Mini Cheese Bites were truly delicious. It is made using whole wheat flour and it taste so yum.I made this yesterday also created a video for it.
Hope you will give this a try and let me know how it turns out for you..
Preparation Time : 10 mins
Resting Time : 1 hour and 30 mines
Baking Time : 15 to 20 mins
Serves: 4
Also read : Tips on Healthy Eating for Fussy Eaters
Ingredients for Whole Wheat Mini Cheese Bites 
Whole wheat flour / Atta – 1.5 cup
Dry yeast – 1 tsp
Sugar – 2 tsp
Salt – 1 tsp
Warm Water – 3/4 cup
Oil – 1 tblspn
Mozzarella Cheese – 1 cup cubed
For Garlic Butter:
Garlic – 1 tblspn minced
Butter – 1/4 cup
Oregano – 1 tsp + 1 tsp
Salt – 1/2 tsp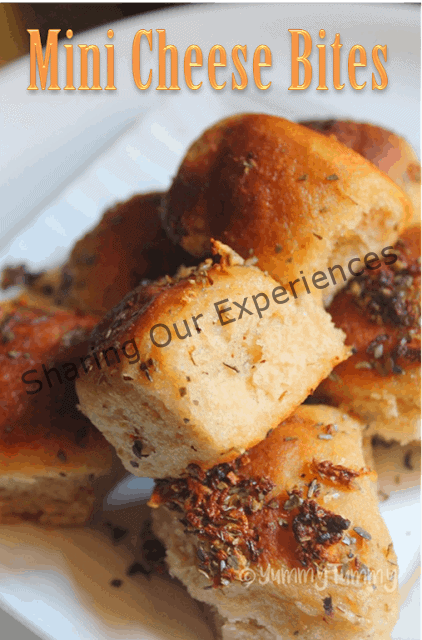 Method of preparation for Mini Cheese Bites
Take yeast, sugar and warm water in a bowl and mix well. Let it stand for 5 mins.
Now add in wheat flour, salt and mix well. Add oil and knead well for 1 mins.
Cover and let it rise for 1 hour.
While it is resting, take butter in a bowl and melt it down. Now use a brush to dip in this butter and
brush all over the baking pan, sprinkle with oregano and set aside.
Now in the remaining butter, add oregano, salt and garlic and mix well. Set aside.
Now knead it well and take it in a floured surface and knead well.
Divide it into equal portions.
Take one portion, flatten it, place a cheese cube and close it.
Arrange it in the baking pan.
Cover and let it rise for 30 mins.
During the last 10 mins or rising, Preheat oven to 220 degree C.
Now brush the top with butter and bake for 15 to 20 mins.
Remove and cool for 5 mins.
Serve !
 This recipe was first published in YummyTummy.
Also Read : Health and Fitness for Women
Liked this post ?
You may also want to try Paneer Cheese Balls Recipe
Your Turn Now
In case if you liked this article do show your support by sharing this article.
[shareaholic app="share_buttons" id="27265281″]
Like our Facebook Page and Stumble It!
Stay connected with us using your favorite social media, we can be found on

Do you want to share your crafts, parenting tips, stories, toy or book review, let us know by using comments below or mailing us on sharingourexperiencesblog@gmail.com
Add a comment
Don't you find this recipe nutritious and yummy ? Try it and let me know using comments below. Would love to hear from you.