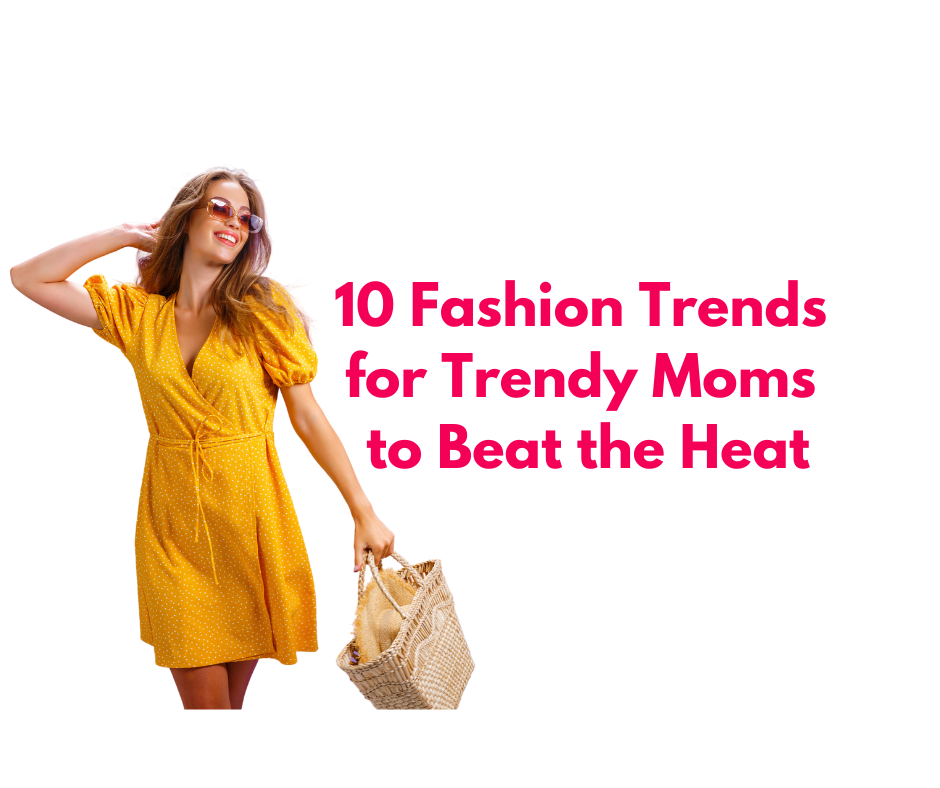 Get ready to beat the heat in style! Discover 10 fashion trends designed exclusively for trendy moms. From lightweight fabrics to vibrant prints, practical footwear, and chic swimwear, this guide has it all. Embrace summer fashion with confidence and stay on-trend while juggling your daily responsibilities. Don't miss out on this ultimate summer fashion guide for trendy moms!
When it comes to summer fashion, we've got your back, moms! No need to sacrifice comfort for style. Whether you're heading to the beach, planning a picnic, or simply running errands, these fashion-forward trends will make you the envy of other stylish moms. So, get ready to turn heads, express your individuality, and conquer the summer fashion scene with confidence!
Are you tired of feeling like your fashion choices have been hijacked by sticky popsicles, playground sand, and those "mom jeans" that are more "blah" than "wow"? I hear you, I really do. But guess what? It's time to kick those fashion woes to the curb and reclaim your stylish self this summer.
Picture this: You're standing in front of your closet, sighing at the sea of worn-out t-shirts and tired yoga pants. You want to look fabulous, but the struggle is real. Well, my friend, I've got news for you. You don't have to choose between comfort and style anymore.
I get it—being a mom is a 24/7 job, and sometimes fashion takes a back seat. But let me tell you something: you deserve to feel amazing in your own skin, no matter how chaotic life gets. And that's why I'm here to help you revamp your summer wardrobe and unleash your inner fashionista.
So, ready to rock those summer fashion trends and leave the frumpy mom stereotype in the dust? Let's dive into the exciting world of lightweight fabrics, vibrant colors, and accessories that will make you the hottest mom on the block. Together, we'll navigate through the hottest trends, make fashion a breeze, and unleash your inner style queen. Get ready to slay, mama! Let the summer fashion adventure begin.
Stay Chic and Comfy: 10 Must-Try Summer Fashion Trends for Trendy Moms
Lightweight Fabrics for Effortless Elegance
When the summer sun is blazing, the last thing you want is to feel weighed down by heavy fabrics. It's time to embrace the magic of lightweight materials that allow you to move with ease and stay cool throughout the day. Think flowing maxi dresses made of breathable cotton or linen, or opt for the breezy comfort of chambray outfits. These fabrics not only feel heavenly against your skin but also exude effortless elegance that will make heads turn wherever you go.
Bold Colors and Vibrant Prints to Make a Statement
Summer is all about vibrant energy, and your wardrobe should reflect that. Embrace bold colors and playful prints that capture the essence of the season. Picture yourself in a stunning sundress adorned with eye-catching floral patterns or sporting a tropical-inspired motif. These bold hues and lively prints not only brighten up your outfit but also infuse you with an undeniable confidence that radiates from within.
Practical and Stylish Footwear for On-the-Go Moms
As a mom, you're constantly on the move, juggling a million things at once. That's why your footwear needs to strike the perfect balance between style and practicality. Ditch the uncomfortable heels and embrace chic yet comfortable options. Slip into trendy sandals that keep your feet cool and comfortable while adding a touch of sophistication to your look. For days when you need a little more support, opt for stylish sneakers or versatile espadrilles that effortlessly transition from playground to playdate.
Effortless Layering for Versatility
Contrary to popular belief, layering isn't just reserved for the cooler months. In fact, summer presents the perfect opportunity to experiment with lightweight layers that add depth and versatility to your outfits. Consider pairing a trendy denim jacket with a breezy sundress, allowing you to easily adapt to changing temperatures throughout the day. Another option is to throw on a stylish kimono over a basic tank top and shorts ensemble, instantly transforming your look from casual to chic.
Accessories that Elevate Your Look
Accessories have the power to take any outfit from ordinary to extraordinary. Don't underestimate their ability to elevate your summer style game. Slip on oversized sunglasses that not only protect your eyes from the sun but also exude an air of glamour. Experiment with statement hats, whether it's a wide-brimmed straw hat or a trendy bucket hat, to shield yourself from the scorching rays in style. Add a pop of color and personality with a colorful scarf tied around your neck or wrist, or opt for a trendy straw bag that complements any summer ensemble.
Effortless Rompers and Jumpsuits for Instant Style
When you're a busy mom, anything that saves you time and effort is a win. Enter the ever-stylish rompers and jumpsuits that effortlessly combine fashion and convenience. These one-piece wonders offer instant style with minimal fuss. Slip into a chic romper for a casual day out, or dress up in a sophisticated jumpsuit for a summer soirée. Not only do they eliminate the hassle of matching separates, but they also make a statement on their own, ensuring you look put together without sacrificing comfort.
Embrace the Power of Prints and Patterns
Summer is the season to unleash your playful side, and what better way to do so than through prints and patterns? Embrace the boldness of stripes, whether they're horizontal, vertical, or even diagonal, to create visual interest and elongate your silhouette. Dive into the world of polka dots, which add a touch of whimsy to any outfit. And don't forget about the timeless charm of gingham, a classic pattern that exudes summer vibes like no other.
Chic Swimwear for Beach-Ready Confidence
No summer fashion guide is complete without mentioning swimwear. Whether you're heading to the beach, lounging by the pool, or enjoying a tropical vacation, you deserve to feel confident and stylish in your swimwear. Explore a variety of silhouettes, from classic one-pieces that offer a touch of sophistication to trendy bikinis that showcase your personal style. Remember, it's not just about the swimsuit itself; accessorize with a floppy hat, oversized sunglasses, and a breezy cover-up for a complete beach-ready look.
Versatile Denim for Effortless Cool
Denim is a year-round staple, but in the summer, it takes on a whole new level of versatility. Opt for lightweight denim shorts that pair perfectly with flowy tops or tank tops for a casual yet stylish look. Embrace the classic denim skirt, a summer favorite that can be dressed up or down for any occasion. And let's not forget about the timeless appeal of denim jeans—choose a cropped or wide-leg style in a light wash to keep things cool and chic.
Embrace Your Individuality and Experiment
Above all else, summer is a season of self-expression and embracing your unique style. Don't be afraid to step out of your comfort zone and try new trends that catch your eye. Remember, fashion is all about having fun and expressing your personality, so let your inner fashionista shine. Trust your instincts, experiment with different combinations, and don't be afraid to break the rules. After all, the most stylish moms are the ones who confidently embrace their individuality.
As a trendy mom, you have the power to rock summer fashion like no other. Embrace the lightweight fabrics, bold colors, and vibrant prints that define the season. Prioritize practical yet stylish footwear that keeps up with your on-the-go lifestyle. Don't be afraid to experiment with effortless layering, elevate your outfits with accessories, and embrace the convenience of rompers and jumpsuits. Dive into the world of prints and patterns, find the perfect swimwear that boosts your confidence, and make denim your summer go-to. But above all, remember to stay true to yourself and let your unique style shine through. This summer, embrace the heat in style and show the world just how fabulous a trendy mom can be.