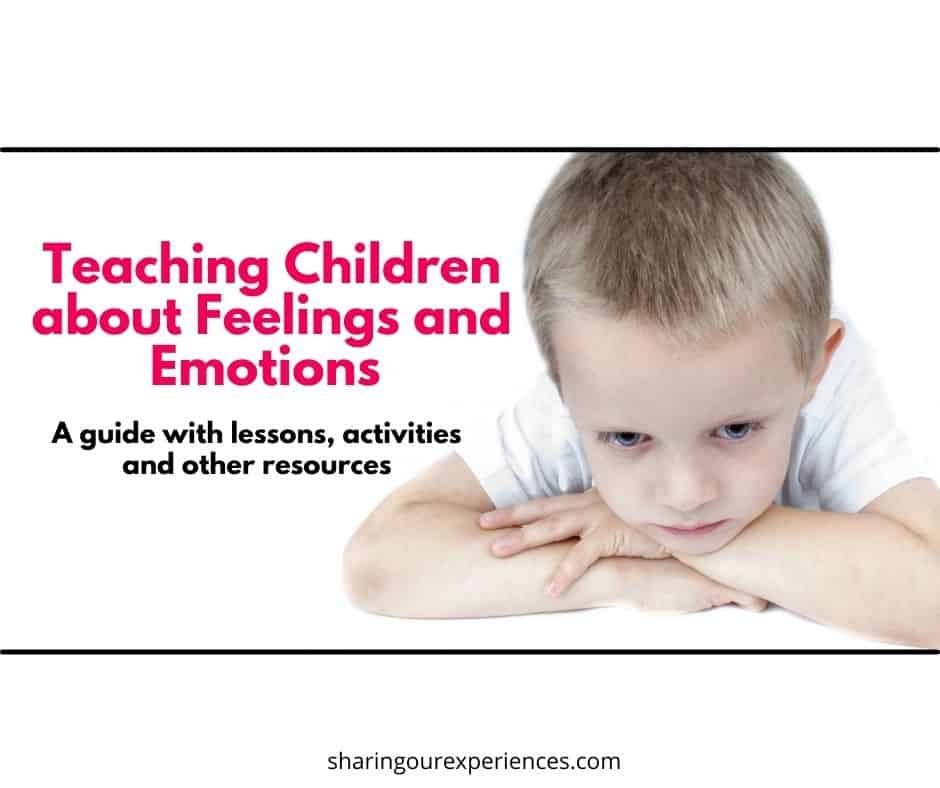 Emotions and feelings activities are a great way to let them identify and understand their emotions and feelings. We have put together a list of activities, worksheets, and other interesting resources for you.
For people without children, it may seem like an easy thing to raise emotionally sound, kind, and loving children, I also always thought I would teach these things to my child; but only parents and those who work with children know, it isn't a cakewalk!
Daily Emotions and feelings Activities for Preschool children
You can make different faces, showing different emotions, and have children guess what you might be feeling.
Whenever you talk to your child make it a point to name the emotions, so that they understand the names that are attached to emotions. For example "are you feeling sad? or please don't get frustrated with this"
When you watch a show or read a story let your child guess how the characters are feeling.
Play a game of naming the emotions with your child, ask them how they feel when someone has a nice new dress or a toy and they don't have it, let them name that. You can give different situations.
Make songs using any tune from the songs they already know, make it funny or silly. Children remember and can always associate with rhymes and songs better.
Use finger puppets or hand puppets to show emotions through stories. let children enact different scenarios and how they feel. At last, teach them how to cope up with a certain emotion. Ask them that the puppet is feeling sad, what should he do now?
It is a good idea to frequently talk about emotions in regular conversations. You can direct children to look at their friend's faces and think about how they are feeling. Do this exercise for different expressions. look at your friend Aryan, he looks so happy because you shared your toy with him. As a parent, you can share your experiences and emotions too, that makes them understand that it is okay to experience different emotions especially negative ones, what is more, important is the way we deal with them.
Feelings and Emotions Activity – Planned Weekly Activities
You can make puppets out of paper bags with your child, make different emotions on each puppet. You can use these puppets and use them for your puppet show.
Plan sensory play with a tray full of sand or flour. Draw different faces there, have your child enact. Ask your child situations when they feel sad, happy, surprised.
Prepare Feelings flashcards with your child.
Read children's books on emotions and feelings and do book-based activities together.
Questions to Ask your Children to Teach Emotions
When do you
get angry
feel happy
feel surprised
feel disgusted
What do you do when you
get angry
feel happy
feel surprised
feel disgusted
What you cannot do when you get angry or upset?
You should not hurt yourself
You should not hurt other people
You should not hurt anything
What to do when you get angry?
When adults are angry it is anger, but when kids are angry we call it a tantrum, is not that unfair? Like many adults, kids have problems coping up with their anger. As parents, we must teach them and help them feel better.
Let your child talk it out, and give them a patient ear. Don't scold them for being angry or upset. below are a few more ways to help children express and vent their anger without causing any harm to anyone or anything!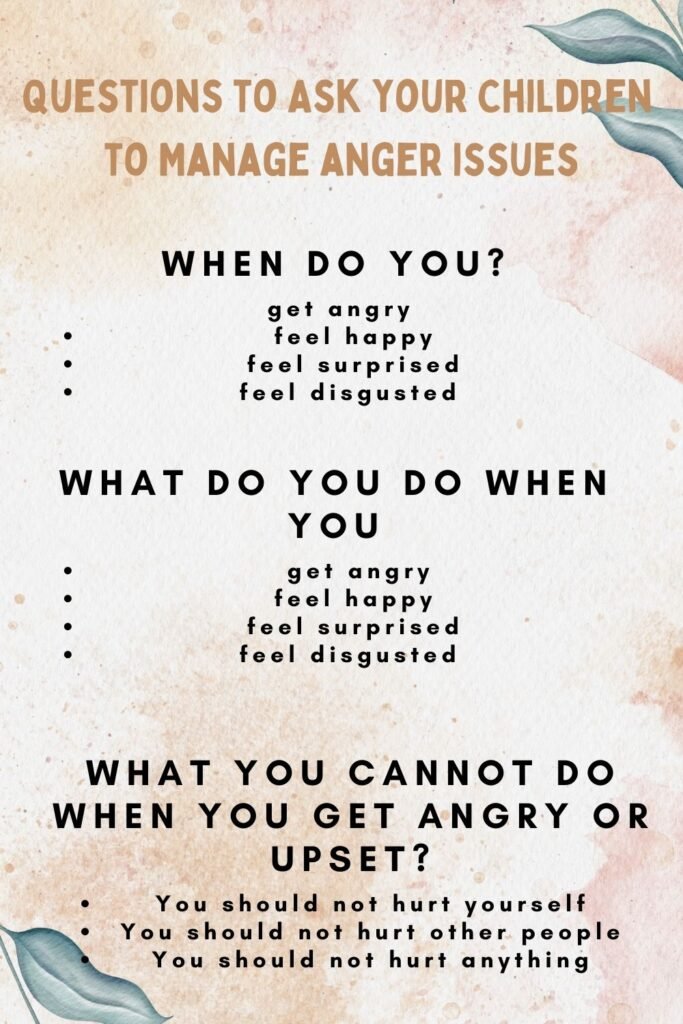 Emotions Activities For Preschoolers
Here are some popular feelings and emotions-based activities that mothers shared on Instagram using SOE Store Emotions and Feelings Flashcards
Below are some ideas shared by Nikita Choudhary @growing_again_with_your_child

We all know that our kids have suffered a lot during COVID as they are not getting their normal routine life and staying indoors mostly. These days I am trying my best to spend as much time as I can with Kushagra so I decided to make a DIY GAME and explore Emotions. It's essential to sit with them and know how they feel about everything around them.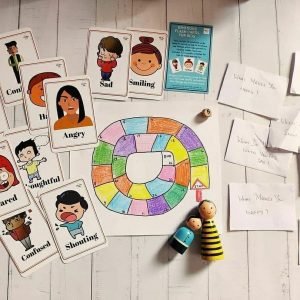 I used the emotions flashcard by @soestorekids which are easily available on @amazondotin or you can contact them. A very beautiful depiction of each emotion is done. Double-sided cards and very easy to store and use. I made a simple board that was colored by him. We used Mom and Kushagra peg dolls to play it and a dice. I made some simple question cards like-
1. What makes mom angry?
2. What makes you sad?
3. What do you do when you are angry?
4. When are you very happy?
We rolled the dice on turns and with every even no. We had to pick a feeling card of our choice and enact it and with odd numbers, we picked a question and discussed it. My son enacted emotions and we also spoke about each other's feelings.
Some of the concepts we covered-
Understanding Emotions
Speaking about inner feelings and emotions.
Know about each other's Feelings
Enacting emotions for fun learning.
In the end, my son also did a matching of emotions activity on flashcard.
Credit for below activities & review- Instagram account Sona Saxena @coffeecoosnclicks
When little people are overwhelmed by big emotions, it's our job to share the calm, and not join the chaos. – L.R Knost.

Teaching various kinds of emotions to our kids is a difficult task! What if I tell you, I have stuff for you by which you can easily make them understand, and that too in a playful manner? Oh yes, you heard that right!
Flashcard for emotions by @soestorekids.
These cards are one of a kind, and below are the reasons why I love them:
They are a pack of 12 cards with 24 emotions printed on both sides.
The depiction is very clear with pictures easily understandable by the kid.
The quality of the card is hard plastic cardboard which is difficult to tear or fold.
Price – Rs 200 available on Amazon and on SOE Store
Sona says –
"We had fun playing with them. Mish has already learned about 4 of the emotions. This brand is run by a mom, so she takes utmost care of everything! "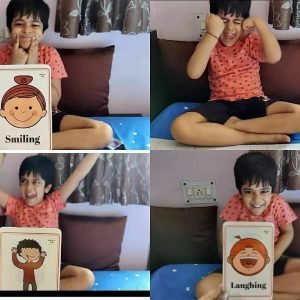 How do you explain emotions to children?
Here we have taken ideas from Sayma of @toddlersvoyage.
Flashcards are always considered the best teaching tool. I used emotion cards from @soestorekids from amazondotin. These cute little cards come with images of each emotion on them. Bright and clear image flashcards are great for teaching. We played a game by doing actions. Few games we played using these cards.
Place the card on the table and ask your toddler to pick their favorite emotion and talk about it. We also learned small sentences using these cards. 'I'm Happy', I want food I'm Hungry', 'I get tired while playing, and so on.
We even created a story using these cards.
The story we made was, There was a baby who went to the beach and he was 'Happy'. His mother gifted him a Castle Beach Set and He was 'Suprised'. He made a castle and big waves came and destroyed it, the baby was sad and started to cry. Mother got 'Worried'. The baby was 'Hungry' and their Mother gave him something to eat. The baby got 'Tired' and 'Sleepy' while playing. They went back home tired but happy.
These flashcards from #soestorekids also come with a reusable activity 'match the same emotion'. What we love about #soestorekids is they are travel-friendly and reusable wipe-off cards. This pack contains 20 emotion cards back to back.
Quick Ways to Help Kids Express Their Anger
Talk about emotions and tell your child what to do when they feel angry, or frustrated. These are fun yet calming activities your child can do when angry.
Take 5 deep breaths
Drink a glass of water
Rip a paper
Let them jump on a trampoline or just jump 10 times or just do jumping Jack
Pop bubble wrap
Squeeze and press play-dough
Squeeze a stress ball
Write about your feelings
Count till 100
Talk about it with someone you know
Emotions and Feelings Books
Like activities, books and stories on emotions and feelings are great tools too. A few books here can help your little one learn more about feelings and emotions.
Feelings and Emotions – My Very First Preschool Book
The perfect book to teach about feelings and emotions to young children.
The Feelings Book Board book
The Feelings Book vibrantly illustrates the wide range of moods we all experience. Kids and adults will appreciate Todd Parr's quirky intelligence as he pays special attention to the ever-changing, sometimes nonsensical emotions that we all feel. 
Feelings: A lift-the-flap book of emotions
Find Out About: Feelings book helps curious preschoolers get to grips with their feelings and emotions – a key topic for both them and their parents. Featuring friendly child characters and familiar situations, they will find answers and reassurance when they are feeling happy, sad, frightened, brave and everything in between.
Ruby's Worry: A Big Bright Feelings Book
Ruby loves being Ruby. Until, one day, she finds a worry. At first, it's not such a big worry, and that's all right, but then it starts to grow. It gets bigger and bigger every day and it makes Ruby sad. How can Ruby get rid of it and feel like herself again?
How Are You Feeling Today
A simple and crisp picture book to teach children about their feelings.
Feelings and Emotions Song by Storybots
Feelings & Emotions Song by Patty Shukla
Video to Teach about Emotions and Feelings to Children
Online Games for Emotions and Feelings
There are a few sites and applications offering online interactive games to enhance emotional quotient. These are some fun games that you can use to introduce feelings and emotions and to know how to handle these feellings.
Emotions Activities for High-school Students
Here are a few best social-emotional activities listed for young children, this can be applied to people of all ages.
Social-Emotional Learning is important in leading a successful life. Often these are neglected by parents and caregivers. the more a person understands and acknowledges their feelings and talks about them the better the chances of them being successful and happy individuals.
Here are a few activities that parents or teachers at home can practice from time to time.
Circle time at home. choose one particular time in the day when all the family members sit together in a circle. They can talk about their feelings, pray together or share stories. This is a great activity for families. Many schools have school assemblies or classroom circles, but due to the pandemic children are missing this social interaction.
Art is a great healer, it also helps to give a different perspective to a situation. You can play some music or read a story or a poem, then you can all sit and paint whatever that music/poem/song made you feel.
Meditation and yoga can help children release stress and be mindful. Especially breathing exercises, get an expert to take these sessions for your whole family.
Set both academic and behavioral goals, help your child journal their day-to-day activities, let them write down their goals and some positive thoughts each day in their journal.
Emotional Development Activities for Adults
Adults have as many problems as children in coping up with their emotions, and it can worsen with time if not handled well.
Here are a few things one can do to begin understanding their own emotions and feelings.
Recognize your own emotions at different times of the day and with different people. For example, if your mother-in-law calls and tells you that she is visiting you soon, you may notice yourself feeling different, you could be feeling anxious or happy, depending upon your relationship with her. Label those emotions, I feel anxious or I feel glad, thankful or there is anxiety, say these things to yourself.
Slow down and notice how your body reacts to different emotions. Acknowledging our own emotions and our reactions helps us to react better.
Our emotions keep changing like the weather, the idea here is to keep observing these emotions, identifying their source and reason, and work on them without attachment or judgment.
Notice how your emotions affect those close to you or around you. If you are in a good mood, and smiling, you will notice that your child is also cooperating better with you.
Some activities that families can perform are listed above.
Books for Adults for Raising Emotionally Healthy Children
For parents, teachers, and caregivers we have identified a few good books that can help you raise emotionally healthy individuals.
The Whole-Brain Child: 12 Revolutionary Strategies to Nurture Your Child's Developing Mind
Peaceful Parent, Happy Kids: How to Stop Yelling and Start Connecting (The Peaceful Parent Series)
No-Drama Discipline: The Whole-Brain Way to Calm the Chaos and Nurture Your Child's Developing Mind
How to Raise Emotionally Healthy Children
This pdf set contains 20 printable flashcards for Emotions and Feelings. Each card contains an emotion. We have tried to keep the pictures realistic and something that a kid can relate to. The cards are small in size so that kids can easily hold them.
– 20 flash cards for introducing emotions
Flash cards are good for helping kids learn and retain various concepts and can be incorporated in reinforcing learning via doing more activities on these concepts. Check out an easy game you can play with this card below apart from easy activities like matching.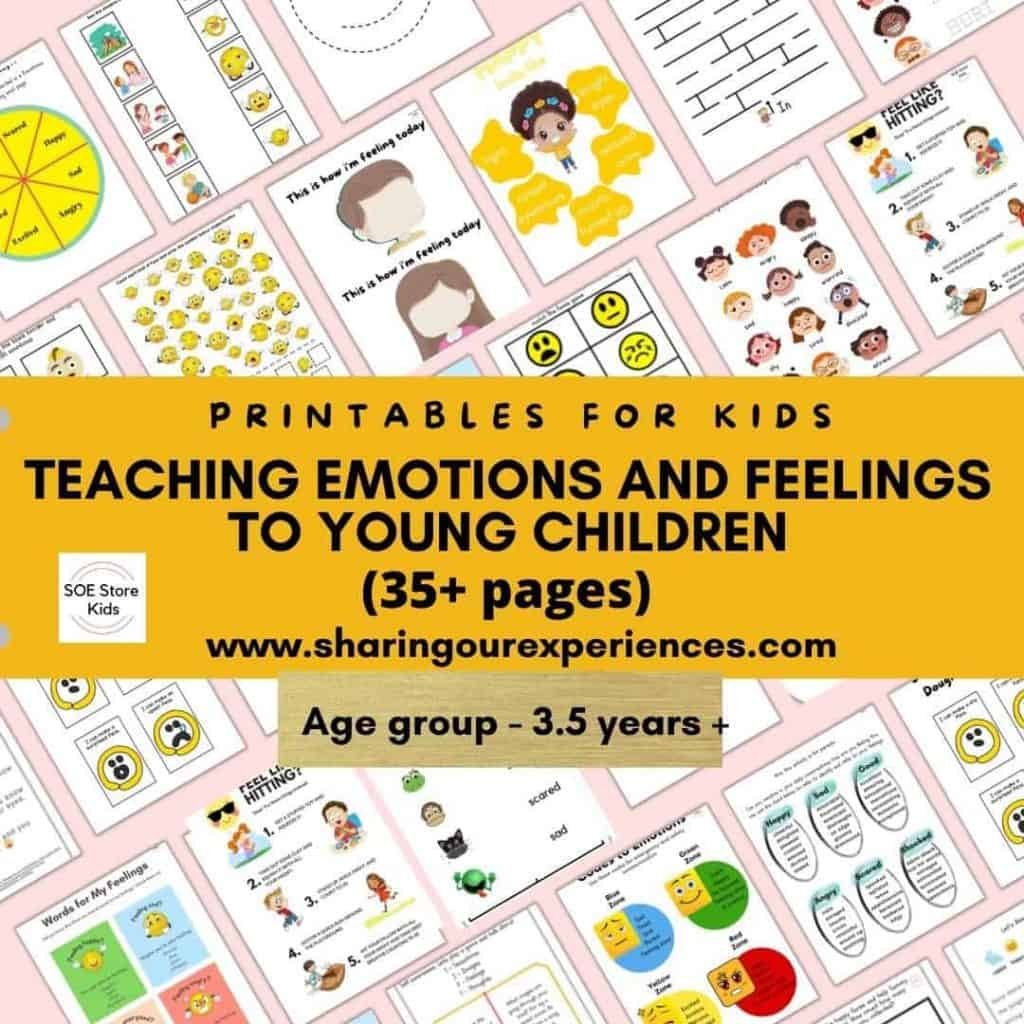 For younger kids, you can show these flashcards and talk about various emotions and feelings. You can talk in a story format about each emotion or feeling so that a kid can connect with them. At times teaching about emotions and feelings is ignored but it is essential for the emotional growth of a child.
For preschoolers, these flashcards can be used to play games and design activities. For e.g. you can enact an emotion and ask your kid to guess which one it is or the other way round. Whoever answers correctly gets to keep the card.
Frequently asked questions
When it comes to helping our children with emotions, many questions come to our minds. We have put down answers to some of the frequently asked questions here.
How can I Practice Social-Skills at Home?
It is indeed a sad thing that our kids have to miss yet another year at school. Children go to school not only to get educated and get a degree but also to learn implicit social skills. Pre-school children who are learning to get social, now have to be confined at home. Here are a few things that can be practiced at home
Practice what you would like your child to do- show empathy, be polite to all and your child will learn just that.
Call friends, arrange for virtual playdates.
Make frequent calls to extended family, let your child interact with them.
Engage your child in household chores.
Give them a special time each day. A time dedicated for them where you put away all the distractions.
How do you teach children emotional skills?
Emotional Intelligence (EQ) is the human ability to comprehend, use and cope up with feelings in positive ways.
EQ plays a very important role, it can help one remain calm, deal with criticism and be empathic. People with high EQ are able to face challenges and deal with conflicts better. Hence, it is important to focus on emotional skills.
Here is what you can do –
It is never too late to start teaching these skills. To toddlers you can teach how to calm themselves, say by taking deep breaths or hugging their parents. You must also teach your toddlers to identify their emotions; your child should know that sad, happy, and angry are different emotions.
It's important for all of us to first understand that different emotions are valid and normal and that we can manage them.
What activities promote social and emotional development?
Children usually start out with fairly simple emotional expressions — happy, sad and angry are the big three. (Many adults remain stuck with those three too). But as we mature, we need to learn to expand our range of feelings, first so we understand what's going on for us and, later, for others.
Create a list of human emotions. You will find many lists, you can also check out SOE worksheets for the same.
List about 10- 12 different feelings and stick the list on the soft board in your room or on the fridge.
When your child displays a particular emotion, help them identify how they feel with the emotions listed on the poster or list that you have put up. It is better if you have pictures showing those feelings on the poster or flashcards.
You can list them down from here:-
Shy, bored, scared, confident, embarrassed, sick, angry, happy, worried, surprised, confused, and excited.
You and your child can then talk about how they ended up feeling that way, or what caused that particular feeling, it can be applied for both positive and negative feelings.
What is the Difference Between Feelings & Emotions?
Wikipedia says "Emotions are psychological states brought on by neurophysiological changes, variously associated with thoughts, feelings, behavioral responses, and a degree of pleasure or displeasure."
While emotions are from the subconscious mind, feelings are our perception of emotion, feelings occur in the conscious mind.
How to know if my child is Emotionally Sound or Healthy?
Children who are emotionally and socially healthy, demonstrate the following behavior or attributes-
Are usually in a jolly and positive mood
 Listen and follow instructions
 Form bonds and close relationships with their caregivers and classmates
Are caring towards friends
 Recognize, label, and manage their own emotions
 Understand others' emotions and show empathy  Express wishes and preferences clearly