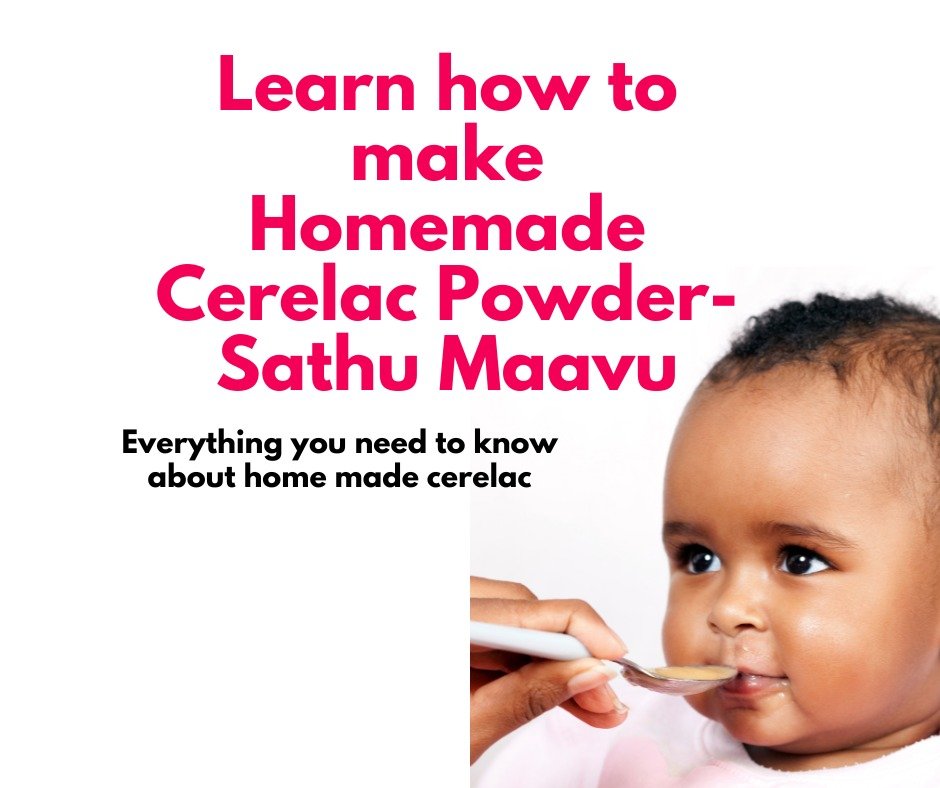 Are you worried about what to offer your kids once they start the intake of solids? Unable to trust the ones available in the market? There is no denying that homemade food is always the best and safe for babies when compared with the ready-made foods/powders available on the market.  One such food is sathu maavu for babies.  Made out of grains, cereals, and pulses, here we discuss more about what sathu maavu is, how to prepare healthy porridge(sathu maavu for babies),  sathu maavu benefits,  and the recipe you can make out of it! 
What Is Sathu Maavu Powder?
Sathu maavu for babies or homemade cerelac is one of the best and most nutritious weight-gaining foods that you can offer to your baby once they are introduced to solids. 
Though there are plenty of options available in the market, the ones made by you in customization with your baby's needs are always recommended. Many moms fear such preparation as a  cumbersome process. 
Sathu maavu for babies is very essential as the ingredients that are used for preparation are rich in iron, protein, calcium, folic acid, and whatnot!
Many lentils, nuts, and millets are added to make them very nutritious and help in healthy weight gain in our kids. You can also add as many grains as you want to include. These are powdered and mixed with water to make healthy porridge for babies.
Other than using this as a porridge, there are various ways through which this can be used. 
Why Is HomeMade Sathu Maavu Powder Recommended? 
While there are a lot of brands that are available in the market offering various varieties of the sathu maavu for babies, none can beat the one that is prepared by mom /granny with lots of love and too much care — just to see the satisfaction the baby gets while eating the food. 
Why Should We Not Give Ceralac To Babies?
Homemade sathu maavu for babies is always better than the ones available in the market as the commercial ones come with the following disadvantages. 
1. Homemade sathu maavu for babies are always prepared as and when needed. Packaged foods on the other come with added preservatives though they don't mention it on the label. These chemicals can have harmful effects on the developing digestive system of your little one. 
2.  The commercially made sathu maavu for babies need storage in warehouses that can be rodent infested.
3. The chemical composition of the ready-to-eat ones is pretty high and hence you don't know which chemicals you are feeding your baby. 
4. Customization is easy when the sathu maavu for babies is prepared by yourself. The ones that are available in the markets may contain milk, nuts, and gluten which your baby might be allergic to. 
Benefits of Home-Made Sathu Maavu For Babies 
Here are some of the sathu maavu benefits for babies. 
Customization is the major benefit of a homemade sathu maavu powder for babies. You can prepare them by keeping in mind your baby's allergies and needs.  
This mixture not only serves as a porridge mix but can also be used for the preparation of idlis, dosas, etc.
Sathu maavu for babies is made with whole grains, thus retaining all the goodness of nature's gift.
The combination of cereals and pulses ensures your baby gets the right protein profile. 
The dietary fiber keeps the baby's digestive system healthy.
This Indian Traditional Food for Babies acts as an Immunity Booster.
Strengthening a baby's bone is one major sathu maavu benefit. 
Since it is made up of healthy dietary sources such as cereals, dry fruits, nuts, and pulses, it keeps the baby energized. 
Homemade sathu maavu for babies is cost-effective and you only pay for the ingredients you have used.
This homemade powder can be stored for one month at room temperature and around three to six months in a refrigerator.
Ingredients For Preparing Sathu Maavu For Babies 
| | |
| --- | --- |
| Ingredients | Quantity |
| Finger Millet/Ragi | 200 gm |
| Pearl Millet/Kambu | 200 gm |
| Red Rice | 100 gm |
| Wheat Rava/Samba Godhumai | 100 gm |
| Jowar/Corn | 100 gm |
| Green Gram | 100 gm |
| Roasted Bengal Gram | 50 gm |
| Foxtail Millet/Thinai | 50 gm |
| Horse gram/Kollu | 50 gm |
| Sago/Sabudana | 50 gm |
| Barley | 50 gm |
| Almonds | 10 |
| Cardamom | 5 |
| Dry Ginger | 1 piece |
Optional Ingredients 
Peanuts 50 gm
Black Rice 100 gm
Other millets 50 gm
Green peas dried  50 gm
Masoor Dal 50 gm
Black gram 50 gm
Flax seeds 50 gm
Preparation of Sathu Maavu For Babies– Sathu maavu Recipe
1. Take all ingredients and remove unwanted stones or grits that are present. 
2. Dry roast each ingredient separately on medium flame until you get their aroma. Keep stirring constantly to avoid burning the ingredients.
3. Spread the roasted grains and allow them to cool. You may use a big plate or a big thin layer of cloth to fasten the cooling process. 
4. Once it cools, you can grind them in small batches using your mixie. Alternatively, you could also get it done through a nearby flour mill.
5. The sathu maavu powder will remain hot after grinding. Allow it to cool before packing it in an airtight container. 
How To Store Sathu Maavu for Babies
Depending on the weather condition and other factors, this powder has a longevity of up to 6 months. 
Humid weather might cause the powder to get contaminated faster. 
Dry and hot weather will ensure no contamination for a long time. 
Store the sathu maavu mixture in an airtight container to prevent any moisture from entering it.
You can also sprout the grains overnight which increases the nutritional values (especially vitamins – Vit C, B2, B5, and B6). 
Some of the fat content diminishes during sprouting which is good for digestion. 
How to prepare Sathu Maavu Porridge/ Homemade Cerelac  for Babies
Mix 2 tablespoons of sathu maavu powder with boiled water and mix gently without lumps until a thick consistency arrives. 
Cook the mixture in medium flame for at least 10 minutes.
You may add fruit puree(Banana, Chiku, Papaya, Mango, etc) to the porridge to make it sweet.
Add a teaspoon of ghee to increase the energy content.
You can reconstitute this  with dal, water, gravy, milk, etc
Sathu Maavu Recipe For Kids
Multigrain Roti
Mix ¼ of sathu maavu powder with 2 cups of wheat atta flour. 
Make rotis with this flour which turns out to be healthy and nutritious.
 Sathu Maavu Ladoo
Take 1/2 cup of sathu maavu powder and dry roast in low to medium flame for 3-5 minutes or until a nice aroma comes and allow it to cool.
Take palm jaggery/jaggery in a saucepan and add 1/4 cup of water. 
Allow the liquid to become slightly thick but the consistency thinner than honey.
Strain the liquid to remove impurities. 
Pour palm jaggery syrup into the roasted sathu maavu and mix well.
Keep adding melted ghee to this mixture little by little.
Start making laddoo balls when it is slightly warm. Store the balls in an airtight container.