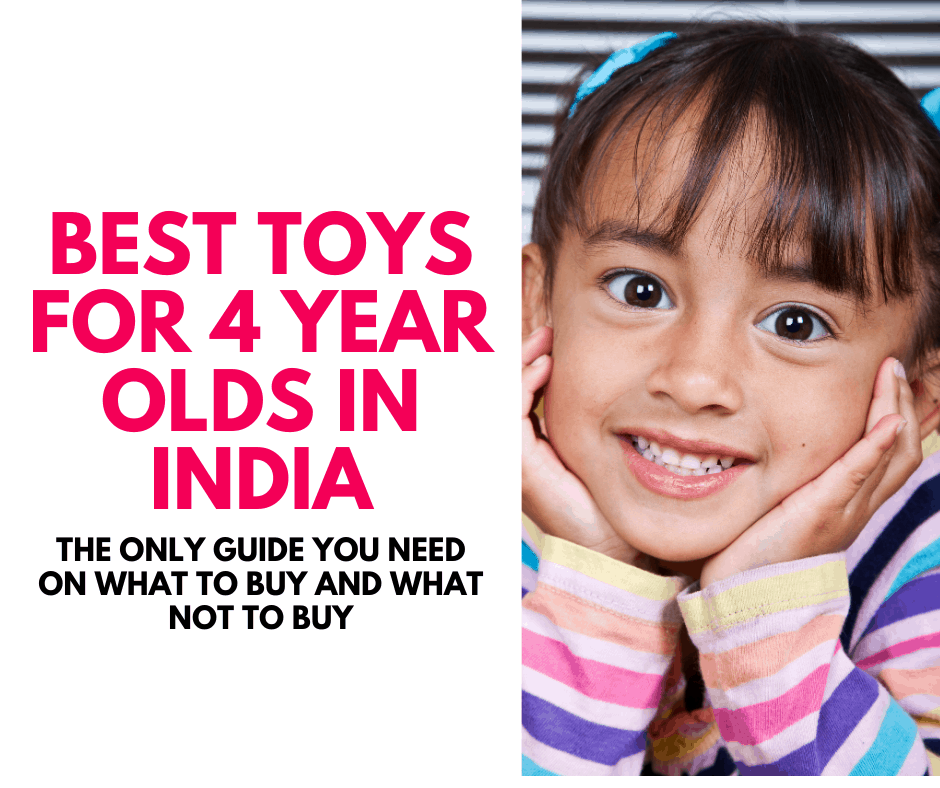 Looking for best toys for 4 year old in India? Here is a list of toys that you can for your four year old. We have covered best educational toys, pretend play toys, musical toys and much more
Parenting is a continuous cycle of learning and, at times, unlearning. There is no "one shoe fits all" rule here. What may deem fruitful to one may not be of any use to some. Thus, we evolve: learning from our experiences, our mistakes, and taking cues from others as well. Tending a toddler can be taxing at times, and if you happen to parent a four year- ever -inquisitive child, you are sure to be on an uphill journey.
ALSO READ- Best Educational toys for 5 year olds india
✅ Best toys for 4 years old 2022
Kids at this age are full of questions. They are observant and quick learner. They are ready (in most cases) to take a step ahead in learning new things which is a welcome change, at least for me. It is a little easier to keep them busy with themselves and include games and toys where the grownups can enjoy too.
Toys, as we know, must be good at developing some or the other skills in a child. Following is a list of some good toys for children of this age.
Puzzles
We can consider buying six-pieces puzzles for our four -years-old kids.
Challenges the kid's mind and improves the thinking
Better visualization
Improved concentration
Better problem- solving
There are multiple types of puzzles in the market – I personally like these 2 brands – Frank puzzles (Click here to see) and Creative education puzzles for 4 year olds
You can also buy theme based puzzles based on what you are trying to teach to your child. You can click on any of the images below to explore.
Tetris Puzzle for Kids
Blocks
You can always go for blocks as they are really good for children's development.
Develops motor skills
Improves creativity
Teaches self-reliance
Improves focus and hand-to-eye coordination
You can check out any of the options below. We personally used these Mega blocks till my child was 6 years and got these foam based blocks .
We also used these wooden ones to make 3D models.
Spelling Games
Kids at this age are ready to take a step ahead. It is a great time to introduce the spelling game to them.
Drawing Kits
Kids of any age need no reason to explore their creativity. They can never have enough colors and paints.
Boosts imagination
Makes them happy and confident
Strengthens hands muscles
Improves motor skills
Learns about colors and their names
I personally loved these colours as they work very smooth.
Fun Fish catching game for kids
There are innumerable open-ended fun toys available that can be bought keeping in mind your kid's interests. We loved this fish catching game and had got from Hamleys
Fun magnetic shape game for kids
You can also consider these fun magnetic shape games for kids
Zenga stacking game for kids
Kids love playing with these wooden tumbling tower blocks. So you can definitely invest in this one. We also use it as dominoes.
Hasbro Gaming Connect 4 Grab and Go Game (Travel Size)
This is another game we loved at that age. This is a travel size game so something we enjoyed even in cars
Books
There is no definite age to introduce the kids to the fantastic world of books.
Reading boosts a child's imagination
Develop social and communication skills
Arises curiosity in kids
Improves concentration
Hones their know-how
Improves vocabulary and language skills
The child learns to enjoy his own company
At 4 years you can for Julia donaldson books for kids (We have reviewed Popular Julia Donaldson books here) Or you can go for Panchtantra stories
If your child enjoys Peppa pig – go for peppa big story books
I personally love Pepper books – I think they have helped my child a lot. Check them out here
Musical Instrument toys for kids
Music is a boon for kids as it :
Develops auditory senses
Opens new ways of keeping busy
Makes the child creative
Boosts concentration
So you can go for any of the musical instruments toys for kids
You can also go for drum sets for kids
Tab/boards – Erasable writing boards for kids
In case if you are interested there are a variety of tabs and erasable boards available in the market for kids to choose from. You can go for a table top version easel or a full easel as well
I personally have been using this easel
Best Role play or pretend play toys for kids
Kids love to role play as it gives wings to their fantasies and it brings to life their make-believe world.
The kids learn about the world around them
Builds confidence in them
Enhances their creativity
Teaches them to solve problems
Promotes physical development
We love below pretend play toys – You can click image to know more
Wooden Engineering Tool Set, Pretend Play Building Set Tool Set Fix It Learning Educational Construction Toy
Kitchen playset, with realistic lights & sounds,play sink with running water,dessert shelf toy & kitchen accessories for 4 year old girls
Sweet Shopping Battery Operated Ice Cream Trolley Pretend Roll Plastic Play Set with 360 ° Rotation, LED,Music Learning & Educational Toy for Kids
.B.B.S Doctor Medical Set ,11 Piece (High Quality Non Toxic) ,Fun Role Play Games for 3 yr Old Kids+
Physical Development Toys
Physical growth is of utmost importance in kids. Toys and gears like cycles, swings, cricket set, badminton, football, hopscotch, etc. not only promotes physical development but also:
Develops Motor skills
Fosters Team spirit
Builds confidence
Learn new skills
Develops concentration and stamina
Hopping Ball Inflatable Bouncer Hop Ball with Handles for Boys Girls
Wooden Ladder for Kids for Physical Activity
Toy Slide for Kids at Home and School
Table Tennis Trainer Indoor Outdoor Adults/ Teenagers/ Kids
Reflex soccer play set for kids
Tunnel playhouse ball pool ball pit tent summer indoor outdoor play fun toy
Liked this gift guide for 4 year olds
If you liked this article – do share it with friends and family so that it can be more useful. Any other questions do ask us in comments below