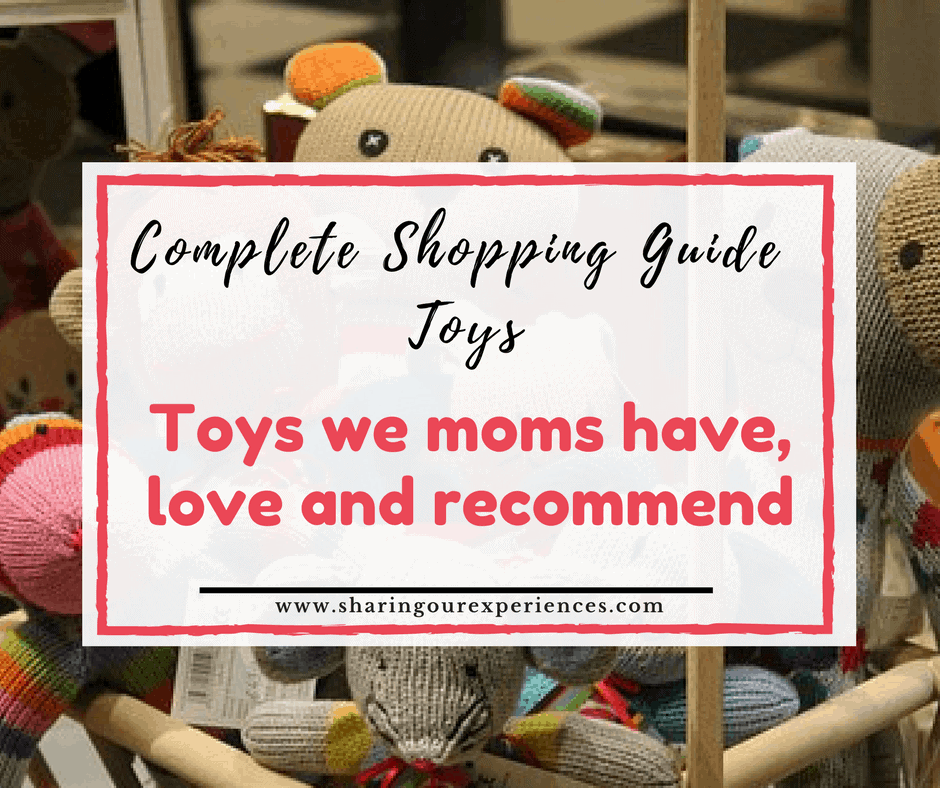 Most of the times I am asked on recommendation on toys for kids. So this is my new initiative in which I will make a list of toys that I personally have bought and would love to recommend to other parents.
So this is going to be a running list that I will keep on updating as we buy more.
Yes I am guilty of buying a lot of toys. So how do I handle so many toys and try to handle negative effects of too many toys?
I keep on rotating these toys. So at any point of time the number of toys I have outside are lesser. I pick up toys that are to be on the shelf based on what my kid is enjoying those days. Also its based on season. So in summers, we do more of painting or in general water games and in winters its more of craft kits.
Also as you know here on sharing our experiences site, we have multiple authors who are moms . So this list also contains toys that they have recommended.
Here are the list of toys that we moms have bought played with and can recommend to you. We know its difficult to make a selection when given so many options so this is our effort to share our experiences.
Toys we bought at 6 months old
Fisher-Price Brilliant Basics Rock-a-Stack
Its great for open play and is also good for development of fine motor skills and hand eye co-ordination. My son loved the bright colours and this is one toy that I think is a must have for 6 months old.
Giggles Stacking Drums
This is another great toy for open ended play. Apart from fine motor skills and hand eye coordination good for developing spatial awareness. We loved it so I had two shapes for this toys. One drums and another cubes as shown below.
Funskool Giggles Stacking Cubes
Little's 6-in-1 Puzzle Blocks
I think I had bought multiple blocks type of toys. This one had stickers pasted on it so we enjoyed playing with it.  I will not call it a must have but we liked these blocks and they are in use till my son is three years old.
Little's Baby Ball 
Now this is a must have toy that we loved when my son was 6 months old. Its still sometimes used. Its great for hand eye coordination, fine motor skills and developing gross motor skills. Some thing that we loved so will definitely recommend.
TOMY Little Chirpers Sorting Eggs Learning Toy
I bought this toy after checking the reviews on amazon UK. And I am so glad we bought it. There is something about these eggs that have kept my kid busy from 6 months till 3 years.
Leapfrog My Pal Scout
I think I fell in love with this toy more than my son. I saw it first on Hamley's shelf in London when my son was 6 months old and bought it.
Its a soft toy that can sing rhymes, speak in small sentences, play a lullaby music and more when you press its paw. It can also be programmed to say your little one's name, favourite colour and more choices.
I will not call it a must buy but if you have a budget of Rs 1000-2000 and thinking on something different to buy you can check this out.
Toys we bought at 1 year old
Fisher Price, Brilliant Basics sorting blocks
We both loved this toy for its bright colors. In the initial days we used it as a bucket to keep things and then take them out. Somehow my son loved this game. 🙂
Slowly he started recognizing shapes. We started with circle and then soon progressed to other shapes. Its a delight to watch kids face when they solve a problem. The feeling of accomplishment we can see in their eyes is just great.
Fisher price classic Xylophone
I am yet to come across a kid who does not like banging. If your little one likes it too, then you can get musical instruments like drum or xylophone. It converts the banging noise into music and both parents and kids end up happier.
Mega Bloks Fisher Price Big Building Bag
This is a must buy for any kid. Blocks are great for play and open ended learning. They help in spatial intelligence and you can design many activities with it. These blocks are being used till my son is about to be 4. I will definitely suggest it to you. Blocks from Fisher price had bright colors, are easy to use even for one year old so its something you can definitely buy.
Toys we bought at 1 and a half years old
Mitashi Color Doodle Amaze or Magnetic Slate
This is again a must buy. Its a magnetic wipe and clean slate. Initially we got a smaller version which could be kept in a bag and this is great for travelling 🙂 or when we were going out for family lunch or dinner.
Later after we realized that my son enjoyed using it we got a bigger version.
Bkids Fill n spill Toy Bank
This toy has been loved by all kids that have visited my home. I have gifted it to all young kids in our house. If you can get it please do buy it, I ma sure you will not go wrong with this one.
There is something about inserting coins in the penguin and then taking them out, which kids love. We have used it till almost three years. After which the coins can be used to plan any activities as they are in different shapes and have numbers written on them.
Baby Cricket set
This is something I just picked up from amazon as bat and ball is something all kids like. These are great for outdoor play and gross motor skills. The quality of below is Ok and its still surviving 🙂
Bowling set for kids
There are multiple variations of the below toys that you will find in various brands. I noticed that kids like seeing things fall, its like an experiment for them 🙂 So this is another toy that we enjoyed. I would not call it a must buy
Bkids Pounding Shape Bench
When I bought Bkids toys they were not this expensive so I am including similar toys from other good brands in suggestions as they work on similar principles
Ride on and or Rocker
At one year if you want you can get a ride on for your kid. We had got a horse and a train but they did not work very well for us. I noticed that my son really enjoyed playing with below when we used to visit play areas.
They were expensive so I did not get them but now when I look back he enjoyed these till he was three so they were value for money in longer term. So adding it below
Ok Play Ride On 
OK play Rocker
If you can afford it go for slide as I really love seeing my son enjoying on these slides and wish I had got it when he was younger.
Ok play slides
Toys we bought at two years old
Melissa and Doug Wooden Blocks
We love these blocks :-). I think I love Melissa and Doug toys in general. These are just wooden blocks in bright colors and unlike plastic blocks they do not fit into each other. We need to balance them.
These are great for free plan and can be used till 4 to 5 years. The shapes are different from normal plastic blocks (we have arcs and cylinders as well) so they can be used to make a variety of different things. These can also be used to design multiple activities for kids as they grow up.
Melissa and Doug water wow activity Book
This a must buy. At the price range its available and considering its utility this is one toys that I will definitely definitely recommend. We bought it at one and half years of age and we are still using it. These are reusable coloring books that come with pen in which you can fill water. Color pops up in the sheets when they are wet and after drying the color disappears. So they can be used again and again for coloring.
Check out all [eafl id="12921″ name="Melissa and Doug water wow themes" text="themes of Melissa and Doug Water Wow"]
Melissa and Doug Reusable Sticker Pad
Another activity books we loved. They have multiple reusable stickers that can be used for different scenes in the book. This activity book is completely reusable and we really liked playing with it. Its great for building fine motor skills and vocabulary as we got talking about multiple things when we were using this activity book.
Check out all [eafl id="12922″ name="Melissa and Doug Sticker pads themes" text="themes of Melissa and Doug Sticker pads"]
Skillofun Lacing toys
Another good toys for developing fine motor skills. I somehow also find sewing and lacing toys a little calming and good for developing concentration.
Check out all [eafl id="12923″ name="Skillofun Lacing Toy" text="Skillofun Lacing Toys shapes"]
I also got a set of Skillofun plastic beads with it so at times we used this toy without beads and others we used it for beading.
Skillofun Knobbed puzzles – Animal themed
Since my son liked dogs I had got this puzzle in dog shape. Puzzles are great to improve critical thinking and problem solving skills Do introduce one to your kid.
Check out all [eafl id="12924″ name="Skillofun Knobbed Puzzles" text="Skillofun Knobbed Puzzles"]
Skillofun Wooden Nursery Tray with Alphabets and Pictures
The quality of this toy is OK, but i like the concept. Its a puzzle along with learning alphabets and picture comprehension. So its a good type of toy that you can get for your kid.
Melissa and Doug Pattern Blocks and Boards
This is one toys that I got a little early so we had to wait for some time till it was being used. But we love these pattern blocks and they can be easily used till a kid is 4 years of age. So its value for money.
Its good for developing visual discrimination skills and problem solving so is a good buy.
Melissa and Doug Tape Activity Book
This is a must buy. We really enjoyed making different patterns with tapes in this book. After that tape was finished we got more from a local shop. This is great for developing hand eye coordination and fine motor skills.
Tricycle
We had got a tricycle with a handle for him. I did not want anything fancy so I had taken below one – pelican. The quality was good and my son enjoyed keeping his toys in the small front basket (see beak).
Whenever we now visit a toy shop I have seen him showing a lot of interest in Ducati so including it below.
Note – The recommended age for playing for some toys above is more than three years. but since my kid seemed ready, I had bought them.
Toys we bought at two and a half years old
Toykart Piano Board
This is the age when I started getting some music instruments. This piano can easily be used till five to six years or more. The quality and sound is good and we like playing music on it.
Tickles Acoustic Guitar for kids
Another music instrument that we had got. It is a smaller guitar in wooden base. The sound is Okay (not like a real guitar) but I found them better than the plastic version we get.  As we can actually use the strings like we do in a real guitar.
Sunshine Unbreakable Automobile car toy set
If your kid loves trucks and tractors then this is a must buy. I just their plastic quality. They have handled being thrown around and banged on quite well and are still going strong.
Magic Car
This is not something I bought but was rather gifted and its great and a must buy for kids. I have seen elder kids coming to our home also loving it. So its a must buy (even if you don;t get any ride on above)
Toys we bought at three years old
Saffire happy valley train set
I wanted to get a nice train set and got this on a discount. After we got this, this used to be on through the day :-). My son just loved it. You can get trains from this brand. The only thing is you will need to set up the train track but otherwise its a great toy. This is one toy that I have also gifted to other young kids in our home.
Melissa and Doug mess free glitter
Loved this concept. I wanted to try glitter with my kid but was scared of it being all over the home. This is a good option and something you should try. Its not reusable though so I would say its little on the higher side
Melissa and Doug shape sorting clock
We loved this and this was a great way to introduce time to my son. I was facing trouble making him understand when is wake up time, when is sleeping time and so on. Specially it was becoming difficult to understand that everyday he needs to go to his playschool at a fixed time. So this was useful in introducing that concept to him
Melissa and Doug Double sided Wooden Easel
This is a must have in my list, It teaches kids to scribble, develops fine motor skills, prewriting skills and encourages kids to write. Its costly but considering its height adjustable and can be used for older kids as well. I really wanted to get it.
Excel Globe Physical World
While answering questions like where does sun go ? why is it night ? and considering my sons interest in earth, planets , sun and moon. I thought its a good addition in our range so I have got this recently.
Toyshine supermarket shop
After three years, kids start making their own games and are interested in pretend play. So you can get one of the pretend play toys or make it yourself. I liked this set up and the quality of plastic is good. so in case if you are looking for a shop pretend play toy I would recommend it to you.
Don't miss to pin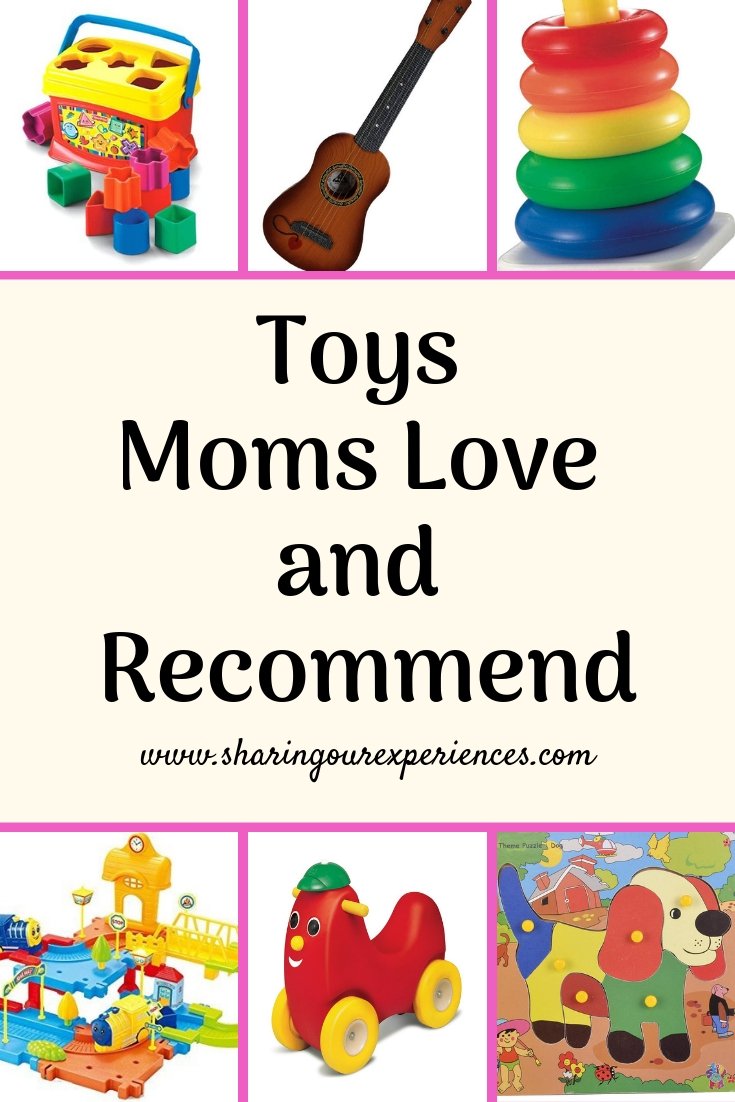 So that brings me to the end of this list of toys for kids. If you have any toy that you have used, loved and would like to be added in this list, please let me know using comment below I will update the list with your name, comments and inputs.
Liked This Post ?
You may also want to read our popular post on  Books we mom love and recommend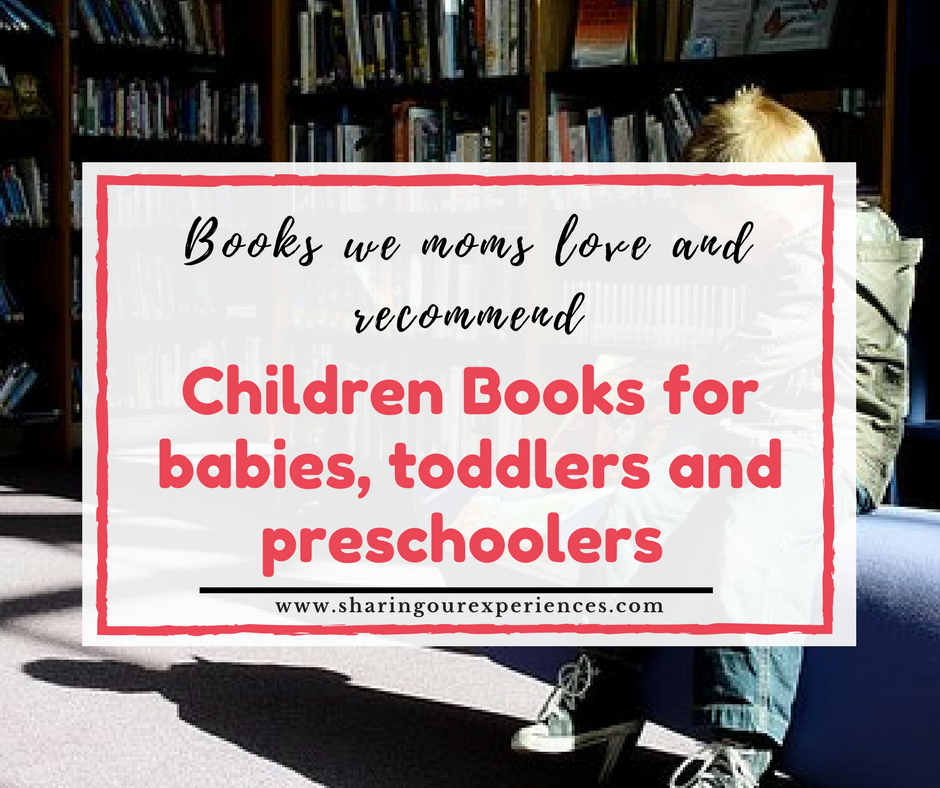 Your Turn Now
In case if you liked this article do show your support by sharing this article.
[shareaholic app="share_buttons" id="27265281″]
Stay connected with us using your favorite social media, we can be found on
Do you want to share your parenting tips, stories, toy or book review, let us know by using comments below or mailing us on sharingourexperiencesblog@gmail.com
Add a comment
Did you find this article on mom recommended toys for kids  useful ? Do you want to add anything to this list of toys. Do let us know using comments below. We would love to hear from you.