Love to shop for your kid? Finding the perfect fit and style can get tiring and difficult. Markets are flooded with options, but going out with your child for shopping is a mammoth task for any parent. The best thing is to shop from the comfort of your home, saving yourself from the hassle of stepping out. Here are some pointers, tips, and the details of my favorite online store for my child. This article is to help you find your perfect online fashion store for kids. I have also shared the review of my favorite online kids' fashion store- Nottie Planet Store, Kids Fashion Brand.
Where can I buy kids' clothes online in India?
There are different websites where kids' clothes can be bought from, I personally like the Nottie Planet Store kids collection. For the best online shopping experience for kids' clothes in India, you too MUST check Nottie Planet Store.
Nottie Planet store is the ultimate place for perfect children's clothes, the online shop offers a wide range of kids' wear in beautiful colors and different sizes and styles suiting your taste.
About Nottie Planet- Kids Clothing Brand
Talking about Nottie Planet, it is a leading brand of kidswear from the house of Moozoo Fashions. The brand makes comfortable cotton clothing for kids. They keep launching new styles and keep their collection updated with the latest kids' fashion. They cater to kids from 0 to 14 years, so a wide age range too.
Why do I prefer Nottie Planet Clothes?
I love the soft cotton feel of the fabric
The brand has a great variety to choose from
Affordable pricing and regular offers and discounts
Nottie Planet Clothing is not just available on the Nottie Planet website, but also on Amazon, Myntra Hopscotch, Snapdeal, Flipkart, and Firstcry.
Review of Nottieplanetstore Website
I really liked the site and the offerings. They have a huge variety of clothes, surfing through the site and checking what I want is easy now with a user-friendly site and seamless navigation.
Explore By Gender, Age, and Type of Dress
Using and choosing the dresses on the website is easy, you can choose from the gender and types of clothes.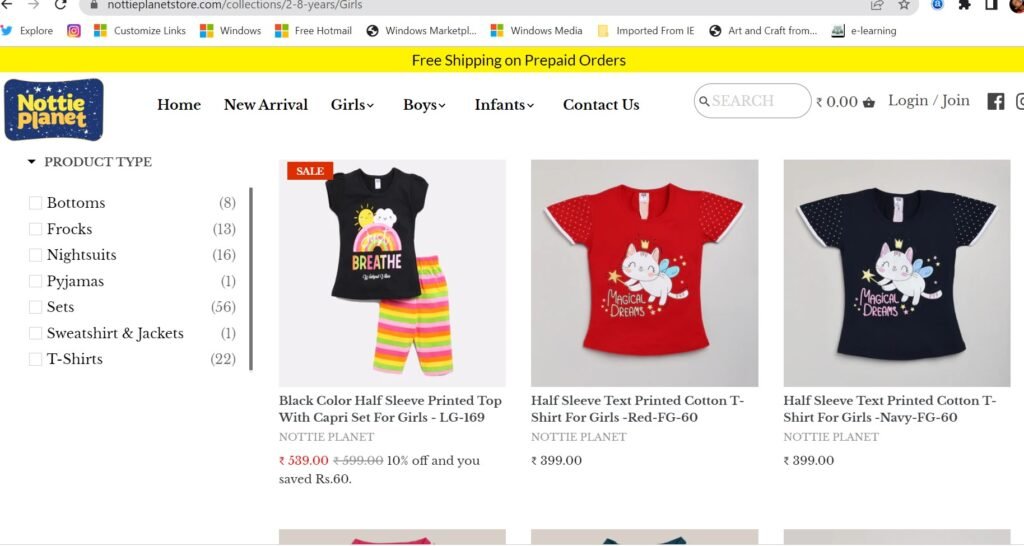 You can also check out different offers on the home page.
Why buy kids' clothes online?
In the last 15 years, the online shopping market has boomed exponentially, with the Millenials becoming parents, they prefer online shopping for their children's clothes and other items. Below are the reasons "Why people prefer online shopping"
Shopping online is convenient and easy.
You do not need to spend time stepping out, going from one store to another.
Wide variety to choose from
Affordable pricing
Good discounts
Why are kids' clothing more expensive than adult clothing?
The pricing of kids' clothing is usually high due to the quality of material used. Most good brands will use gentle, skin-friendly, breathable, material for children's clothing. Also, parents don't mind spending a premium amount on their babies' clothes. I however have found very good quality clothes, at an affordable price at the Nottie Planet Store.
What things to be checked while buying clothes online?
Website: Authenticity of the website and the brand, many people buy from Instagrammers and Facebook shops and sometimes get scammed. To avoid getting scammed do check for website authenticity.
Ease of navigation: The website should be easy to move around, and try different filters for choosing material, designs, colors, or size.
Material: Check the material details in the description or connect with the seller to ask the same.
Styles and Variety: Check the variety and different styles that are offered, Every parent wants their child to stand out and look smart and confident.
Size Chart: Do ensure that you buy after checking the size chart of the brand and that you get the right size of clothing for your child. one size up is fine, but a smaller size will have to be returned or exchanged.
Reviews: Before making the purchase, do check the reviews for what you are buying
Return policy: Check the return policy, if the material is not up to your taste or the size doesn't fit well you can exchange or return it.
Hope you have a great shopping experience!
Liked this article? You may find this below article interesting ⬇
Are you shopping for a newborn baby? You will find this article super helpful >>> 7 Must-Have things for a NewBorn Baby <<< Click Here
Want to get your business featured on sharingourexperiences.com? write to us at neha@sharingourexperiences.com