Father's Day Printable Worksheets for kids
Looking for FREE Father's Day printables? We've got you covered with 20+ printable Father's Day cards, coloring pages, coupons, gift ideas, and more! Kids will enjoy learning more about their father with our Father's Day-themed worksheets.
You can Buy in USD here
The printables contains the following:
– Father's day tracing activity
– Copy the picture ativity
– Dad Symmetry
– Father's Day handprint craft activity
Father's Day is a day to bond with your dad and make him feel special. It is celebrated on the 3rd Sunday of June. We have lots of Father's Day coloring pages, writing activities, crafts, and many more. Kids will enjoy learning more about their father with our Father's Day-themed worksheets.
The Father's day printable worksheets pdf pack for toddlers, preschool  Kindergarten kids
This printable pdf pack contains multiple father's day worksheets and activities that can be done in school or at home.
It has printable fathers day cards which can be used for papa, son, stepdads, or grandpa. This pack can be used for kids age 2 to 5 years so can be used as a great starting point for your fathers day ideas.
This pack includes
 – Father's day questionnaire
Print this Father's Day Questionnaire and fill it with your answers. It can also be laminated to form a gift for your dad and granddad. It is a fun easy DIY unique Father's day gift idea for preschoolers and above.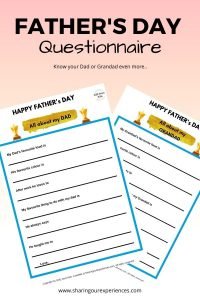 – Father's day coloring pages
Print and color Father's day coloring pages to kill the boredom of kids. Once they are done coloring they can be used as greeting cards for Dad. These are cute coloring pages for kids and make a great Father's Day gift for dad.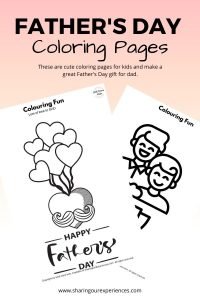 – Father's Day matching activities for preschoolers
Father's Day theme activities can be used during lesson plans for preschool, pre-K and kindergarten children. The father-baby animal matching activity is loved by toddlers. Pattern matching activity is ideal for visual discrimination skills. A wonderful Father's day activity perfect for toddlers, preschoolers and kindergarten kids.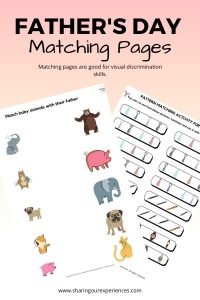 – Father's Day Writing and Literacy Activites for Kindergarten
This bundle incorporates Father's day Theme writing and literacy skills. Several no prep worksheets are included such as word tracing, word search and identifying the beginning sound letter for words related to dad.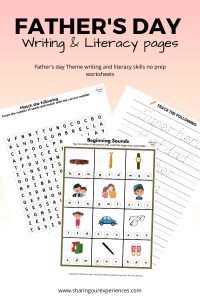 – Father's day Visual Perception activities
A wonderful set of Father's day Activity pages for Kindergarteners. A Father's Day Maze finding the way to dad via his favourite magazine. A copy picture activity to copy the father son play scene. Complete the sequence activity with all things that daddy likes.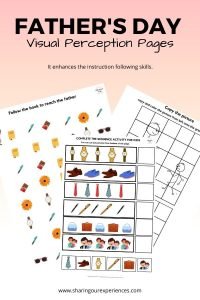 – Dad Symmetry
– Father's Day handprint craft activity with Template
Use our printables to create a special handprint gift for Dad. Just download the printable and add your handprint for an easy keepsake gift Dad will love. They're fun for the little kids, make a wonderful keepsake, and they're easy to create. They also happen to come in handy if you've waited until the last minute and need something quick!

You might like 80+ Heartfelt Father's day Quotes
——————————————-
I N S T A N T ✱ D O W N L O A D
——————————————-
This is a DIGITAL FILE. No physical product will be sent to you.
How it works?
1) Purchase this printable
2) We will send you an email receipt and a download link
3) Download the file
4) Print PDF
5) Use it for LIFE!
For printing on 8.5" x 11" paper. Highly recommended to print on heavy cardstock and laminate for reusability and durability. You may also use Velcro dots or small magnets to assemble.
FAQ's – If you are in India – You can go for this printer , this laminator and these Velcro dots. If you are outside India, Check out the amazing handpicked list of supplies by clicking here (This is a list of items moms usually buy to plan activities at home)
———————————
T E R M S ✱ O F ✱ U S E
———————————
For personal use only. Not for commercial use or resale. You may not sell, alter, or share files in any form. Thank you!