Pre writing Worksheets PDF Downloadable worksheets- Beginners Level (Cover page + 29 worksheets)
These pre-writing worksheets are designed for toddlers and young kids (Beginners level) are designed to improve the fine motor skills and pencil griping of kids. It has lines that are bold and thick which are easier for young kids to trace.
1 Cover page + 29 prewriting worksheets for practice
Minimum recommended age of 2.5 years old
Bold and thick simple patters to get started with prewriting (Beginners level)
Improve fine motor skills and hand-eye-coordination of kids.
If you want Prewriting worksheets for older kids and including curves and lines in a wipe and clean format – Check this reusable wipe clean product out on Amazon.
It is reusable so you can use it as many times as you want.
In case if you are want to pay in USD
The PDF would be delivered to yourself via Gumroad or Instamojo which is entirely safe for digital downloads.
Note – This is a copyright property. Not for commercial use (to be shared or sold)
Activities in these sheets:
Trace the sleeping lines.
Trace the standing lines.
Trace the slanting lines.
This PDF downloadable worksheets pack contains 30 sheets (of A4 size) with one cover page containing instructions and 29 worksheets with activities to practice the pre-writing sheets.
Before kids actually start writing it is very much required to develop their finger muscles so that they can hold the pencil correctly and can write properly. We can do this in a number of ways. The most common is scribbling, finger painting, beading, sorting, peeling, tracing, etc.
This is beginner's level as initially, it starts with sleeping and standing lines and then slanting lines. To make the worksheets fun and interesting for kids we have added some familiar objects on sheets. Kids will love to recognize them and would love to have discussions around them.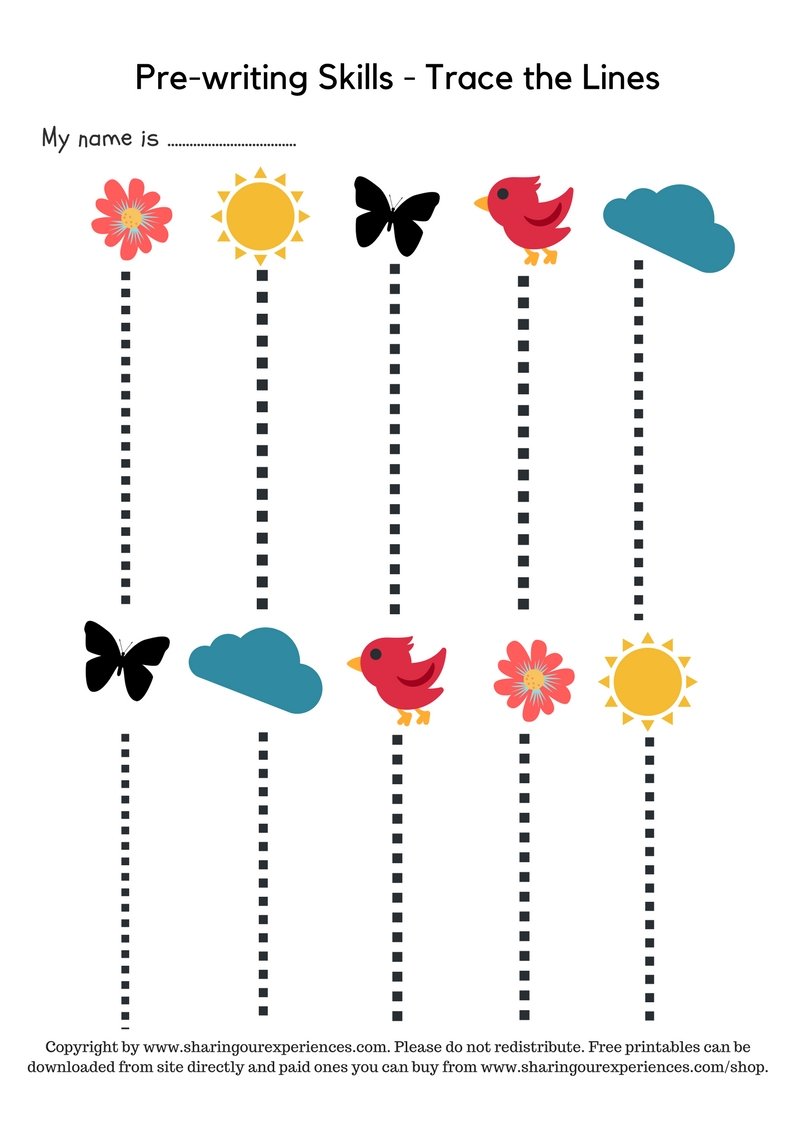 Prewriting worksheets for 3 years old+
If you are looking for Prewriting worksheets for 3+ kids that cover lines, curves and various other patterns. Download these prewriting activities worksheets pdf for kids. Great for teaching prewriting strokes
**Note – Please note that each child is unique, please start these when you think your kid is ready for these activities and using worksheets. Worksheets are to be used for young kids for a very small duration these concepts can also be taught in a variety of other ways.
Prewriting activities for preschoolers
Here are some prewriting activities that you can do with kids using this reusable wipe clean product.
How to use these prewriting worksheets?
There are different types of activities in the printables for tracing and prewriting. Let your kid do it using crayons and guide on how to hold crayons. You can also use the sheets to stick pom poms or place beads on the lines.
Have fun together, you are doing great 🙂
How to make these worksheets reusable?
Once you have printed these worksheets, you can laminate them using a laminator and laminating sheets and thus use them as many times you want :-).
We have personally used these brands of printer, laminating sheets and laminator to make worksheets reusable. Click here to see
Customization
In case if you would like any worksheet to be customized or are looking for more worksheets on a particular subject. Please drop us a mail on sharingourexperiencesblog@gmail.com.
Refund
All sales are final and no refunds will be given once they have been sent. But if you have any feedback or issue please mail us on sharingourexperiencesblog@gmail.com and we will address in the best possible manner.
——————————————-
I N S T A N T ✱ D O W N L O A D
——————————————-
This is a DIGITAL FILE. No physical product will be sent to you.
How it works?
1) Purchase this printable
2) We will send you an email receipt and a download link
3) Download the file
4) Print PDF
5) Use it for LIFE!
For printing on 8.5" x 11" paper. Highly recommended to print on heavy cardstock and laminate for reusability and durability. You may also use Velcro dots or small magnets to assemble.
FAQ's – If you are in India – You can go for this printer , this laminator and these Velcro dots. If you are outside India, Check out the amazing handpicked list of supplies by clicking here (This is a list of items moms usually buy to plan activities at home)
———————————
T E R M S ✱ O F ✱ U S E
———————————
For personal use only. Not for commercial use or resale. You may not sell, alter, or share files in any form. Thank you!