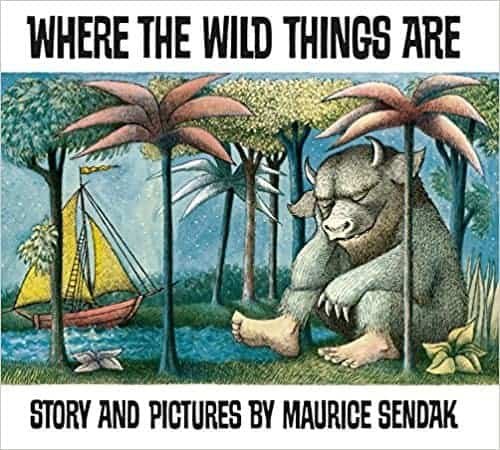 Where the Wild Things Are is a timeless classic that continues to win over the hearts of children.
The simple, rhythmic text and expressive illustrations are just as appealing  today as they were when I was a child.
Where the Wild Things Are is a is the heartwarming story of a young boy named Max and his adventures. The story is just 338 words long and despite its short length has gone on to win many accolades along the way.
The story begins when Max dresses up as a wolf and wreaks havoc in his own home. He is severely scolded by his mother and is sent back to his bedroom without supper. Max is dejected and upset and that is when he watches his bedroom undergo an astonishing transformation. He watches as his bedroom turns into a jungle and an ocean appears out of nowhere. Max sails into that ocean and reaches an island inhabited by nasty beasts simply called, The Wild Things. His adventures there make up the core of the story.
Where the Wild Things Are is one of the most popular animal themed books amongst kids. Its a must read book for your toddler and preschooler.
Buy Where the Wild Things Are from Amazon
Liked this post ?
You may also want to read about Tell Me Something Happy Before I Go to Sleep
Your Turn Now
In case if you liked this article do show your support by sharing this article.
[shareaholic app="share_buttons" id="27265281″]
Like our Facebook Page and Stumble It!
Stay connected with us using your favorite social media, we can be found on
Add a comment
Don't you find this book interesting and beautiful ? Try it and let me know using comments below. Would love to hear from you.