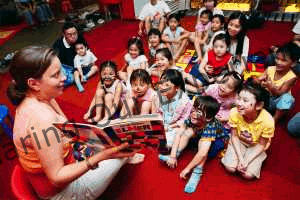 Storytelling is one of the most ancient form of communication. For eras, people have passed on legends, traditions and historic procedures through the art of stories. True storytelling is an intend to convey an idea simply through the spoken word. Today, many young parents are opting story telling activity for their kids because of complexities of a nuclear family, the addiction towards technological gadgets and lesser amount of free time available.
Many parents are interested in discovering the art of storytelling but are unsure where to start. If this interests you, here are some ideas on getting started to understand storytelling techniques and methods.
1. Research the stories you heard, like folktales
Many of the stories were communicated and re-communicated many times before being printed and people still relish them today. You must try to explore questions like why? Figure out what ties these stories together across generations. What makes them convincing? Why do kids still enjoy these antique stories? As you seek answers for these questions, you can lace these collective elements into your storytelling.
2. Consider family stories
You must go ahead and talk to your relatives and, if it is possible, do some ancestral research. Nearly everyone in a family has at least one exciting character or story in their history. If you are able to find these interesting personalities, you can generate stories about them or tell their true stories to your kids.
3. Look to your own past
You can create a character for your storytelling and use incidents and acumens from your own history to produce adventures for your characters. You can also tell the story to your child in the first-person viewpoint.
Here are some benefits of storytelling for kids that you simply can't afford to miss out as a parent.
– Inspires Virtues in Your Child:
By sharing a story to your child that come with a meaningful message, you can certainly indoctrinate qualities like honesty, wisdom, courage etc. from the very early age.
– Enhances Verbal Proficiency:
Story-telling helps in making your child acquainted with the language as well as in learning new words and phrases. This is also an amazing way to teach your child pronunciation of new words regularly.
– Encourages Creativity and Imagination Power:
A child through story-telling starts imagining the characters, places, scheme etc. This also boosts creativity, making them more inventive and open to thoughts and free thinking.
– Sharpens Memory:
Once you have read out a story to your child, you can request him to repeat the same after a few days. On the other hand, you can also ask him to define the story up till the present. This is a fun technique to upsurge memory of your child and encourage concentration.
– Helps to Face Tough Situations with Ease:
Problematic and difficult situations can often end up leaving your children feeling jumbled and confused. Stories about various characters facing problematic situations can aid them comprehend this concept and idea in a better way.
This article was first published here
Liked this post ?
You may also want to read Best books for one year olds  and Best books for two years old
Don't forget to check out latest amazon deals on best books for kids
Your Turn Now
In case if you liked this article do show your support by sharing this article.
[shareaholic app="share_buttons" id="27265281″]
Like our Facebook Page and Stumble It!
Stay connected with us using your favorite social media, we can be found on
Add a comment
Don't you find this post interesting and useful ? Do you read stories to your kid, do let me know using comments below. Would love to hear from you.