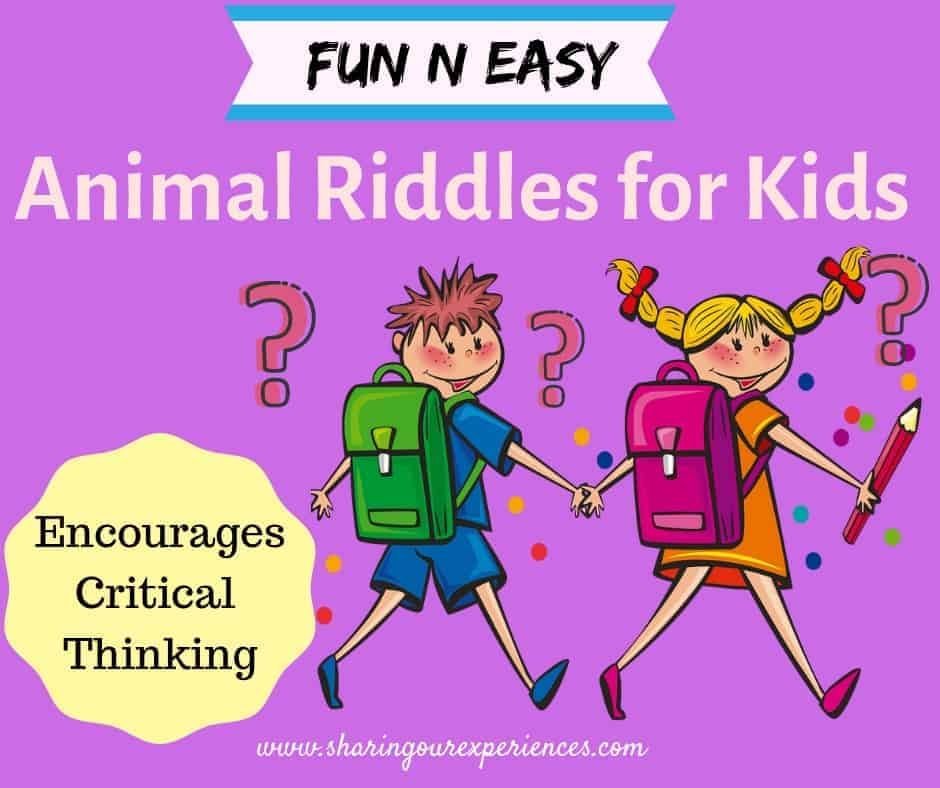 Check out super fun and easy riddles or brain teasers for kids. This game can be played with kids as young as 3 years old. 
These Easy Riddles with answers for kids are not only fun but also great for your child's growth and development. A great way to stimulate their brains and encourage critical thinking. You can download this paid card set for free via this special link
Click here and give your email id to get this pdf in your mailbox for free.
We parents keep looking for fun games through which we can make our kids learn and grow, isn't it? It has been proved through various studies kids learn more when they are happy, playing, and are free to do whatever they want to do. Through play, they can learn and can memorize what we have taught them.
Also Read – How to Teach Phonics to Kids (Step by Step Instructions for Parents)
You may also be interested in Roar-some Fun: Engage Kids with These 100 Animal Trivia Questions!
If you have a 3-year-old, you may also want to check out these FREE Alphabet activities clip cards. Learning alphabets is essential for reading and a smooth transition to KG and these cards make learning so much fun. More FREE Preschool worksheets are available here.
My kid loves to talk, explore and ask questions. So this is his way of learning about the world around him. To be honest I like his way of learning. As he is learning about what he wants to learn and not what I want him to learn. So the mom in me tries to find out the ways to let him learn things in his way only.
A few days back, when I was talking to my kid just like that I gave him some clues and asked him whether he can guess I am talking about which animal?
To my surprise, he answered correctly. That was the moment I thought I should start playing with him with small cute and funny riddles and let his brain work and grow.
Also Read – Get Your Brain in Gear with 80 Fun-Filled Riddles for Kids: Can You Guess Who Am I?
TRENDING >> The Best Educational Toys for 3 year old (What really worked for other moms and kids), Best tongue twister for kids, and Easy Krishna slokas for kids
At the age of 3 years usually, kids start recognizing some common animals and know one or two special characteristics about each animal. So why not keep those little minds at work and let them think and guess about the animals we are talking about. Kids love to play these mind games.
Also if you are planning to introduce the animal's theme to your child. You would love our animal's theme set. Here is a secret link to get the LOWEST price on this set.
Easy Riddles for kids with answers
This is an easy riddle game you can play at home and also while traveling with your kids. These easy riddles will also make kids learn about some special characteristics of animals in a fun way.
These are easy riddles for preschoolers that worked for us, do try asking your kids and I am sure you would be pleasantly surprised to see the answer  :-).
DON'T MISS >> DOWNLOAD FREE WORKSHEETS FOR KIDS

Easy animal riddles for preschoolers
So let us have a look at some of the riddles you can ask your kids.
If you would like to get these riddles in flashcards format that you can download and print them.
Just download, print, cut, and play for hours of fun.
Also, I have narrowed down some good riddles books for preschoolers that have great reviews on Amazon and I would like to buy as and when I can. I will be sharing the list in the next section, but here are my favorites.
Do not MISS to Check out >> This carefully compiled list of handpicked items to make hundreds of crafts and activities
Related – Best Books for 3 year olds (You can't miss this list of all-time favorites)
Here, are the Riddles…
I have wings but I am not a bird, I am small, colorful, and beautiful, I live in Gardens and fields and forests, I used to be a caterpillar -Who am I?
Answer – Butterfly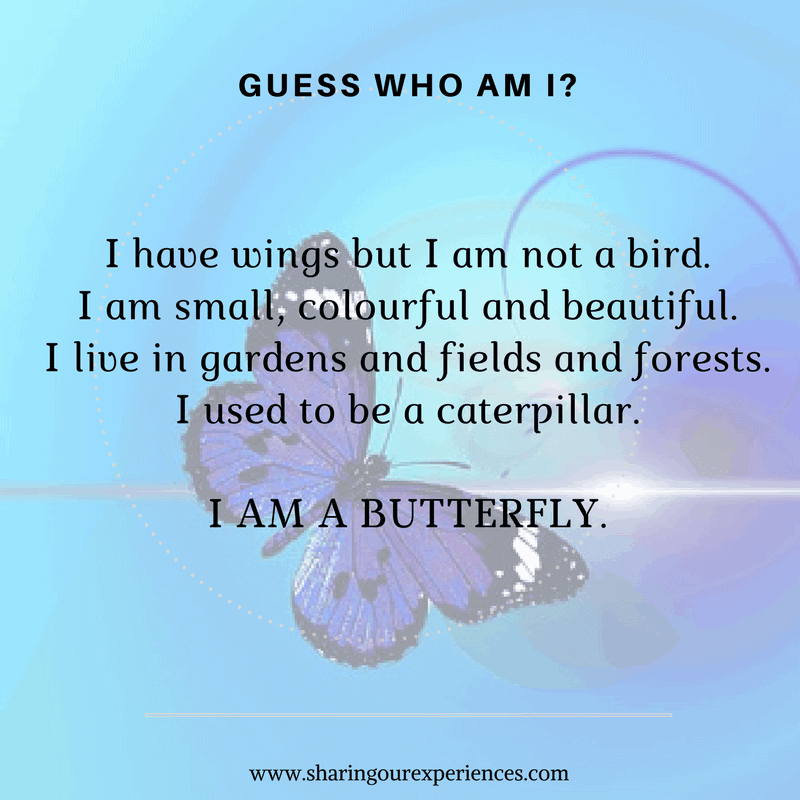 I look like you except I have a tail, I am a good tree climber. I can mimic you very easily. I eat fruits, insects and flowers. My favourite food is Banana – Who am I?
Answer – Monkey
Related – What is Spatial Intelligence – A complete guide for parents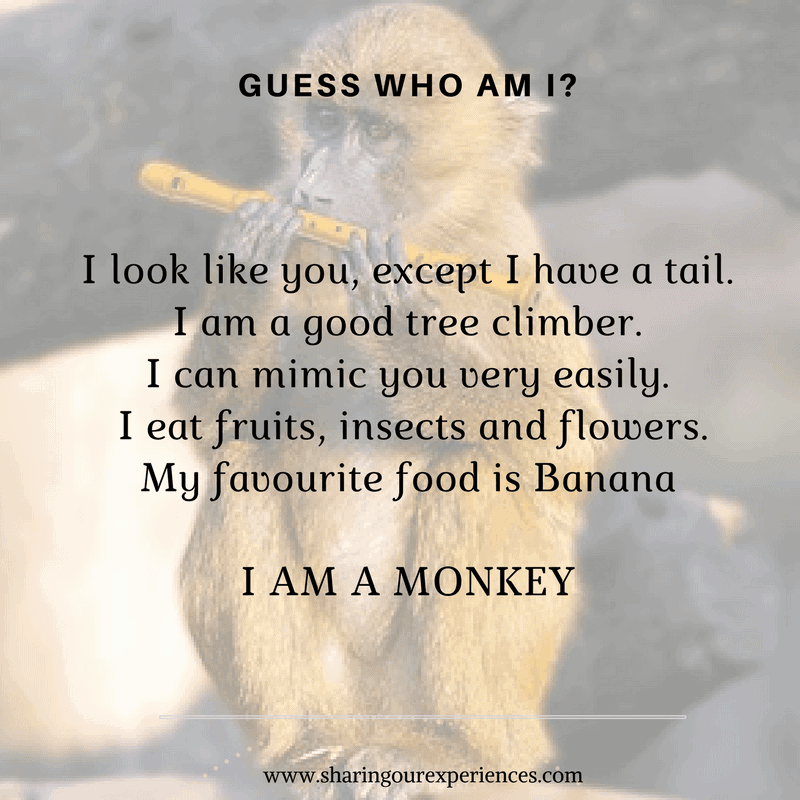 I am a soft and furry pet, I have four legs and a long tail, I have sharp teeth and claws. I like to chase mice. You can hear me saying Meow Meow – Who am I
Answer – Cat
Related  – What is Child Development. What are the areas and skills associated
I am a pet that has four legs and a tail at the end, which I wag when I am happy. You might hear me marking Bow Wow. And I am known as man's best friend I like to smell things – Who am I?
Answer – Dog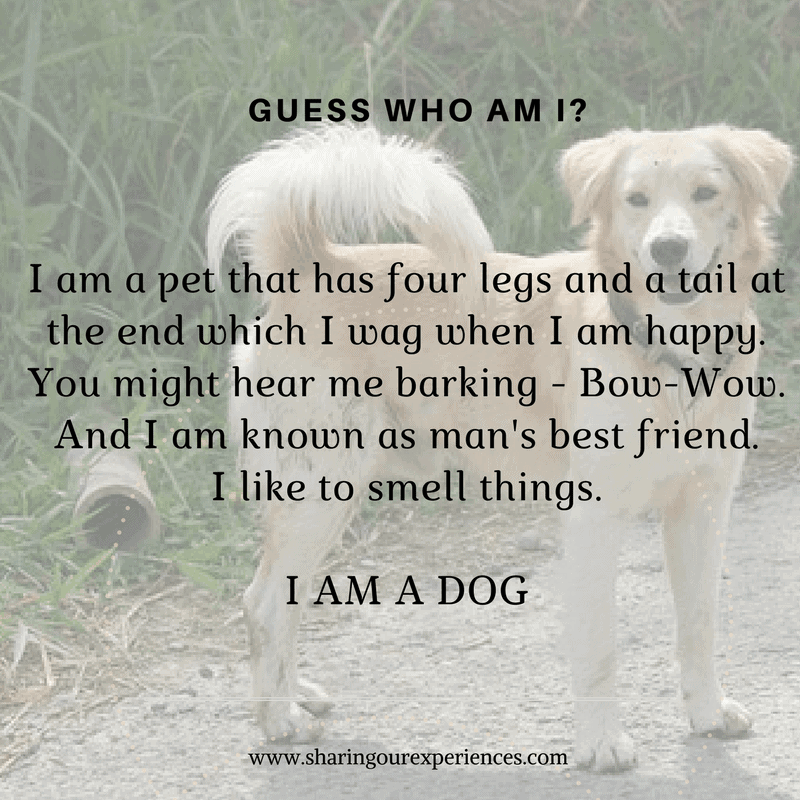 I have four legs and a long furry tail. I eat oats and hay. I love to run fast. I let people ride on my back – Who am I ?
Answer – Horse
Related – Honest review of Brain Quest cards. Are they helpful for kids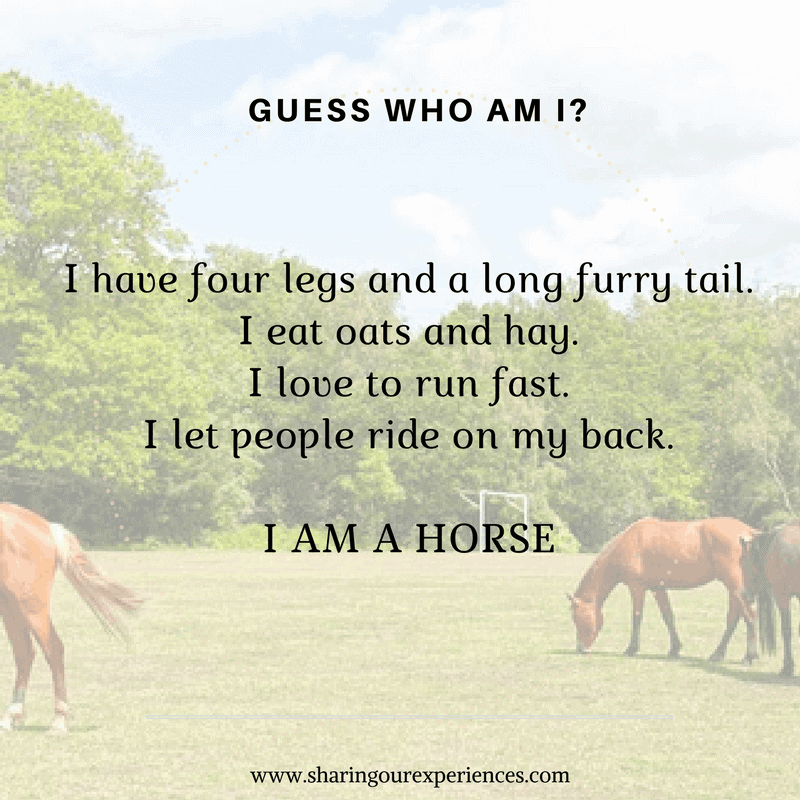 I have two long ears. I don't walk I Hop. My hind limbs are extremely strong which help me in Leaping great distances. I Live in underground burrows. I eat plants but my favourite snack is carrot – Who am I ?
Answer – Rabbit
I am the biggest cat in the world. I have orange, black and white stripes. I hunt for pigs, deer, rhinoceros, and even small elephants. Unlike other cats, I am a great swimmer – Who am I?
Tiger
I am a very big animal. I like to eat Peanuts, banana and hay. I have four legs, two big ears and two long teeth  – Who am I
Elephant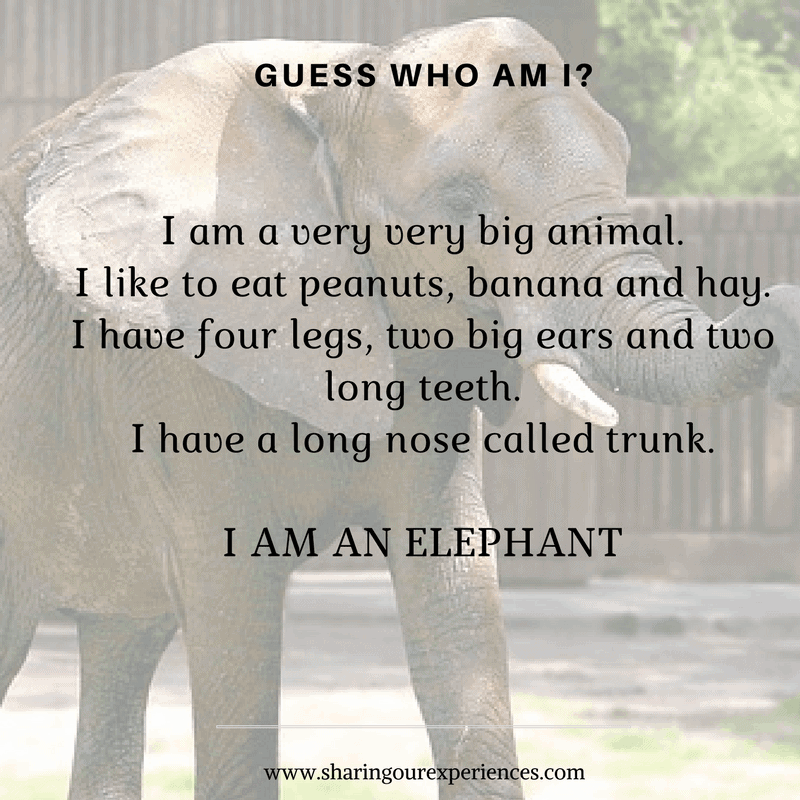 I am from Australia. I eat grass. I have strong hind legs that allow me to hop for long distances. I carry my babies in my pouch – Who am I ?
Answer – Kangaroo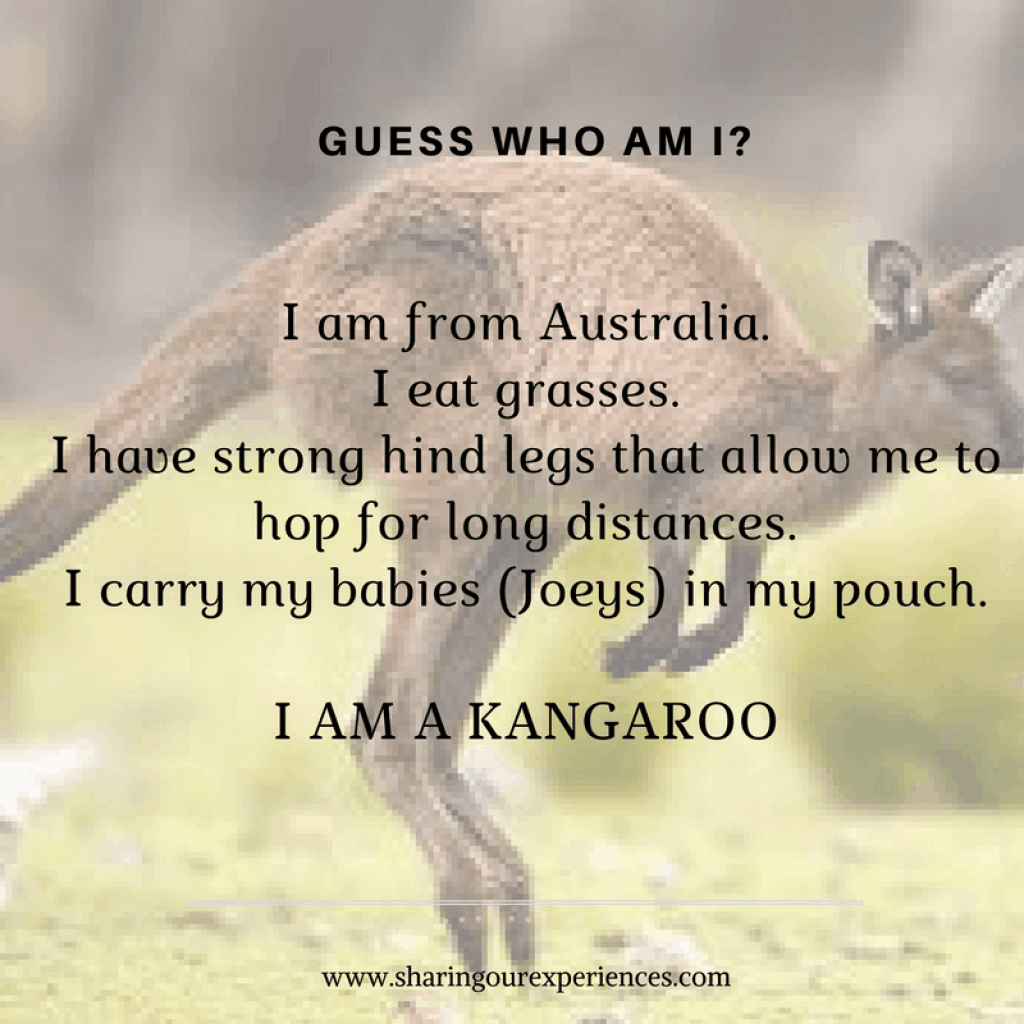 I am known as the king of the jungle. I possess both beauty and strength. I live in groups called prides. My little ones are known as cubs. Who am I
Answer – Lion
I have a long neck that helps me in eating leaves from trees. I have four long legs. My kick can kill the jungle king. Drinking water is a big task for me- Who am I ?
Answer – Giraffe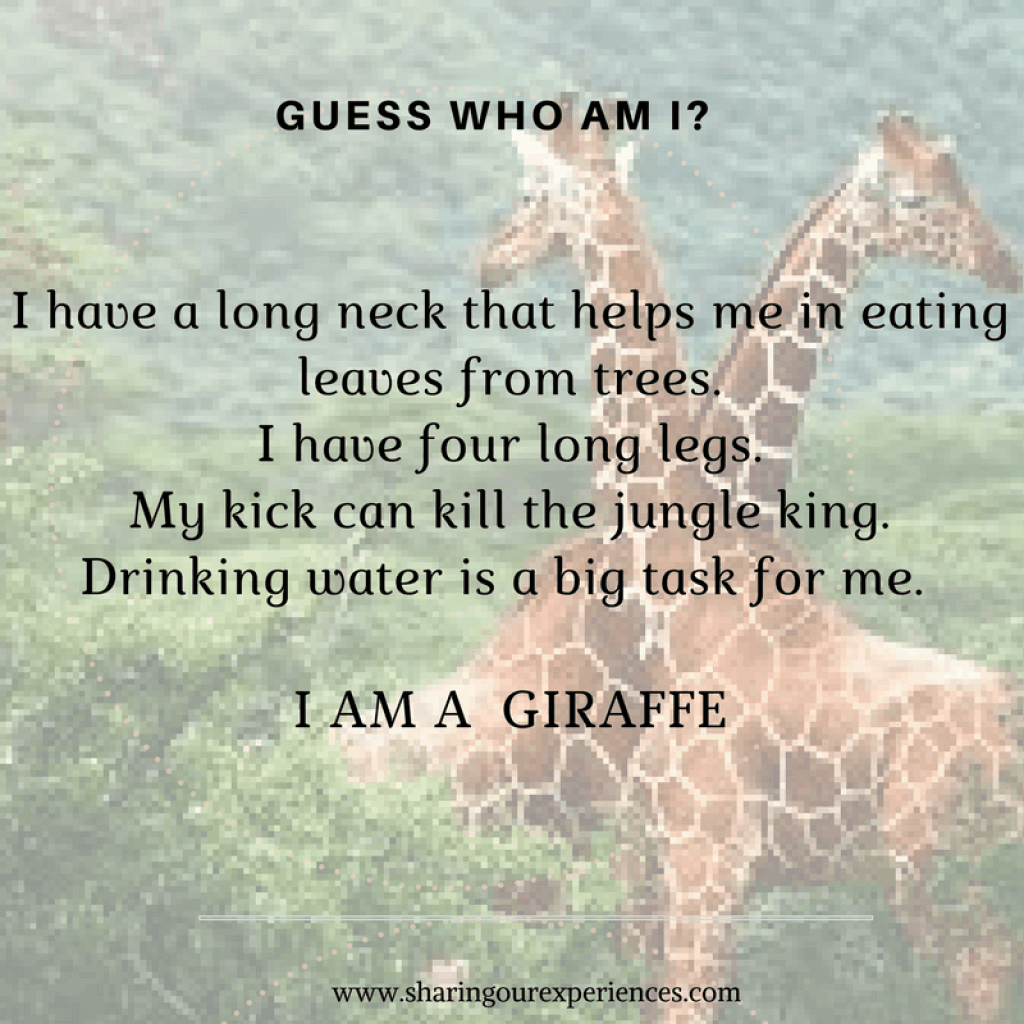 I live in the woods. I am very big and furry. I have a big nose, a little tail and four legs. I like to eat fish and berries. I love honey as much as you do – Who am I
Answer – Bear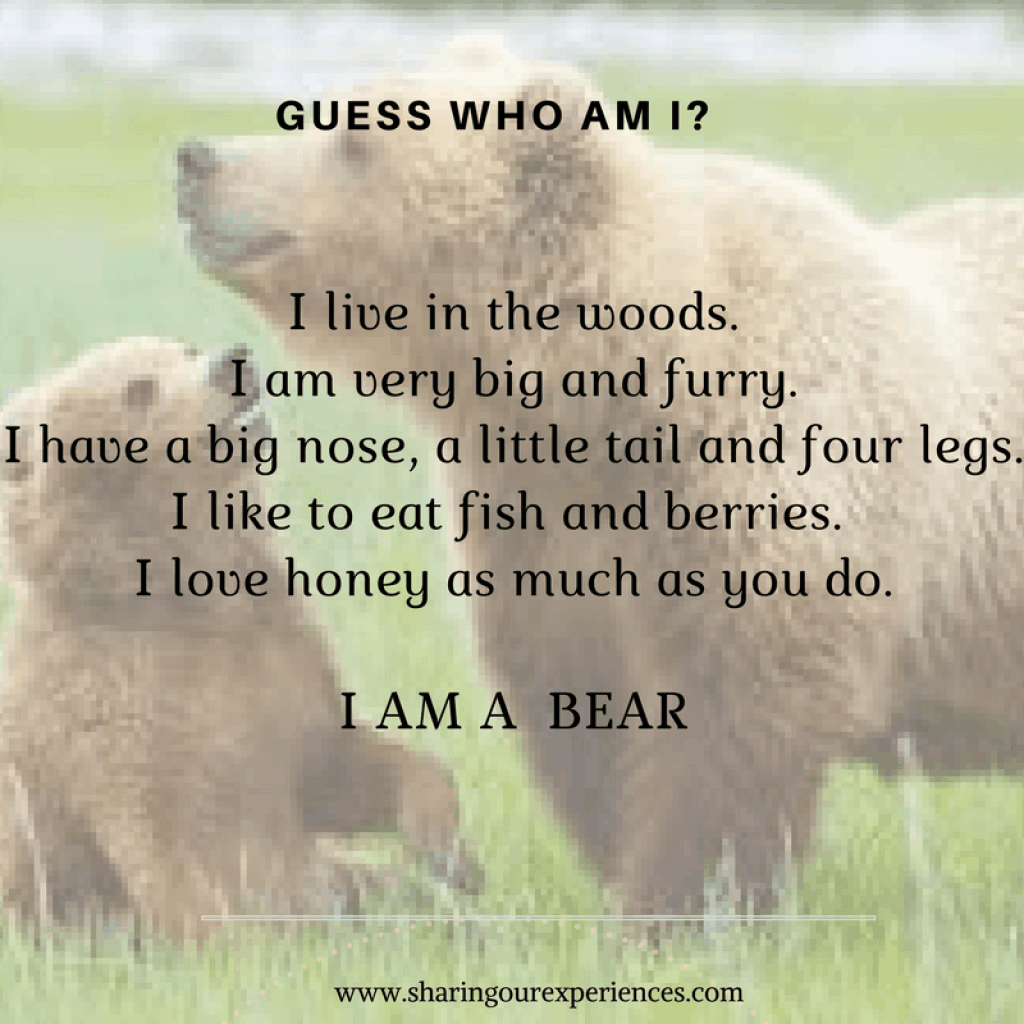 I am from Africa.I have black and white stripes on my body. I eat herbs, leaves, twigs and a bark. I am a very social animal who lives in large groups called harems – Who am I
Zebra
I am a small cute animal. I have soft and silky fur. I have a bushy tail and two big eyes. You can find me in your garden. I love to eat seeds, nuts and fruits – Who am I ?
Squirrel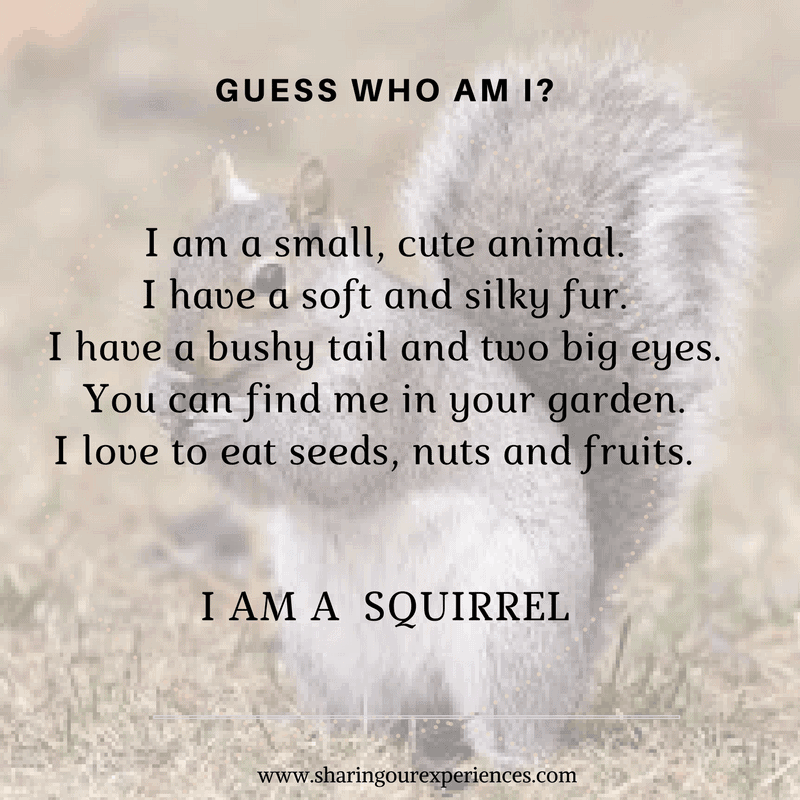 I am small and shy. I have eight legs. I eat bugs. I catch them in my home called cobweb – Who am I
Spider
I am one of the most beautiful birds on earth. I love to dance when it rains. I list to rest on roofs or trees. I like to eat insects and plants. I am also known as the national bird of India Who am I ?
Answer – Peacock
I live in the ocean. I move slowly. I eat clams. I have five arms Who am I ?
I am a starfish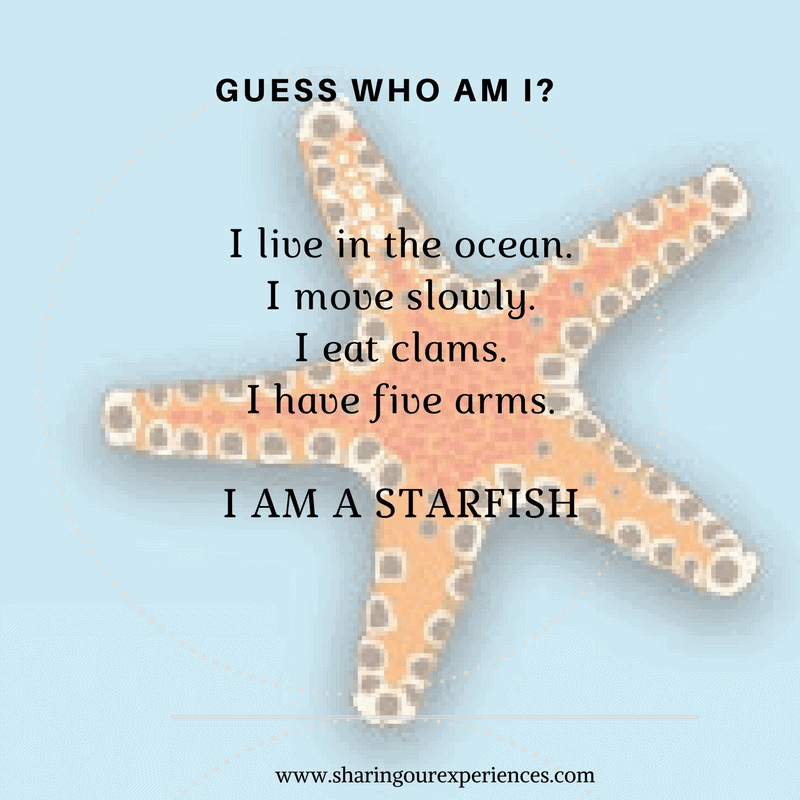 I have four legs and a tail. I have no teeth. I have good eyesight and an excellent sense of smell. I can swim and dive underwater. I carry my house around with me. Who am I?
I am a turtle
I walk slowly because I carry my house around. I live much longer than many of you. I have no teeth. I eat grass, ferns, flowers and fruits. Don't attack me, otherwise I will hide inside my shell and won't let you see me – Who am I
Tortoise
I am known as highly intelligent marine mammal. I am found worldwide mostly in shallow seas. I am generally grey in colour. I am well known for my playful behavior – Who am I ?
 Dolphin
I am sure you found these riddles interesting and informative. Try these with your kids, they are going to love this game and be ready to see the spark in their eyes and a smile on your face when in no time they will solve these little riddles.  Let me know your experiences right here.
If you are interested in more Brain development activities – you would love these early coding worksheets for preschoolers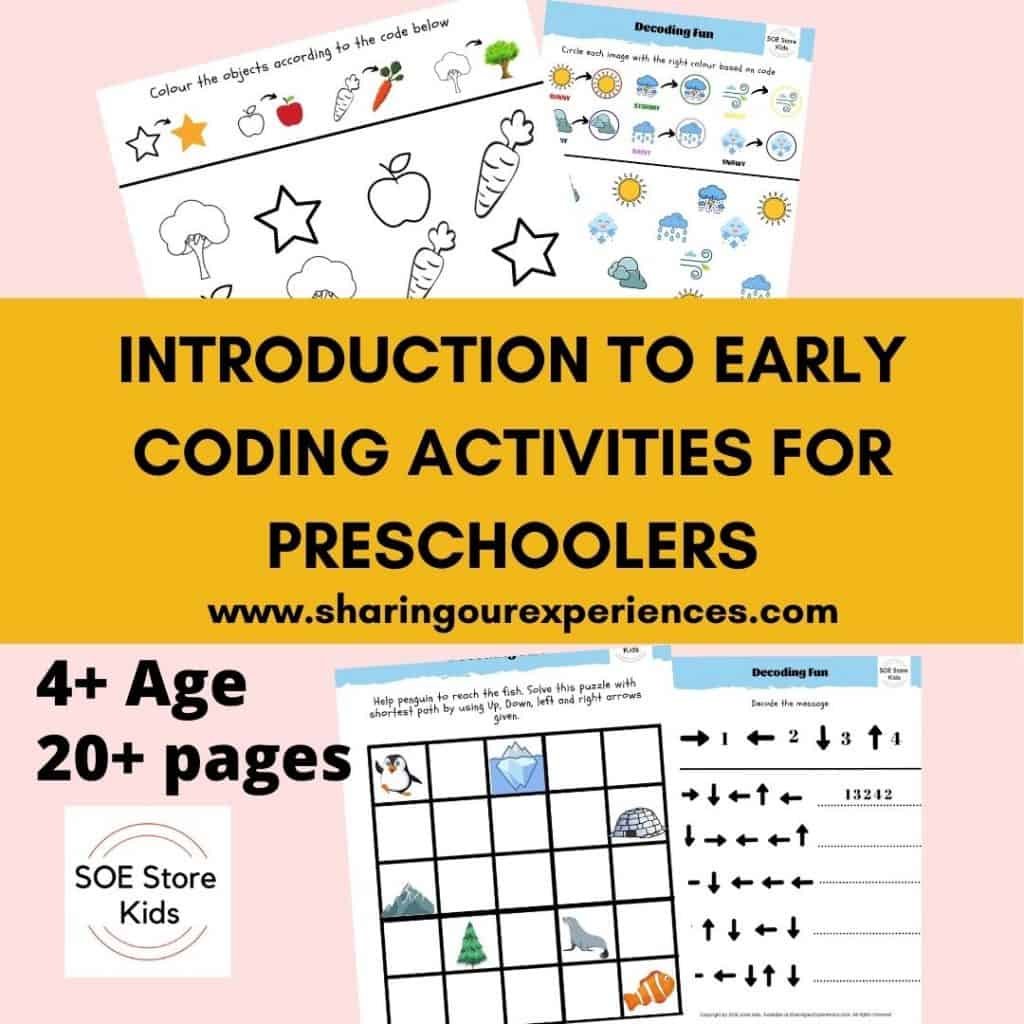 If you liked this post, Don't forget to pin it
Good riddle books and critical thinking books for preschoolers on Amazon
Watch this space for more such ideas.
Best Riddles for 5 Years Old
Here are some simple and fun riddles that are appropriate for 5-year-olds:
What has four legs in the morning, two legs in the afternoon, and three legs in the evening? Answer: A human (as a baby, they crawl on all fours, as an adult they walk on two legs, and as an elderly person they use a cane for support, which is represented by the third leg)
I am always hungry, I must always be fed. The finger I touch, will soon turn red. What am I? Answer: Fire
I am light as a feather, yet the strongest man can't hold me for more than a minute. What am I? Answer: Breath
I am taken from a mine, and shut up in a wooden case, from which I'm never released, and yet I am used by almost every person. What am I? Answer: A pencil lead
What starts with an E, ends with an E, but only contains one letter? Answer: An envelope
These riddles are meant to be fun and encourage critical thinking and problem-solving in young children.
Also Read – Easy Riddles with Answers for kids
Happy Playing !
Related posts
Hope you enjoyed these really easy preschool riddles for kids :-).
Other Related Posts you may be interested in reading are:
8 simple activities for brain development
Simple and Fun science experiments for kids (Preschoolers love them)
30+ Good manners for kids that every child should learn (includes time-tested tips on how to teach good behavior)
How To Teach Moral Values To Kids
Say Goodbye to Boredom: Discover the Best Board Games for Your 2-Year-Old!
Who am I? riddles on community helpers
You may also want to check out another easy idea on how to make a finger caterpillar puppet. An excellent activity to do along with reading Eric Carle's The very hungry caterpillar book.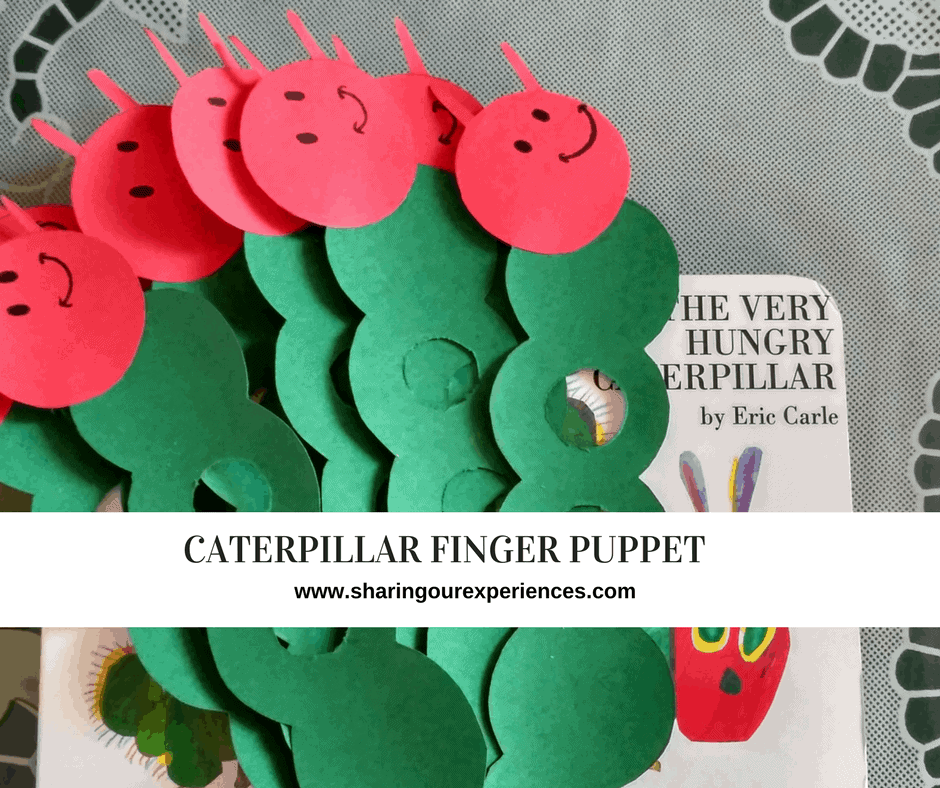 If you have any suggestions or reviews don't forget to share in the comments below. We would love to hear from you.
Very Easy Riddles with answers for kids