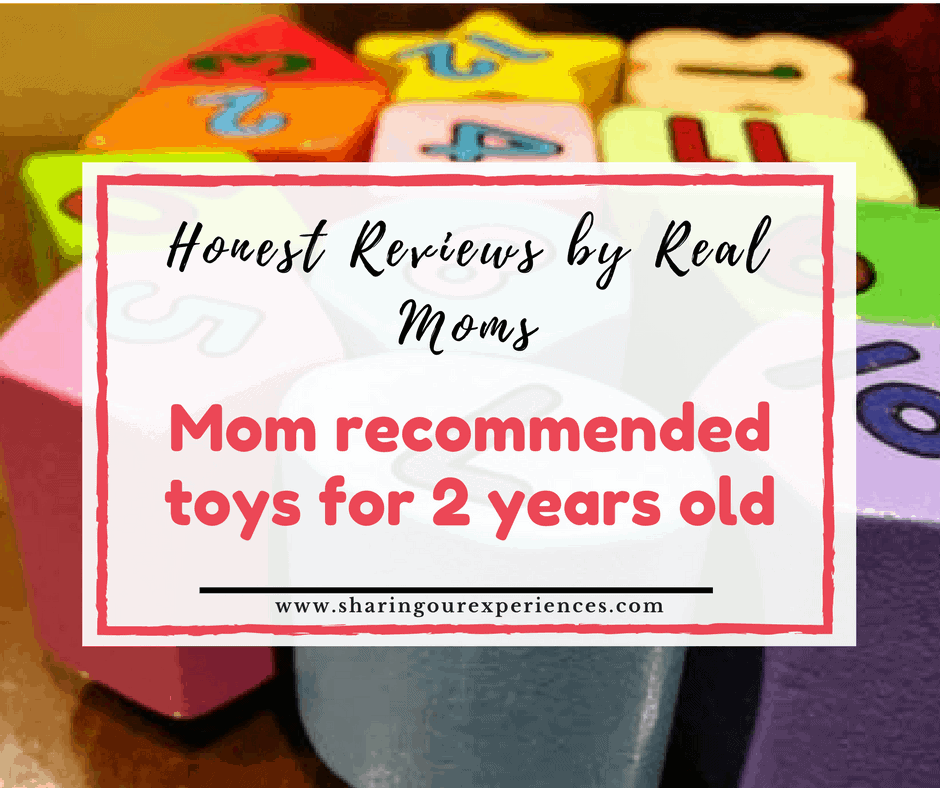 ---
See here a list of mom recommended toys for 2 years old. These are toys that I bought or used when my kid was 2 years old so they have been tried and tested by me.
Keeping a 2 years old engaged is not easy and so is buying toys for kids. So today I am compiling a list of toys that I got for my kid when he was 2 years old. Some of these toys were not used at the time but we started using it as and when my kid was ready.
What do I mean by my child being ready for a toy ?
For e.g. I take out a sticker pad and I see my kid shows no interest in it. Or  lets say he does not display the skills to play for it (is unable to peel the stickers at the time even after trying his best). And as a result is getting agitated. That means it is time for me to put it away and then take out after some time.
Another thing I used to do is buy toys or take out toys based on my kids interest. Also called Child led.
What do I mean by Child Led Toys ?
For e.g. I see that he is taking a lot of interest in peeling things with his finger or trying to pick up things from the floor. Time for me to take out a sticker pad. If I see him trying to play with dough while I am making chapatis, time to try out the pack of play dough from my almirah.
So without further ado here is a list of toys that I bought or used when my kid was 2 years old.
Advertisement| Article continues below.
---
---
List of mom recommended toys for 2 years old
Mitashi Color Doodle Amaze or Magnetic Slate
I think I got it when my son was one and a half years old and my son is showing interest in it even when he is three years. So it is definitely a must buy. It is good for developing fine motor skill and hand eye coordination. I am also using it for prewriting tracing activities (started recently after my kid turned three)
back to menu ↑
Melissa and Doug Wooden Blocks
I already had Fisher price mega blocks set but now I wanted to get wooden block which can be used for balancing and spatial arrangements. So I got these blocks. They have 100 pieces of wood of various shapes, are light in weight so easy for a child to pick up, are wooden (so safe) and are good quality and non toxic.
A good toy. A little expensive but since they can be used till the child is three to four years old, its value for money.
Related – List of best Handpicked books for toddlers that you can invest in without thinking twice
back to menu ↑
Melissa and Doug water wow activity Book
Now this is a must buy. Its just great to keep a two year old engaged.
Its one of those toys that I have also gifted to other kids in the family as I could see that my son loved it. Its also great as a travel toy. You can fill the brush with water and use it for painting. The water does not leak. All a kid has to do is use brush on the booklet and color appears. The pages are re-usable because the colors disappear when the pages get dry.
So considering the price and the usability, its definitely a must buy. We started with the one below
There are themes available so you can get animal themed, or alphabet themed or anything else based on your kids interest.
It is good for developing fine motor skill and hand eye coordination. It can also be used for teaching alphabets, numbers, animals or anything else depending on what theme you are buying.
Check out all themes of Melissa and Doug Water Wow here
back to menu ↑
Melissa and Doug Reusable Sticker Pad
Again a must buy.  I am not recommending any toys in this list that I have bought and not liked 🙂
This is the sticker pad that I was mentioning in my examples above. My kid starting using it a little after two years and still plays with it (at 3 years).
So the sticker pad contains 5 colorful backgrounds and at least 100 above reusable stickers. That can be peeled, added wherever you want and then if you want put back (the part that we are using as a puzzle, as you need to match shapes with sticker). We have the one below
The sticker pad is also available on various themes. The one we have is Adventures sticker pad. Apart from developing fine motor skill and hand eye coordination, we are also using it as a puzzle for developing critical thinking.
Check out all Melissa and Doug Sticker pads themes here
Also Read – What are the Activities I can do for developing fine motor skills with my kid
back to menu ↑
Skillofun Lacing toys
Another one in my list of must have and travel toys. They are small, are good for fine motor skills, hand eye coordination and improving concentration.
We have a Butterfly shaped lacing toy as my son was in love with butterflies at that age.
But these lacing toys come in a variety of shapes so you can choose the one that matches your kids interest
Check out all SkilloFun Lacing Toys shapes here
I also got a set of Skillofun plastic beads with it so at times we used this toy without beads and others we used it for beading.
back to menu ↑
Skillofun Knobbed puzzles – Animal themed
I had introduced two piece puzzles to my kid when he was one year and got these puzzles as the next step. He was in love with dogs as well so our puzzle is a dog shaped Knob puzzle.
Skiilofun toys are pocket friendly and are usually good quality.
Apart from hand eye coordination and fine motor skills development, these puzzles are also good for developing critical thinking ability.
Check out all Skillofun Knobbed Puzzles here
Also Read – How to make DIY Puzzle from Popsicle sticks and Printouts
back to menu ↑
Skillofun Wooden Nursery Tray with Alphabets and Pictures
This is another puzzle that we are still using. The quality of it could have been better but its been good enough for us and mainly it has survived for more than a year.
This toy can be used as a puzzle as well as a picture game. It is also good for learning or introducing alphabets. These puzzles are available as numbers or lower case alphabets. So you can pick up a theme that works for you.
back to menu ↑
Leapfrog My Pal Scout
Now lets also talk about a toy that I got for my kid at 6 months and its still being used.
So introducing you to Scout by Leapfrog.
It is a soft toy that can be programmed for your kids name and choices of favorite color, animal. If we press Scouts one hand/paw the toy will talk, If we press another hand/paw the toy will sing nursery rhymes. If we press one leg/paw it will be switched off and if we press another leg/paw the toys will play a sleeping tune for few minutes.
The diction is good.
I think I fell in love with Scout when I saw it in Hamleys so bought it. Its a good toys to engage your kid but a little expensive. So  won't call it a must buy. But its definitely a good toy and we love Scout.
Related – How to choose Tricycle and Best Tricyles for a 2 year old for you
back to menu ↑
Tomy little Chirpers Sorting Eggs Learning Toys
Now lets also talk about another toy that I got for my kid at 6 months and was used til he was 2 and a half years old.
I don't know what is it about these eggs but my kid has loved them since he was 6 months old. First he used to press them for squeaking, then he used it for shape sorting, then shape and color sorting and then finally emotions.
This toys can be used for shape sorting, color sorting, improving hand eye coordination, fine motor skills and introducing emotions.
back to menu ↑
Melissa and Doug Pattern Blocks and Boards
Another toy we love from Melissa and Doug. What we love about this toy is that what we can do a variety of things with this toy. How we use it keeps on changing as we grow. So it can be used from 2 years till your kid is 4 years at least.
The toy contain wooden pattern boards and wooden blocks of various colours and shapes. So it can be used for stacking, sorting, color recognition, pattern building, matching, learning shapes, learning colours, problem solving, critical thinking and increasing concentration.
Its a little expensive but considering that it can be used in various ways and for a good amount of age range. I would recommend this toy as must have toy.
back to menu ↑
Melissa and Doug Tape Activity Book
This is another great toy from Melissa and Doug.
The reason i have kept it towards end is because I got it at 2 years but we started playing with it after my son was 2.6 years old.
But once we started playing with this, my kid loved it. If nothing else worked we would play with the tape activity book.
So what it contains is 20 reusable pages featuring 20 unique pictures. The pictures have to completed using tape. So the activity involve peeling tape, breaking it (it can be easily cut with hand) and pasting it on the pictures.
So it is a kind of cut and paste activity with tape. And my son loved doing these activities.
This activity books is good for hand eye coordination, fine motor skills and increasing concentration.
You may also be interested in reading – How to handle toddler tantrums
back to menu ↑
SOE store kids early learning Reusable activity book
In case if you want to start an activity book with your kid. This is something that kids from 2 to 5 year old love.
So you may want check this one out as it covers all skills and is reusable. Kids love it for doodling as you can write with any marker pen that can be used on white board and wipe with a wet cloth or duster to clean it up.
https://www.instagram.com/p/Bt05IHyFRE6/
You can also check out flash cards and plan activities and games with your toddler and preschooler.
Note – The recommended age for playing for some toys above is more than three years. but since my kid seemed ready,we were able to play with these toys together.
So that brings me to the end of this list of must have toys for 2 years old. If you have any toy that you have used, loved and would like to be added in this list, please let me know using comment below I will update the list with your name, comments and inputs.
Also Read – Easy Activities you can do with your 2 year olds for their development
Don't miss to pin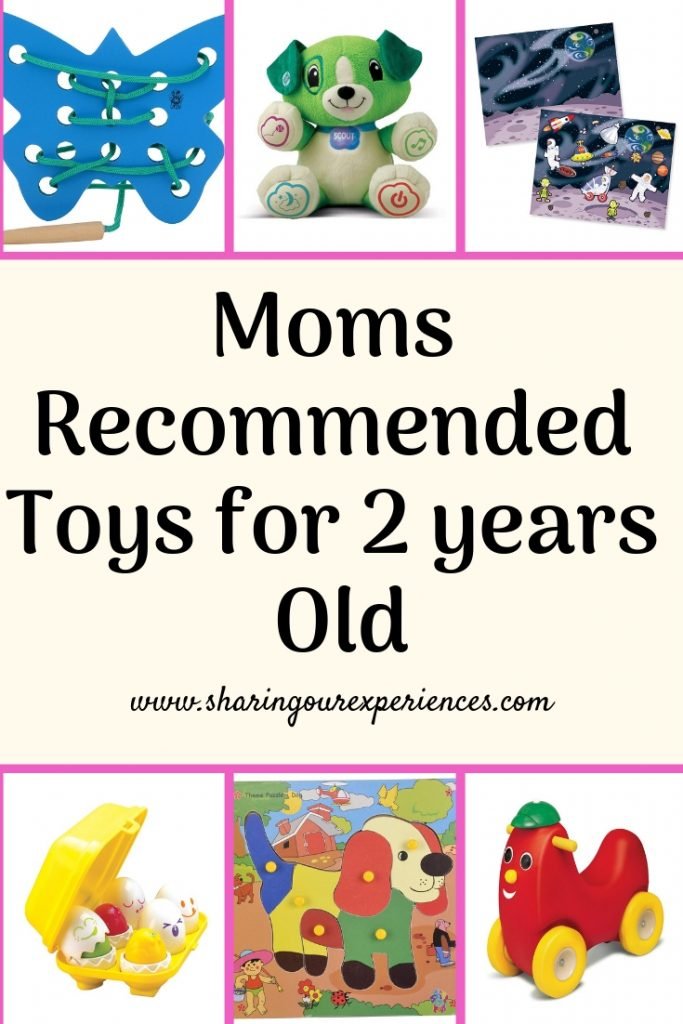 Liked This Post ?
You may also want to read our popular post on  16 Best books for 2 year olds
Your Turn Now
In case if you liked this article do show your support by sharing this article.
Like our Facebook Page 
Stay connected with us using your favorite social media, we can be found on
Do you want to share your parenting tips, stories, toy or book review, let us know by using comments below or mailing us on sharingourexperiencesblog@gmail.com
Add a comment
Did you find this article on mom recommended toys for 2 year olds useful ? Do you want to add anything to this list of toys for two year olds. Do let us know using comments below. We would love to hear from you.
We love hearing from you. Add a Comment using your Facebook id (if you don't want to use Facebook, scroll down to leave a reply using other options)