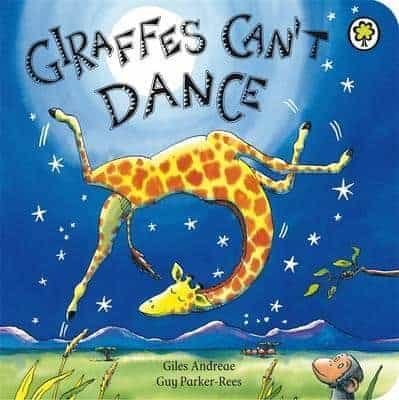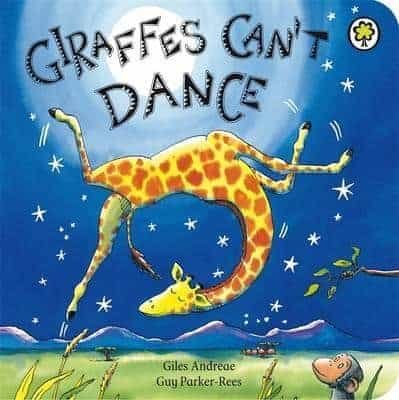 In case you're wondering why Melman of the Madagascar fame initially can't dance, only on the third installment of the franchise did he learn to dance with the aid of Gloria the hippopotamus, then you might want to get the Giraffes Can't Dance and read it together with your child to learn more about the reason why giraffes can't dance.
Gerald the Giraffe, like Madagascar's Melman, is one clumsy 4-legged, long-necked mammal. Because of his rather slender and quite inflexible legs, dancing isn't really one of his fortes. Unlike the rocking and rolling rhinos and the tango-esque lions, Gerald lives a rather sad existence, having been rejected by the other animals in the story. But things did change as Gerald started to make those dance moves that can even make John Travolta and the other stars of Footloose blush.
The story is all about trying to fit in. And while the recommended age of the book is between 3 and 6 years of age, we found it very helpful for young readers to realize that it's perfectly okay to be different as well as how they can achieve something in an entirely different way.
Giraffes Can't Dance is one of the most popular animal themed books for toddlers and preschoolers. It also gives a moral apart from a great story. A must have book in your collection.
You may also want to read Use Your Words Sophie; By Rosemary Wells
Your Turn Now
In case if you liked this article do show your support by sharing this article.
[shareaholic app="share_buttons" id="27265281″]
Like our Facebook Page and Stumble It!
Stay connected with us using your favorite social media, we can be found on
Add a comment
Don't you find this book review interesting and beautiful ? Try it and let me know using comments below. Would love to hear from you.