As your baby is now a bit older and is awake more of the time. So now you have more time to spend in play. You may be looking for games you can play with 8 month old baby to utilize his competence and enhance his growth and learning skills.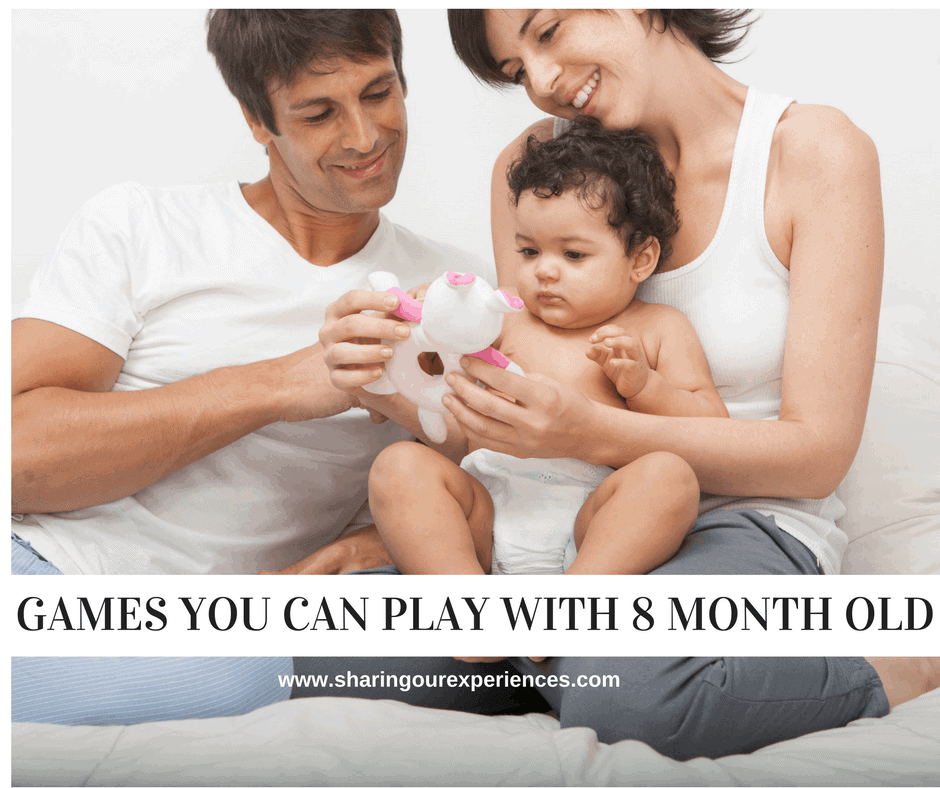 This is the time when your baby is starting to discover the world around him. His emotions are becoming more obvious now and he may be able to express himself better. This is the time when some babies are able to learn how to clap when they are excited, or throw a kiss or wave goodbye.
So let's have a look what all games you can play with 8 month old baby to encourage him to learn new things and nurture his skills.
Pat-a-cake
This is one of the early games. Interestingly, this game seems to be present in some form in the early play rituals of the all the societies.
At first you should demonstrate the game by clapping your hands together and reciting "Pat-a-Cake" or you may simply say "Clap Hands". Repeating the words again and again in a rhythmic manner can arrest the babies interest. Most babies enjoy this activity and try to do it in their own manner. Their effort should be recognized by you with a pleasant smile and comment such as "Good", "That's nice."
Bye-bye
There is another activity that is appropriate for babies of this age. It is part of socialization, and can also be a game. It is best to start this game when guests, relatives are leaving after a visit and are waving good-bye. The words should be said in a musical, rhythmic manner, so the baby can get the rhythm of the intonation and learn to imitate it. After some repetition the baby may be able to respond by waving her own arm.
Peekaboo
Babies usually like this game very much. Begin to teach the baby this game by covering your eyes with your hands, and then uncover your eyes and say "Peek" or "I see you". Usually, the baby's expression becomes very serious when you cover your eyes or face, but it becomes all smiles when your eyes or face reappear.
The significance of the game, in addition to its fun for both you and child, is the baby begins to experience appearance and disappearance. The baby begins to deal with the concept that something that disappears from sight does return. navigate to these guys
So Big
Another game you can play with your baby is So Big. They can put up their arms to show you how big they are. Babies actually love this game. Their response should be followed by your approval, a smile and a nice comment.
The importance of "So Big" is that it teaches the babies some idea of the extent of themselves. Playing is a baby's work because he or she learns through play.
Hide and Seek
Instead of hiding yourself or your kid, you can hide her favorite toy and ask her to find the toy. As it is her favorite toy she will definitely want that toy back. She will start looking for toy and would be very happy when she will find it.
This is a perfect game to play with your baby. They can play this game happily for long time.
The above mentioned games help babies to develop some skills, on the other hand this is a way for parents and baby to spend a happy time together. The parent-child relationship gains from this pleasant interaction.
Liked this post ?
You may also want to try Books for One year old
Your Turn Now
In case if you liked this article do show your support by sharing this article.
[shareaholic app="share_buttons" id="27265281″]
Like our Facebook Page and Stumble It!
Stay connected with us using your favorite social media, we can be found on
Add a comment
If there is any other game that you play with your 8 month old, do let us know using comments below. I am sure other mommies will benefit from your experience and we will have another happy baby. Would love to hear from you.