5 Excellent Reasons to Choose Cloth Diapers (Why making switch to cloth diapers is a smart option)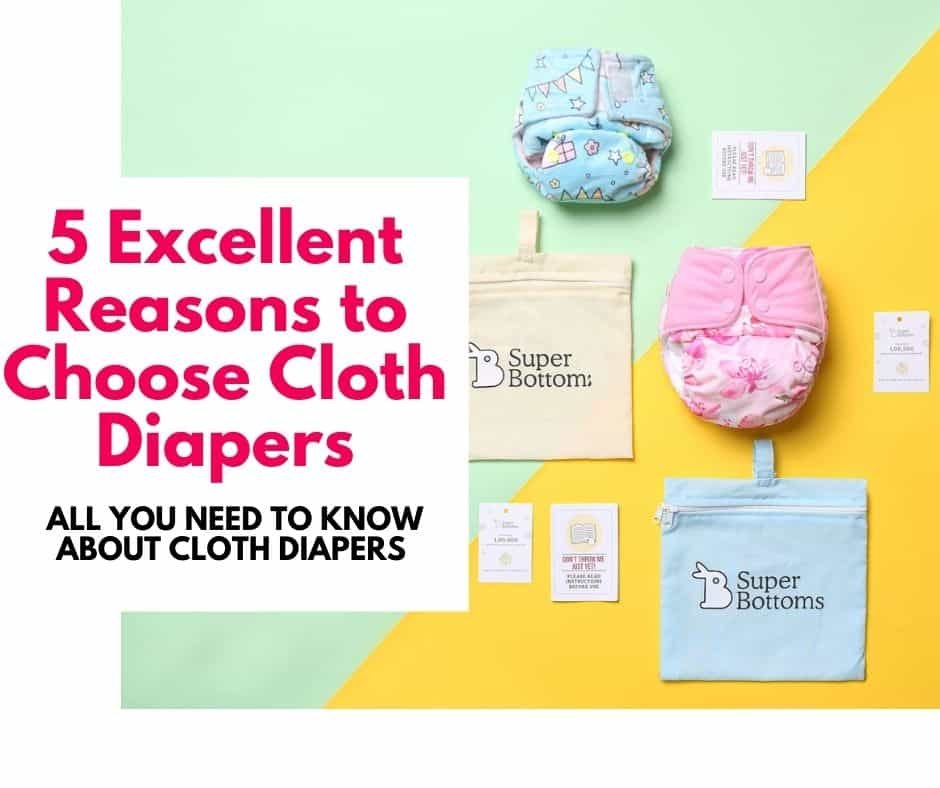 ---
When your baby arrives, your life mainly revolves around feeding your baby, changing their diapers, and putting them to sleep. Most new parents find themselves overwhelmed after the delivery of their newest member of the family & the pressing question always boils down to – DIAPERS!
The choice between disposable diapers & cloth nappies never comes in easy. Most disposable diapers aren't biodegradable and consist of harmful chemicals that might hurt your baby's sensitive skin and cloth nappies can be really messy!
When you talk about cloth diapers, many people start imagining complex cloth folds and dirty load of laundry. But, that is not true with Modern Cloth Diapers.
But have you heard about the third alternative – Cloth Diapers? Cloth Diapering is a brilliant option for your baby's diapering needs and for the environment too.
And nothing says advanced, high-performance cloth diapers better than SuperBottoms UNO. (Click here to see them here) Let us tell you why.
Advertisement| Article continues below.
---
---
5 reasons to Choose SuperBottoms UNO
Super skin-friendly: SuperBottoms UNO diapers are made of GOTS certified 100% organic cotton that stays dry overnight with high absorbency, keeping your baby safe & not feeling the wetness within. It's CPSIA tested and certified safe from any harmful chemicals. So gentle on the baby that it feels like a second skin. Containing no plastic, these allow for better airflow & breathability of your baby's skin.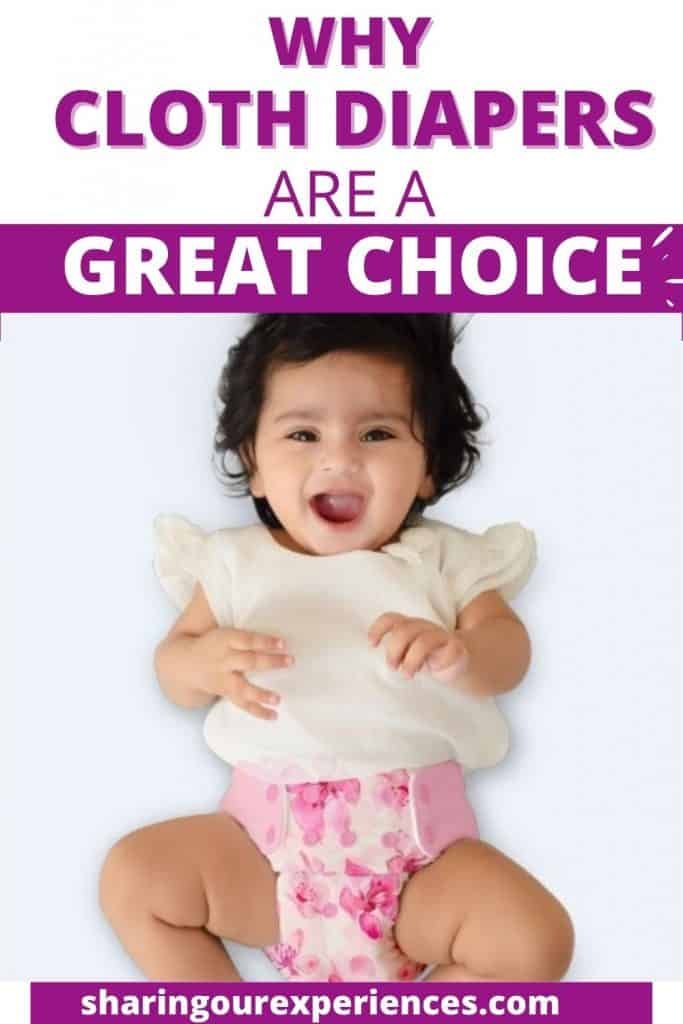 No harmful chemicals : SuperBottoms UNO contain no toxic chemicals like phthalates, lead, plastic nor chlorine which are considered harmful for your baby. These chemicals can not only strip away good protective bacteria from your baby's skin and change the pH balance which in turn could cause dryness and skin irritations but also are not a healthy choice in the long run. With SuperBottoms UNO, you can be sure of no harmful chemicals touching your baby's skin leading to lesser chances of rashes and a healthy baby skin. 
Economical: SuperBottoms UNO diapers save a significant amount of money as you will need only 16 of them for your baby's diapering lifetime. Yes, the diaper growing with your baby is not a myth! The same cloth diaper can be worn from when the baby is 3 months till he grows 3 years old. Let us get to the math :
In 3 years, your baby will need 16 UNO x Rs. 800 = Rs. 10800 V/S 5 disposables per day for 900 days x Rs.10 = Rs. 45000. That's 74% SAVINGS! The initial investment in SuperBottoms UNO might seem expensive but once you own these, you have them for life. 1 UNO can be washed & reused up to 300+ times. Being adjustable, washable & reusable you can use them for your second or third baby as well. No need to be constantly buying disposables! 
Sustainable & eco-friendly: Did you know disposables take more than 500 years to decompose. Add to that the pollution they cause to the land and the water while they are sitting in the landfill. While it seems hard to believe that one person can make a big difference for the environment when there are billions of people on the planet, switching to SuperBottoms UNO is one way to start. The reusability factor adds in here as one needs fewer diapers for their baby's diapering lifetime.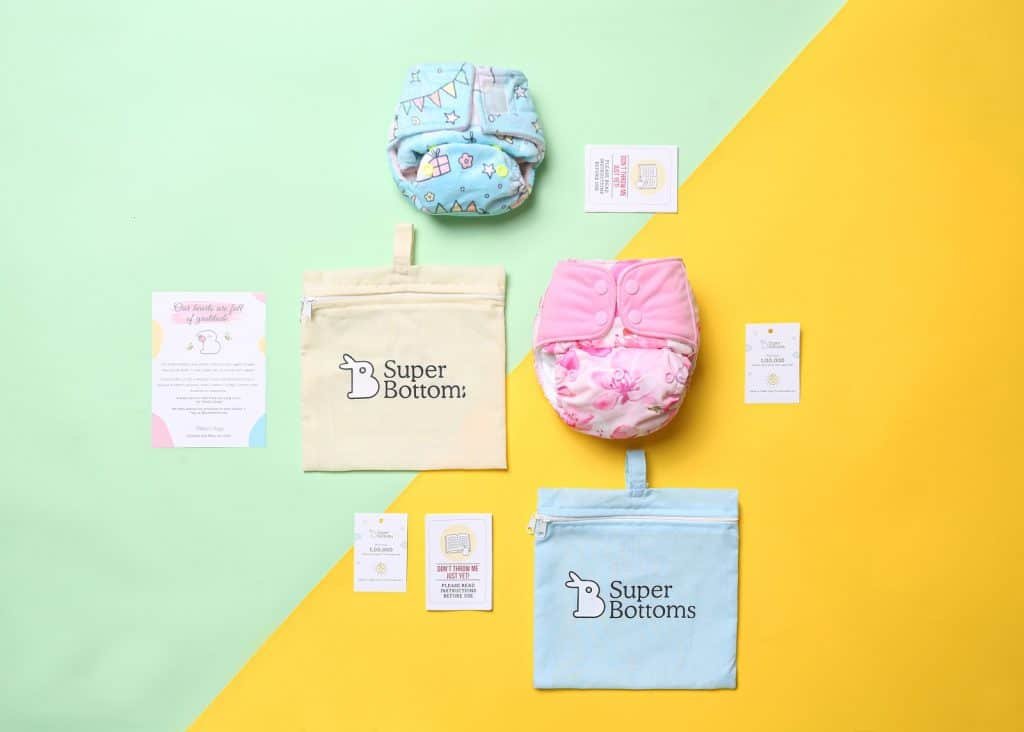 SuperBottoms UNO come in adorable prints : The SuperBottoms UNO universe is vast when it comes to choosing prints. From cute animal prints, to hearts, florals and other exciting shapes, a lot of fancy colors and prints are available at www.superbottoms.com to match with your baby's dresses and make the bum look super cute too!
Little by little, we can break the norm & make a difference in the lives of our children and the world. Every parent who takes that first step to make a difference will pave the way for more parents to do the same.
SuperBottoms also have customized Starter Packs for new parents who are looking to start their cloth diapering journey & have a dedicated Momsconnect team of all moms who are ever ready to give you a home or a video demo on how to start cloth diapering with UNO. You can reach out to them at [email protected] or call on +91 74990 25345. 
back to menu ↑
Superbottoms Cloth Diapers on Amazon
Most Preferred Cloth Diapers by Mums
back to menu ↑
Superbottoms Freesize UNO
SuperBottoms Freesize UNO - Washable & Reusable Cloth Diaper containing 1 Waterproof Outer + 1 Organic Cotton Dry Feel pad +1 Booster pad [Day & Night Use] (for Babies 5 KG- 17 KG) – Good Cat-titude
 out of stock
as of 16th January 2022 2:24 pm
Features
CONTENTS: 1 Multi-size Waterproof Outer cloth diaper along with 2 pads (1 Dry Feel Pad and 1 Booster Pad). Fits Babies from 5kgs to 17kgs (3 months to 3 years) This adjustable cloth diaper is freesize and is washable and reusable.
LONG LASTING AND HEAVY ABSORBENCY - SuperBottoms Freesize UNO is a high performance, advanced cloth diaper that is not only washable and reusable but also soft & gentle on your baby's skin & comes with the goodness of 100% organic cotton & no harmful chemicals. Depending upon the baby's wetting pattern, these last upto 12 hours* with additional Dry Feel Pads (Soaker/insert) promising a good night's sleep. The outer shell of the diaper is waterproof.
Freesize - SuperBottoms Free size UNO cloth diapers fit babies from 5kgs to 17kgs. You can easily adjust the size of the diaper to Small/Medium or Large/Extra Large depending on your baby's weight by snapping the buttons in the front. This helps you in saving the money on buying diapers again and again. Same diaper fits baby till potty training. The same diaper can be washed and reused for 300+ times
CPSIA TESTED AND CERTIFIED Super Trim cloth diapers: Superbottoms cloth diapers come with a very trim crotch. These are atleast 30% trimmer than any other brand available on Amazon. With lesser gap in legs, you can rest assured about your babies' comfort Thoughtfully designed and crafted by the SuperBottoms team of Mommies for Mommies. A Proudly Made in India product with over 2 million+ happy customers. VOTED India's best cloth diaper brand as per KSP 2017, 2018 and 2019 awards.
back to menu ↑
SuperBottoms Basic Pocket Diaper
superbottoms Basic - Certified Soft Fleece Lined Pocket Diaper ONLY (Without Any Soaker) (Space) One Size Adjustable Diaper- 4 Sizes in 1 |5kg-17kg
2 new from Rs. 259
Free shipping
as of 16th January 2022 2:24 pm
Features
Certified and tested safe- tested free for lead and phthalates. Cpsia (US) certified cloth diapers
Waterproof, washable, reusable and one size: waterproof diaper that easily lasts 2-3 hours for an average wetting babies.wash both outer shell and soaker 300+ times and reuse. Adjustable diaper in 4 sizes that can be used for 3 months- 3 years (5 kg- 17 kg) babies/ toddlers
Designed by mothers- comfort at its best: multiple features like ' trim crotch- hence less gap between legs, snap on soakers, hourglass soaker, thicker back elastic for extra comfort, L-shaped tabs put in thoughtfully to make it a good experience for your baby
India's no 1 cloth diaper brand: comes from India's most loved brand of cloth diapers ' superbottoms
back to menu ↑
Superbottoms Basic Certified Soft Fleece Lined 2 Pocket Diapers
superbottoms Basic 2 Certified Soft Fleece Lined Pocket Diapers with 2 Cotton Terry Inserts with Snaps (4 Sizes in 1, 5-17 Kg)
Rs. 1,498


Rs.

649
 in stock
2 new from Rs. 649
Free shipping
as of 16th January 2022 2:24 pm
Features
WE SEND ASSORTED PRINTS IN THIS PACK DEPENDING ON THE AVAILABILITY. SO YOU MAY GET DIFFERENT DESIGNS FROM WHAT IS SHOWN IN THE PICTURE.The performance of all Basic diapers are amazing and they work great on all the babies. Basic comes from the house of SuperBottoms which is voted as INDIA'S BEST CLOTH DIAPER BRAND
High Quality Waterproof, washable, reusable and one size: waterproof diaper that easily lasts 2-3 hours for an average wetting babies. Wash both outer shell and soaker 300+ times and reuse. Adjustable diaper in 4 sizes that can be used for 3 months- 3 years (5 kg- 17 kg) babies/ toddlers
Easy to use. One diaper fits all babies right upto Potty Training. Best diapers for babies with sensitive skin. Made of softest fabrics.
back to menu ↑
Superbottoms Basic Vs Uno
Superbottoms Basic is a basic free-size, reusable pocket diaper with stay dry layer, Superbottoms basic diaper comes with dry feel cotton pad.
Superbottoms Uno is a versatile advanced cloth diaper; it is suitable for babies from 5Kgs to 17kgs. Here is a quick video answering all your questions about Superbottoms Uno Diaper!
back to menu ↑
What are the Unique Features of Superbottoms Uno?
Unique Features of Superbottoms Uno-
Waterproof- Superbottoms Uno Diapers come with a waterproof shell.
Dry feel layer- SuperDryFeel layer ensuring that the baby does not feel wet even after urinating.
Super Absorbent- Uno comes with a dry feel soaker with 8 layers of organic cotton.
An additional Pad- Uno comes with a booster pad that has 8 layers of organic cotton.
back to menu ↑
How do you use Superbottoms Newborn Uno?
Superbottoms newborn Uno diapers are perfect choice for a newborn baby's sensitive skin. Here is a quick video showing how to use and resize a Superbottoms newborn uno.
P.S. SuperBottoms UNO make very thoughtful gifts for your friends and family too who have just embarked on their parenting journey.
Available at major e-commerce websites – Amazon, Flipkart, Myntra, First Cry & on www.superbottoms.com